THE QATSPY® Inside-the-Leather Golf Coach and Sports and Fitness Page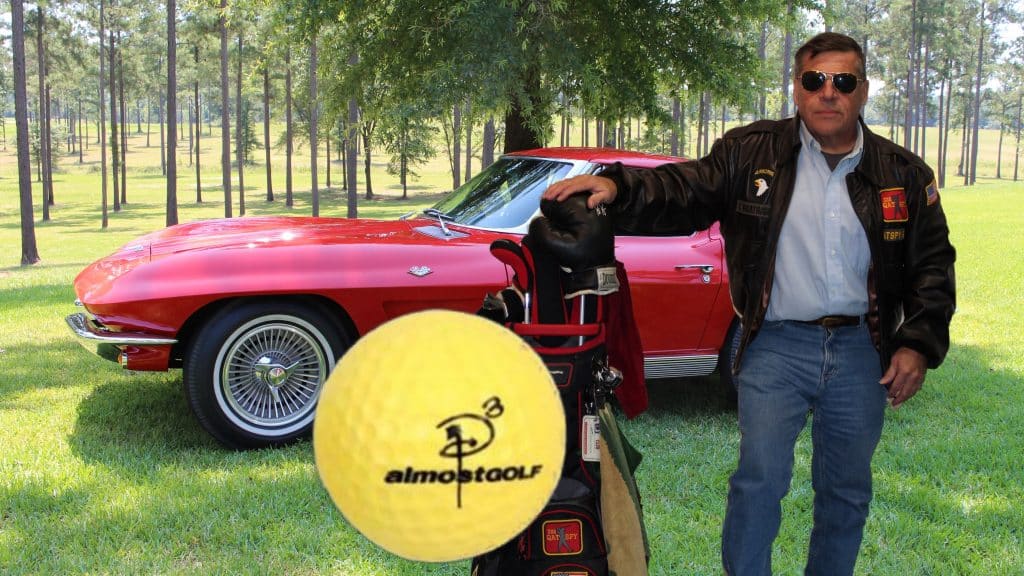 By: Charles W. Boatright
Elevate Your Golf Game Take Your Golf Swing from the Batter's Box to the Tee Box. The Palmer Tech, Sets the Wrist Action in the Golf Swing
Elevate Your Golf Game Take Your Golf Swing from the Batter's Box to the Tee Box. The Palmer Tech, Sets the Wrist Action in the Golf Swing. If your baseball swing is more fluid/easier to perform than your golf swing, The Palmer Tech is for you.
Then you will understand exactly why The Palmer Technique is critical to the future of your game. Why not take that same technique and confidence that you developed in your baseball swing as a kid and use this on the tee box to hit more fairways and greens in regulation, for PAR or Better.
There's an important tendon called the Palmaris Longus Muscle/Tendon that originates at the elbow, as a muscle, and goes down between two (2) of the only muscles that have direct contact with the handle of the golf club. These are called Thenars (Thenar and Hypothenar) and actually are used to grip the handle of the golf club.
The main objective of the QATR-408 Palmer 5-KP Technique (the Wrist Action in the Golf Swing) is to preset the left and right Palmaris Longus Tendons, which establish the missing link in the golfer's swing. For simplicity, I will be referring to the Palmaris Longus Tendon, simply as the Palmer Technique.
Additional Benefits and Objectives:
To improve your golf game with cross-training, by swapping out your golf glove with a pair of kickboxing gloves for training purposes ONLY.
To develop a golf swing that is repeatable and instinctive, with just two (2) essential moves and eliminate your swing thoughts, confusion, and inconsistencies in your golf game.
To practice your instinctive golf swing from tee-to-green where you practice your putting, like in the convenience of your garage or training facility, as I did in my YouTube Video:
Take advantage of the Palmer Technique to simply preset your wrists and sync, or link, your elbows with your core for more distance with consistency.
To develop a baseball batter's mentality by taking your golf swing from the batter's box to the tee box to make everything instinctive, where the wrists and elbows are synced with the shoulders, as noted below in Figure A. To mentally transfer the golf ball from the ground up, into the baseball Strike Zone, where your golf swing is relative to your palm, hands, wrists, and elbows. This was a technique that Colonel George Hallhttps://espygolfapp.com/locker-room-improve-golf-game/game-management-how-to-get-better-at-golf/colonel-hall-hero-vet-from-hattiesburg-ms/ used while he was a POW at the Hanoi Hilton for over seven (7) years.
I have attached the Interview I had with Colonel Hall about, please read this it is a fascinating article.
This is the mental picture that you want to create during your address position: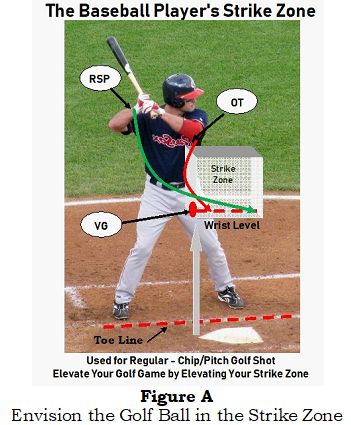 In your golf swing, if there is one thing the golfer gets correct in the golf swing sequence, right off the bat, it makes the entire golf swing easier, more instinctive and more predictable, with consistency. The Palmer Technique is so significant to the golfer's game that I decided to make an entire, stand-alone Download QAT-Training Routine session just on this one technique.
A significant part of The Palmer Technique is the ability to use cross-training techniques, like using a pair of kickboxing gloves and the baseball swing as a golfer's coaching technique. Boxing gloves help the golfer to Isolate their wristbands to allow the golfer to focus on the proper wrist action in the golf swing. I produced a YouTube Video above, where I explained and demonstrated this Strike Zone as a cross-training technique; please refer to these three YouTube Videos below.
If the golfer could just swap out their golf glove for a pair of kickboxing gloves for training and use the baseball-type swing, their whole golf game and training sessions would be more effective and instinctive. The kickboxing gloves and baseball swing allow the golfer to understand the proper technique to preset the wrist action in the golf swing and sync the golfer's elbows with their shoulders. This is a technique that provides a huge advantage for the golfer that Mr. Arnold Palmer gave to President Eisenhower before a Pro-Am.
If the ASPEN Golf Swing explains the WHAT (the Mechanics), then The Palmer Technique explains the HOW (the Techniques) in presetting the golf swing sequence!
I use The Palmer Technique to not only Preset my golf swing and Sync up my body, but to eliminate my swing thoughts during a round of golf. The golfer has to warm up their mind, just like they do their muscles and joints, as this re-establishes muscle memory linkage with the golfer's subconscious mind by using the body's Key Points or KP.
The Golfer's swing has to be instinctive in order to work on the golf course by using Key Points (KP). Ninety percent of the golf swing is produced by the subconscious mind, based on Key Point (KP). If the golfer's swing isn't instinctive using KP's, the hours, days, and weeks the golfer spent practicing will be useless and abandoned on the golf course.
I want to replace my swing thoughts and golf glove with a simple pair of kickboxing gloves and baseball-type swing before I start my training sessions. This applies to my own training that I do each and every day, by focusing in on KP's.
The KP's help develop the golfer's feel and visualization to help develop a natural, instinctive, and consistent golf swing sequence that is crucial to the golfer on the course. The KP's form the basis of how the subconscious mind functions, based on Visualization, Feel, and Repetition, that are crucial to the golfer's game. KP's VFR is what engages that huge potential the golfer must have to be consistent and confident on the golf course, by using the subconscious mind.
Consistency and confidence are both key to any successful endeavor, on and off the golf course. Kickboxing gloves and the baseball-type swing are great training techniques to use before your practice sessions for consistency and confidence. Trust me, THIS WORKS; TRUST YOUR TRAINING! This wrist action even works for baseball batters for power and bat speed.
Purchase The QATR-408- The Palmer 5-KP Technique (the Wrist Action in the Golf Swing) Download to elevate your golf game to hit more fairways and greens to enjoy this wonderful game of golf.
For a limited TIME ONLY The QATR-408- The Palmer 5-KP Technique (preset the Wrist Action in the Golf Swing) Download is only $10.00 until July 31, 2020. This download is regularly $25.00. This had all my YouTube Video of various aspects of the golf game from TEE-to-GREEN including the chip and pitch shots that are actually more impressive than the 285-yard tee shot that I also demonstrate in this Download that I have also included below for you to see the positive impact of The QATR-408- The Palmer 5-KP Technique (preset the Wrist Action in the Golf Swing) Download will have on your golf game.
To purchase just link with the attachment below to purchase your download:
Below are my four (4) YouTube Videos that I just finished downloading to demonstrate The Palmer Technique:
Bunt-Rap-Rip Golf Swing Video 1 thru 3
TICK-N-TOCK Putting Technique
The Palmer Tech, Sets the Wrist Action in the Golf Swing
This YouTube Video was the first video that I made in 2014. This was what caused me to lose 52-Lbs in nine (9) months. I knew if I was going to make additional golf training videos, I need to lose weight and inches in my waist. at the end of this article is how I lost 52-Lbs within 9-months, with 36-Lbs coming off in just two-and-a-half months. I have posted below my results of me in my home gym:
In The Palmer Tech, Sets the Wrist Action in the Golf Swing I'm using a specialized practice golf ball that allows be to hit my tee shots anywhere that I have at least 120 yards of area or even in my training facility demonstrated in the first three YouTube Videos. To purchase what is called the AlmostGOLF Ball (in a 24 or 36 pack set) please use the link below: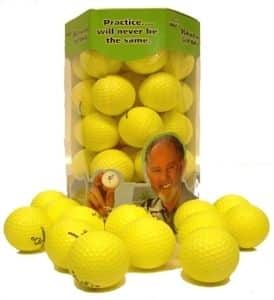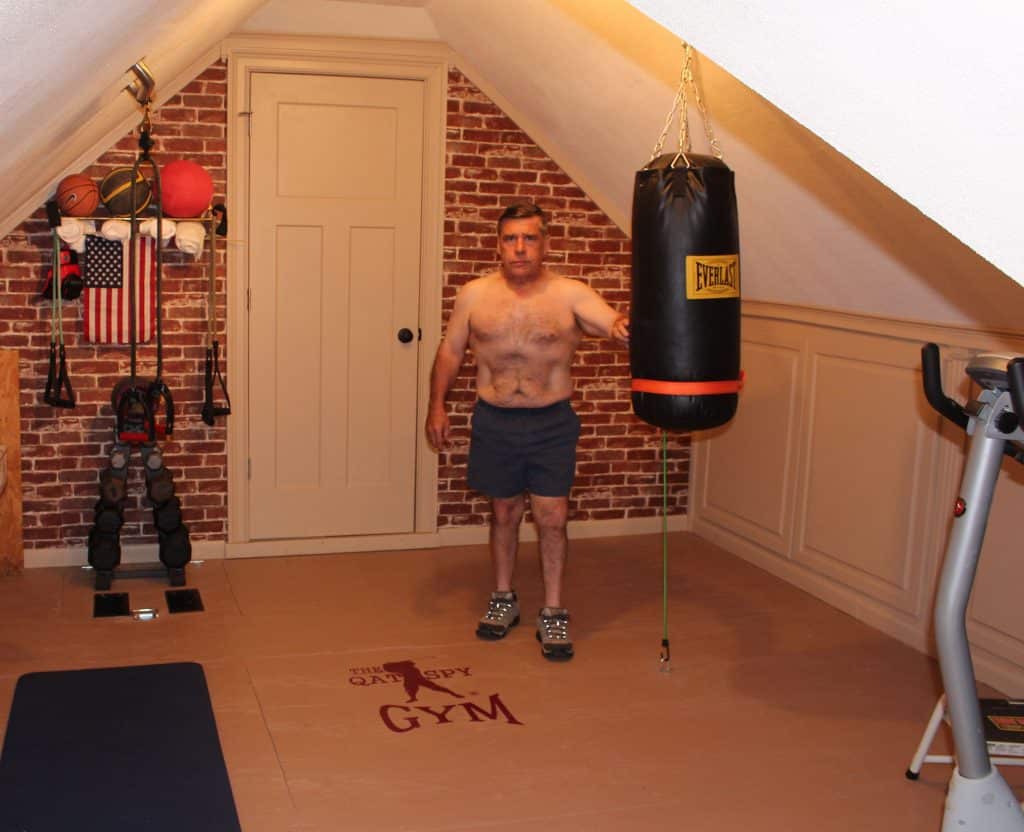 I must admit that it wasn't easy for me to post the The Palmer Tech, Sets the Wrist Action in the Golf Swing Tee-Shot Video because of my weight I gained due to a hip injury that caused me to have to have a hip replacement. But once I had the hip replacement, I was able to get on a diet plan that I developed and my CASPER Fitness Program. Both the 925-MET Diet Program and the CASPER Fitness Program are FREE to download.
Losing weight is difficult enough especially with the COVID-19 Pandemic going on, but these two programs with give you an advantage you never had before. Please don't wait, it is to important to your health and immune system not to get into shape.
The 925-MET Diet Program that I still follow now for 5-Years:
The 925-MET Diet YouTube Video
THE CASPER Fitness YouTube Video Part No. 1
THE CASPER Fitness YouTube Video Part No. 2
CASPER Exercise Equipment:
· Dumbbells (15, 25, 30, and 35 Lbs)
· Exercise Tubing (10, 15, 25, 50, 100 Lbs)
· Medicine Ball (15 and 20 Lbs)
· Ab Roller
· Punching Bag (80 Lbs) and gloves
· Exercise Bike (Mountain and stationary)
· Kickball
· Box for a seat · Exercise Mat
Sponsor By: THE Great QATSPY® Yankee Personal-Style Traditional Apparel Quarters Fit-to-a-TEE Look and FEEL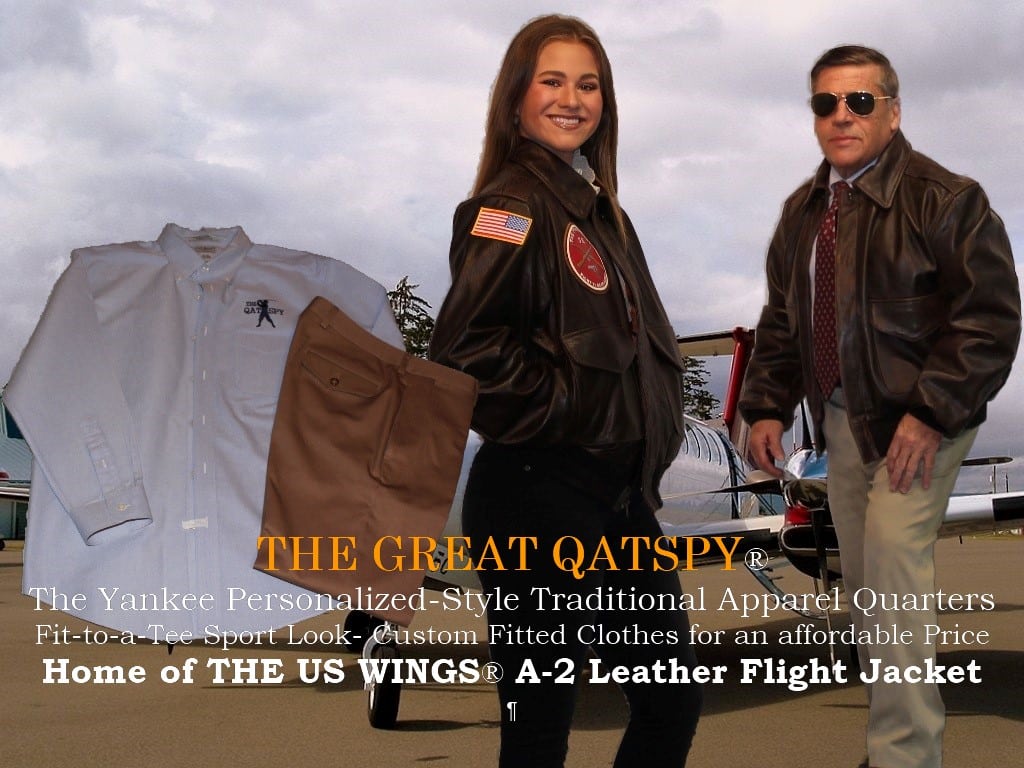 THE Great QATSPY® Online Store carries a variety of clothing apparel items that are selected, based on their quality and personalized-style that offers that traditional and classic look. We carry the full line of US WINGS® leather jackets that are great substitutes for the traditional wool-blend Sports Jacket that can be excellent breeding surfaces for bacteria and viruses.
Our US WINGS® Leather Jackets can be simply sanitized and cleaned with a simple solution of dish detergent (1 teaspoon) mixed with water (8 oz.) used to wipe down our leather jackets as needed during the course of the day. I'm an authorized dealer of the US WINGS Leather Jackets. DO NOT USE ALCOHOL to wipe down your leather jacket!
These make great formal and leisure jackets for men and women to wear with slacks or just simply blue jeans. Our US WINGS® Leather Jackets can be worn as the new sports jacket for business and formal wear or for the weekend and these are durable enough for the open road or open skies.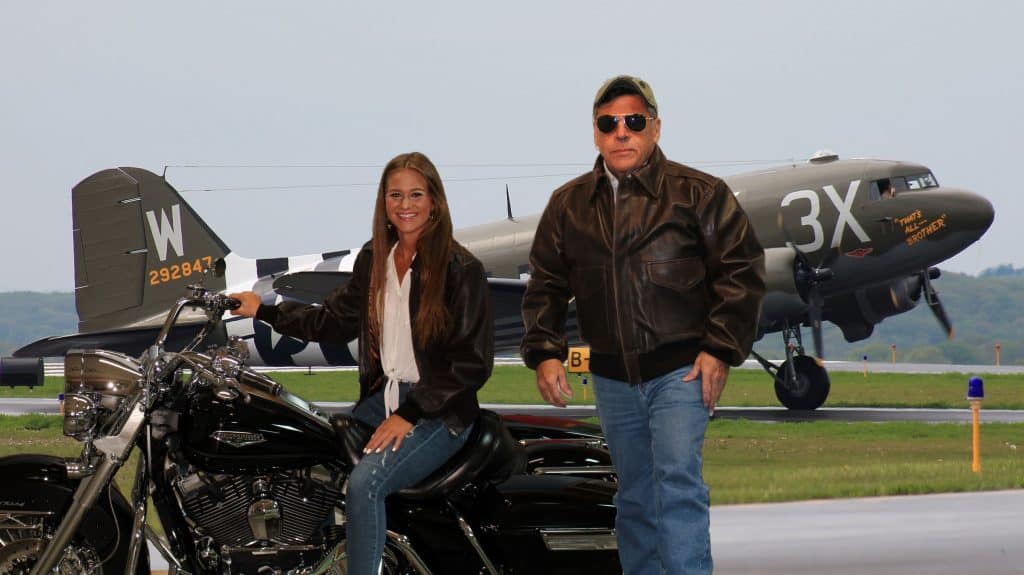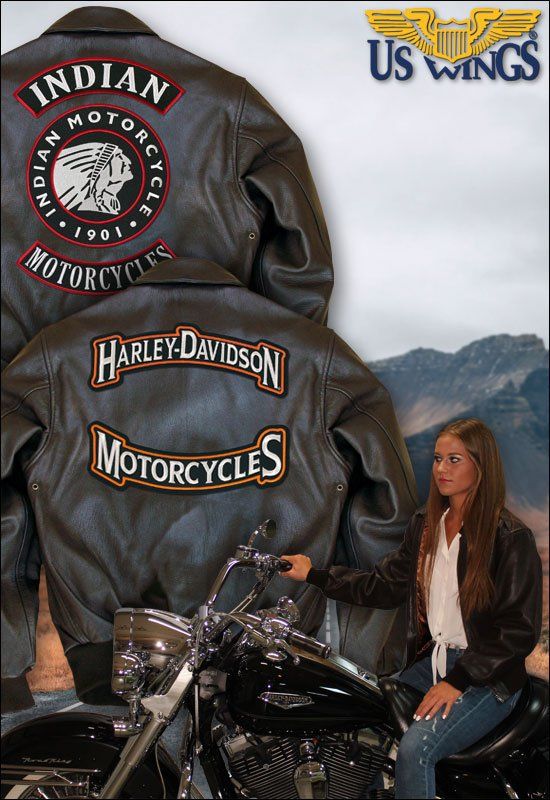 THE Great QATSPY® also carries that custom-tailored look of Button-down Oxford shirts made with 5.5 oz. per yard of cotton that can be ordered with neck sizes ranging from (14″ – 17.5″) and Sleeve length from (32″ – 37″). To complete your classic look, we also carry custom-fitted Chino Khakis pants with waist sizes from (30″ – 44″) and specified inseams from (26″ to 36″) in quarter-inch increments.
There is nothing that has the classic, custom look and style as our US WINGS® Leather Jackets, worn with our custom-fitted Button-down Oxford Shirts and Chino Khakis pants or your comfortable blue jeans. You will be properly dressed for any occasion, whether for the weekday or weekend and be comfortable.