Description
How to Improve Your Practice Time and Your Golf Game in Your Own Backyard
One of the top complaints and issues facing the amateur golfer is availability to find the time to work on their golf game under similar conditions. But now, you no longer have to balance your profession and obligations with your passion to improve your golf game. Now your backyard is your golf course. Better than a golf simulator and less expensive then a simulator, with better results that can provide you with actual results on the golf course.
No longer do you have to squeeze in time on the practice range and still not see improvement. Or spend time trying to improve your mechanics and techniques that seem to vanish on the golf course, as soon as you step foot onto the first tee box. Now you can practice exactly how you play, right in the convenience of your backyard or a vacant field. Typically, our golf practice doesn't reflect how we actually play golf on the golf course; and this is the bigger obstacle than finding the time to practice.
With the Almost Golf Balls, you can even turn your garage into your own simulator, without paying thousands of dollars. I have produced a YouTube Video, below, that I use for coaching and training during my golf sessions that will help your golf game out tremendously. I use exclusively the Almost Golf Balls for all of my training sessions. This gives my students the most realistic practice and training sessions in the convenience of their backyard.
Almost Golf Balls are a Safe Method of Turning 450 Feet into a Par 4 Golf Hole
Now with Almost Golf balls, we can turn our backyard, not just into a practice range, but into an actual scaled model of a golf hole. Almost Golf balls are made of a compressed, molded rubber in a plastic shell and are safe to use in a residential area. Almost Golf balls are safe, where you can use your mid-irons in smaller backyards to work on your mechanics and techniques. These Almost Golf balls (that weigh 13.5 grams) are restricted to approximately one-third the distance flight of an actual golf ball, up to approximately 100 yards, without causing property damage or injuries to people or pets.
I have a large yard with 2.5 acres, where I can actually use all the clubs in my bag when hitting Almost Golf balls to set up a 450-foot Par-4 Hole. This is because these Almost Golf balls only go a third of the distance of an actual golf ball, up to approximately 300 feet, based on wind conditions. You are actually hitting in feet, instead of yards, but getting the same benefits and experience of playing golf, instead of just practicing hitting shots from just one spot. The other benefit of using Almost Golf balls is that it provides the golfer the time to walk between series of shots you don't get on the golf range. This actually simulates actual course conditions, which is key to the golfer's training time.
One other benefit of using Almost Golf balls is that the whole family can enjoy the great game of golf, right in the backyard or vacant lot. After work or school, the entire family can work on their golf game and get a great aerobic workout for fitness. These Almost Golf balls are great for Veterans to deal with PTSD, as this is called Cognitive Behavior Therapy, or also known as Psychomotor Therapy. I have gauged the number of miles that I walk in a normal 2- hour golf training session at 2.3 miles.
I work extensively with Veterans dealing with PTSD and can provide them guidance. In my Coaches library, I have over 30 PDF Downloads that golfers can purchase that work great with these Almost Golf Balls.
Almost Golf Balls Have True-Flight Characteristics
These Almost Golf balls mimic the actual flight of an actual golf ball that you can fade and draw, referred to as True-Flight, except you are hitting in feet, instead of yards. Remember- It's not the quantity of golf shots that the golfer makes that improves their golf game, but the quality of repetitive golf shots that reinforces the golfer's mechanics and techniques.
In my coaching and training facilities, THE QATSPY® Golfer, I have over 20- Dozen of these Almost Golf balls that I use in training. It allows the golfer to actually play their round of golf, instead of just practice hitting shots. I use the yellow color Almost Golf balls to distinguish these practice balls from actual golf balls that I use in chipping and pitching sessions, refer to the YouTube video of my Bunt-Type Chip/Pitch Shot. Using Almost Golf balls provides me the same mechanics and techniques used to make this difficult-type golf shot. The biggest part of your golf swing is learning to Preset and Sync your wrists properly.
I use five (5) Yellow Almost Golf balls on my Par-4s for my tee shot to my approach shot, then I swap out the Almost Golf balls with five (5) actual White golf balls for my chip/pitch/putting. My objective is to get four-out-of-five of my Almost Golf balls within my target area, a 10-foot radius. If more than one Almost Golf ball misses the target area, I must start over until I can get four-out-of-five Almost Golf balls within my target area. I refer to this drill as my 405-Training Drill. I DO NOT recommend that you or others hit more than 10- Almost Golf balls during one session where you don't lose track of your shots.
I Can Guarantee the Golfer This One Thing
There is one thing I can guarantee the golfer, that they might very well practice golf with swing thoughts using their conscious mind, but once the golfer steps foot on the golf course, the golfer is playing with their instincts using their subconscious mind. The Almost Golf balls (made in the U.S.A.) develop the golfer's instincts for true consistency.
The QATSPY® COACH'S FILM ROOM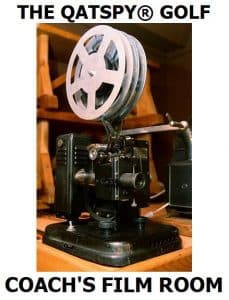 A collection of YouTube Golf instructional videos and Online Downloads to help the golfer improve their golf game.
Sponsored by INSIDE-THE-LEATHER US WINGS® the LIMITED Edition Leather Flight Jacket, including the NEW TOP ACE Jacket: