The QATSPY Sports Page 4 Golfers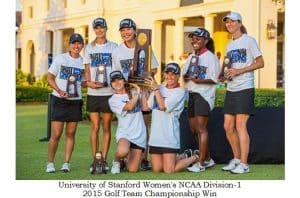 By: Charles W. Boatright
Author of The ESPY Golf Swing Coach, Delta Technique Geared for Distance and Control
University of Stanford 2015 NCAA Golf Championship Display of the Mental Game of Golf and Fundamentals
First of all, congratulations to both the women's golf teams of Univ. Baylor and Univ. of Stanford for a great competition in the final match play format golf tournament played at Concession Golf Course, in Bradenton, FL. This 2015 NCAA Golf tournament that was made for TV sports event, displaying classic golf swing mechanics and fundamentals that highlighted the caliber of competition in women's sports.
This also provided a great forum for coaching golf to young people to help them use and develop their own golf swing mechanics and golf swing fundamentals.
The NCAA Division-1 Golf Championship is a great example to demonstrate why athletes, in general, and golf specifically are important to young people of any age, especially in a homeschool setting. The important part of athletics is the life lessons that are instilled in these young people, while developing their golf swing fundamentals.
Athletics is a great classroom for teaching people how to deal with adversity and failure in life. Failure, used correctly in athletics, can be used as a great forum for coaching and used to fuel future success in life. This year's 2015 NCAA Women's Golf Championship highlighted and proved this point very well.
The Mental Game of Golf
Even before the start of the final day of play, I thought that Mariah Stackhouse, shown standing second from the right next to Anne Walker, the University of Stanford Golf Coach, in the photograph above, was going to be the deciding factor because of her golf swing fundamentals and her mental toughness. I could see this young lady who was confident, determined, focused, and believed in her mental golf game and, more importantly, herself.
The tournament was decided at the 18th hole, with a putt made by Mariah Stackhouse in sudden death playoff match. This might have won the tournament for Stanford, but what set up the win was actually what occurred on the 13th hole earlier that day, providing a great forum for coaching golf on the golf course, the mental game of golf.
The attached diagram below shows both approach shots of Hayley Davis and Mariah Stackhouse into the 13th green. I texted Lisa Cornwell after the 13th hole was played, and her observation was that the pin placement was unfair, in that it didn't reward a player for hitting the green in regulation.
Without going into details, Mariah Stackhouse was not rewarded for making a great approach shot into the 13th green. The pin placement made it virtually impossible for anyone to go for the pin, unless the golfer could pull off a one-in-85 approach shot that hit a particular spot on an exact descent angle onto the green. I don't know this for sure, but this might be the reason why Hayley Davis chose to place her approach shot just off the fringe of the green at the five-o'clock position (see the diagram).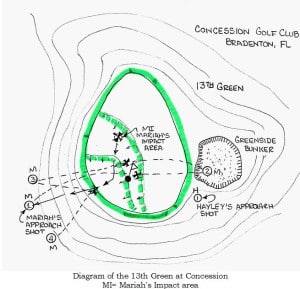 After conceding the 13th hole to Hayley Davis, Mariah Stackhouse could have taken one of three courses of action or responses to play the next five-holes:
demonstrated perseverance and her commitment to the metal toughness and confidence that the next five holes were hers.
Reacted with resentment, anger, and a defeated attitude, taking her out of her mental game of golf.
Resorted to just giving up and not put forth an effort in playing the next five holes.
It was no doubt that Mariah Stackhouse made the wise decision of (1) to persevere and focus on her mental game of golf, by how she was walking off the 13th green, with determination and advice from her golf coach, Anne Walker (shown in the above photograph to the far right).
One important factor to remember in life and on the golf course is this one FACT: We are paid based on RESULTS, NOT EFFORT.
In my book, THE ESPY GOLF SWING COACH, Sections 4.3 and 9.4 are as follows:
4.3 If a team or an athlete gets into a slump of paralysis-analysis, the only way out of the slump is to apply the TEAM (Techniques, Elements, Aptitude, and Mechanics) concept, or what I call mental horsepower for faith. Faith is not being blind to reality, but changing your perception of reality. Coaches use the TEAM concept to train and develop an athlete's determination, grit, and perseverance. This structure is used when the coach focuses the team's attention on the objective, rather than the conditions. Conditions will always change, but objectives remain the same.
9.4 Golfers realize that 80 percent of success is within 120 yards of the green. This is another lesson to convey to young people. Just as much attention is required for the short game, or details, as for the tee shot, the big event in life. With the odds stacked against a young person, the small things, performed consistently well, will allow for success. Several parallels can be drawn between sports and life. This is the reason that organized sports should be encouraged at a young age. The lessons learned from sports can allow a young person to reach their potential in life. Perseverance, faith, and confidence are the best responses to any difficult situation, instead of feeling resentment, showing anger, or seeking revenge.
These two sections were also one of Coach John Wooden's 7-Principles of coaching, which is a great forum for coaching golf, on and off the course. To achieve this performance, the golfer has to learn how to become their own golf coach.
Mariah Stackhouse's True Grit, Mental Toughness, Help Win The NCAA Tournament for Univ. of Stanford
Mariah Stackhouse, after the 13th hole, went on to birdie the three of the last five holes to force a sudden death playoff, where Mariah Stackhouse won with a putt on the 18th hole. Both Mariah Stackhouse and Hayley Davis are grinders who showed true grit, mental toughness, and are passionate about the game of golf.
Thanks to these two players for making the first televised NCAA Div-1 tournament such a great one for the viewers who love college golf. I'm sure there were many young ladies, inspired by this final round of play in the tournament, who will have aspirations of playing competitive golf.
Thanks to Golf Channel for showcasing such a great golf tournament! If you were planning an inaugural, televised event to showcase NCAA Women's golf, no one could write a better script for this golf tournament.
Classic Golf Swing Mechanics of Presetting the Wrist Action in the Golf Swing and Syncing the Elbows
Look for my QATSPY Golf Sports Page: Simple Golf Swing Tips about how Mr. Arnold Palmer helped President Eisenhower set his elbow correctly to increase his power and control. This is the basis of my book of presetting the wrist action in the golf swing to sync the elbows with the shoulders to create an important component, golf swing mechanics. These golf swing techniques are covered in Section 2.16 of my book on how Mr. Arnold Palmer helped President Eisenhower understand how to set up the sprocket mechanics, using his right elbow to sync and lock with the shoulders.
This is a great forum for coaching golf to golfers of any age to develop their mental game of golf. The mental game of golf represents about 90 percent of the golfer's golf swing mechanics and fundamentals. To develop a great forum for coaching golf, the golfer has to learn to be their own golf coach on the course and train to develop the golfer's subconscious mind. These images includes EVERLAST Boxing Gloves and a Ten-Speed Sprocket to help teach and understand golf swing mechanics.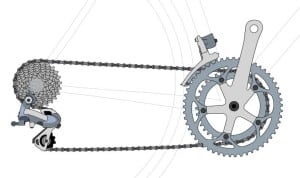 The golfer has to create a mental imaging of their golf swing mechanics that can be used on the golf course, based on using three of the five senses, the subconscious mind, The three senses are: Sight, Sound, and Feel. A great way to engage these three senses for the golfer to develop a forum for coaching golf is first learn to become their own golf coach on the course by using props, like a pair of virtual EVERLAST® Kickboxing gloves, shown below.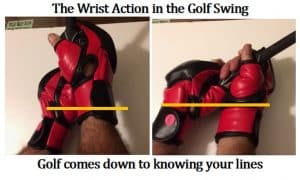 One of the best forums for coaching golf and imagery on the course by learning to trade-in their golf glove for a pair of virtual boxing gloves and concentrate on how to preset the wristbands in the golf swing sequence.
In David Duval's golf swing demonstration on Golf Channel with Charlie Rymer, David Duval had one of the best golf swing tips for viewers to preset their wrists. In my book, I go into detail how the golfer can use the bottom and top parts of the boxing glove wristband to preset the golfer's wrist action in the golf swing to sync their elbow with their shoulders.
To learn how to develop the golfer's sprocket mechanics and develop the golfer's mental game of golf using boxing gloves, purchase your copy of The ESPY Golf Swing Coach from the links below, or visit your local bookstore:
PURCHASE NOW YOUR NEW GOLF GAME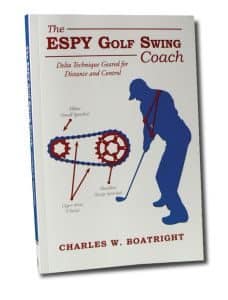 The ESPY Golf Swing Coach, a Self-Coaching Technique and simple Sports Psychology enabling the golfer to take the baseball swing sequence from the batter's box to the tee box.
My book can also be purchased on-line at:
To help develop a more effective golf training exercise in your backyard or vacant field, I would recommend purchasing a dozen or more of the Almost Golf Balls® from LIBERTY Health Supply. Please select one of the products below to purchase these golf balls that simulate the actual golf ball without the concern for property damage or personal injury to others. These balls only travel a third of the distance of an actual golf ball.
Pack of 10: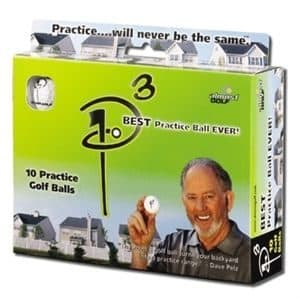 Pack of 36: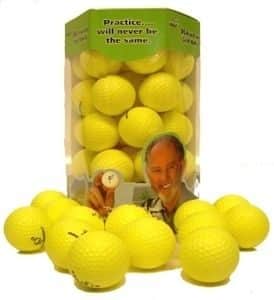 If you use the Promo Code: ALMOSTGOLF you will receive free shipment on any order of Almost Golf Balls® from LIBERTY Health Supply.
I have a utility bag full of these Almost Golf Balls that I practice with three to four hours per day, four days per week.
Health and Fitness Program Golf Exercise for Power
This book is based on a self-coaching forum (ASPEN Pyramid). The ASPEN Self-Coaching Technique provides the beginner and advanced single-digit handicap golfer with a safe, ergonomic classic golf swing mechanics. The ASPEN forum for coaching golf provides basic skills for more power and control in the golf swing sequence without debilitating injuries that are common with some modern-day golf swings. As part of The ESPY Golf Swing Coach forum is a workout program that includes golf exercises with medicine ball designed especially for golfers.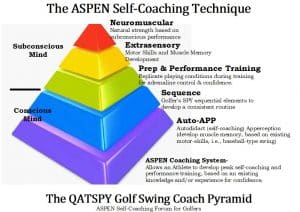 I have also included a FREE SR925 Diet program that anyone can access, where I lost over 40 pounds and 7.5-inches in my waist within nine-months. I went from 37.5 inches in November of 2014 down to 30.0 inches in July of 2015 with the effective SR925 Diet Program that I developed, see detailed below. REMEMBER an easy RULE to determine if you have a healthy BMI, you can take half your height and your waistline should fall below this figure.
Please take advantage of my SR925 Diet Program, where I lost 6 inches in my waist in 3- months (FREE of CHARGE) with the CASPER Fitness Program, detailed in Section 20 of my book, great golf swing workout:
One component in my CASPER Fitness Program that I follow is using a Medicine Ball golf swing workout to perform what I call Stocking the Shelves, illustrated below in the figure: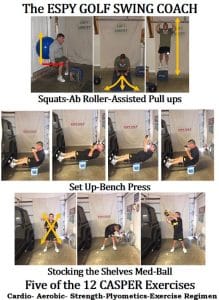 A part of the CASPER Fitness Program are golf exercises with medicine ball – that includes Stocking the Selves and medicine ball exercises Burpees. For endurance and a full body workout, I also include a boxing glove-punching bag exercise.
Please include an exercise routine in your weekly schedule.  

     
Operation DOG TAG
Sports, such as golf, along with fitness and an exercise regimen that includes yoga, has been proven to be a great Cognitive Behavioral Therapy for trauma victims. Veterans and those who have experienced a traumatic situation where the mind has been traumatized and disrupted can use golf and yoga to help re-establish connection and pathways in the brain. Golf also provides an excellent opportunity  for trauma victims to reconnect in a social setting to develop a dialogue without the pressures of clinical visits.
Introduction- Forum for Coaching Golf and Life Skills Operation Dog Tag
Section 1- Operation DOG TAG | GOLF CBT Intervention for PTSD
Section 2- Operation DOG TAG | Objectives and Scope
Section 3- Operation DOG TAG| STRUCTURE GUIDELINES
THE LOCKER ROOM a source for golf tips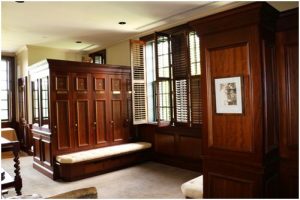 Please visit "The Locker Room" for an Index of all my golf articles to improve your golf game and life. Discover how you can take your baseball swing from the batter's box to the tee box.
Learn How to take your baseball-style golf swing from the batter's box to the tee box.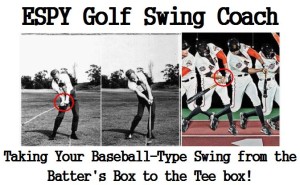 Time-lapse photography that I reviewed during my Kinesiology Xerox Box Golf Research Project compared the golf swing vs. baseball swing and how similar the Sync/Preset wrist action in the golf swing was to the baseball swing sequence.
Here's the QUESTION: How many times standing in the batter's box did you think about your golf swing mechanics, techniques, or elements. Your were only focused on the pitch. Why not use the same Outlier technique in golf.
Sir Nick Faldo demonstration of the Preset Golf Swing Technique
One of Sir Nick Faldo's first golf swing fundamentals that he learned as demonstrated in this YouTube video entitled The Preset golf swing technique. Nick Faldo discussed the WHAT, but didn't explained the HOW in his YouTube video.
The Sync/Preset Elements in The ESPY Golf Swing Coach explains how to setup the classic golf swing maneuver to place the wrists into the key Lock Position. This was the same golf swing technique used by David Duval during an interview with Charlie Rymer on Golf Channel. These two Videos are probably two of the best Videos to discuss the wrist action in the golf swing.
For Comments or questions please contact me at 1-888-514-1228 Mon – Fri from 9 am to 4 pm CT Zone.
A Recommendation for your Golf Game:
I would like to recommend an interesting radio program that I regularly listen to originating from my home state Arkansas on my I-Heart Radio app on KARN 102.9 FM station, out of Little Rock. They air a golf show called Arkansas Fairways and Greens, at 7:00 AM CT each Saturday morning, hosted by Bob Steel, and co-hosted by Jay Fox and Charles Crowson. Bob occasionally as has his guess Alex Myers with Golf Digest and Ron Sirak with Golf Channel. I was interviewed on his show about my book, The ESPY Golf Swing Coach. This show is worth tuning into for golf news and information.
Jay Fox is an Administrator with Arkansas State Golf Association that discuss amateur golf and rules of the game.
Check out my full library of BLOGS @ www.espygolfapp.com/blog or purchase your copy of "The ESPY Golf Swing Coach" @ www.espygolfapp.com/store.