Description
THE QATSPY® Quality Apparel & Training for Sports Performance Year-Round.
THE QATSPY® ONLINE ATHLETIC CLUBHOUSE & PRO SHOP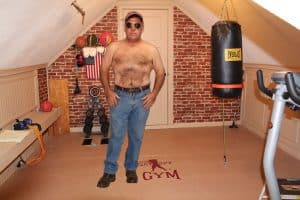 The Secret Behind How I Achieved My Health/Fitness Objectives, a Simple and Efficient Method Achieved within 9-Months
This Download will reveal how I defied the conventional wisdom of losing weight after the age of 57, and have kept the weight off going on NOW for 7 years. The success of an effective diet plan or fitness program isn't losing the weight; it's keeping the weight off!
In November of 2014, I had an radio interview scheduled with an ESPN Radio Station, JOCK 98.7 FM, in Springfield, MO, with Ned Reynolds who was the sportscaster for the television station KY-3 in Springfield. Fortunate for me it was a radio interview and not a television interview. Ned Reynolds is shown in the second product image above the day of my interview with Ned. This was the photograph taken on November 6, 2014 before I lost 52- pounds and over 9- inches in my waistline
I was being interviewed by Ned Reynolds that was interested in my book, The ESPY Golf Swing Coach. Ned was particularly interested in my method of teaching golf, based on how I took motor skills from the baseball-type swing and developed a golf swing that golfers could be confident in on the golf course. As an additional DOWNLOAD to this health and fitness procedure, I have also developed The GOLFER'S BRACHS-PALMER TECH that allows a golfer to take their golf swing from the batter's box to the tee box. This is a huge advantage for the golfer because of the Apperception technique that I use in my training.
The real challenge that I was facing was to start my golf training production that included training videos that I was producing as the trainer in these videos at the middle of March of 2015. Just to add a little more intrigue, I was also going to start modeling my online CLUBHOUSE apparel line that includes the same leather flight jackets that we supply to our proud U.S. Military.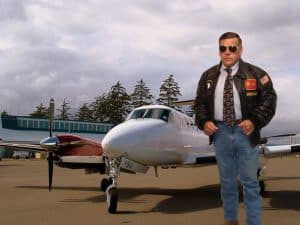 I used the next three (3) weeks after my interview with Ned Reynolds to work up a diet strategy that would yield results that I desperately needed. I remember back in my early 30's that I was able to drop weight while I was riding my bicycle 5-to-7 miles per day. I was continuing this workout in my 50's, but what was different I wasn't working from 7 a.m. until 3:30 p.m. any longer or eating a high fiber, high protein diet before 5 p.m. any longer. I made an assumption that fitness impacted health more than diet did. That was a wrong assumption to make on my part.
I took my experiences from my early 30's and developed a Weight Factor based diet plan and applied it, starting on December 1st in 2014. But I also used my chemistry and math background in Analytics to develop the Weight Factor (WF) based data on typical Nutrition Label on back of food items you purchase in grocery stores or from websites of restaurant's menus.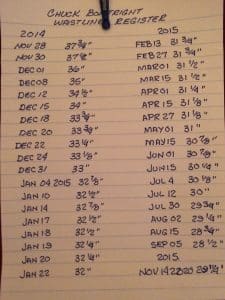 The Weight Factor, or the Health Index, Factor uses seven (7) data points from Nutrition Labels, like for example, Pinto Beans, in the image below, helped me to analyze foods that I could eat that helped me lose weight in pounds and inches at age 57 that I also followed in my early 30's. With the Health Index and the DELPHI Age-Defying Diet & Fitness System what happened over the next 31- days in December of 2014, I could only describe as miraculous. From 01Dec2014 until 31Dec2014, I went from a waistband of 37.75- inches, down to 33- inches, see my log register above that I kept during this period and up to September 05, 2015 where I'm presently at NOW!: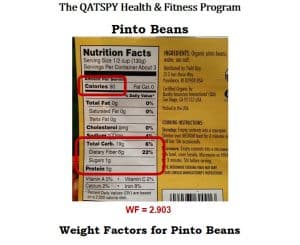 I kept my log that I used to keep track my weight lose in inches. The main reason I was NOT tracking my weight lose in pounds but in inches instead was that I developed a training program where I was increasing my muscle mass. HERE'S WHY I was measuring my results in inches instead of pounds on scales:
1 Liter of Muscle weighs 1.06kg
1 Liter of fat weighs 0.91kg
NOTE: So if you have a training program that is based on DELPHI (Diet-Exercise-Lifestyle- Performance Health Index) Age-Defying Diet & Fitness System you are gaining muscle that weighs more than fat by 14.2%. Also for every pound of muscle gained, the body will burn 50 additional calories per day. Nutrition is 80% of the ability of the body to become healthy & fit while 20% is based on a fitness regimen. SO NUTRITION that is the basis of The DELPHI Age-Defying Diet & Fitness System is an effective means to lose the weight and become healthy, but fitness is the second part to look and feel fit is the top fitness objective.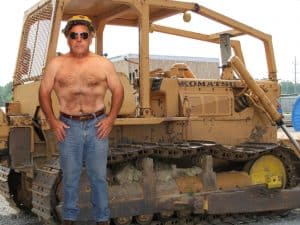 In the photograph above was taken on a dare from linemen that I used to work with before I retired at age 57 from a Transmission Line Utility Company. I was called back in from retirement to help out with restoration efforts after Hurricane Laura and Delta devastated the western part of Louisiana. The linemen could not believe that I was in this type of shape at age 63. The general consensuses was that I had the health & Fitness of a 35 year old man. I let you judge for yourself from this photograph above and below with me on my INDIAN Scout Motorcycle.There not many Diet Programs out there that are age-defying that can make a 63 year old look to be in their mid 30's.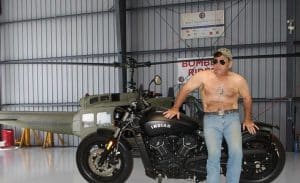 As an Added BONUS to the DEXTRO DIET & FITNESS Program is TRAINING PROGRAM and a Skincare Regimen that are the TRIPLE CROWN to BEING, LOOKING, & FEELING Healthier
Included with this DOWNLOAD for the DELPHI Age-Defying Fitness System with videos of all my exercise elements that I follow 5 times per week (30 to 45 minutes per workout session) and my Skincare Regimen that follow each day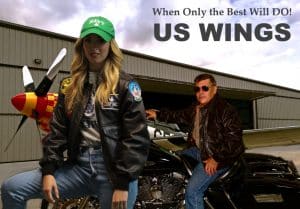 I credit my TRIPLE CROWN Health and Fitness Regimen for me achieving the Lifestyle, Exercise, X-Training, for the Shape that I'm in at age 64 when this photograph was taken with one of my models that works with us modeling our line of US WINGS® Leather Flight Jackets that we supply to the U.S. Military
THE QATSPY® Clubhouse also carries the TOPGUN G-1 Leather Flight Jacket like the one Tom Cruise is wearing in the TOPGUN No. 2 Movies. We also carry the CWU-45 Nylon Flight Jacket Tom Cruise is wearing in this movie.
Another model is featured wearing the TOPGUN No. 2 CWU-45 Nylon Flight Jacket with the official TOPGUN Patches that the TOPGUN Pilots wear and also appear in the TOPGUN No.2 Movie.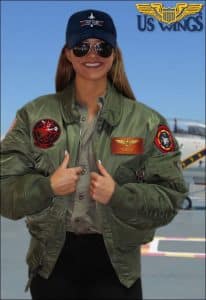 For those that are golfers and would like to improve their golf game and handicap, especially the short game, I have also included FREE my YouTube Video entitled QATSPY GOLF- Bunt-Type Pitch Shot YouTube:
This DOWNLOAD contains 22 Pages of diet Procedures, Illustrations, Techniques, Weight Factors and charts to help you obtain your Health/Fitness Goals, Please purchase your copy of:
QATR-704- DELPHI Age-Defying Fitness System- How I Achieved My Health/Fitness Objective of Losing 52 Lbs.