THE QATSPY® Quapaw Aviation Tactical Sportswear Performance Company OUTFITTERS
A DIET and FITNESS Program to NOT ONLY DROP weight, but YEARS off the appearance of your skin based on WHAT and WHEN to Eat: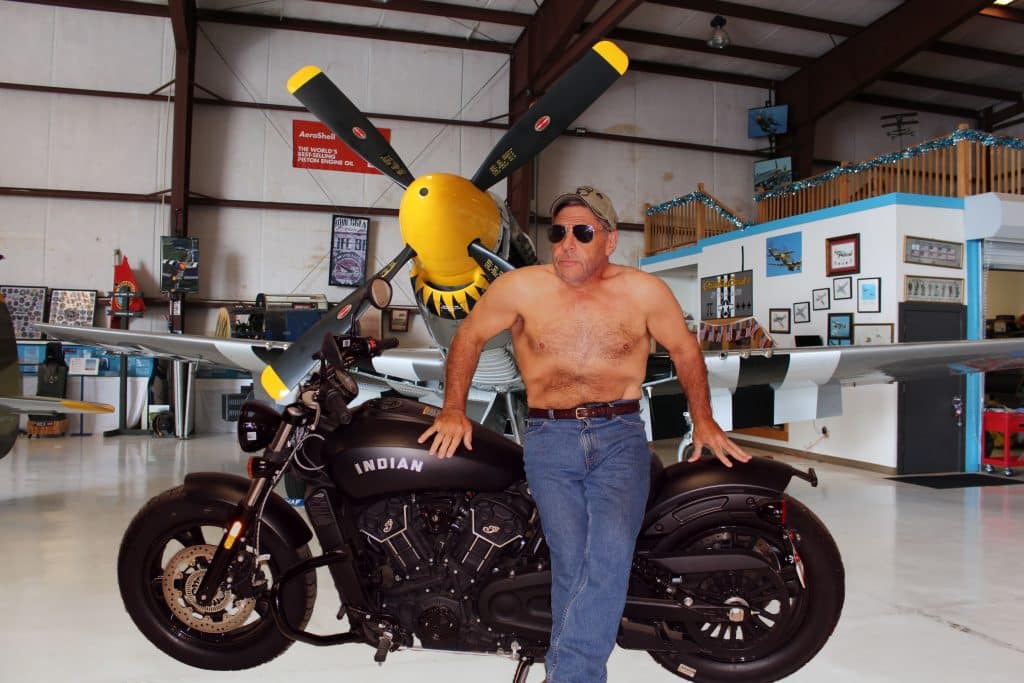 An Age-Defying-Calorie-Burning Juggernaut Diet– Drop not only Weight, Inches, Blood Pressure, Glucose Levels, but also Drop Years off as well of the Appearance of Your Skin
Some misguided people have a misconception of health and fitness that they equate to being THIN. That is totally wrong, there are some people that are thin that have health issues and aren't healthy. People that are thin can have the same issues with their Blood Pressure, Blood Glucose, and Cholesterol, just to name a few health risk, that people have that have weight issues. Being thin isn't about being healthy, fit, or a race issue. THIS IS A MEDICAL ISSUE; and those thinking being over weight isn't a issue don't understand the health risk associated with being over weight or worst, being obese. Maintaining a healthy weight is about decreasing your health risk that can threaten and reduce your ability to enjoy your life.
Author Virginia Sole-Smith has the wrong concept about the idea of thinness. It isn't about being thin but having a healthy waistline and weight and having a fitness program to lower your vital numbers– Blood Pressure, Blood Glucose, and Cholesterol that are the BIG 3! A healthy diet and walking are great fitness routines to develop. There's nothing races about wanting to have Health and Fitness. People talk about having medical care as a civil right, will this is a right step toward that!
A healthy weight is correlated to your waistline. A health waistline is to take your height in inches and divided by a factor of 2. For example my height is 66- inches; so my healthy waistline is 66/2= 33- inches. But since I model my sportswear collection, I use a 2.2 Factor, or 66/2.2 = 30- inches. My actual waistline is 28.75- inches, see my waistline chart in this article that I still keep weekly.
I Used my Chemical Engineering Background to Develop The CASIMIR DIET & FITNESS System
I used my chemical engineering background to drop approximately 54- pounds and 8.25- inches off my waistline just after I retired at age 57 in June of 2015. I follow The CASIMIR DIET & FITNESS System. Obviously, I was doing this just as much for my health and fitness as I was approaching my late 50's. Being over weight and approaching your 40's or 50's has severe health risk everyone needs to avoid! I just had a hip replacement surgery in October of 2014 where I could start my CASIMIR DIET & FITNESS System again in my OASIS GYM once again. Below, I'm 65 years old taken on July 02nd, 2022.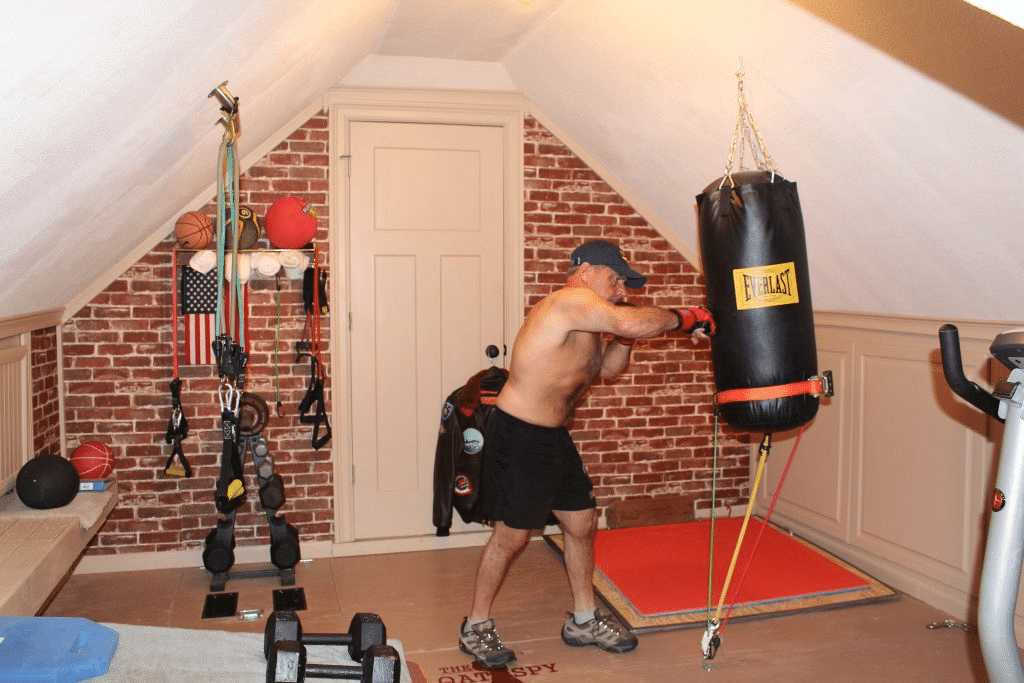 I had gained over 42- pounds due to my hip pain that made it impossible to move, much less exercise and work on my farm. I had a similar hip condition to what both Prince and Tom Petty had that took pain killers. I was facing the same issues that they dealt with having limited mobility and extreme pain that I experienced that even exceeded even my pain level tolerance.
I was getting to a point where even sleeping was becoming an issue due to the pain approaching 10 on an ongoing basis. Both Prince and Tom Petty died due to pain killers that they were taking to deal with their pain. In Tom Petty's case it was fentanyl that is 100 times more powerful than Morphine. My issue was due to a rare disease called Perthes.
One small little commit about the pain from Perthes, it hurts like hell! I was also received a medical discharged from the U.S. ARMY due to injuries that allowed this condition to be properly diagnosed. This lead to four (4) knee surgeries and a hip replacement.
Just a short fact on Prince. Someone asked Eric Clapton how it felt to be the best Electric Guitarist in the World? Eric Clapton replied- "I don't know, you are going to have to ask Prince".
Getting Out of Pain Allows You to Focus on Your Health and Fitness
When you are over the constant pain, you can start focusing on your health, fitness, and enjoy your life once again. I used my six week recovery time from hip replacement during November and December of 2014 to figure out a way that I could use Nutrition Labels to determine foods that I could eat and allowed my body to work more efficiently metabolize my food instead of storing it as fat. Based on the type of food you eat, your body can do one of two things- (A) Use your food as energy; or (B) store it as fat.
Here's an example of how the Metabolic Index Rate (MIR) Factor Works. If you look at Sweet Potato and Idaho Potato Nutrition Labels and compare sugar content of both, you would come away thinking Idaho Potato is a healthier choice. But you would be wrong due to the hidden sugars that the Nutrition Labels don't account for, those STARCHES. Compare the two MIR's of the Sweet Potato to the Idaho Potato: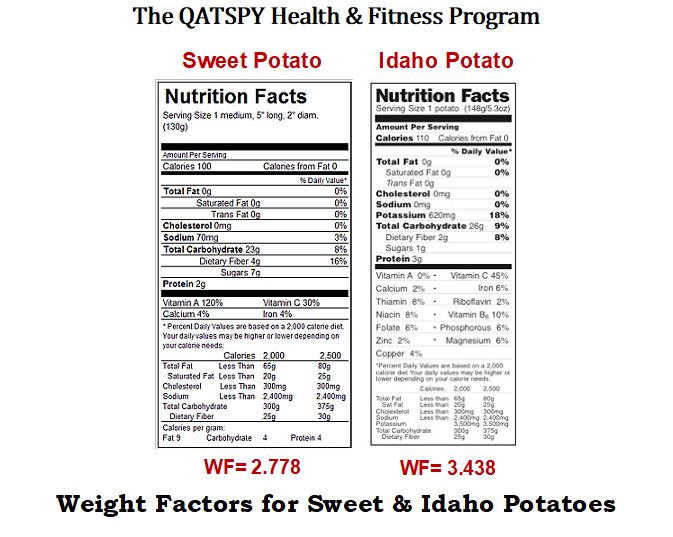 NOTE: As any dietitian will tell you that Sweet Potatoes and Pinto Beans are consider the perfect foods for weight control and to improve your overall health. I have Pinto Beans for lunch and dinner. Pinto Beans are high in Protein, Fiber, Omega-3 fats, and are a great source of a Probiotic.
In other words, I wanted my body to become a Turbocharged-Calorie-Burning Juggernaut (TCBJ) where I could lose weight and inches at a healthy rate of a quart-of-a-inch per week, or 1.5 pounds per week. I use Analytics to take Nine (9) Data Points components from the standard Nutrition Labels that are considered perfect foods and compare those foods labels from that which are considered junk food and develop a Metabolic Index Rate factor, as noted above, what I call bookends.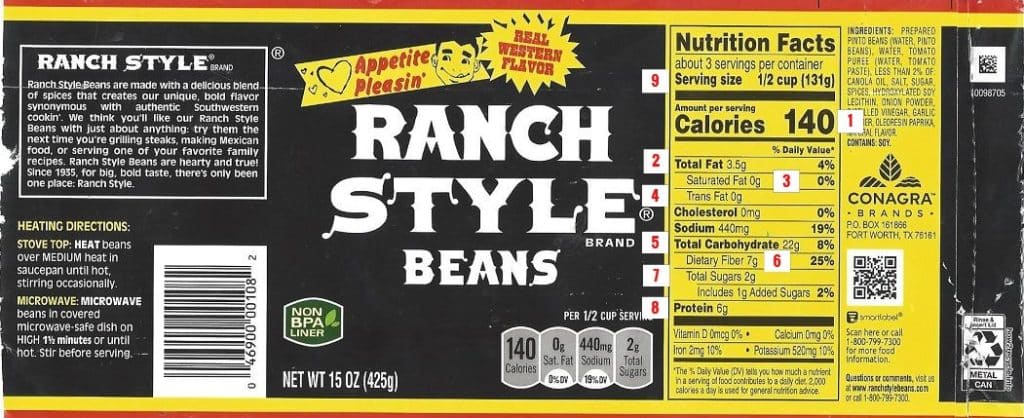 My objective was to keep all my meal items at or below a Metabolic Index Rate factor (MIR) of 3.25 based on the Analytics that I developed for WHAT I should eat. I had no idea how effective this diet program was going to be when I started it and measured my results daily starting on day-one on November 28, 2014. (See my Waistline Chart later in this article).
If you think you have to deprive yourself of foods you like, just see one of my lunch meals below: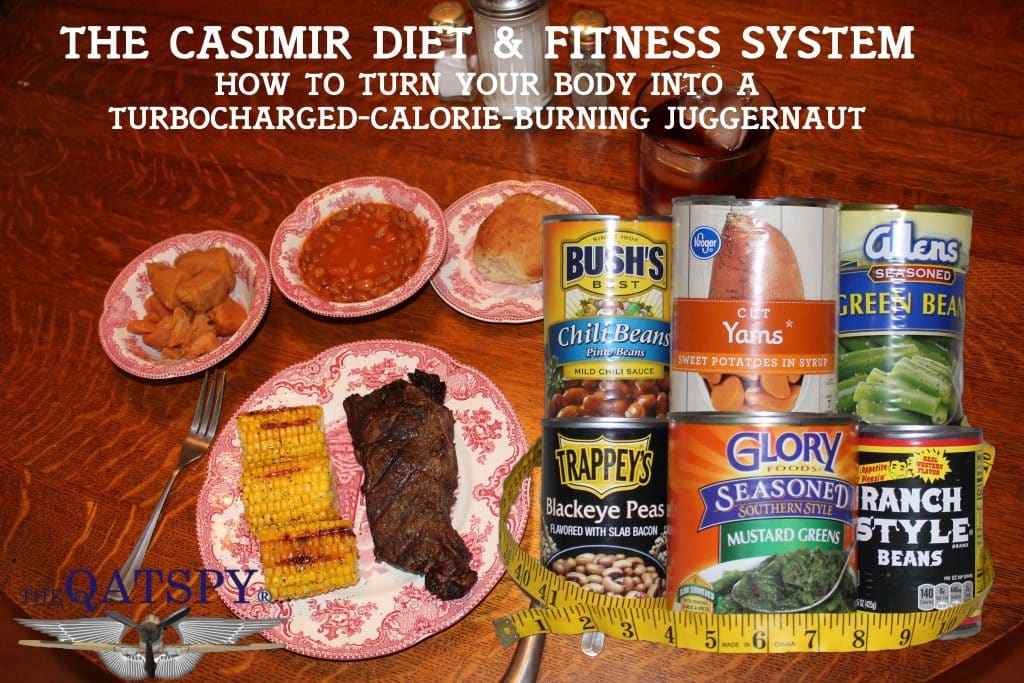 Alternative Reasons for Losing Pounds and Inches
I had an alternative reason for losing weight and inches off my waistline, I was retiring in June of 2015 at age of 57 to start my sportswear and performance business. I was planning on modeling my sportswear and produce fitness videos as my business to help other with their health and fitness. Below, I'm shown the last time that I flew aerial patrol in May of 2015 on the tarmac with our 206-D Bell Jet Ranger where I'm wearing my A-2 Leather Flight Jacket, a part of our Hemi-Quinn Bush Pilot Collection.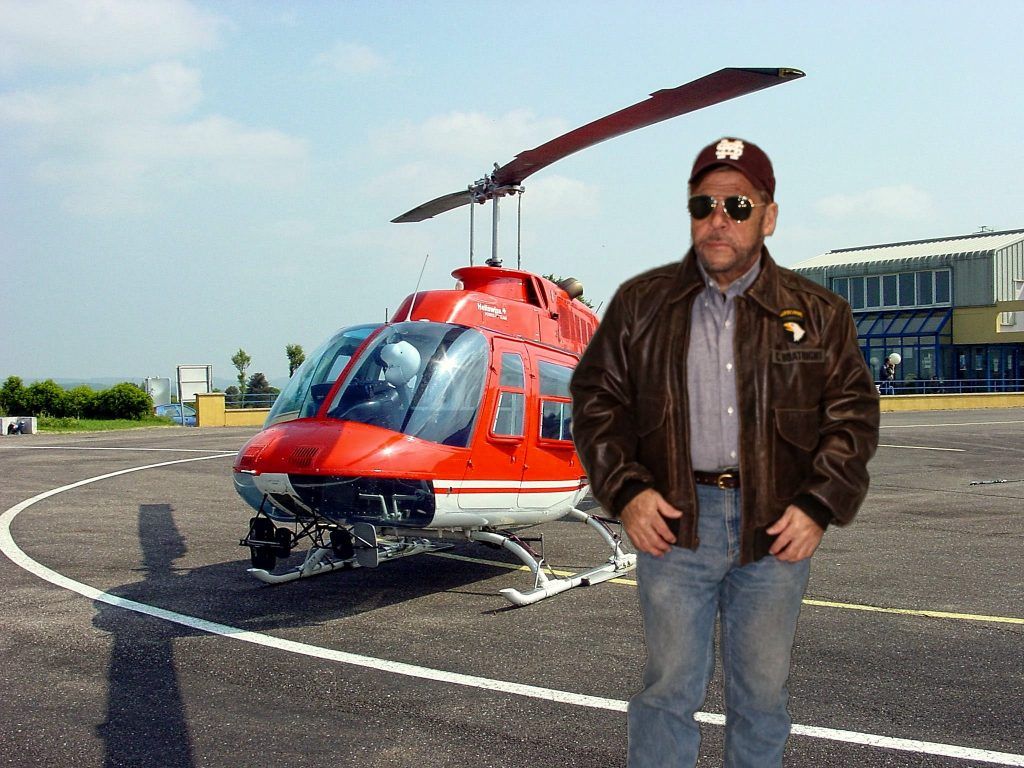 If you want to eye test your health and fitness status, just try stepping in front of the camera lens that offers you one of the most critical critiques of your conditioning and fitness. What is even more significant is that I'm doing this at age 65 modeling our sportswear. In the feature image and below, I'm 65 years old, 9- years after starting my CASIMIR DIET & FITNESS System. This was taken after we did a photoshoot on January 07th, 2023 for our Hemi-Quinn Bush Pilot Collection. The ground crew challenged me to an AB Challenge thinking that I might have gained weight over the Holidays. I enter into evidence exhibit (A), below.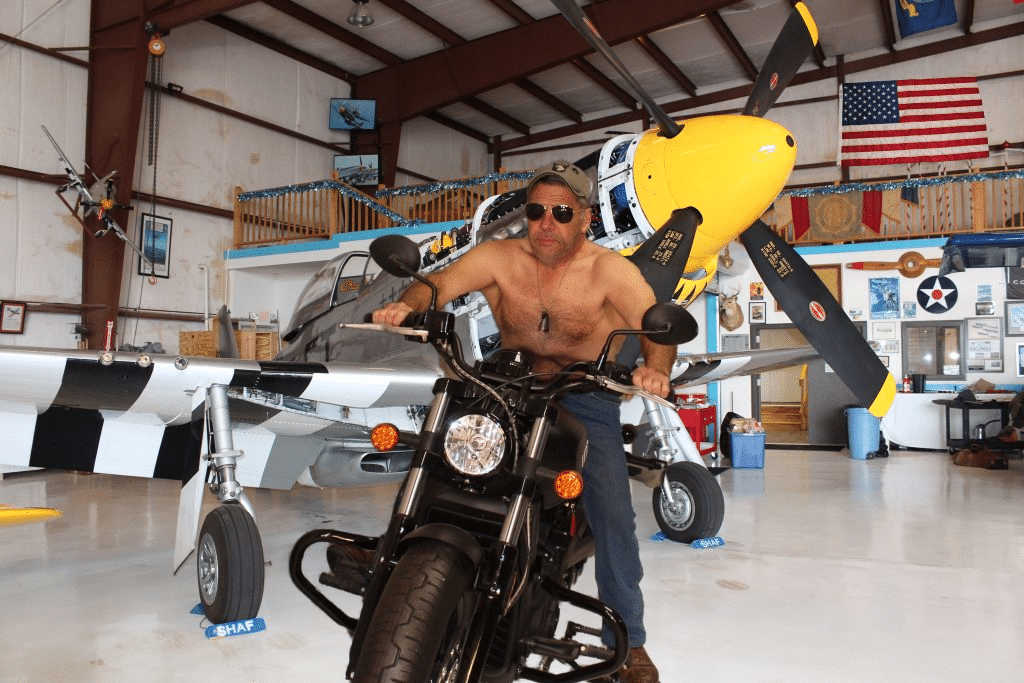 Results are in the Numbers, You Can't Argue Facts
The three (3) critical objectives to establish even before you start your diet and fitness program is- (1) What your success will look like afterwards, (2) Establishing metrics to measure your progress, IF YOU CAN'T MEASURE IT YOU CAN"T ACHIEVE IT! (3) Set a reasonable expectations to achieve your goal. In my case, my objective was to lose 45- pounds starting on Friday, November 28, 2014. I actually exceeded my expectation by losing 54- pounds and losing down to 28.75- inch waistline, refer to my Waistline Chart, below.
My Great Expectation
My objective date that I established was based on taking 45- pounds and dividing that by 1.5- pounds of weight lost per week (45/1.5= 30 weeks) or 210- days to lose 5.75- inches, or from 37.75- inches down to a 32- inch waist. So I set June 26, 2015 as the date to lose my 45- pounds and 5.75- inches in my waist by following my MIR factor of The CASIMIR DIET & FITNESS System. The true test of a diet isn't just losing the weight; but actually keeping the weight off over the long-run, going on 9-years NOW!
A healthy waistline is just as important to reach as a healthy weight for your health and fitness. IT ISN'T ABOUT BEING THIN BUT HEALTHY and FEELING BETTER. A healthy waistline again is based on taking your height (in inches) and dividing by 2. My height is 66/2= 33- inches, not many colleges recruited be for their basketball program. Below, is my actual Waistline Chart that I kept for those 210 day and beyond, that I still keep up-to-date: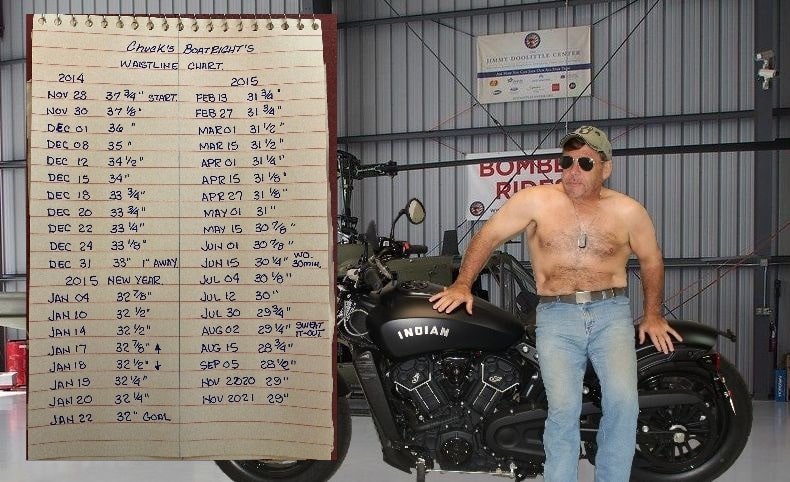 On June 15, 2015 my waistline was 30.25- inches, I actually exceeded my objective by 1.75- inches. As of this morning (23Apr2023), my waistline was 28.75- inches and my weight lost was 54- pounds. I focus more on my waistline rather than my weight for two reasons. ONE– In do modeling and the waistline is the most critical for your clothes to look and feel good on you and in the photoshoots. SECOND– I have a strength and conditioning program where I was adding muscle mass. Below, is a photo of me in my gym doing Bench Presses.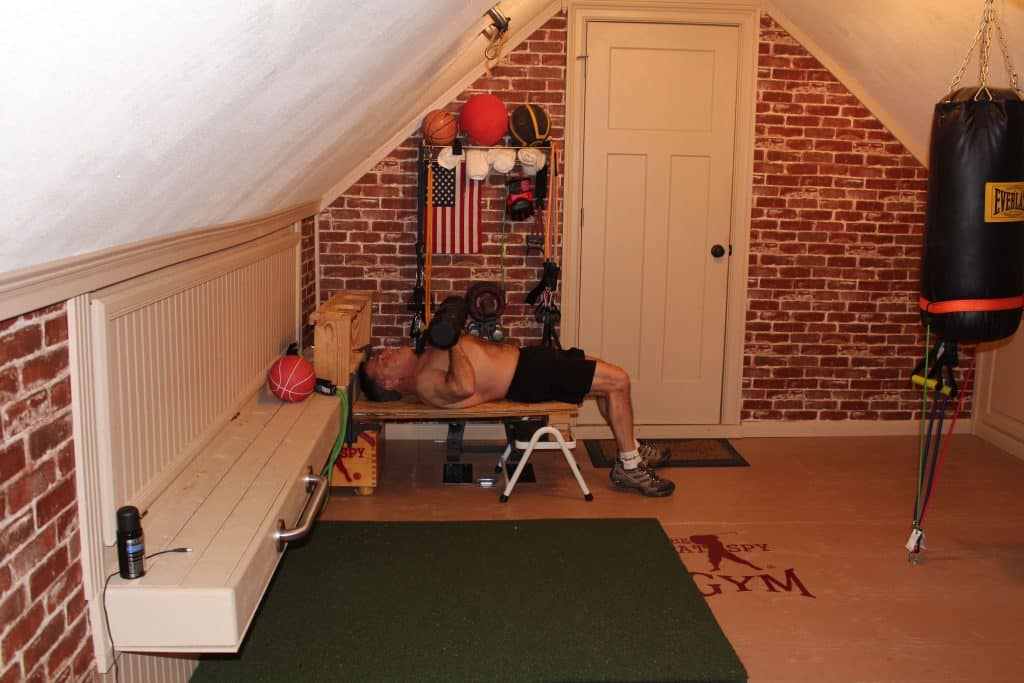 The Critical Component of a Diet isn't WHAT You Eat, But WHEN You Eat
The really turbocharger to my diet wasn't just WHAT I ate, but more important WHEN I ate. I don't eat anything before 9 a.m. or anything after 6 p.m. base on our natural Circadian Rhythms. If you want to lose the weight stay within this time frame to eat your meals and use the MIR System.
I Dropped Something Totally Unexpected, I Dropped Years
After three months into my CASIMIR Diet Program, I dropped something that was totally unexpected, I dropped years off my appearance of my skin that was based just as much on WHEN I ate as it was WHAT I ate.
It wasn't until I was listening to the John Tesh Show, Intelligence for You Life, that I found out why on May 11, 2022. John Tesh read the research paper from the Cleveland Clinic on WHY IT ISN'T GOOD to eat past 6 p.m. This gives your body the natural ability for it to repair and rejuvenate its biggest organ, your skin.
I have also dropped the three key indicators that most diet companies don't include in their advertisements- I dropped Blood Pressure at age 65 down to 110/67 with pulse 67. My NON-FASTING Glucose of 110, and my Combined Cholesterol is 175. I don't take any prescribed medication of any type or kind at age 65.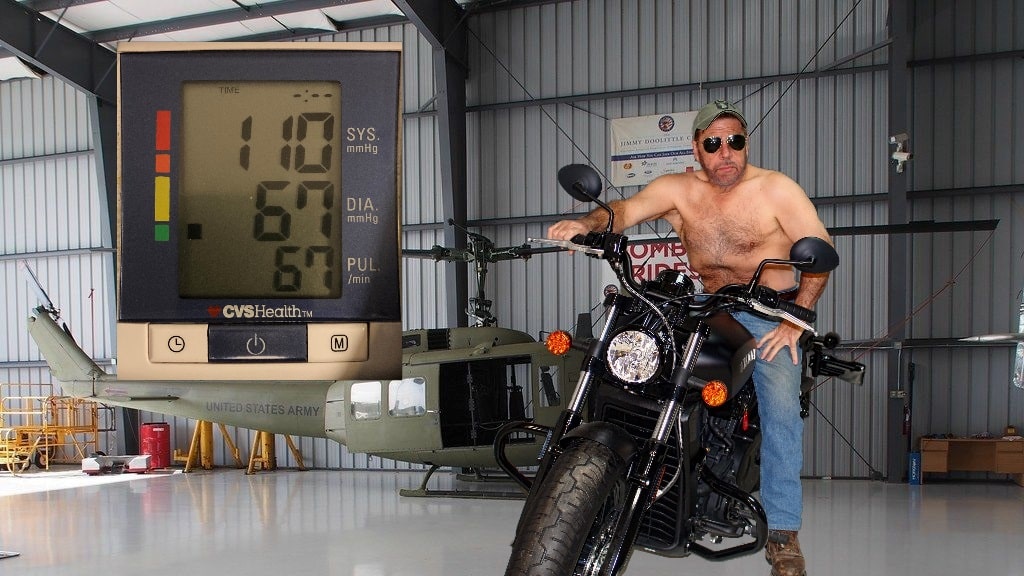 I check my blood pressure every day and I check the other vitals every quarter.■
I call my Diet The CASIMIR DIET & FITNESS System that I wrote a book on to help others to not only drop weight and inches but years off their appearance. How many people would like to look younger and also drop inches off their waistline? My book is listed below for readers to achieve their best health and fitness success that I have achieved, below:
Those of you that are Golfers, I have THE PALMER GOLF Swing Coach APP:
Those that Homeschool that wants to include an Athletic Curriculum in their children's Program I have The Sports Bible, The Yellowstone Papers- Coach's Guide to Sports Performance: