THE QATSPY® Yankee Personal Sports Training Athletic Quarters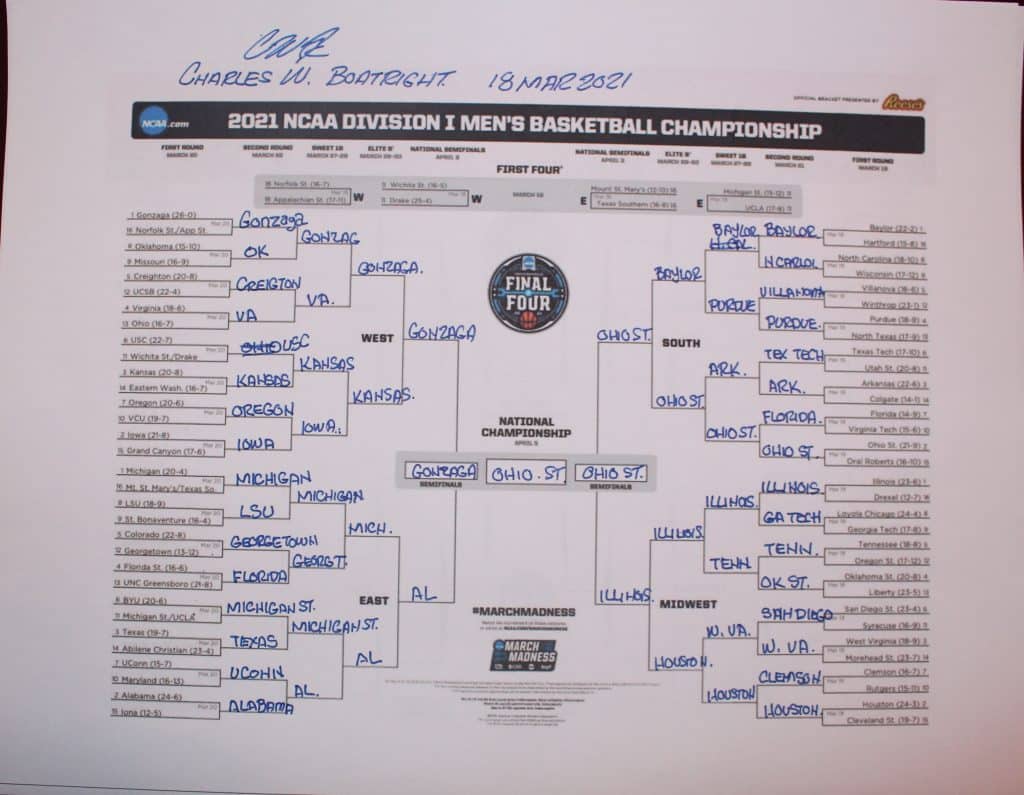 By: Charles W. Boatright
THIS IS WHAT A BUSTED BRACKET LOOKS LIKE AFTER JUST ONE DAY, FRIDAY 19MAR2021, That's why they call it March Madness!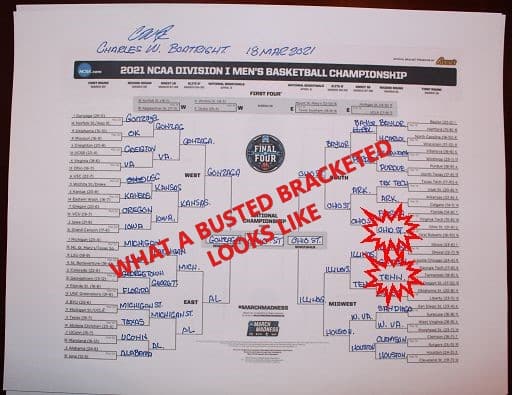 Your Golf Game Doesn't have to be March Madness- How to Use Bracketology to Develop a Golf Swing Wrist Action to Improve Control/Distance
March starts what has become March Madness in the NCAA College Post Basketball Season, a huge sporting event across the entire nation. March Madness causes sports analysts, both professional and amateur, to formulate their own version of Bracketology. Bracketology is where pro and amateur sports analysts alike, try to predict the Sweet Sixteen and NCAA Final Four teams. Of course, the odds are astronomical in picking The Final Four.
March also signals when College Baseball gets cranked up and the unofficial start to the golf season, if you live south of the Mason Dixon Line. This is the time most golfers start to pick up their sticks and start knocking the rust and dust off their golf game. They also start the arduous task of searching for that perfect swing and shot that they made in a previous season that is played over and over in their mind, like a vision of a Pro-Tracer illustrator on Golf Channel and the other major television networks.
Overcoming the March Madness Syndrome
I had a rare opportunity to interview a Vietnam POW who was held at the Hanoi Hilton for over seven years. He was able to survive his torturous conditions by using his golf game during his imprisonment. In March of 2002, I was in Hattiesburg, Mississippi meeting with an ALCOA representative, and when as I was leaving, I noticed a Vietnam Veteran setting up a booth for a charity golf tournament. I knew this could be only one person that I had read about and dreamt of meeting and interviewing, as this had to have been Colonel George Robert Hall.
If anyone could solve the March Madness syndrome in golf, it would had to have been Col. Hall. He played every golf course in his head over those seven years that he played while growing up in Hattiesburg, MS, and attending Ole Miss, and at the Naval Academy.
He did such a great job of virtually playing golf in his head, that six weeks after his release on February 12, 1973, Col. Hall was invited to play in The Greater New Orleans Open POW PRO-AM, where he shot his handicap of four (4), just six weeks after being released and returning home from being a POW in North Vietnam.
In anyone's book, this performance would have been considered a hall-of-fame performance, even for a professional golfer, much less an amateur golfer. There was only one professional golfer who actually did achieve this type of high-level performance, and that was Ben Hogan in the 1950 US OPEN. This was a year after his vehicle accident with a Greyhound Bus that almost killed Ben. We also hope the same for Tiger Woods after his vehicle accident that he would just be able to be a dad; and enjoy watching his children grow up.
I had an opportunity during my interview with Col. Hall to describe my preset technique in the golf swing wrist action theory with Col. Hall. Col. Hall explained that there was one key factor that he knew that he had established his swing correctly; and that was how he preset his wrists. He knew if he preset his wrist action in the golf swing correctly, then he knew the entire golf shot would have been correctly executed. Col. Hall conveyed to me that he totally relied on how he preset his wrists, because everything else was virtual even how he imagined the flight of the ball to his target.
To me, as I explained to Col. Hall, the preset wrist action in the golf swing was a critical key indicator that indicated if my golf swing was set correctly.
What the preset wrist action in the golf swing does is that it reduces the effects of downtime of the winter months, especially for the amateur golfer. The preset technique also removes the doubt from the golfer's mind and provide a degree of confidence. Both Ken Duke and Sir Nick Faldo both use the preset technique in their golf swings. Just having the ability to preset the wrists with a short chip or pitch shot around a putting green as I have done in my YouTube Video below can eliminate the March Madness Effect in your golf game.
Presetting the wrists can even be performed while working at your desk just by standing up while doing relief exercises, as anyone should do during the day. I typically use the same Sync and Preset wrist action that I will use on the golf course from tee-to-green, even at my desk. Repetition builds your muscle memory, or your natural instincts, that are stored in your subconscious mind. See my Pitch Shot Video below:
The Bunt-Type Pitch Shot Training Drill
Here's a huge advantage that every golfer could use to help their golf game, leading up to the start of the golf season, to avoid March Madness. Our subconscious mind can't distinguish between virtual and reality, that Col. Hall proved. To prove this, watch an action movie in a theater with surround sound, and you'll think that you are right in the action. If you can use one or more of your five senses either practicing or playing golf, you can connect with, train, and take advantage of this huge potential of your subconscious mind.
NEWS FLASH: We don't perform at a high level by thinking; we perform at a high level by using our natural instincts, our subconscious mind. You may very well practice using your conscious mind; but once you step foot onto the golf course, I can guarantee you that you will be using your subconscious mind. Remember the quote from Caddyshack:
Be the Ball quote: (Ty Webb- played by Chevy Chase mentioned to Danny Noonan- played by Michael O'Keefe) I'm going to give you a little advice. There's a force in the universe that makes things happen. And all you have to do is get in touch with it, stop thinking, let things happen, and be the ball.
Colonel Hall maintained his golf game while a POW in a very confined area, a 7- foot x 7- foot prison cell. He was able to shoot his handicap of four (4), just by making hundreds of virtual golf shots every day for over seven years. And all he had was a simple stick. So start NOW by taking your sticks and practice presetting the proper wrist action in the golf swing. Your wrists should look like the illustration below in the Lock Position before you take the handle of the club to the top of your swing: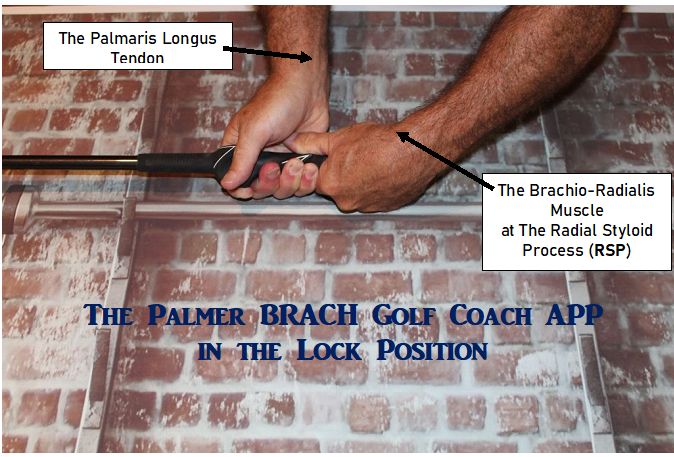 For less than the cost of a typical golf lesson, you can purchase a PDF Download of The Palmer D-PRO Golf Technique below to start presetting the proper golf swing wrist action and overcome your March Madness:
Another March Madness dilemma is figuring out how to get into shape before the Spring and Summer starts by losing weight and toning up, especially after COVID-19. Find out the diet and workout program that I used to lose 52- LBS. and 8.50- inches in my waistline. Find out how I lost 34- LBS. of my total 52- LBS in just one month at age 57:
Below was a photograph taken in February of 2021 at age 63, Besides losing weight and inches, The ASCOT DIET-FITNESS Program can also allow you to drop years off your appearance: