Description
Elevate Your Golf Game by Taking Your Golf Swing from the Batter's Box to the Tee Box with the same confidence and consistency that you felt in the batter's box.
Have you, the golfer, ever felt that your baseball swing is more fluid and easier to perform consistently than making your golf shot? If YES, The QATR-411 Palmer D-PRO GOLF TECH is for you.
The term APP stands for Apperception, where an athlete can take motor skills from one sport, like baseball/softball, and build a more consistent golf swing with power, clubhead speed, and control for distance with every club in the golfer's bag.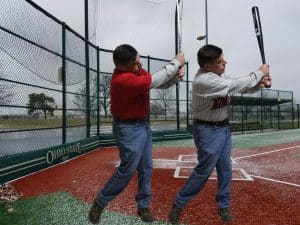 I don't know of too many baseball players standing in the batter's box having the same issues, concerns, and difficulties that golfers do standing on the tee box. The batter taking batting practice is working mainly on their contact and timing, not on their baseball swing.
Benefits of The Palmer Technique and Objectives:
• To improve your golf game with cross-training, by taking your golf swing from the batter's box to the tee box and onto the green.
• To develop a golf swing that is repeatable and instinctive, with just two (2) essential preset techniques to eliminate swing thoughts, confusion, and inconsistencies in your golf game.
• To practice your instinctive golf swing from tee-to-green where you practice your putting, like in the convenience of your garage or training facility, as I have done in my YouTube Videos in this procedure. I have placed two (2) YouTube Videos below for your reference on how this Palmer D-PRO GOLF TECH can improve your golf game.
• The advantage of the Palmer D-PRO GOLF TECH is it simplifies the golf swing with the presetting of your wrists and syncing the forearms up with the shoulders and core muscles for more distance with consistency.
• To develop a baseball batter's mentality on the golf course by making your golf swing instinctive. This was a technique that Colonel George Hall https://espygolfapp.com/locker-room-improve-golf-game/game-management-how-to-get-better-at-golf/colonel-hall-hero-vet-from-hattiesburg-ms/ used while he was a POW at the Hanoi Hilton for over seven (7) years.
This Self-Coaching Procedure contains illustrations and four of my YouTube Training to help the golfer have online assistance. I have attached two (2) of my YouTube Videos below for demonstration purposes:
The last YouTube Video was made before I had hip surgery and lost 52- pounds on the 925-MET Diet that I developed to allow me to lose my weight within 9- months. Thirty-two (32) pounds were lost within only in three (3) months.
Below is my photograph after I lost 52- pounds on the 925-MET Diet Program that I still follow: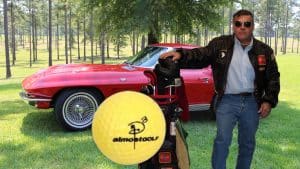 Below is the Link to the 925-MET Diet Program:
QATR-704- ASCOT DIET-FITNESS- How I Achieved My Health/Fitness Objective of Losing 52 Lbs.
Also, don't pass up one of the most effective practice sessions using The AlmostGOLF Balls that will revolutionize the way you practice golf forever, even for use in your backyard. These golf balls you are hitting in feet, instead of yards, and these don't cause injuries or property damage in the backyard. Also, use these to take THE HOME DEPOT ORANGE BUCKET CHALLENGE that I used in my driver YouTube Video above. The orange bucket is 285 feet from my home plate setup that represents 285- yards drives.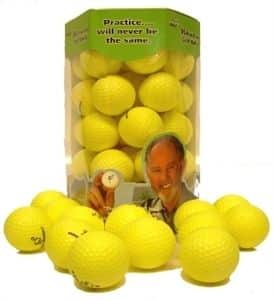 These are in my Online store that you can purchase at checkout.
Personal NOTE: I have a friend who is a local sports broadcaster that went to Trustmark Park in Pearl, Mississippi, where the M-Braves, a farm team for the Atlanta Braves, has set up a chipping course on the outfield diamond. He made a broadcast from there with the voice of the M-Braves. He made a perfect chip shot that I never seen him make before. He wrote me back a confirm the Baseball-Type golf swing approach to golf was psychological effective by stating- 'I love it Charles! That's the most comfortable I've felt swinging a golf club!'