THE QATSPY® Quapaw Athletic Technical Sportswear Performance Yukan Outfitter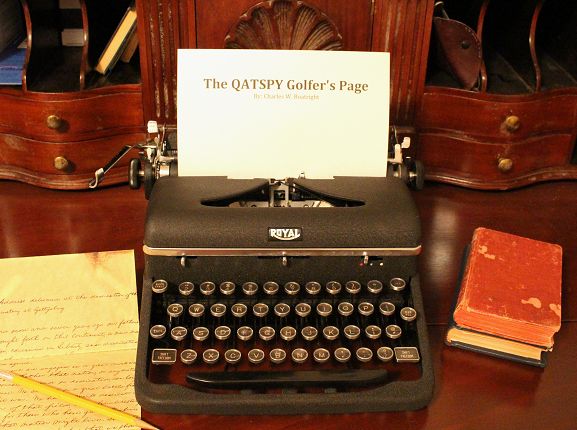 By: Charles W. Boatright
One of the most honored occasions I've ever experienced was meeting a Vietnam War Veteran and P.O.W., who was held at the infamous Hanoi Hilton in North Vietnam. I had just concluded a meeting with a major supplier at the Hattiesburg Country Club in south Mississippi, when I met U.S. Air Force Pilot, Colonel George Robert Hall who was shot down over North Vietnam on September 27, 1965. He was at the country club raising money for the Veterans' Association, when I sat down with Colonel Hall over a glass of iced tea. Hattiesburg is about 80 miles south of Madison, MS, on U.S. Hwy 49 South where I live.
The reason that I noted Colonel Hall's situation as a P.O.W. in an article about golf is because of how he used his love of golf to sustain himself through horrendous conditions as a P.O.W. Colonel Hall, with other P.O.W's., was able to train his minds in the field of science, math, language, and sports. Colonel Hall particularly used golf to not only keep his sanity under adverse conditions but to maintain his single-digit handicap of four. For additional background on what these men experienced as a P.O.W.'s, there is a book by Colonel Edward Hubbard entitled, "Escape From the Box."
These P.O.W.'s were sociologically and physically tortured and held in solitary confinement for weeks and months, without any contact with the outside. Their seven-and-a-half square foot prison cells became their world of existence. Colonel Hall took advantage of his isolation and confinement to increase his subconscious ability to mentally focus, or what athletes refer to as being in "THE ZONE."
During his confinement, Colonel Hall heightened his mental visualization skills to develop a virtual golf course in his mind, where 90 percent of golf is played. He imagined himself dressing for his round of golf each day by putting on his golf socks, pants, shoes, T-shirt, and golf shirt, and picking up his golf cap and bag and heading to the course. He mentally dealt with his nerves on the first tee box and played each and every hole of his home course and Pebble Beach, without missing a single sight and sound of each stroke. He remembered writing down the score for each hole. He pictured the fairways, greens, and the trees, including the rough and the speed of the greens.
Colonel Hall imagined himself standing behind the ball to get his alignment, going through his setup routine, presetting his wrists, and taking the club back up to the top of his swing, and then dropping the club back down into the slot, similar to how Tom Watson describes in the March 2003 issue of Golf Digest. He focused on the part of the golf ball that he wanted to impact. He heard the sound that the clubface made with the ball and held his photo-finish position.
Colonel Hall mentally maintained his golf swing muscle memory, even as a P.O.W. Upon his release, on February 12, 1973 from the Hanoi Hilton, the first thing that he wanted to do was to play his first round of golf. He did a little better than that. In less than six weeks from his release, he was playing on one of the biggest stages in golf. On March 21, 1973, Colonel Hall was invited to play in the 1973 Greater New Orleans P.O.W. Pro-Am Open, where he shot a 76, his handicap.
This was after seven-and-a-half years of not even picking up a golf club, or having any physical conditioning. Not many professional golfers would even consider attempting such a feat. Colonel Hall lost about 100 pounds of his total weight, including muscle mass, during his captivity and still had an outstanding performance. The weight loss was due to the P.O.W.'s daily rations of approximately 300 calories. (By the way, Jack Nicklaus won the 1973 New Orleans Open.)
Yogi Berra's statement about baseball can equally be applied to golf, where Yogi stated, "Baseball is 90 percent mental, and the other half is physical." I couldn't agree with Yogi Berra more! This mental approach to golf was verified by Colonel George Robert Hall's process, by maintaining his mentalization of his game. He credited his muscle memory process and presetting his wrists during his captivity to shooting his handicap. So the next time someone tells you that they focus more on the process than the results, you know exactly what they are eluding to in their statement. Now, there is no excuse for the golfer to develop golf rust over the winter months!
During our conversation, I was able to ask Colonel Hall some questions about his process that he used. He kept unbelievable, mental notes of his techniques and the process that allowed him to play his virtual game of golf in his cell. For my complete interview please use the following LINK: Col. Hall- P.O.W. Veteran at the Hanoi Hilton
A Great Golf Practice Drill that You Can Use with AlmostGOLF Balls
If you are trying to improve your golf game I have a technique that will simulate course conditions even during your practice sessions, similar to a mental process used by Col. Hall. Video tape your practice sessions, especially the last part after you warmed up and got into a rhythm and swinging like a baseball batter standing in the batter's box. You will notice that I have a throw-down Rubber Home Plate in the videos below. This helps my students and even be to take my golf swing from the batter's box to the tee box.
Below are three (3) videos a film crew shot back on June 05th, 2021 for their Sports ZONE Show on WJTV-12 leading up to the 2021 US OPEN. The only concern that the film crew had was picking up my drive shots and and where they were landing in reference to my orange bucket. They wanted to use one camera setup to show that the video wasn't edited in anyway. In the pre-production meeting, I suggest special golf balls called AlmostGOLF Balls that travel one-third (1/3rd) the distance of an actual golf ball up to 100-yards. So it made the Germantown Football Practice Field the perfect place to shot these videos. So essentially, I was hitting my 295- yard tee shot in feet instead of yards. Like Yogi Berra stated- You don't have to swing hard to hit a home run. If you got the timing, it'll go.
Yogi Berra had another quote about swing thoughts- How can you think and hit at the same time? The answer of course is that you can't.
My objective was to hit what would be FIVE (5) 295- yards drive to within 15- feet of my Home Depot Orange Bucket with a golf pin and flag in the Bucket. What this exercise will do for you is that it allows you to hit golf shots with the same adrenaline that you will experience on the golf course. Adrenaline hardwire your golf game and swing directly into your subconscious mind. Your subconscious mind uses instincts and ignores any swing thoughts you might have worked on for long hours developing.
THE Orange Bucket Challenge Link INTRO
The Orange Bucket Challenge Walk-Through
The Orange Bucket Challenge Demo
This is What I can Guarantee the GOLFER
I can guarantee the GOLFER THIS ONE THING– When the golfer practice in the backyard or on the range, the golfer is using their conscious part of their mind. They are going thought processes to develop a golf sequence of what they want to do on the golf course. But I can guarantee the golfer this one thing, that when the golfer step foot onto the golf course their subconscious mind will take over the entire golf swing using instincts. If your golf swing isn't instinctive those hours that the golfer spent practicing had just been scraped by your subconscious.
To learn more about how I did The ORANGE BUCKET CHALLENGE use this LINK:
The GOLFER'S BRACHS-PALMER TECH
Sponsored By: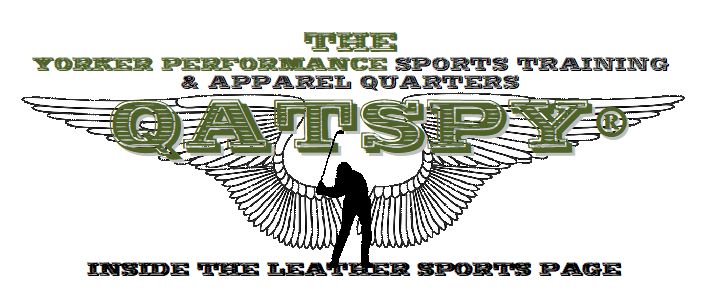 Website: espygolfapp.com/Store
1-888-514-1228
Contact:
Other Services that We Offer
Please contact us to arrange for a corporate golf Instructional outing, ■ How to take advantage of Sportsmanship and coaching techniques to apply it to your workforce and build a motivated team ■ and How to develop mental and physical fitness in the workforce for health and wellness. A stronger workforce is a better performing workforce.
My online store, THE QATSPY®, specializes in Sports performance apparel that offers both men and women clothing for the office and the weekend. I wear my A-2 Leather Flight Jacket traveling for business meeting clients and what I call my Buffalo Rider's Jacket. This A-2 Leather Flight Jacket offers that Charisma look for all occasions.
Promoting Your Business
There's is nothing that gets notice like our authentic our Leather Flight Jacket that we can personalize for companies, organizations, or individuals. Each jacket comes with its own spokesperson that knows your business. Our collection of Leather Jackets are better than business cards, but make sure that you carry plenty of business cards with you; because you will need them. We have a interior linear pocket where I carry my business cards.
THE QATSPY® AMERICAN CLASSIC LEATHER JACKET COLLECTION
The U.S. A-2 Leather Jacket has been a major part of our history (both military and civilian) since 1931 when the U.S. Army Air Corps developed and issued the leather flight jacket to pilots during World War II. A version of this iconic and classic A-2 Leather Flight Jacket became the persona of two legendary entertainers/actors- Fonzie in Happy Days and Indiana Jones in Raiders of the Lost Ark.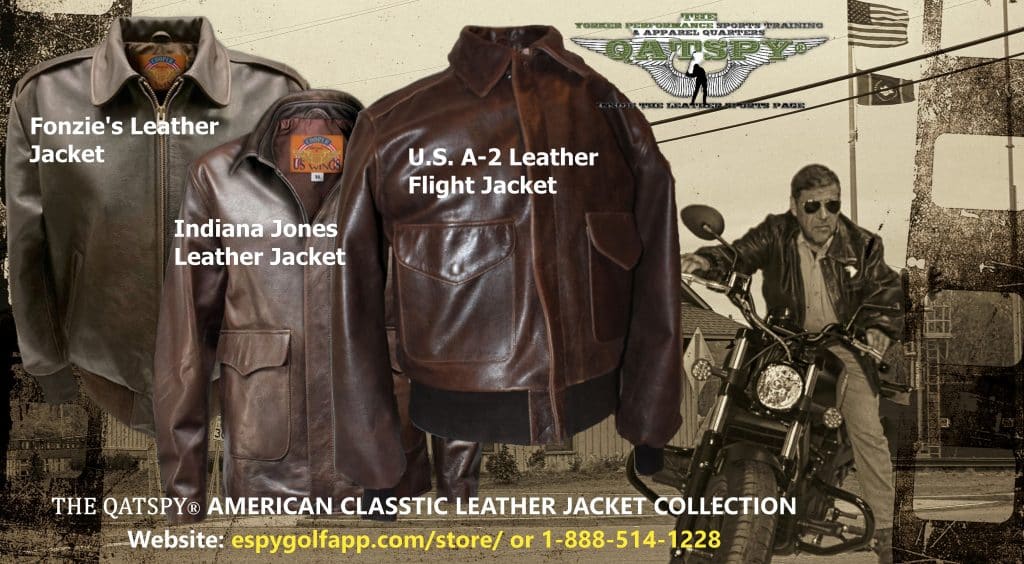 As Fashionable are our US WINGS® Jackets are, your best fashion is Your Fitness
In the photograph below, I'm 64 years old. This photograph was taken after we did a FALL & WINTER Photo shoot (09Nov21) for our line of US WINGS® Leather Jacket that I carry in our online store. The camera crew challenged me to an AB Challenge where I'm posing without my shirt. I credit my DELPHI DIET & FITNESS System for my physical condition, and the condition of my skin.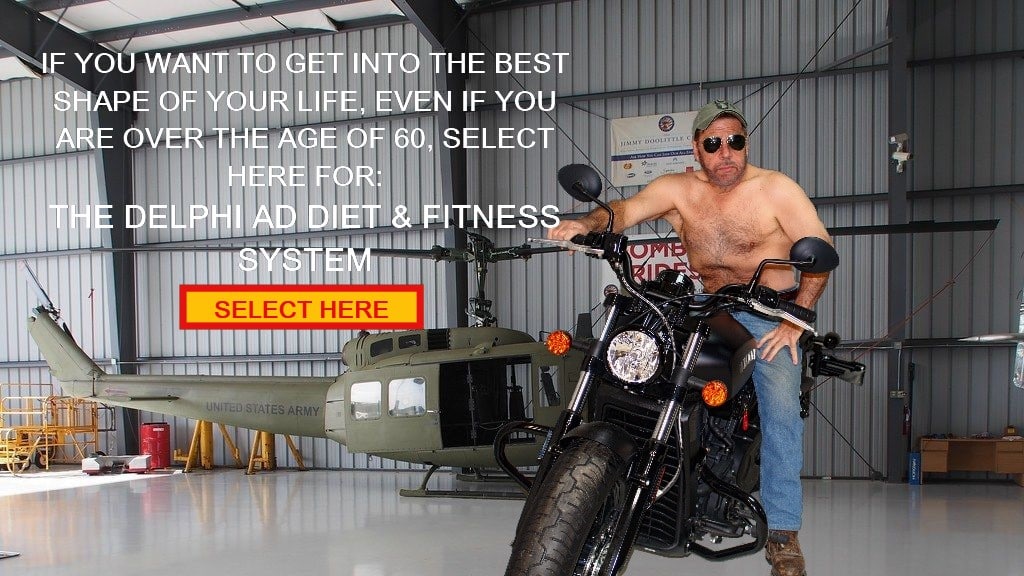 Using The DELPHI AD DIET & FITNESS System, you will drop more than LBS, inches, and years off the condition of your skin, you'll drop your Blood Pressure as well. Below is my Blood Pressure that I take every night without taking any prescribed medication of any type or kind at age 64: