THE QATSPY® Yankee Performance Sports Training & Apparel Quarters An Authorized Dealer & Distributor for US WINGS®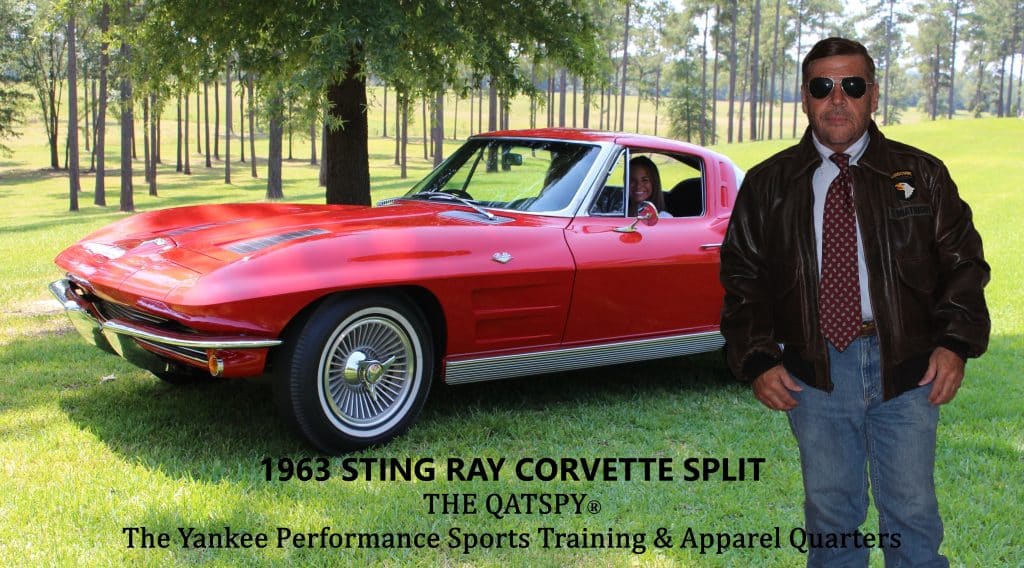 By: Charles W. Boatright
Coach's Corner: Sport/Fitness 4 Homeschool- Sports/Fitness is Essential to a Homeschool Curriculum as 3-R/SH Are to Your Kid's Education
This article is directed to parents that Homeschool offering a fitness and athletic curriculum to your program:
I'm a proponent of homeschooling, especially now with a variant of the COVID-19 Virus that is still well entrenched in our lives. The irregular schedule and not having a stable learning environment has had a dramatic impact on our kids' ability to learn. Organizations and companies that have developed curriculum for homeschool settings over the decades have proven to be an indispensable resource for these families and kids seeking stability.
There is no doubt the positive impact that homeschooling has had on kids who have elected to learn in an environment with parental controls, base on a foundation of moral character, perseverance, and intellectual freedom and stressing the basics was what we grew up with and are what's needed the most.
But I would like to include with the 3R's/SH (Reading, Writing, Mathematics, Sciences, and History), the sport of golf and fitness that is required to play golf. Reason is, the sport of golf is a perfect fit for homeschooling students because it can be either a team or an individual sport that is also a non-contact sport.
Unlike football, rugby, soccer, baseball/softball, or basketball that are team sports and have injuries; golf on the other hand can be played as an individual or as a team level. A starter set of golf clubs for kids can be inexpensive, and golf can be practiced almost anywhere with special practice balls call, AlmostGOLF Balls, that I use in my own golf coaching sessions. Golf is a sport that can open up business opportunities in almost any one's career. If you've got a single-digit handicap, believe me, people will want to be associated with you. Even colleges would want to offer your child both an academic and athletic scholarship.
Just for a demonstration of the AlmostGOLF Balls, I set up what I call an Orange Bucket Challenge on a practice football field. Below, I did a video for a local TV station where I demonstrated hitting what would be a 295- yard tee shot and placing all four of my golf balls within 15- feet of the orange bucket.
NOTE: AlmostGOLF Balls are hit in feet, instead of yards, and have the exact flight characteristics as an actual golf ball. They don't cause injury or property damage; so they can be used in the backyard with family and friends.
I developed a golf training program that is based on a self-coaching approach that allows the student to take their golf swing from the batter's box to the tee box in a unique technique called Apperception. Apperception takes highly-developed motor skills from baseball/softball and applies them directly to the golf swing in a program I call The Palmer Cam-Over Golf Technique.
The Palmer Cam-Over Golf Technique provides the golfer the same confidence of the batter standing in the batter's box, but standing on the tee box or from the fairway to getting on the green. The student will develop skills in their golf game in weeks that would conventionally take years to develop and retain. These are instinctive motor skills that the student has already developed before the age of 12.
THE Palmer Cam-Over Golf Technique from Tee-to-Green and in the Tin Cup
Below, I have made training videos demonstrating the two PITCH shots and my Putting Maneuver, these are FREE to View:
Short Bunt-Type Pitch Shot:
A Short Pitch Shot
TICK-N-TOCK Putting Technique, Hole more Putts:
These and more training videos are included in my Palmer Cam-Over Golf Technique including my Fitness videos.
Health & Fitness Program
We all know all too well that Diet and Fitness is an essential part of our lives to maintain our health as we age. But, fitness is even becoming more important for the our kids, as well. Health risks are just now showing up in our kids that are dealing with health issues from a sedentary lifestyle of people that are typically in their 40- or 50-year old.
An important part of kid's health and fitness is having a sport in their curriculum; and golf is a sport a person can play from the age 8 or before to 98 and beyond. Golf, just like the aging process, is enjoyed more if we are fit and in good shape and don't have health concerns. The reason that I prefer the sport of golf is that it takes flexibility, strength, and stamina just to play at a competitive level.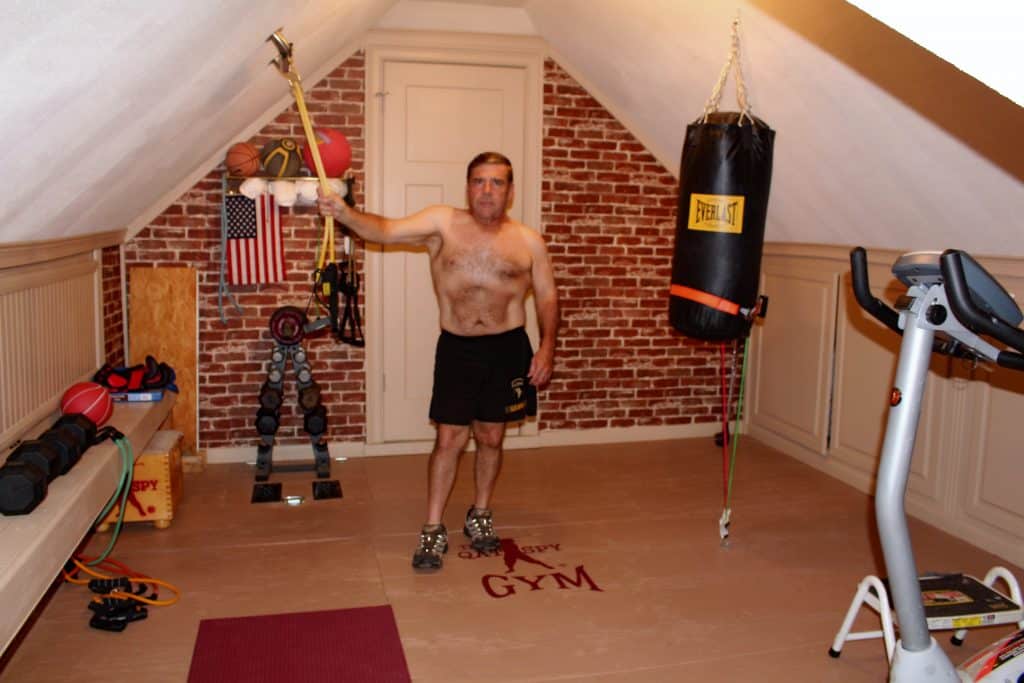 What is nice about The DEL-Rx Age-Defying Diet & Fitness Program is it only requires basic, inexpensive equipment, like dumbbells, elastic tubing, and Medicine Balls, what you see in the above photograph of my gym. This all the equipment that I use to workout with, pretty basic. The DEL-Rx Age-Defying Diet & Fitness Program is based on the CASPER (Cardio, Aerobic, Strength, Pilates, Exercise Regimen). Just remember, it doesn't require heavy weights to have a great strength program. Reps are more important than the amount of weight lifted.
The DEL-Rx Age-Defying Diet & Fitness Program allows me to play competitive golf, work on my farm, and enjoy riding my INDIAN Motorcycle at age 64. The real benefit of DEL-Rx Age-Defying Diet & Fitness Program is the Age-Defying component it offers me, even at age 64. The three Training Videos were produce right before I started my DEL-Rx Age-Defying Diet & Fitness Program in September of 2014. I started my DEL-Rx Age-Defying Diet & Fitness Program in November 28, 2014.
Compare the photographs of August 19, 2021, (2) below and the feature image above with the 4- Training Videos that I made above. Being that I'm an Engineer, I have been trained to document everything. These videos and these photographs document how I lost weight and just as important years off my skin just from my DEL-Rx Age-Defying Diet & Fitness Program.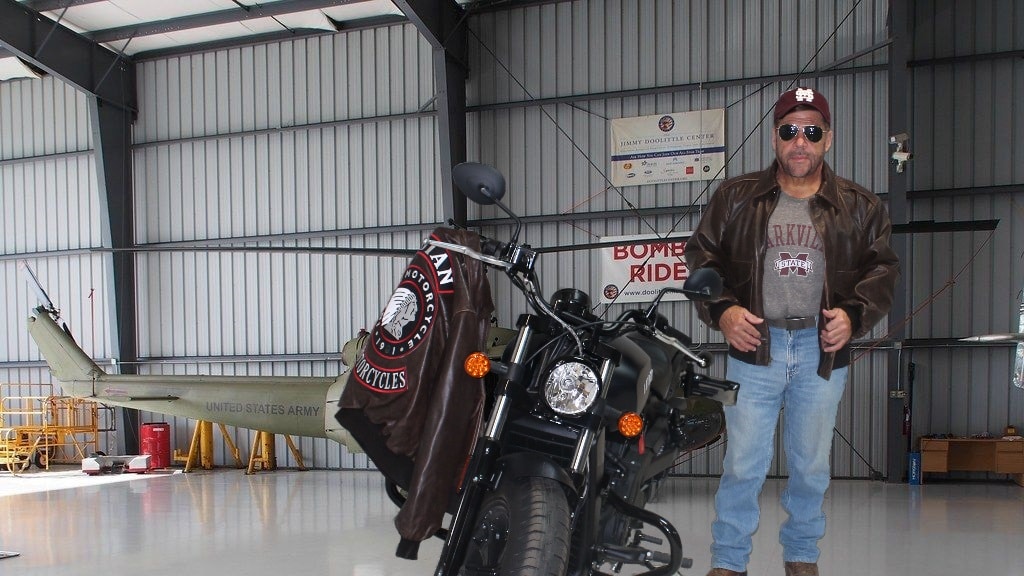 I model my line of sports apparel with twentysomethings during our photo shoots. The photograph in the feature image was taken on August 19, 2021 to promote our Fall Fashion apparel that we carry in my Online Store, THE QATSPY®. After this photo shoot, I was challenged to an AB Challenge by the photo crew in our hangar.
There is not a better proof of someone's health and fitness than an AB Challenge, shown below. If your health & Fitness Program offers you the same results that the DEL-Rx Age-Defying Diet & Fitness Program does me, You need to stick with it! If NOT you need to achieve a better Health & Fitness with an Age-Defying component.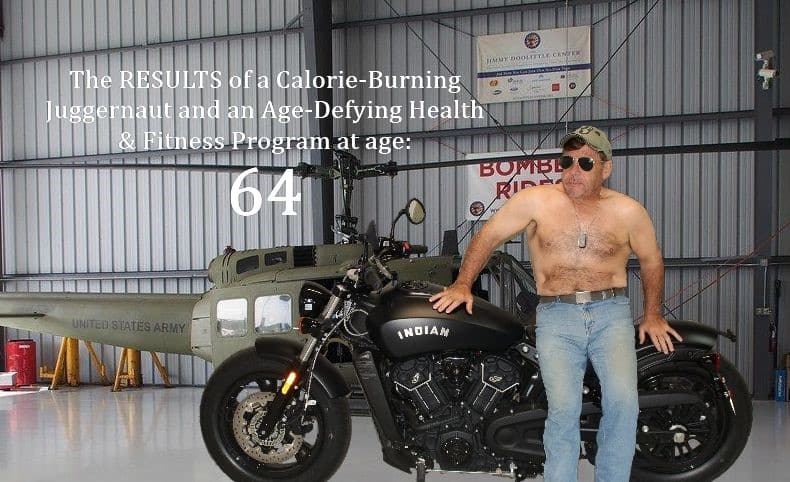 <Hangar INDIAN Photo>
A LIMITED TIME ONLY
Both my The Palmer Cam-Over Golf Technique and DEL-Rx Age-Defying Diet & Fitness Program are 50% OFF until October 31, 2021. If I can have over a 100 families purchase both programs from a same community or organization like a church or large group, I will make a personal appearance to those that purchase both within the continental (48) states just for the covering my travel expenses■
This would be a full 4-hour presentation of both The Palmer Cam-Over Golf Technique and DEL-Rx Age-Defying Diet & Fitness Program. This offer is good until October 31, 2021.
My Contact Information:
Charles W. Boatright
THE QATSPY®
1-888-514-1228
OUR FALL FASHION LINE UP
THE QATSPY® FALL Collection of Authentic A-2 and G-1 Leather Flight Jacket that includes the Indiana Jones Leather Jacket like the one that appeared in the movie: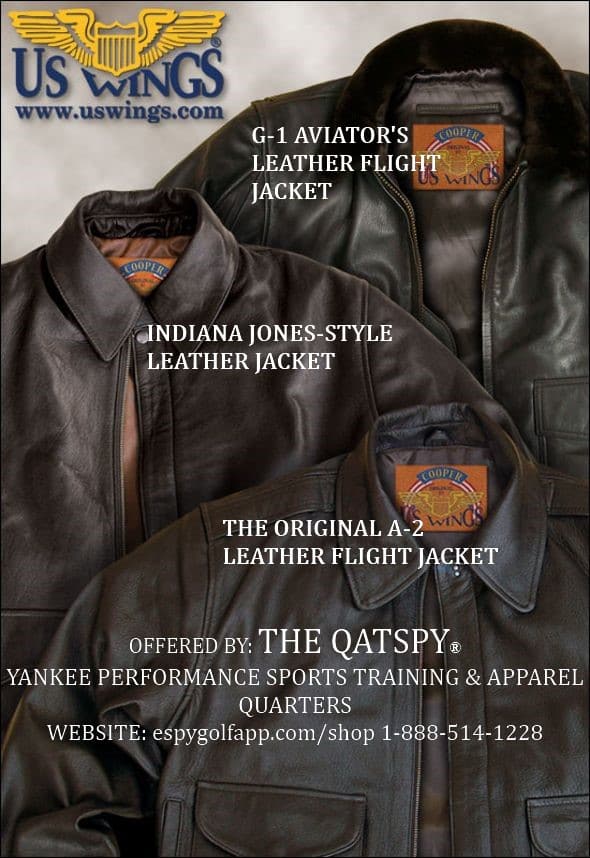 THE QATSPY® TOPGUN 2 Movie Aviator's Jackets like the ones that MAVERICK (Tom Cruise) will be wearing during this movie: