THE QATSPY® Quapaw Athletic & Tactical Sportswear Performance Yarak Outfitters
INSIDE THE LEATHER HEALTH & FITNESS SPORTS PERFORMANCE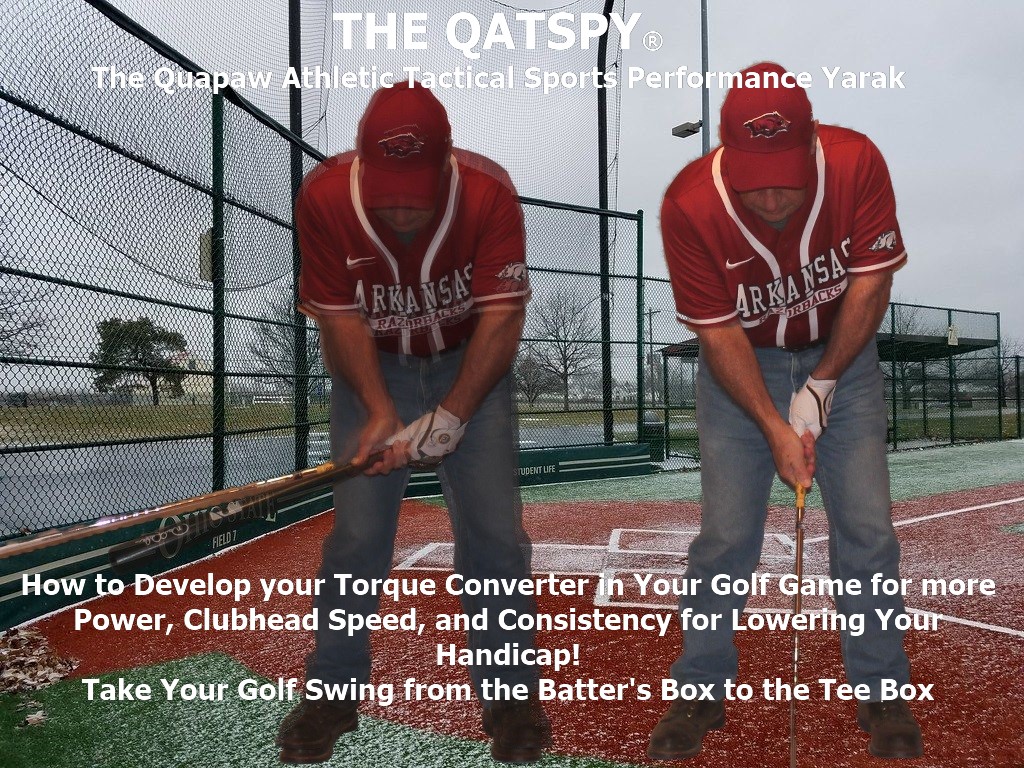 By: Charles W. Boatright
A Baseball Torque Converter for Golfers– A Baseball Swing Technique to Improve Power, Clubhead Speed, Distance, and Consistency for Golfers
So What is Torque?
Torque is a measure of the force that is generated that causes an object to rotate about an axis. The CENTRIFUGAL FORCE is what causes an object to accelerate in a linear direction. From some of my Engineering days.
Developing a Torque Converter is a key component for golfers to be able to create power, clubhead speed, distance, and even consistency. Before you get the clubs out of the closet, knock the rust off your game, and get back on the golf course, take just a moment to find out how a torque converter can dramatically improve your golf game and lower your score, handicap, and especially your frustration level.
The torque converter is a technique used by baseball players in how they preset and sync their wrists with the shoulders, torso, and quads to generate the power to drive in runs. If you compare my superimposed photograph, above, of me in the baseball stance and golf stance presetting my wrists into the Lock Positions, you will find them to be very similar to each other then they are different.
This actually provides a huge advantage for the golfer to take advantage of for their golf swing for power, clubhead speed, distance, and even consistency. If you ask any golfer what they would like most from their golf game, consistency would be in the top five. Because without consistency, the golfer has no avenue to improve their golf game.
An APP to Apply Our Baseball Swing to Our Golf Swing
The Torque Converter is actually a simple technique I learned during my baseball days that I applied to my golf swing. This technique is called Apperception, or APP, because it is based on swing mechanics that we developed as kids playing sandlot baseball games that we can apply to our golf game. This means that these are permanent fine motor skills that are instinctive that can be used by golfers without even thinking.
Just compare your current golf swing on the tee box to your baseball swing you learned as a kid while standing in the batter's box. IF your golf swing doesn't have the same consistency and feel as your baseball swing has or did when you are taking normal batting practice, then just look what advantages you could gain from your baseball swing. I'm not referring to MLB style pitching, but just taking batting practice in the batting cage.
Wouldn't it be nice to have the same confidence and consistency you have, or had, in the batter's box when playing baseball, but on the tee box. From my experience playing baseball in high school, I was just focused on the pitch and its movement rather than all my swing mechanics that can get really confusing. You're no longer a golfer trying to hit your golf shot off the tee box or onto the green, but a golfer trying desperately to recreate their golf swing on the fly. WRONG TIME TO CREATE A GOLF SWING!
The GOLFER'S BRACHS-PALMER TECH or Preset & Sync DRILLS
In my golf swing, once I preset and sync my wrists, like shown in the superimposed featured image above, I'm totally focused on being the BALL. That is exactly what you want to create in your golf game. I developed The GOLFER'S BRACHS-PALMER Technique based on the baseball swing model.
I would like to show you one of my drills that I typically use in my golf training for myself and my students called the Orange Bucket Challenge, where I use my driver to hit 5 in a row, 290- yard, tee shots to within 15- feet of the Home Depot Orange Bucket. Just a footnote, all three of my video series, below, were done on the first take. The camera crew from WJTV-12 were wondering how many takes it would take to get what they could use for their programming for the Sports Zone Show.
The other concern that the camera crew had was just having one camera setup and their ability to zoom in tight enough to detect where my tee shots were hitting, in reference to the HOME DEPOT Orange Bucket. Not where they rollout, but hit. I used what are called AlmostGOLF Balls that travel one-third (1/3rd) the distance of an actual golf ball for this video series where the crew could capture where my tee shots were hitting.
So essentially what I'm doing is hitting my tee shots in feet, instead of yards, up to 100- yards limit that these balls can travel. The AlmostGOLF Balls also are great for backyards and the garage training. They don't cause injuries or property damage; and you can use them just like hitting golf balls on the golf course.
Matter of fact, my last golf shot into the Orange Bucket, I was drawing it, due to the wind coming from my left that developed on the last two tee shots. This isn't anything different from range balls that can be shaped and travel three-quarters (3/4th) the distance of your actual golf ball on the golf course. So in these videos, I'm hitting five (5) 290- yard Tee Shot if I was using actual golf balls.
Developing Course-Like Conditions during Your Practice Sessions
If you want to create course-like conditions during your practice sessions, just use a camera or your I-Phone and videotape yourself hitting golf shots. You will develop the adrenaline that is missing during your practice sessions. Adrenaline will appear on the golf course to turn Dr. Jekyll into Mr. Hyde. Adrenaline will make you rely totally on your instincts, not the hours you spent practicing put into your golf game. If you are wondering why your golf practice doesn't make it intact with you to the golf course, this is the reason- Adrenaline. In baseball, they call it The 5 O'clock Hitter syndrome.
THE Orange Bucket Challenge Link INTRO
The Orange Bucket Challenge Walk-Through
The Orange Bucket Challenge Demo
An Ad that WJTV-12 made for me for doing a three-part series on SPORTS ZONE
I did a 3- Part Video for WJTV-12 SPORTS ZONE Show leading up to the 2021 US Open, where I cover my golf training technique of taking my golf swing from the Batter's Box to the Tee Box to hit more Fairways & Greens in regulation. As appreciation for me doing this 3-part video series, the WJTV-12 production team put together a Television promotional that they ran and that I could use in my golf training business.
My objective is to place at least 4 of my 5 tee shots inside my 15- foot tolerance zone. If I miss more than one tee shot outside this 15- foot zone, I must start over until I complete getting at least 4 shots inside my zone. As you can see from my three videos, I got 5 tee shots within my 15- foot zone using The GOLFER'S BRACHS-PALMER Technique.
This was a technique that I discussed during an interview with a Vietnam POW, Colonel George Robert Hall from Hattiesburg who I met by happenstance, while meeting with some ALCOA reps at the Hattiesburg Country Club. Please see my full interview with Colonel Hall with this link above.
THE QUAPAW AVIATION TACTICAL SPORTSWEAR PERFORMANCE YARAK OUTFITTERS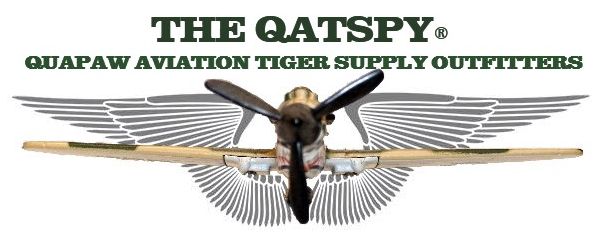 We are proud to introduce our TOPGUN 2 Movie line of Flight Jackets, like the Flight Jackets that Maverick (Tom Cruise) will be wearing for the TOPGUN 2 Movies scheduled to be released on May 27, 2022. (See the Trailer for the TOPGUN Movie, below):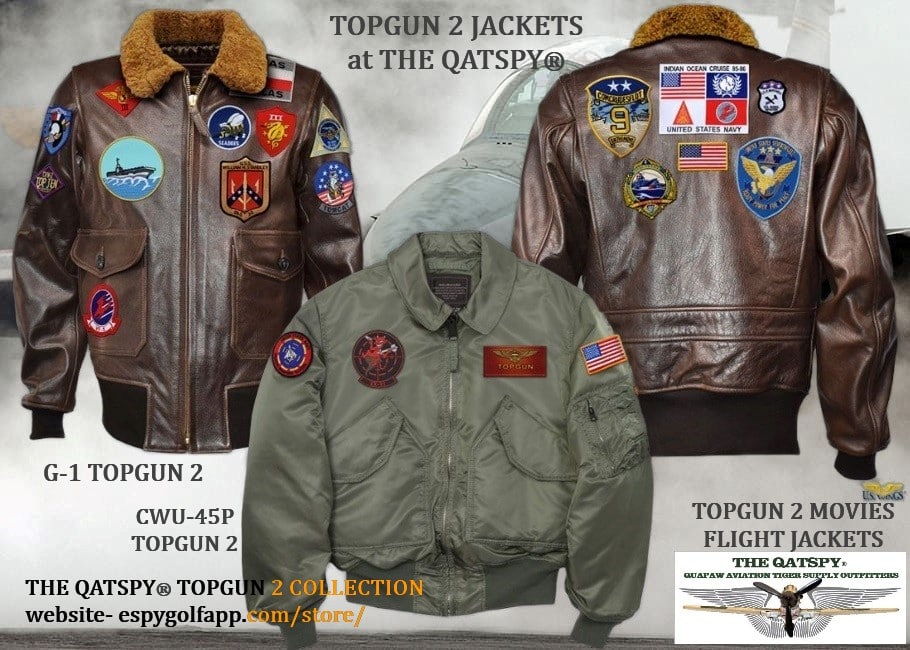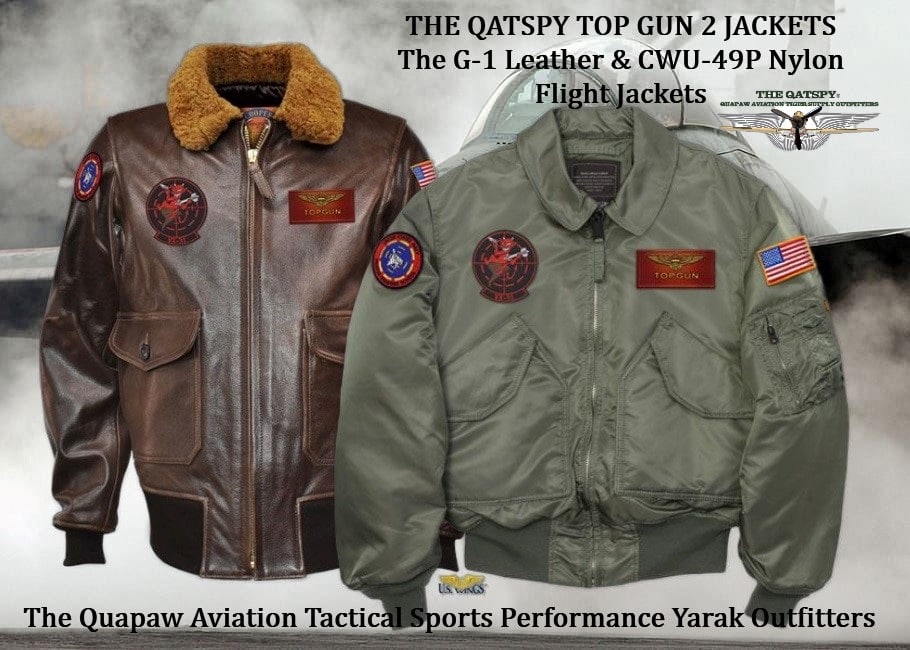 TOPGUN 2 Trailer