Description
The G-1 Leather Flight Jacket Fur Collar: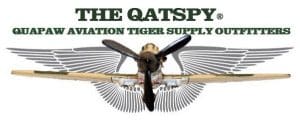 THE QATSPY® (QUAPAW AVIATION TIGER SPORTSWEAR is an Authorized Dealer for SPORTY'S WRIGHT BROS. for the FLYING TIGER G-1 Aviator's Leather Bomber Jacket based on the Jacket worn by the American Volunteer Group (AVG) during WWII.

The G-1 Leather Bomber Jacket Details

For those who want a 14th AF Flying Tigers jacket but prefer the look of a G-1, we offer SPORTY'S WRIGHT BROS. Flying Tigers G-1 Jacket. It has the look of a WWII jacket with durable constructed. The G-1 Leather Bomber Jacket isn't just tough, it's also luxuriously soft & rich looking as well. And the antique brown finish, along with the vintage-style fur collar, makes it look like it came straight out of WWII!
Flying Tigers Cape Buffalo G-1Features:
100% leather
A Light brown vintage-style fur collar
Two front cargo pockets with side-entry hand warmers
An interior pocket
Heavy duty brass zipper
A nylon lining
Knit cuffs & waistband
Available in Regular
Color: Antique Brown
Fit: Normal
A 14th Air Force Flying Tiger's patches on the left chest
A USAAF patch on the left sleeve
There's nothing that is more distinctive and legendary than the Leather G-1 Leather Flight Jacket with patches, like the one worn by Tom Cruise in the original movie TOP GUN. But it was World War Two Veterans returning home from World War 2 that made the G-1 Leather Flight Jacket the iconic jacket that it became, shown below. These Veterans used the G-1 Leather Flight Jacket for that distinctive look with patches.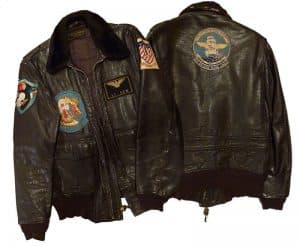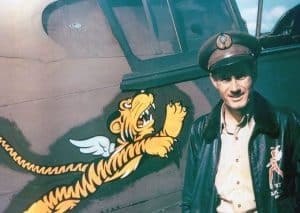 You can have the same distinction, feel, and look in that Antique, old-world Brown color, that is tough, rugged, and durable, and that describes the G-1 Jacket.
THE QATSPY® is an authorized dealer for SPORTY'S WRIGHT BROS,
Just a little personal background on my first introduction to aviation at the age of 12, My grandfather bought me a remote string operated P-40 Warhawk model to fly in the pasture in the back of our house. That was when the passion for aviation got into my blood to actual fly one day. As fortunes and opportunities would have it I enlisted into the U.S. ARMY 101st Airborne Unit with the 326th Combat Engineers. After my service I worked 33- years with a Transmission Line Utility as a Grid Engineer where one of my responsibilities was to fly aerial patrol, flying over 500- flight hours a year. Now I still work with an Aviation Museum where we sponsor airshows.