Description
Taking the Baseball Swing from the Batter's Box to the Tee Box to Develop the Zone-Like Focus
Most baseball players can perform flawlessly under pressure, with thousands of spectators watching under the bright lights of the ball park. They contribute their performance to being IN THE ZONE, a great self-coaching technique that an athlete can develop. This same self-coaching technique can provide the golfer with an ability to be IN THE ZONE under course conditions. Being IN THE ZONE is a totally subconscious function, where the golfer's muscle memory and primary motor skills are located.
Muscle memory isn't memory that is found in the fiber of the muscles, but a sequential, instinctive muscle response to properly move in order to avoid injury or to perform a particular task. This can be compared to a weightlifter who uses proper lifting techniques to avoid damaging or injuring their back and body. The weightlifter wants their body in a certain position to lift. In golf, muscle memory is a specific sequence and routine, or ergonomics, of how the golfer wants to engage certain key muscles to Sync/Preset their wrists and elbows with their shoulders.
How the Golfer Can Develop an IN THE ZONE Routine and a Sequential Golf Swing
IN THE ZONE perception technique is very effective in sports, especially the sport of golf. This technique is called Apperception, or APP for short. This gives the athlete the ability to use existing motor skills and muscle memory in one sport to apply them to another sport to perform at a high level, without having to develop a new skill set. This is a tremendous advantage for the golfer to use who is trying to put in the man-hours needed just to achieve a single-digit handicap status.
In a research that I did, I compared the baseball swing to that of the golf swing. The college where I did the research had thousands of feet of videotape of both swings in their archives. I was able to use time-lapse photography to view the two swings side-by-side, particularly the wrist action. What I found out even surprised me about how the wrist action is more similar then different in the two swings. One of these time-lapse comparisons is featured below. I circled the wrist action in both photos to highlight the similarities.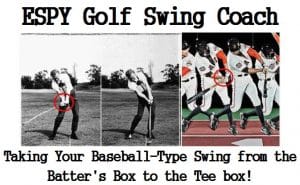 For those golfers aspirating to achieve a single-digit handicap status, or just to improve their golf game, the Apperception, or The ESPY Golf Swing APP Technique is effective. The ESPY Golf Swing APP Technique, could significantly reduce their time and cost by approximately 40 percent to achieve their objective in one of the most effective training methods, Self-coaching Training Procedure (STP).
To develop your ESP Self-Coaching Technique Forum in Your Golf Game, please select to download your E-Copy of this Online Golf Self-Coaching Training Procedure (STP). The advantage of the online Golf STP is it a training procedure that you will have in your electronic files for future reference and NOT a one-time lesson where the presented material will be forgotten later or once on the golf course.