THE QATSPY® Inside the Leather Sport Page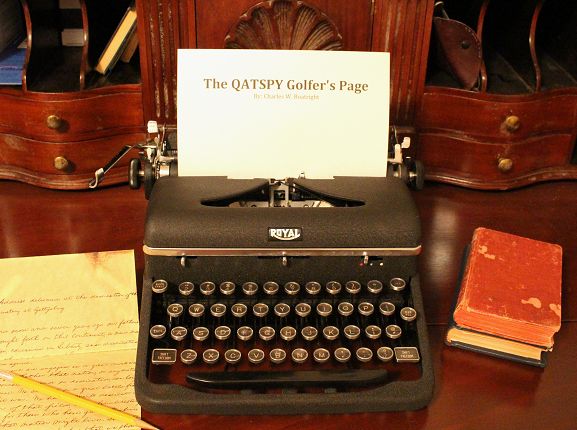 By: Charles W. Boatright
Why Sports Has Become the New Mass Media Watched by Americans that Enjoy a Higher Approval Rating than the National Broadcast Networks News
The reason- Sports is purely performance based! You can't fake performance on the field of dreams, especially at the collegiate and/or at the professional level. What attracts viewers and fans alike to sports is the pure, true grit character of competition of individuals or teams that test their will and, more importantly, their perseverance and true grit.
An athlete's true grit isn't just comprised of talent alone, but the strength, conditioning, confidence, and endurance of the heart and mind. President Calvin Coolidge stated it best in his quote about perseverance- Nothing in the world can take the place of persistence. Talent will not; nothing is more common than unsuccessful men with talent. Genius will not; unrewarded genius is almost a proverb. Education will not; the world is full of educated derelicts. Persistence and determination alone are omnipotent. (having unlimited power).
Sports unleashes the athlete's unlimited potential that leaves fans astonished by feats that seem to be beyond human, not just for a moment, but for the highlight reel for decades. We watched Herschel Walker as a kid, who wasn't athletic, become a premier running back with shear will that actually ran over his opponents. Or, Bo Jackson that defied all human feats that ran up an outfield wall and became a human bulldozer on the football field.
We are still in awe, even decades later, seeing specials, like ESPN's 30 for 30 film documentaries of these athletes' performance. Just when you think you have seen ultimate performance caught on athletic highlight reels that are of super human feats, we see Najee Harris, running back for Alabama, hurled over the six-foot Nick McCloud, corner back for Notre Dame, and then ran for 53- yards.
The best of sports is what follows, the locker room or post game interviews that aren't just window dressing, but factual based on performance or failure.
Now on a Personal Level
Now on a more personal level, those of us who play amateur sports, like golf, know the feeling of hitting a pure and solid tee shot. We all experienced that slow motion trajectory of a golf ball's flight, right down the pike for 280 yard drive. Those type shots are our highlight reels that keep us coming back to play one of the most difficult and frustrating games on earth.
Golf is a sport that tries the very soul of any human being, regardless of their handicap. Golf bypasses the person's physical talent and skills and tests the person's true grit and perseverance of their fiber. What makes golf special to the mortal human is that we get a chance to play on the very course that professionals play. We are no longer spectators, but participants in a sport that teaches life skills.
Golf, like life, consists of obstacles that challenge us that actually through perseverance becomes the very avenue to develop our skills between the ears. Golf, like life, isn't won by the strongest or the fastest, but with the most perseverance. I had an opportunity of a lifetime to interview a Vietnam POW from Hattiesburg, MS, named Colonel George Robert Hall. Col. Hall was held at the infamous Hanoi Hilton for seven-and-a-half years.
He survived his horrendous conditions and treatment by playing golf in his mind in the confines of his cell. Every day he would go through the progression of mentally dressing and playing every course and every hole that he played before his deployment to Vietnam. His mental ability to play golf in his mind gave him a rare opportunity that was equal to the feats I described above of high performing athletes.
Col. Hall was invited to play in the Greater New Orleans POW Pro-AM, six weeks after his release in February of 1974. This is where he shot his handicap of four. What was amazing was that he was 100 pounds lighter than when he was deployed to Vietnam because of starvation diet. I have attached my complete interview with Col. Hall below.
I have included an excerpt from my Book, The ESPY Golf Swing Coach, below about the benefits of sports in our lives and especially the lives of our kids:
5.4     If faith and character were presented in terms of true grit and sportsmanship, there would be no limit to what a person could accomplish in life. True grit, with sportsmanship, provides perseverance and integrity. In most organized sports, sportsmanship is included as part of the athlete's curriculum. Sportsmanship includes such characteristics as humility, integrity, commitment, perseverance, respect, honor, honesty, fairness, sacrifice, responsibility, preparation, discipline, trustworthiness, and a hard work ethic, to name a few.  
5.5     True grit, with sportsmanship, is easier for most people to grasp and understand than terms like faith and character. Sportsmanship centers on athletes taking responsibility for their own actions. When athletes take responsibility for their actions, the separation between perception and reality closes. True grit is being able to exhibit the quiet strength of perseverance, self- reliance, confidence, and integrity. Athletes understand that confidence is derived from the quiet strength of faith, referenced in Isaiah 30:15: In quietness and confidence shall be your strength. Keep in mind that more can be learned from a loss or failure than from a win, especially if the lesson from the loss is used to build confidence and gain experience.
Part of Col. Hall's techniques he used to preset his wrist in the golf swing is in The Palmer D-PRO Golf TECH:
Sponsored by THE QATSPY- The Yankee Personalized-Style Traditional Apparel Quarters
Where we offer the Authentic U.S. Military Issued A-2 Leather Flight Jacket that we supply to the U.S. Military: