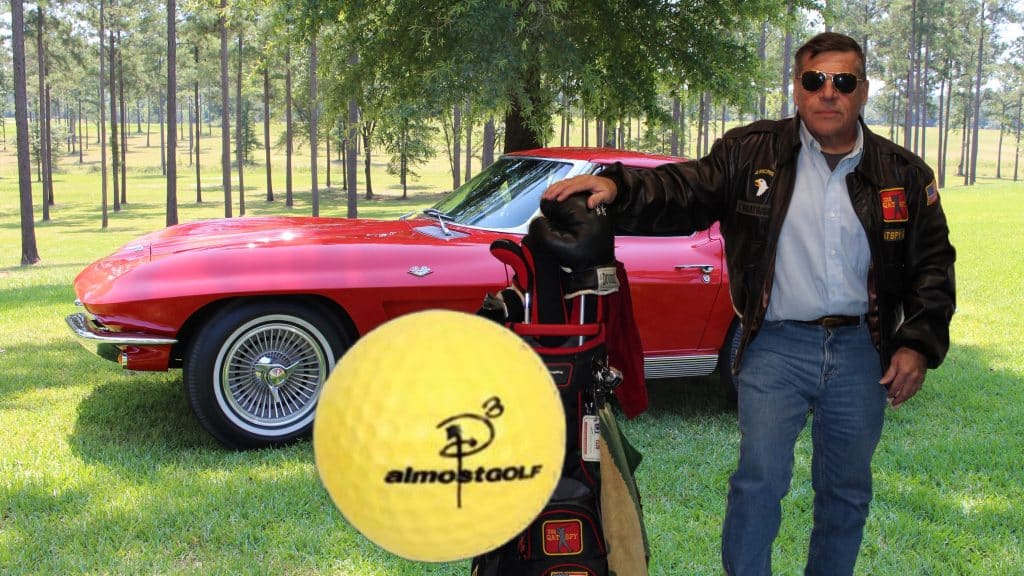 THE QATSPY® Inside-The-Leather Sports, Fitness, and Golf Page
By: Charles W. Boatright
THE QATSPY® The Palmer Golf Delta Tee-Shot Technique, Presetting Wrist Action in the golf swing to Produce Accurate Tee Shots to Hit Your Targets/Fairways
This is an excellent GIFT for a Veteran dealing with PTSD and enjoy friendships with others Veterans!
The Palmer Golf Delta Technique is based on the baseball-type swing that is more of an instinctive and a natural sequence for most people than their present golf swing is and that doesn't require thinking.
Like the famous quote in the movie Caddyshack by Ty Webb- played by Chevy Chase mentioned to Danny Noonan- played by Michael O'Keefe– I'm going to give you a little advice. There's a force in the universe that makes things happen. And all you have to do is get in touch with it; stop thinking, let things happen, and be the ball.
The force in the universe is the golfer's subconscious mind that makes things happen, even the golfer's golf shot. The only thing the golfer has to do is to get in touch with it. The preset maneuver is something we have been doing since we were kids playing sandlot baseball and throwing the baseball. If you've ever swung a baseball bat or thrown a baseball, you've got all the technique and mechanics you need to get in touch with your consistent golf game to hit more fairways and greens in regulation.
THE QATSPY® YouTube Video of the Palmer Golf Delta Technique APP in Hitting the Driver
The video was made when I started losing all my weight of 52 pounds over a nine month period. I held up posting this YouTube Video until I lost my weight.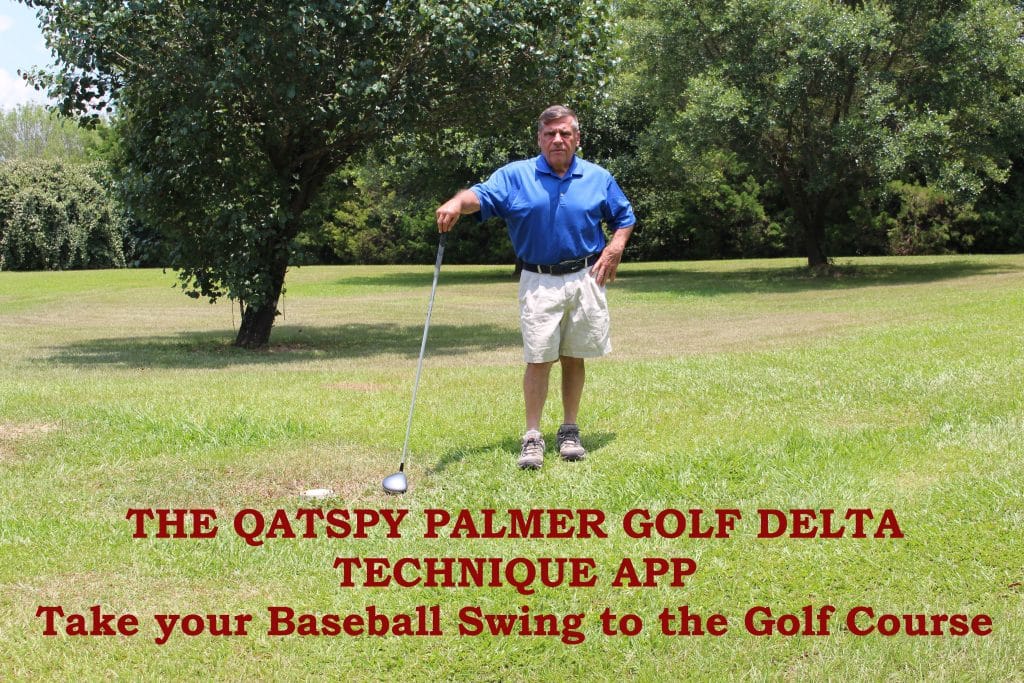 The YouTube Video below shows what I refer to as the Palmerflex Technique, where I don't only preset the wrist action in the golf swing, but more importantly, preset a tendon/muscle in my left forearm called the Palmaris Longus Tendon/Muscle that is a link between the golfer's palms, hands, and wrists and the elbows. This is what links and syncs the entire golf swing up to help you make those perfect 285- 300-yard tee shots, including the layup and approach shots.
In the YouTube Video below, I'm using the AlmostGOLF® Balls to allow me to hit golf shots in a restricted area, like I'm doing here at Liberty Park in Madison, MS. The AlmostGOLF® Balls allow me to hit in feet instead of yards up to 100-yards, or 300-feet. The orange bucket is placed 300-feet from where I'm setup hitting my tee shots from. My second shot went beyond the orange bucket for what would have been a 310-yard tee shot, without any wind.
The AlmostGOLF® Balls can be purchased from my Online Store, along with the Throw-Down Home Plate, Click on the image below: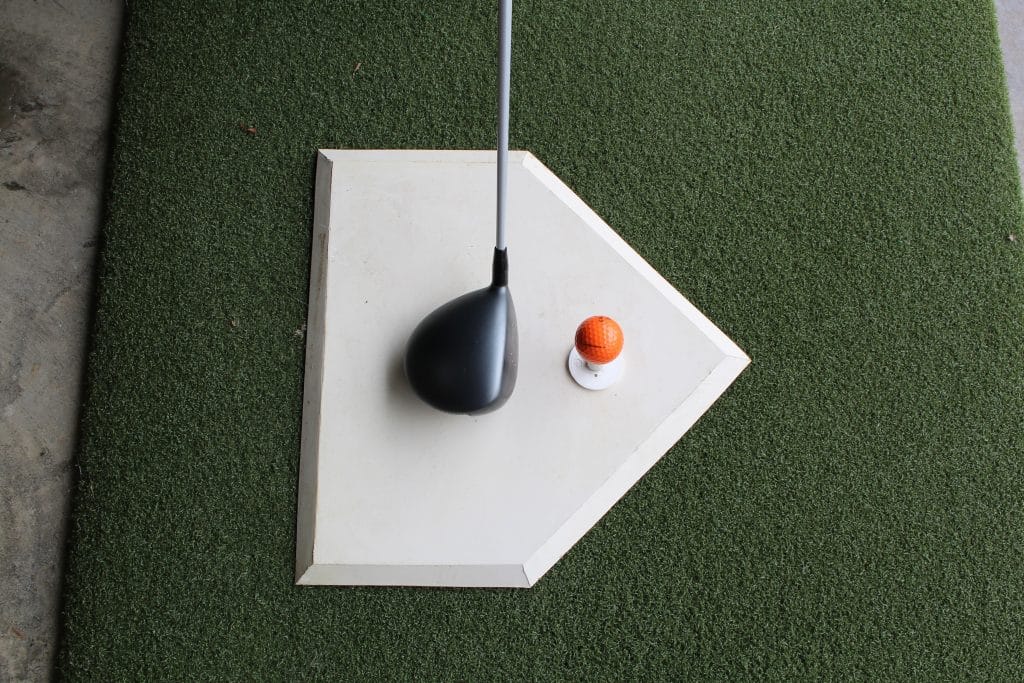 The exact same Palmer technique is used from tee to green. The only variation is which wrist is used to preset the golfer's golf swing the closer to the green the golfer gets. This is an important principle for the golfer to understand and use in their golf sequence.
Based on a Right-Handed Golfer:
POWER- is generated from the golfer's left wrist and forearm.
CLUBHEAD SPEED- is generated from the golfer's right wrist and forearm.
The YouTube Video of THE QATSPY Palmer Golf Delta Technique:
To make the YouTube Video a Full Screen View, Select this Icon on your screen. This will allow you to see where my Tee shots land.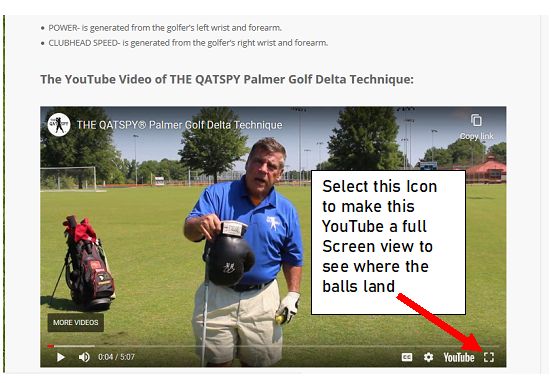 HINT: Enlarge the YouTube Video on your screen before you start watching where you can see where my tee shots land, near the orange bucket and flag stick. Two are easier to detect than the middle tee shot is.
Shot Tracer of my THREE (3) Golf Shots from the YouTube Video (I marked what the actual yardage was):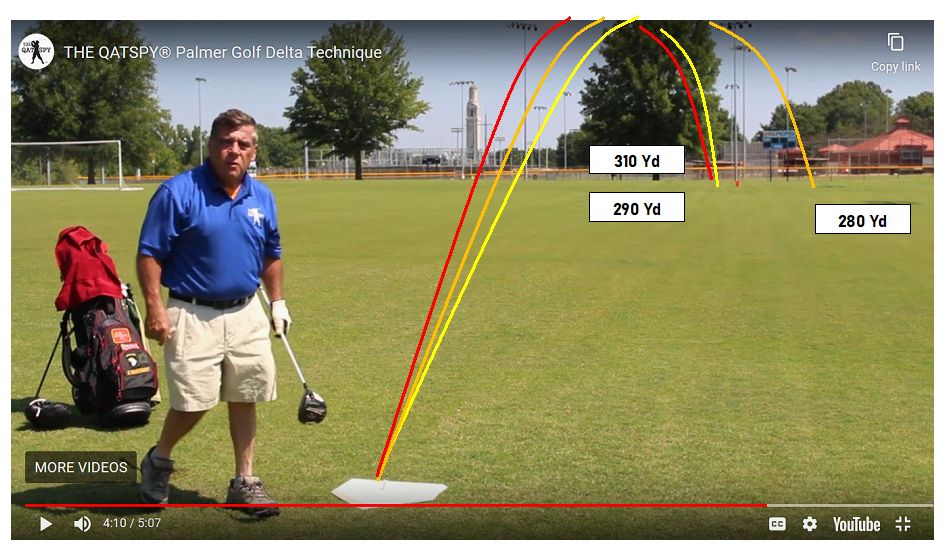 For more information on 408- THE QATSPY Palmer Golf Delta Technique, purchase your download from my website on SALE until July 31, 2020 for just $10.00, regularly $25.00:
Excellent Father's Day Gift Idea!
Sponsor By: THE Great QATSPY® Yankee Personal-Style Traditional Apparel Quarters Fit-to-a-TEE Look and FEEL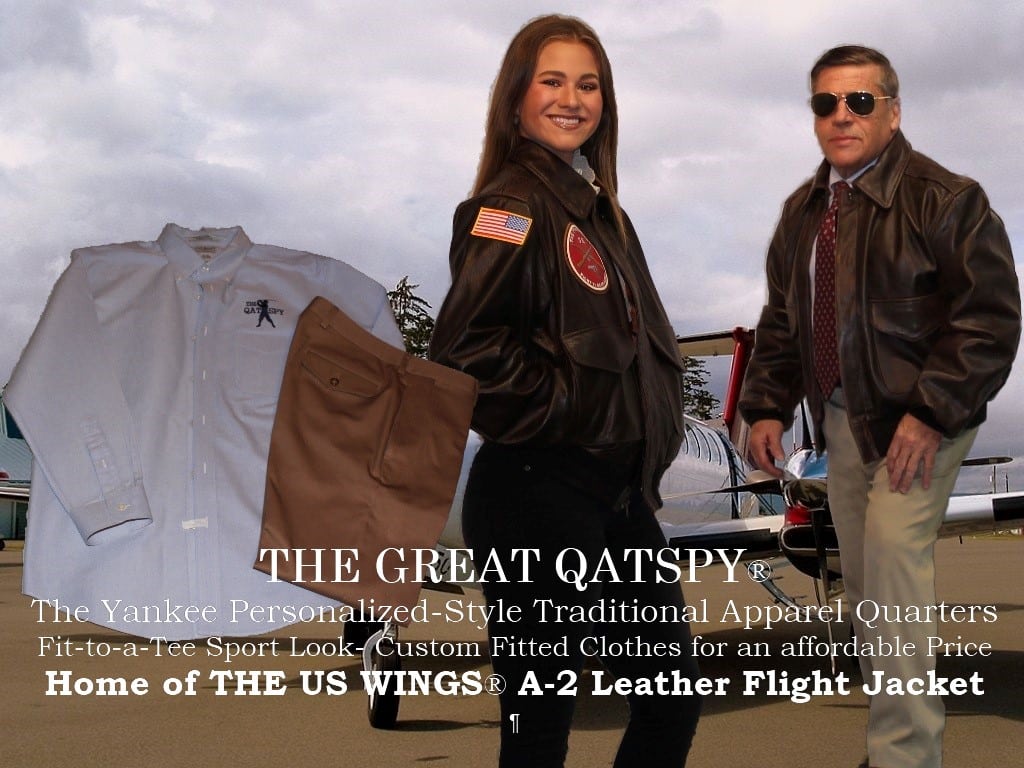 THE Great QATSPY® Online Store carries a variety of clothing apparel items that are selected, based on their quality and personalized-style that offers that traditional and classic look. We carry the full line of US WINGS® leather jackets that are great substitutes for the traditional wool-blend Sports Jacket that can be excellent breeding surfaces for bacteria and viruses.
Our US WINGS® Leather Jackets can be simply sanitized and cleaned with a simple solution of dish detergent (1 teaspoon) mixed with water (8 oz.) used to wipe down our leather jackets as needed during the course of the day. I'm an authorized dealer of the US WINGS Leather Jackets. DO NOT USE ALCOHOL to wipe down your leather jacket!
These make great formal and leisure jackets for men and women to wear with slacks or just simply blue jeans. Our US WINGS® Leather Jackets can be worn as the new sports jacket for business and formal wear or for the weekend and these are durable enough for the open road or open skies.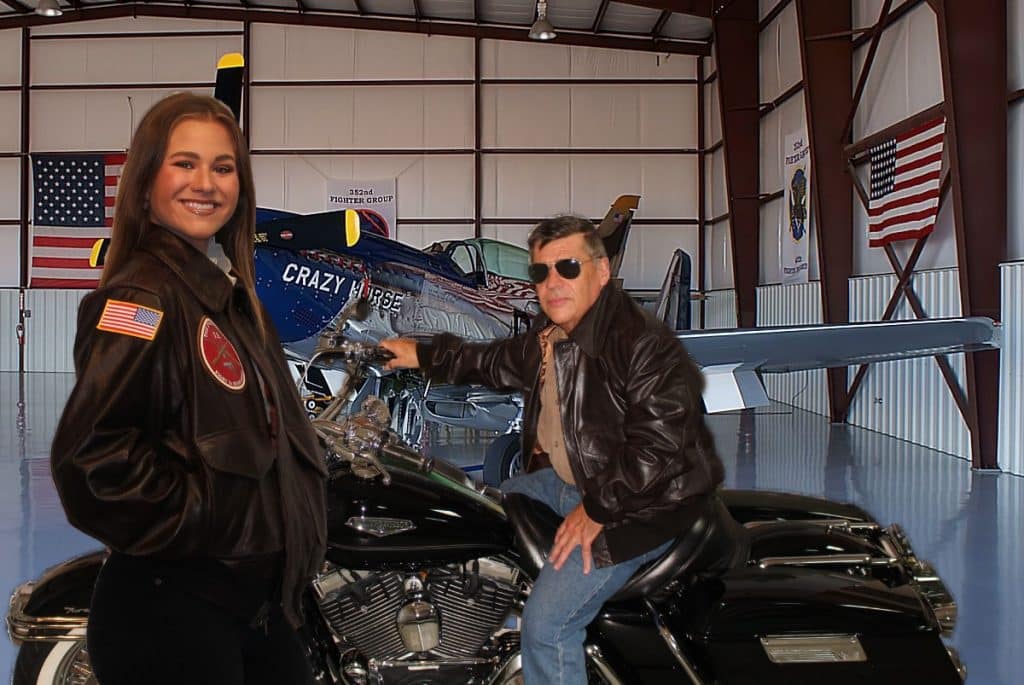 THE Great QATSPY® also carries that custom-tailored look of Button-down Oxford shirts made with 5.5 oz. per yard of cotton that can be ordered with neck sizes ranging from (14″ – 17.5″) and Sleeve length from (32″ – 37″). To complete your classic look, we also carry custom-fitted Chino Khakis pants with waist sizes from (30″ – 44″) and specified inseams from (26″ to 36″) in quarter-inch increments.
There is nothing that has the classic, custom look and style as our US WINGS® Leather Jackets, worn with our custom-fitted Button-down Oxford Shirts and Chino Khakis pants or your comfortable blue jeans. You will be properly dressed for any occasion, whether for the weekday or weekend and be comfortable.