THE QATSPY® Inside-The-Leather Sports, Fitness, and Golf Page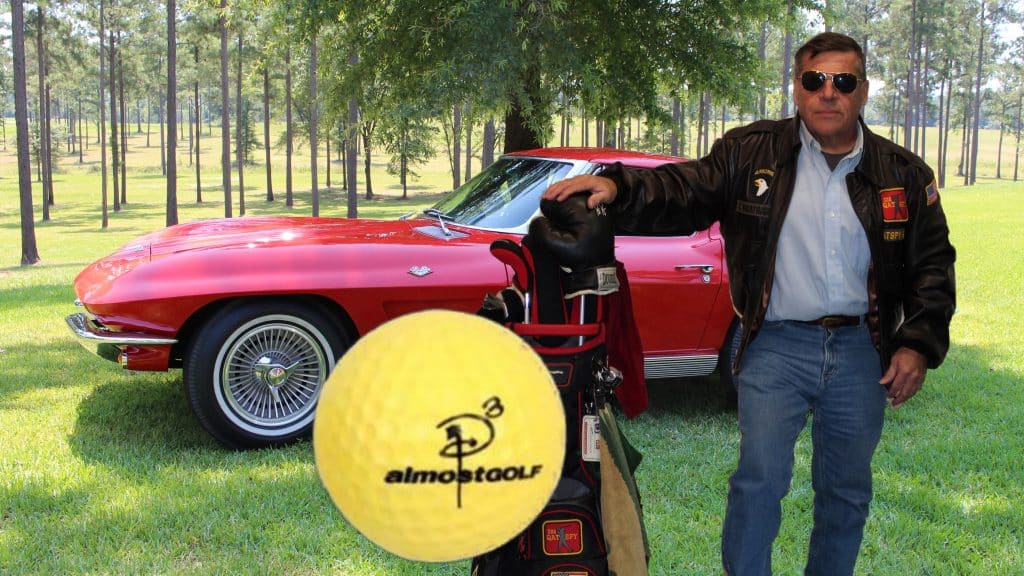 By: Charles W. Boatright
Perfect Father's Day Golf Gift- The ASPEN 408- GOLF TECH, Based on presetting the wrist action in the golf swing, based on the Baseball Swing
The emphasis of THE QATSPY ASPEN 408- Palmer Golf Technique is the proper presetting of the wrist action in the golf swing. This is similar to the how the baseball batter sets up their swing in the batter's box.
Develop a revolutionary-type golf swing that Dad can take from the batter's box to the tee box, based on instincts and confidence. These are motor skills that he developed as a kid.
Every part of your father or husband's golf swing has to be based on permanent motor skills that he developed before the age of 10 in order to have consistency on the golf course. THE QATSPY ASPEN 408- Palmer Golf Technique allows your dad/husband to pair up basic motor skills with every element needed to preset his wrists to develop essential power, control, and clubhead speed. Accept NO SUBSTITUTE for POWER, CONTROL, and CLUBHEAD SPEED by presetting the wrist action in the golf swing.
As your father develops these basic techniques in The ASPEN 408- Palmer Golf Technique, he will gain confidence he never could have imagined by hitting more fairways and greens in regulations. He will see significant improvement in his golf game within weeks.
The Key to the ASPEN 408-Palmer Golf Technique is They are Instinctive, Developed before We were 10 years Old
The key to the ASPEN 408- Palmer Golf Technique is that it takes advantage of the biggest potential your father has on the golf course, which is his subconscious mind. We might practice with our conscious mind, but I can guarantee every golfer that when they step foot onto the golf course that they will be using their subconscious mind.
The major difference between most coaching techniques and the ASPEN Coaching technique is that it uses very well-developed permanent motor skills that your dad grew up using in baseball. If he's ever thrown a baseball before, then he as all of the motor skills he needs to apply the ASPEN 408- Palmer Golf Technique.
Before you purchase your copy of the ASPEN 408- Palmer Golf Technique, FIRST- please view my FREE YouTube Videos below and see if you're not convinced:
All of these videos were done on the first take in my training facility.
Until July 31, 2020, purchase your Download Copy for $10.00:
Sponsor By: THE Great QATSPY® Yankee Personal-Style Traditional Apparel Quarters Fit-to-a-TEE Look and FEEL
Also additional great Gifts for DAD!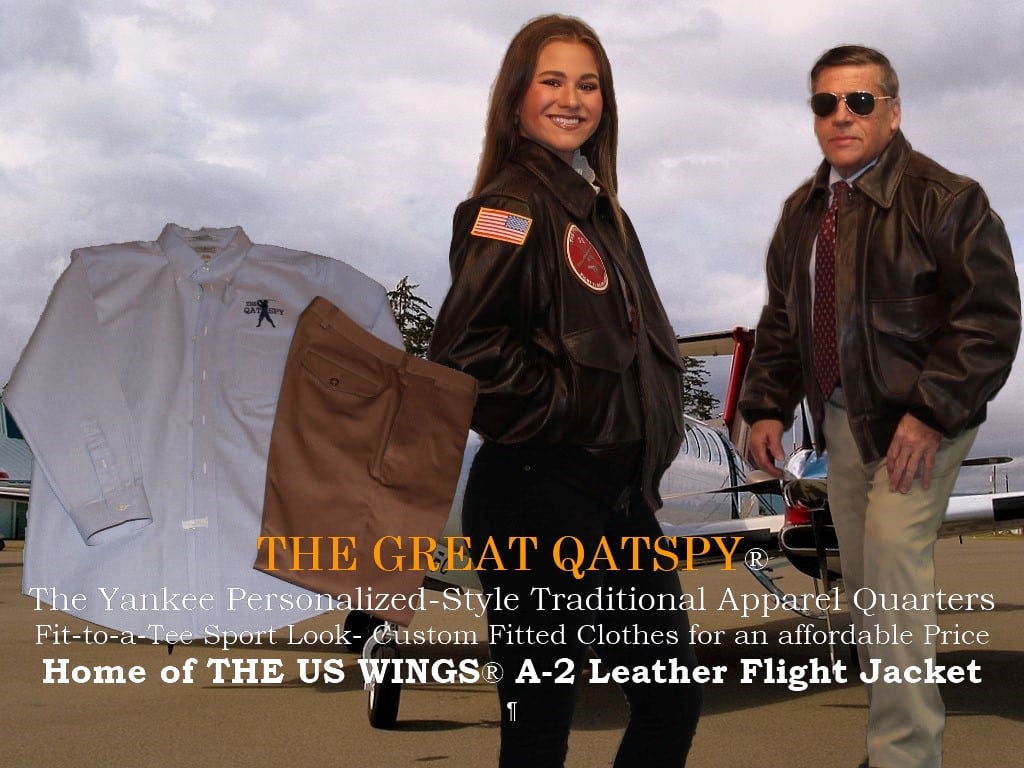 I know that we are approaching the summer months and a leather flight jacket is not what you would consider as a Father's Day Gift Idea, but consider these reasons first: ONE– The reason the A-2 Leather Flight Jacket was developed was just after the 1918 Spanish Flu Pandemic. In order to protect the pilots from death and illnesses, the U.S. Military developed the A-2 Leather Flight Jacket to protect their pilots. To sanitize, the US WINGS® A-2 Leather Flight Jacket or the Indy-Style Leather Jacket just has to be wiped down with a solution of ordinary dish detergent (1 teaspoon) to Water (8 oz.).
You dad's fabric sports jacket or blazer is an excellent breeding ground for viruses and bacteria. To adequately clean your dad's sports jacket or blazer, it has to be dry cleaned daily. Our Leather Jacket simply has to be wiped down. TWO– For the past four (4) years, I have swapped out my wool-blend sports jacket for the US WINGS A-2 Flight Jacket, shown above. Miss US WINGS® and I, pictured here, are wearing the men's Regular Fit, size Medium US WINGS® A-2 Leather Flight Jacket.
If your dad rides motorcycles or flies like I do, he would love one of the four US WINGS Jackets, shown below: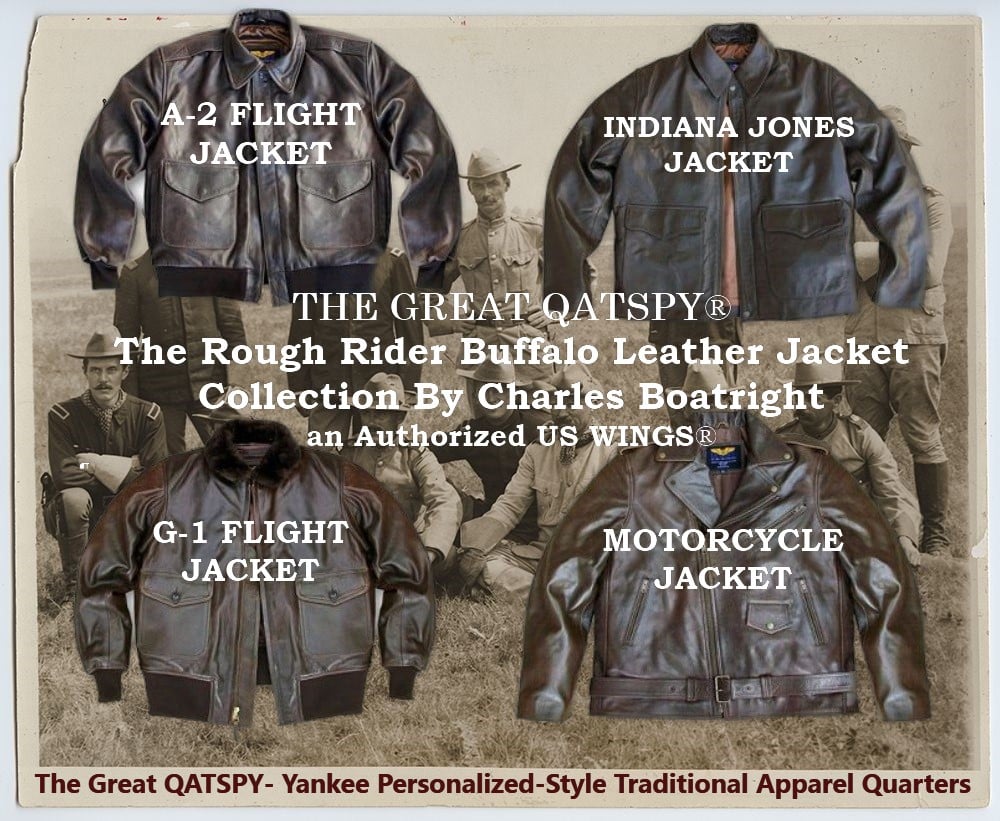 We also carry in our Online Store the Tailored, customized look of the Chino Khakis pants that can be ordered in quarter-inch increments from 26 – 36 inches and a waist size from 30 – 44 inches; and a fitted 5.5 oz. cotton fabric Button-Down Oxford shirts with neck sizes from 14 – 17.50 inches and sleeve lengths from 32 – 37 inches. You can have that custom look and fit everywhere your travels take you.
I don't go on a business trip, whether I flying or riding, without my Chino pants, Button-down Oxford shirt, and my US WINGS® A-2 Leather Flight Jacket for that professional and distinguished look I need to represent my company.
Also great for the weekend ride or flight, as shown below, with blue jeans.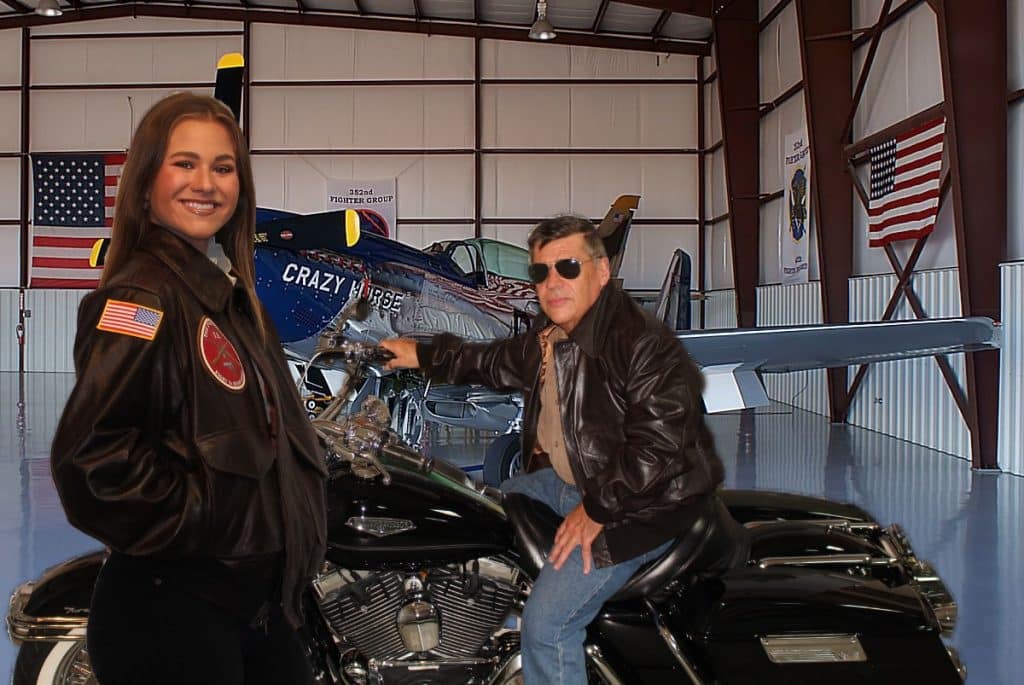 ALMOSTGOLF BALLS, Improve your dad's Golf Game
Another great gift idea is the Almost Golf balls that I carry in my Online Store, You dad or husband can get in the needed golf practice without having to take time to go to the practice range. You and your dad can turn your backyard into your own PAR-4 to put in the critical practice time. This gives you and your dad or husband the ability to work on the most critical part of the game, their subconscious mind. This gives you the ability to take your golf game from practice sessions to performance on the course.
If you want to top off your Father's Day Gift to your dad or Husband with a cologne, may I suggest ARAMIS Cologne, it is my favorite cologne to use. I don't carry it in my online store, but I use it because of its nice Sandalwood Scent.