THE QATSPY® Yankee Performance Sports Training & Apparel Quarters An Authorized Dealer & Distributor for US WINGS®
My DELPHI Age-Defying Fitness System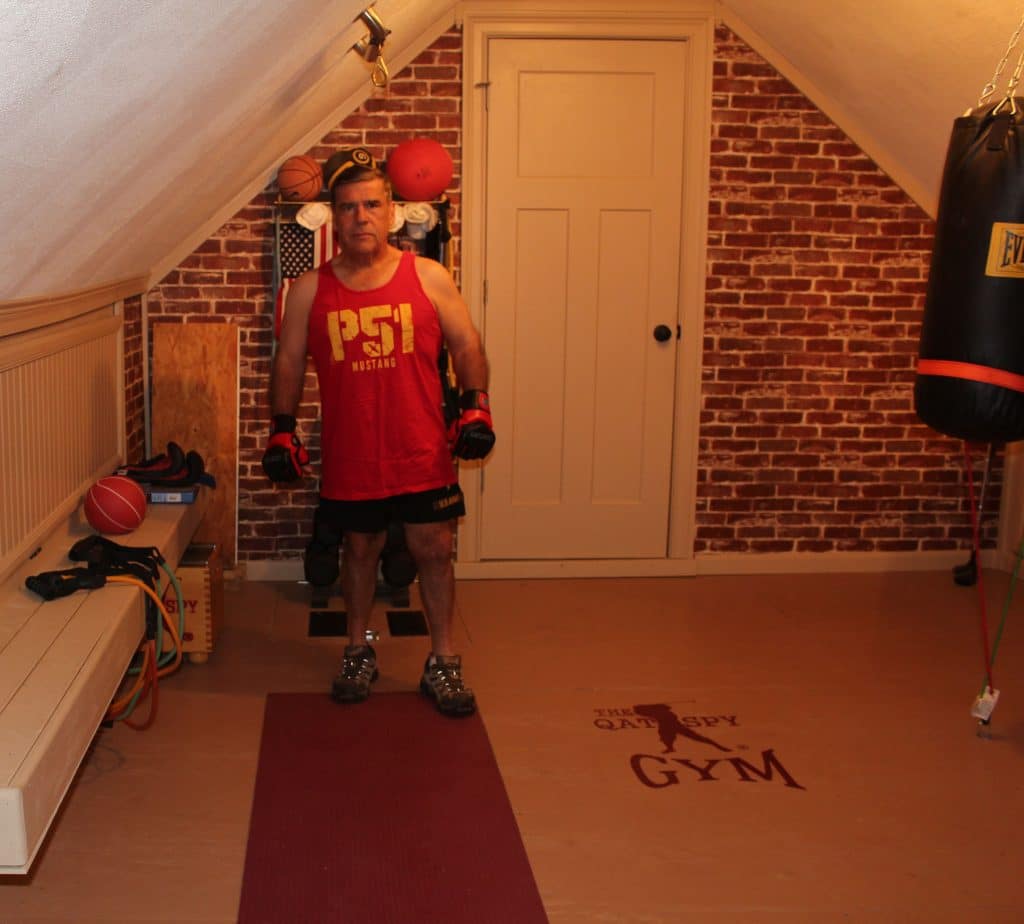 By: Charles W. Boatright
A TUBE PROVIDING AGE-DEFYING TREATMENT: Your Strength Training with Resistance Elastic Tubing is ONE of the Best Anti-Aging Treatments
I have dumbbells and Medicine Balls that are a part of my HOME GYM Workouts, but my Resistance Elastic Tubing (Tubing) still remains the main part of my strength training. The majority of my strength training exercises consist of working out with Tubing, rather than working with either the dumbbells or a Medicine Ball. There is a good reason for this, due to the directional resistance that is applied to the entire body.
Don't avoid or neglect working out with your dumbbells or Medicine Balls during your routine fitness training, but the Tubing allows you to anchor the Tubing in various positions to place directional resistance onto your body, where you are working more than a few muscle groups. With TUBING, you are working several muscle groups called Kinetic Chain Workout (KCW). KCW is where a series of muscles and groups are firing about joints, due to the directional load.
Two (2) Tubing exercises that I specifically like are the Lateral Pull Back and Overhead Pull Down resistance loading exercises. Not only am I working my triceps and biceps and forearms muscles in these exercises, but I'm also working my abdominal and back muscles, due to the diagonal and lateral loading concept that I'm placing on my body.
KCW Exercise with Tubing in this manner allows me to perform a compound exercise where multiple muscle groups are being worked at the same time with a single Tubing Exercise. This is like taking advantage of compound interest in your IRA or 401(k) investments. You can't even compare the results of low-resistance Tubing exercise with other types of free weight exercises.
Below, I have illustrated two of my Tubing Exercises (Diagonal Pull-Down and Lateral Pull-Back). Both exercises work the Tricep muscles, but they also work the abdominal and back muscles, as well. Working my abdominals and back muscles are important to me, because I'm a golfer and the core strength is important for distance.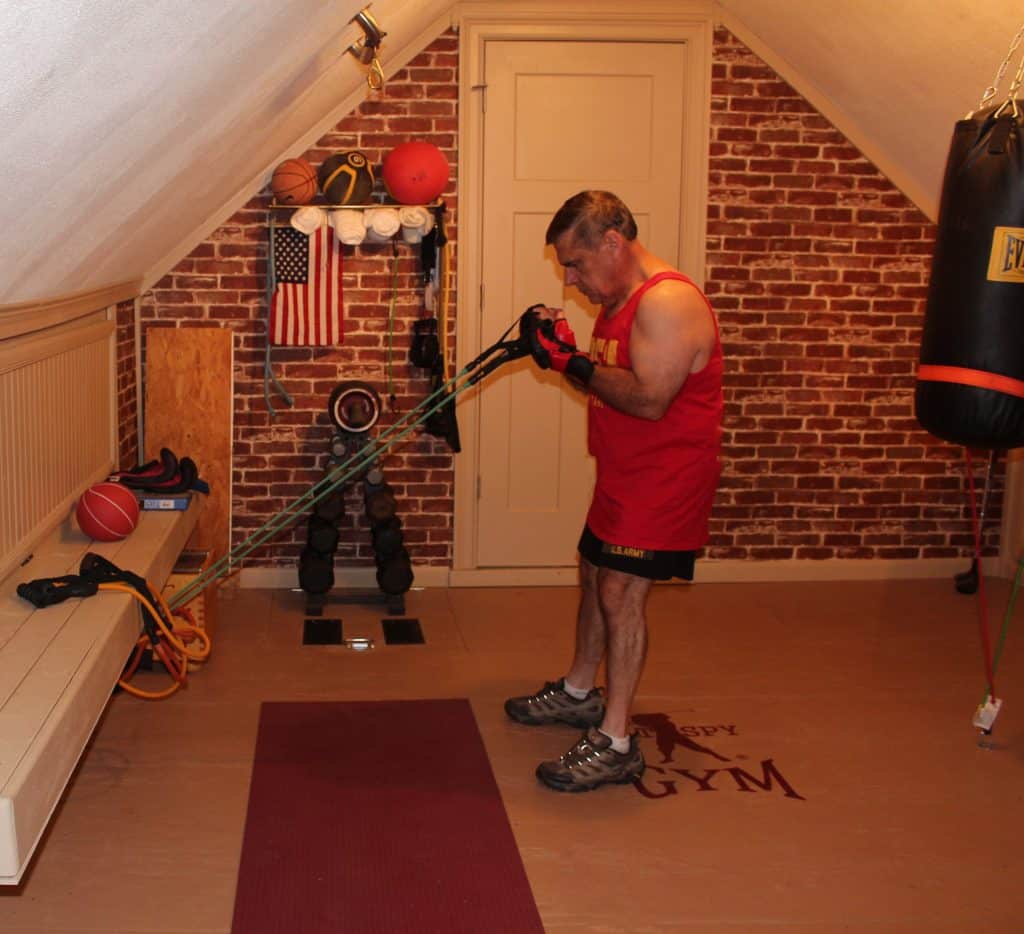 Reference: on Kinetic Chain Workout: What is the Kinetic Chain (ACE)
I'm 64 years old in the featured and the images above, and the Tubing exercise works the skeletal muscles that are essential to a healthy immune system. But, these muscles are also essential for producing collagen that repairs muscles, joints, and the skin. Also good for producing collagen is a diet rich in Protein and Fiber.
Without Tubing exercise, I could not have improved my overall health and the health of my skin. Tubing exercise is a major part of my DELPHI Age-Defying Fitness System (Diet, Exercise, Lifestyle- Performance Health Index). The Lifestyle component in DELPHI Age-Defying Fitness System is the incorporation of sports, like golf, and keeping active, like riding my INDIAN Scout Bobber 60 Motorcycle. If you want to be young, you will need to THINK and ACT young, but take into account how fast you want to ACT.
Here are other benefits of Tubing Exercises:
A great Toning Exercise
Lower blood pressure readings; mine is 112/62 w/o meds
Lower stress levels
Improved sleep patterns
Improved heart rate
Increases HDL cholesterol levels in your blood
Improves immune system
Improves your stamina and endurance levels
Great Anti-aging component
Improves posture, balance, coordination, and mental faculties.
Improves concentration and problem-solving.
One reason that Tubing is a great Anti-aging component is that it provides flexibility, stability, and balance improvement to our nervous system at any age. Even professional pitchers and quarterbacks use Tubing to provide these benefits.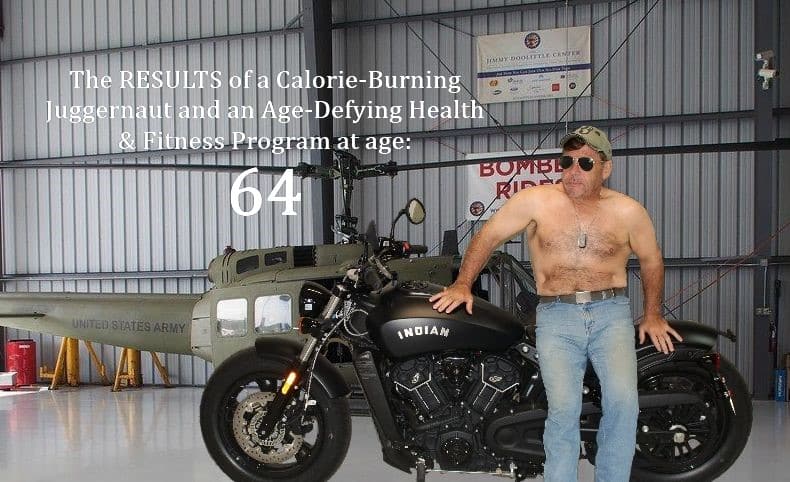 Website: espygolfapp.com/Store
1-888-514-1228
Contact:
As part of my Online Business, in addition to Golf training and Fitness, is Our Apparel Line:
THE QATSPY® FALL Collection of Authentic A-2 and G-1 Leather Flight Jackets that include the Indiana Jones Leather Jacket, like the one that appeared in the movie: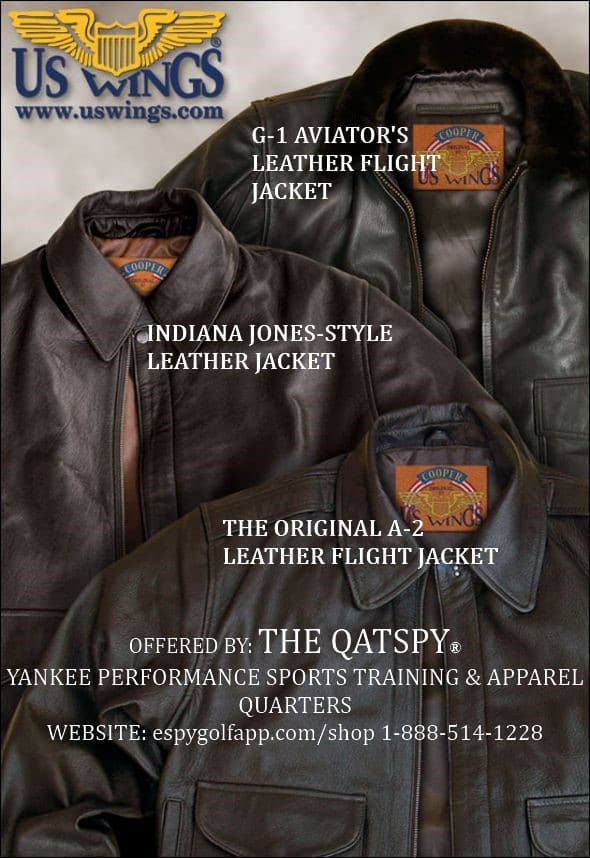 THE QATSPY® TOPGUN 2 Movie Aviator's Jackets like the ones that MAVERICK (Tom Cruise) will be wearing during this movie: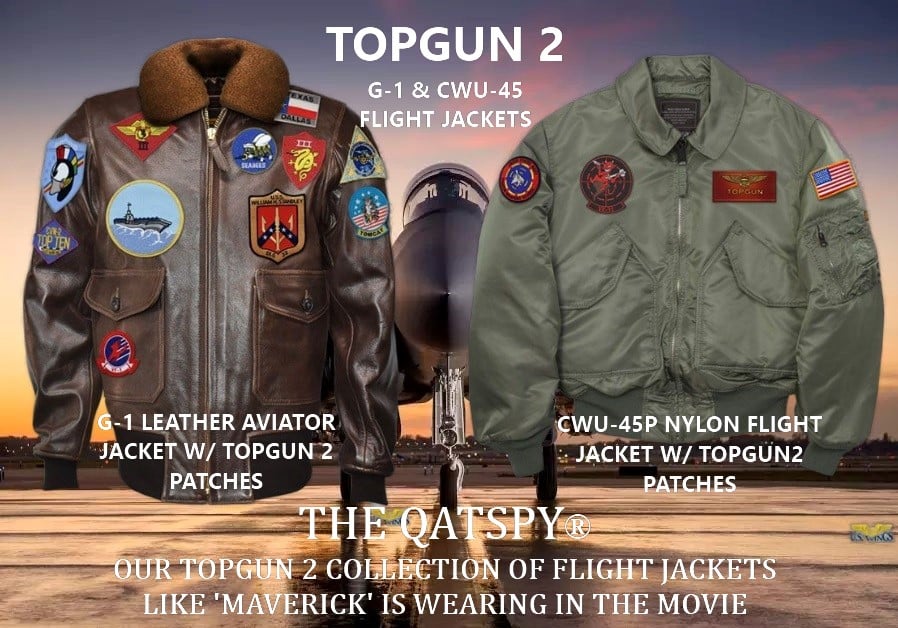 THE QATSPY®Featured Product Line: