Description
General Douglas MacArthur's-Style Sunglasses, a.k.a. Aviators, are a great fit and look with the A-2 Leather Flight Jacket, while driving down the highway or at your favorite sporting event, A classic style of aviation shades! The frames are made to be rugged and sturdy with a high-quality finish of the steel alloy. The lenses are green, DISTORTION FREE and with UVA and UVB protection. The sunglasses come with a black US Wings Pilot shop case. These sunglasses will make a great gift for you or your favorite GI! Made in the USA. Made by American Optical.
These Aviators make a great item to carry along with your leather flight jacket for those road trips or flights, where there is an abundant sun and adventure that awaits you. I flew 206 Bell Jet Rangers for over thirty years and Aviators were a must to navigate your way to your destination. Next to my Aviation charts and flight plan, my Aviators were standard equipment in my flight bag. I didn't leave home without them.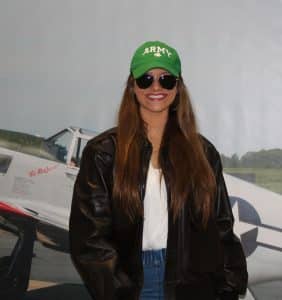 Always protect your eyes from UVA and UVB rays. I play golf 3 to 4 times per week and I wear my MacArthur's sunglasses to protect my eyes from harmful rays. One reason that these are particularly my preferred sunglasses is that these have a DISTORTION FREE feature, especially when I'm on the green reading putts. Eliminating distortion is critical in reading and making those crucial putts to lower your score and handicap. Golf is supposed to reduce your frustration, not increase it.

Note: The Case is also available separately.

But the sunglasses come with a CASE

.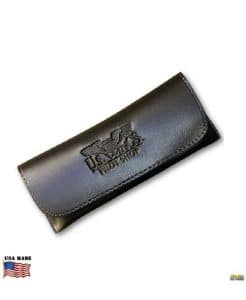 Optional Lenses Width:       52 mm        58 mm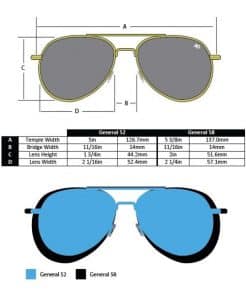 The General MacArthur Sunglasses feature

:
Gold steel alloy frame
Impact resistant
True Color® green lenses
Distortion-free lenses
98% UVA protection
100% UVB protection
"US WINGS" stamped on the left ear piece
Protective case with "US WINGS PILOT SHOP" and the US Wings logo
Lens Sizes: 52 mm & 58 mm
Manufacturer's Warranty*
Always protect your eyes from UVA and UVB rays.
AO (American Optical) Sunglasses:
The AO company began in 1826. William Beecher came to Southbridge for an apprenticeship in Providence, RI. This is where he learned the jeweler's trade. In the years of this trade, he came across a pair of typically crude imported spectacles. He decided that he could do better. During WWII, AO led the industry with new optical products. They supplied the US Government with new products; gun-sights, bomb-sights, AR glass, aviation goggles, and instrument applications. It provided pilots with protection, optical performance, and comfort. They were the first pair of sunglasses to be on a mission to the moon. Also featured in the Smithsonian Air & Space Museum in Washington DC.