THE GREAT QATSPY® Quapaw Aviation & Tactical Sportswear Performance Company Outfitter's an Authorized Dealer for US WINGS®
INSIDE THE LEATHER HEALTH & FITNESS SPORTS PERFORMANCE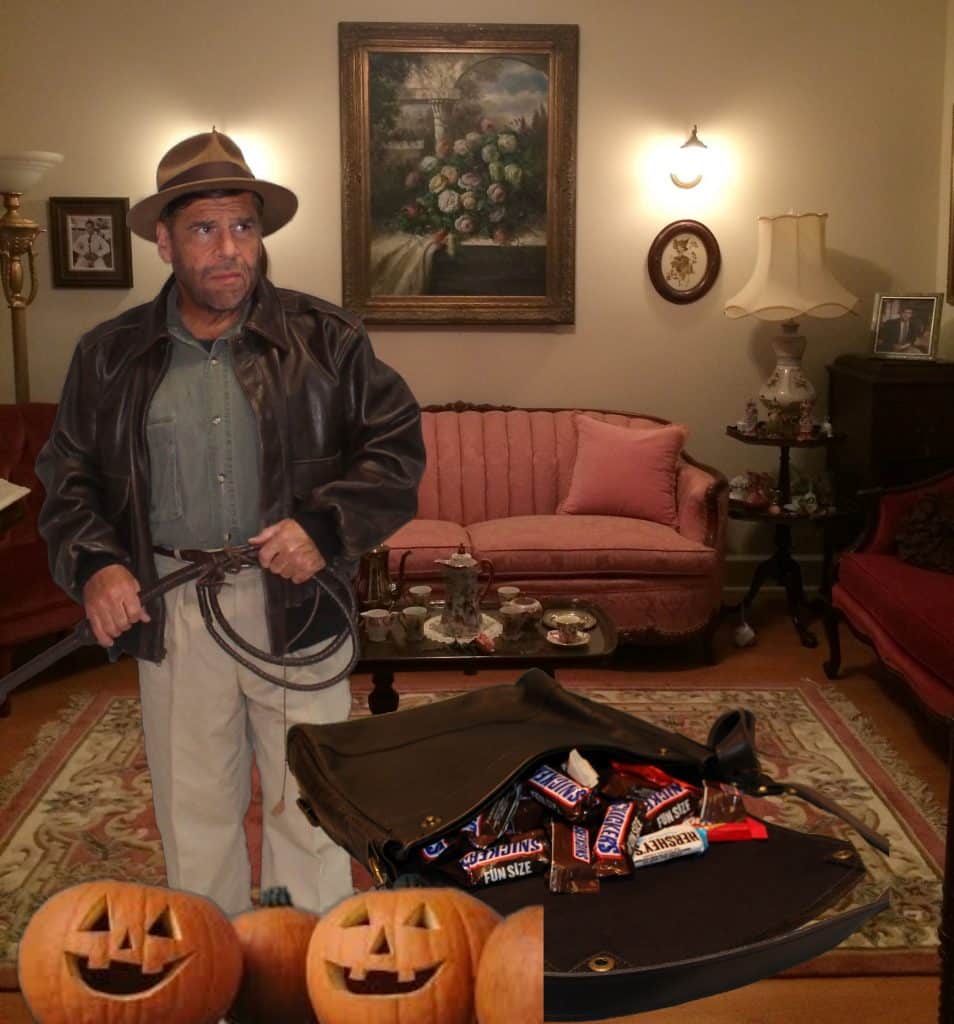 Indiana Jones' Treasures Bag of Treats– It wasn't Difficult Deciding what my Character was going to be Handing out Candy to the Kids
A Holiday Special for my Readers— At the end of this article is a recipe, Don't Miss The MECHEL KOSHER BAKERY & DELI Pumpkin pie recipe that we used to make when I used to work in my grandfather's bakery and deli. This is FREE recipe with photographic procedures for a flaky crust. Just make sure you use commercial grade 9- inch pie pan, they are a heavier grade, IT DOES MAKE THE DIFFERENCE!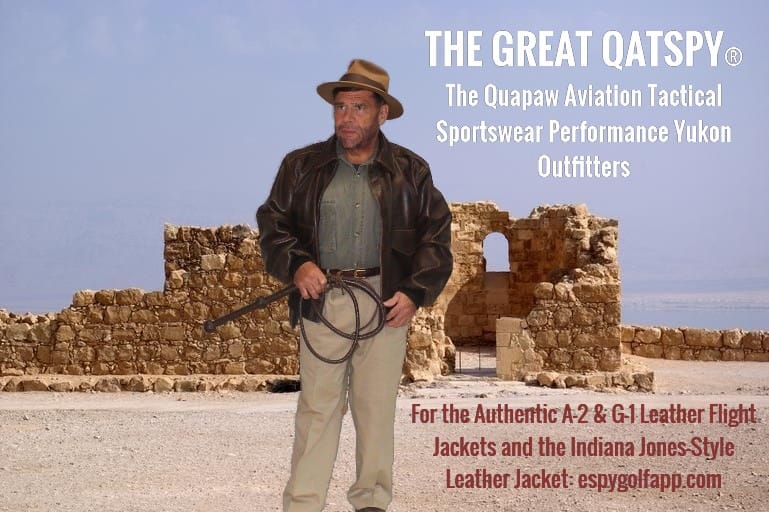 Getting back from Israel in later part of September, after I visiting my family, friends, and exploring a couple of archeological sites, Masada and Jericho. It wasn't difficult to come up with my character for Halloween for this year handing out candy. I always try to have a character that I'm trying to project to all of my Halloween guest dropping by for those tasty treats.
I used my US WINGS® A-2 Leather Flight Jacket that the Indiana Jones Leather Jacket was based on for all Harrison Ford's movies for my costume for Halloween. TheA-2 Leather Flight Jacket was adopted by the U.S. Military in 1931. Very little has changed since it was submitted and adopted on June 09, 1931. These are the same A-2 Leather Jackets that we issued to pilots and Airborne units in the U.S. Army, Air Force, and the new Space Force. The U.S. Navy, Marines Corps, and U.S. Coast Guard are issued the U.S. WINGS® G-1 Leather Flight Jacket, shown below, that can be purchased from us: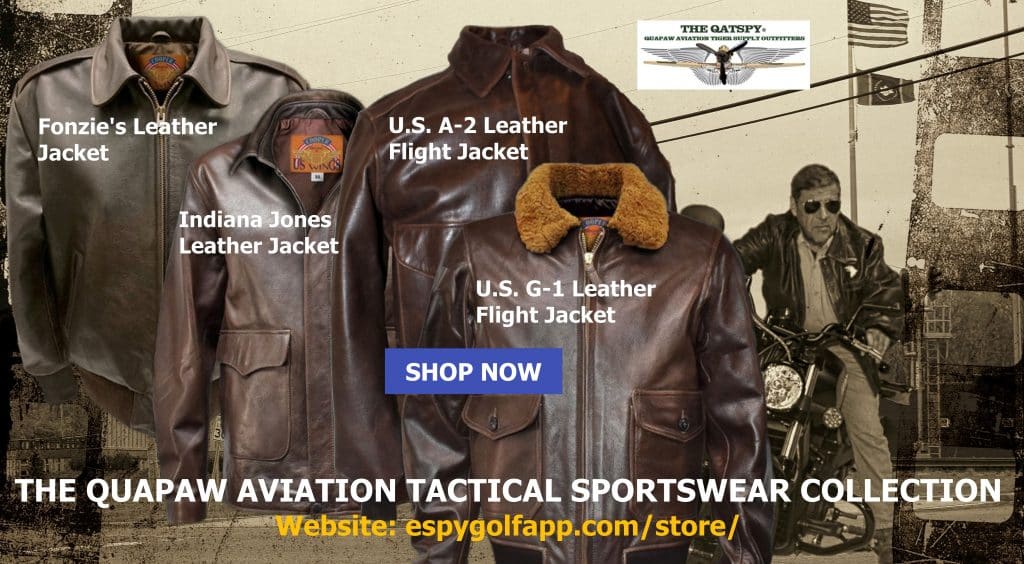 We in the Airborne wore these same A-2 Leather Flight Jackets that are now icons that fashion designers are using for their fall and winter lineups. The A-2 and G-1 Leather Flight Jackets that we carry are mil-spec that we supply to the U.S. Military and to the movie Studios due to their authenticity. We also issue these to the movie studio including the Indiana Jones Leather Jacket that appears in the Indiana Jones movies.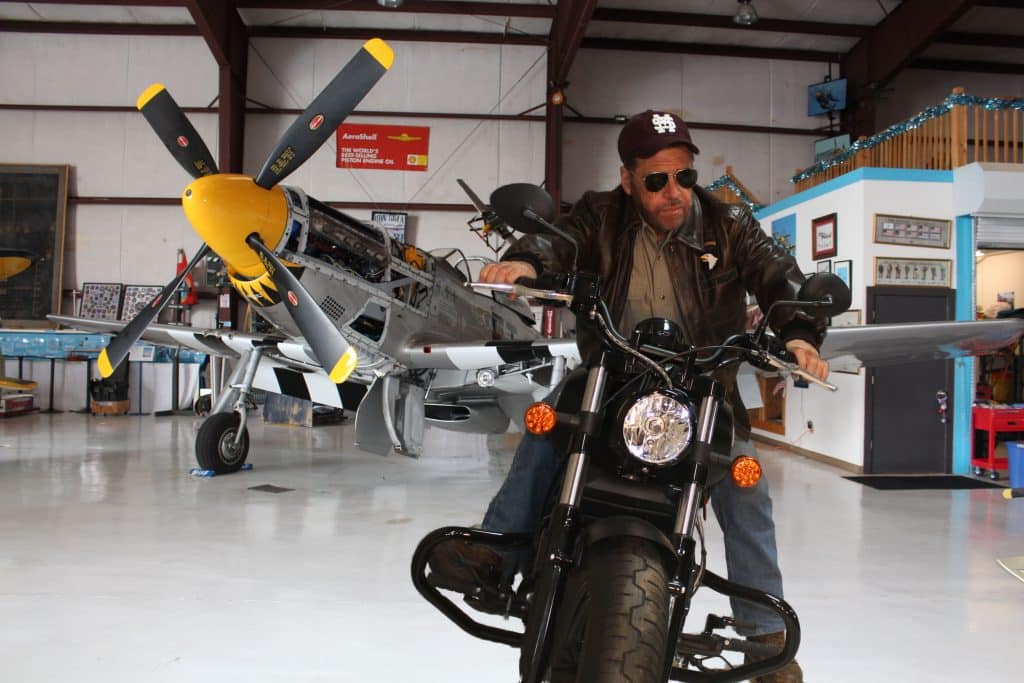 The A-2 Leather Flight Jacket is so durable and easy to care for jacket that I even wear my while riding my INDIAN Motorcycle and flying whether wearing it with Khakis or blue jeans; for business, social events, and in the outdoors. Talking about the outdoors, it is time to think about the slopes and cross-country skiing vacations the we are looking forward to getting back to doing. Both our Leather and Nylon Flight Jackets make great ski jackets. No need to carry multiple jackets to ski in and one for social occasions.
It's Time to Hit the Slopes and Cross-Country Skiing
You just need one jacket for both ski and outdoor wear and for your social engagements. These jackets are easy to care for and are nostalgic to wear in any setting with that charisma persona that Indiana Jones projected in his movies.
Featured below are our A-2 Leather Flight Jacket (left) that I'm wearing, the CWU-45P Nylon Flight Jacket (center) that Amber is wearing, and the G-1 Leather Flight Jacket (right) that Brandy is wearing. The G-1 can be ordered with all 17- Maverick NAVY patches like the one that Tom Cruise wears in the TOP GUN: Maverick Movie or can be order as plan Jane.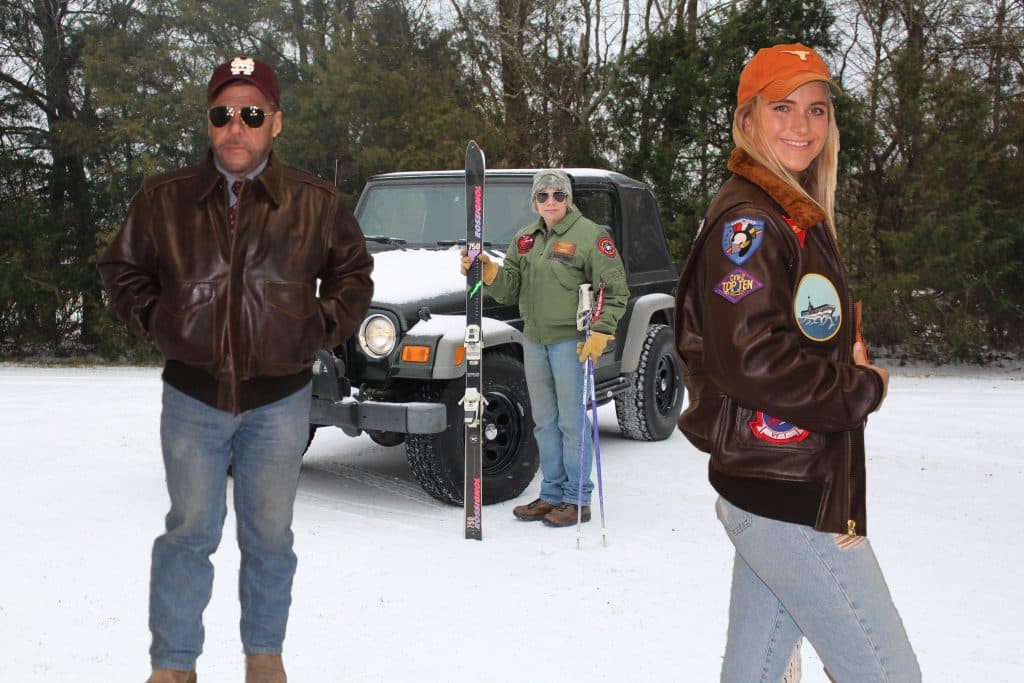 Great Christmas Gift Ideas for that Special Person that they will Cherish for Life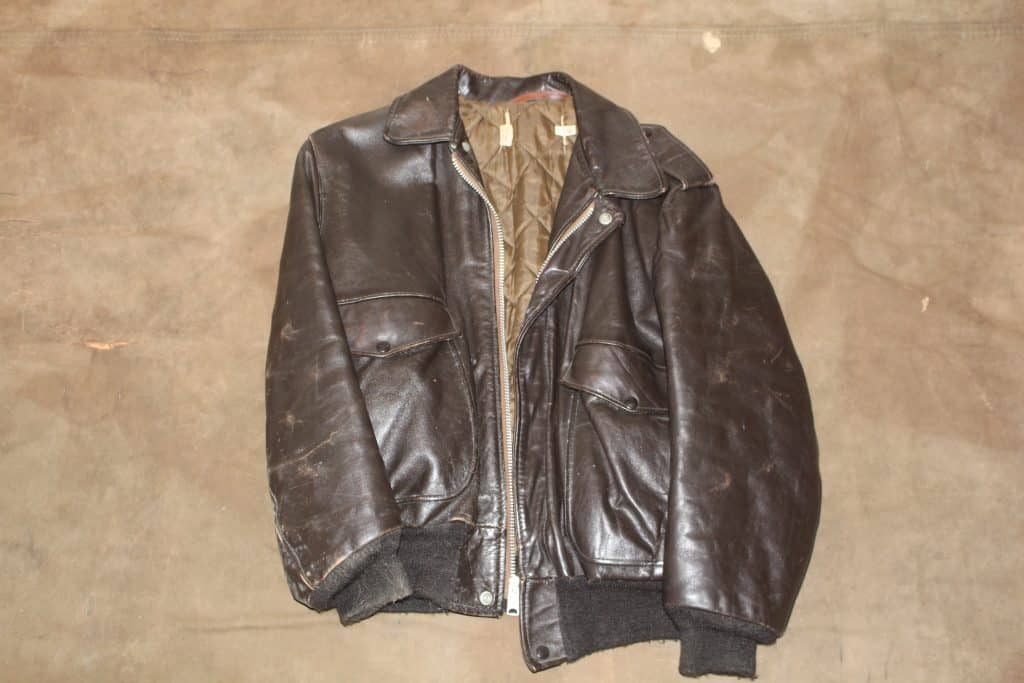 These Flight Jackets make excellent Christmas Gifts that will become Heirlooms in your family to be handed down to each generation and cherished for decades. I still have my uncle's A-2 Leather Flight Jacket that was issued to him when he was in the 101st Airborne during World War II in 1943, shown above.
My Homemade Pumpkin Pie Recipe & Step-by-Step Directions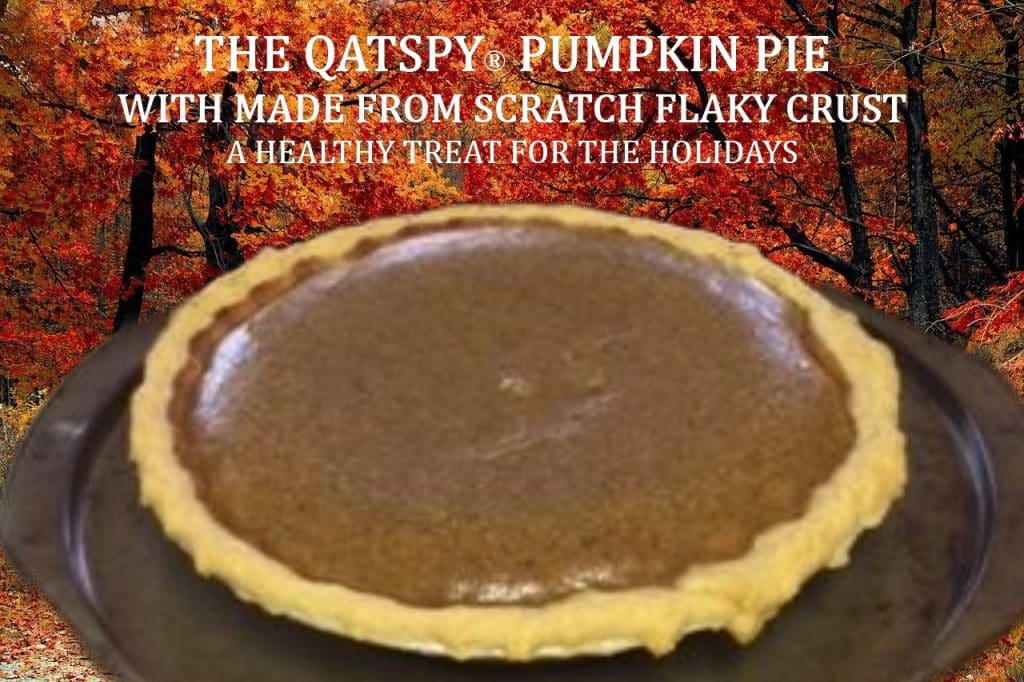 What would the Holiday Season be without a homemade pumpkin pie? Click on the image above that will take you to the pumpkin pie recipe with step-by-step procedures for both the flaky crust and that pie filling with all the helpful hints that we used in The MECHEL KOSHER DELI & BAKERY. This can be assessed by selecting the image above.
What is nice about this link is that it has photographs of each phase from start to finish. Believe me you can do this and impress your family and friends, including the mother-in-law. NOTE: My recipe calls for 45% less sugar that what the Libby's recipe calls for on the can to reduce intake of sugar especially during the Holidays. This is important for those that are health conscious, like I have to be.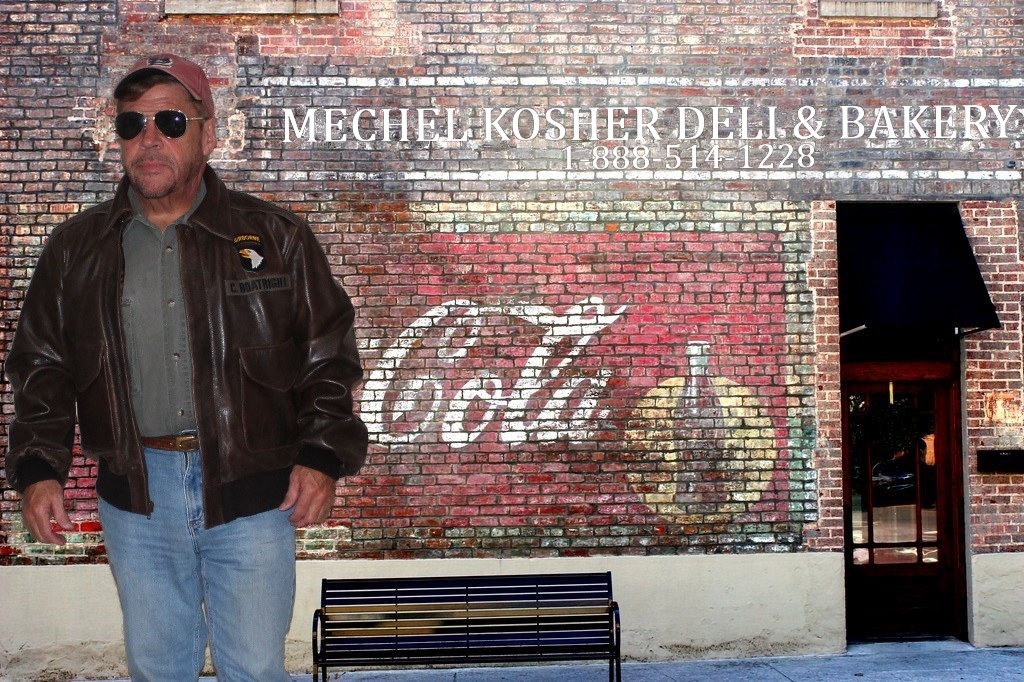 I'm so conscious about my weight and fitness that I developed The DELPHI DIET & CAST FITNESS System that I wrote a book about on KINDLE. This explains how to and how I lost 45- LBS. and 6- inches in my waistline in just 8- weeks, right during the Holidays starting on November 28, 2014.
Not only did I drop the weight and inches, I dropped decades off the condition of my skin in the photograph below taken on August 13, 2022 after a photoshoot that we did for our flight jackets. This photograph is taken 8- years after I started my diet and fitness program at age 57; I'm now 65 years old in the photograph below with a 29- inch waistline. I actually dropped 52- LBS and 9- inches total by September of 2015. This diet is based on two principles WHAT (to eat that has a Health Index at or below 3.25) and WHEN (to eat between 9 a.m. and 5 p.m.). Nothing ever good happens for your health eating after 6 p.m., especially for your skin. This is one of the main reason that I have the age-defying skin that I have.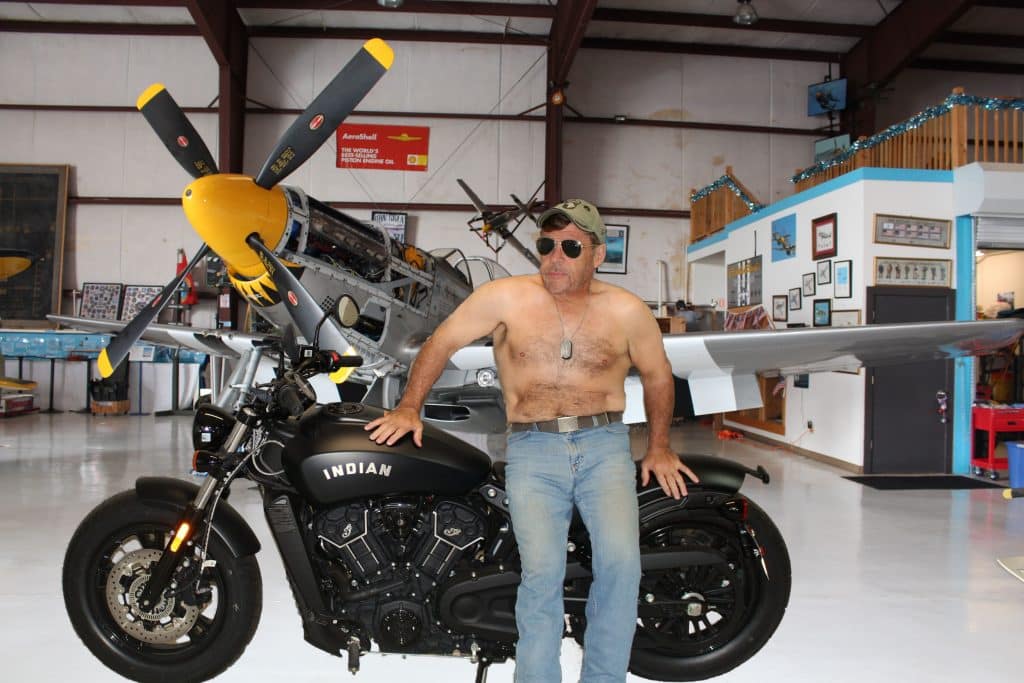 THE DELPHI DIET & CAST FITNESS System on KINDLE: