THE QATSPY® Yankee Performance Sports Training Athletic Quarters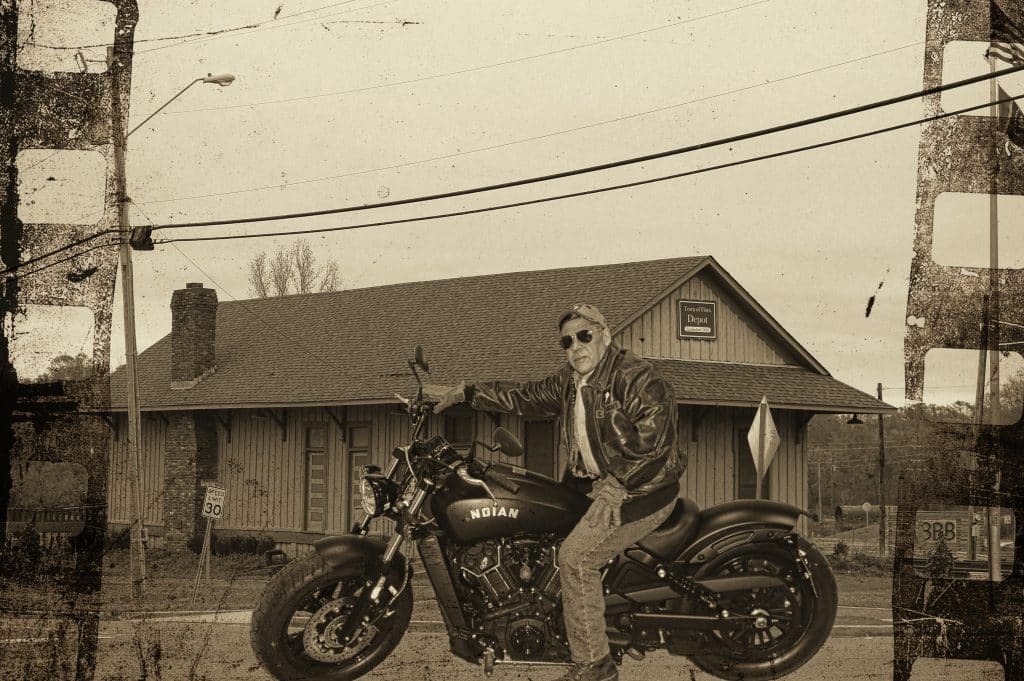 By: Charles W. Boatright
Age is a Number; BUT IT ISN'T THE NUMBER!- Putting so much Significance on AGE can be a Huge Handicap that can Limit Your Potential in Life!
It has been reported that Tim Tebow had a workout session with an NFL Football team, Jacksonville Jaguars, where his former college coach Urban Meyer is the Head Coach. One of the assessments by fans and sports analysts alike is that Tim Tebow is 33 years old and what impact that will have on his ability to perform.
For those who are wondering, the last time Tim Tebow played for an NFL Football team was in 2015 with the Eagles.
There are certain attributes that a person possesses that can't be measured or weighed that allow them to achieve what others would consider the impossible. If a person possesses perseverance, a commitment to purpose, the strength of patience, and the determination, there is little that can stop that person from achieving their desire, regardless of past failures. The best way to handle failure and success is to use failure to build experience and success to develop confidence, as both are essential in life and in sports. There is no substitute for experience, perseverance, and confidence in life or in sports.
These are the very reasons why sports and especially fitness are important to our ability to enjoy life and reach our full potential in life and in sports.
I refer to this as Caleb's Commitment– Caleb was 45 when he was sent to spy out the Promise Land with 11 other spies, but the odds were against him and Joshua 10:2. Caleb had to wait 40- years to actually achieve his objective. Caleb was 85- years old when he actually entered the Promised Land. In a conversation with Joshua, Caleb explained to Joshua that he was as strong and healthy at 85 as he was at 45, when Moses instructed them to spy out the Promise Land (Joshua 14: 10-11).
The way to consider obstacles is as a ladder to reach your objective. The higher your obstacles are, the higher the achievement that you can reach.
Focusing on one's age only can severely limit your potential, and that can have an adverse effect on our ability to stay active. Some people think that they need to give up certain activities because they've reached a certain age. We actually need to take an opposite approach, as we need to challenge our bodies with activities that definitely should include fitness and exercises.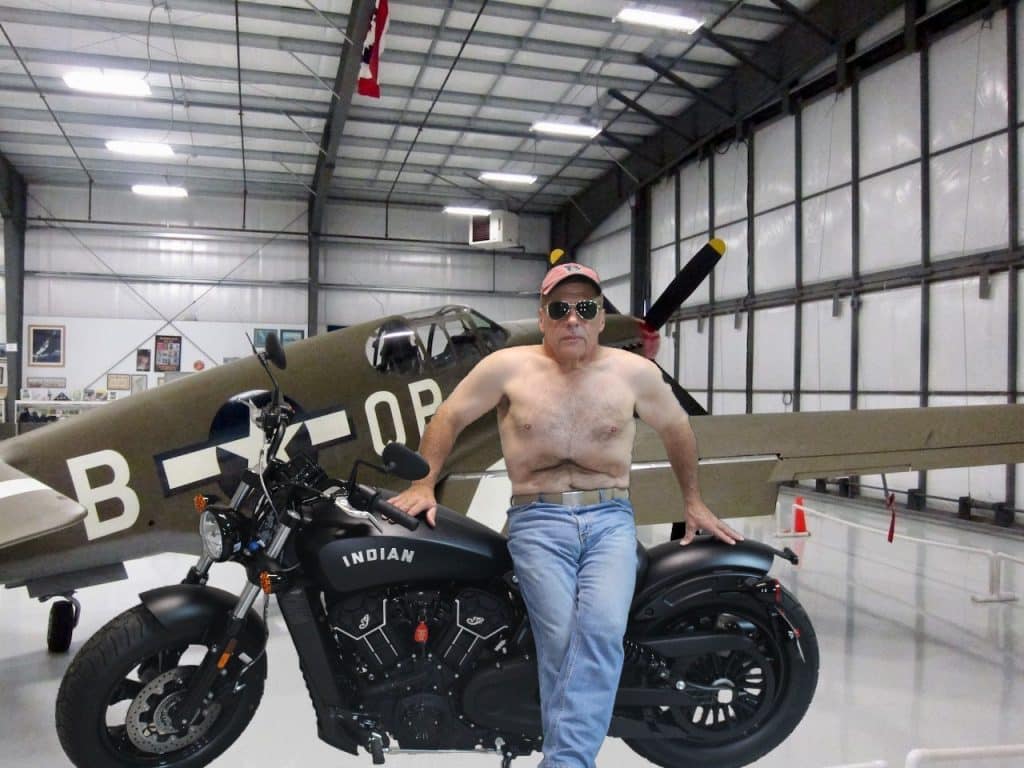 People who are over the age of 50 are seeing the benefits of being active and staying in both physical and mental shape, even after retirement. This is definitely not your grandparents' retirement years any longer. In the photograph above, I was in our hangar on my INDIAN Motorcycle, where I posed without my shirt. I'm 63 years old and soon will be 64. I still work on my farm challenging myself and pacing myself. You might not be able to keep the pace you did at age 30, but it is important not to give up any ground and keep a pace that is challenging your body.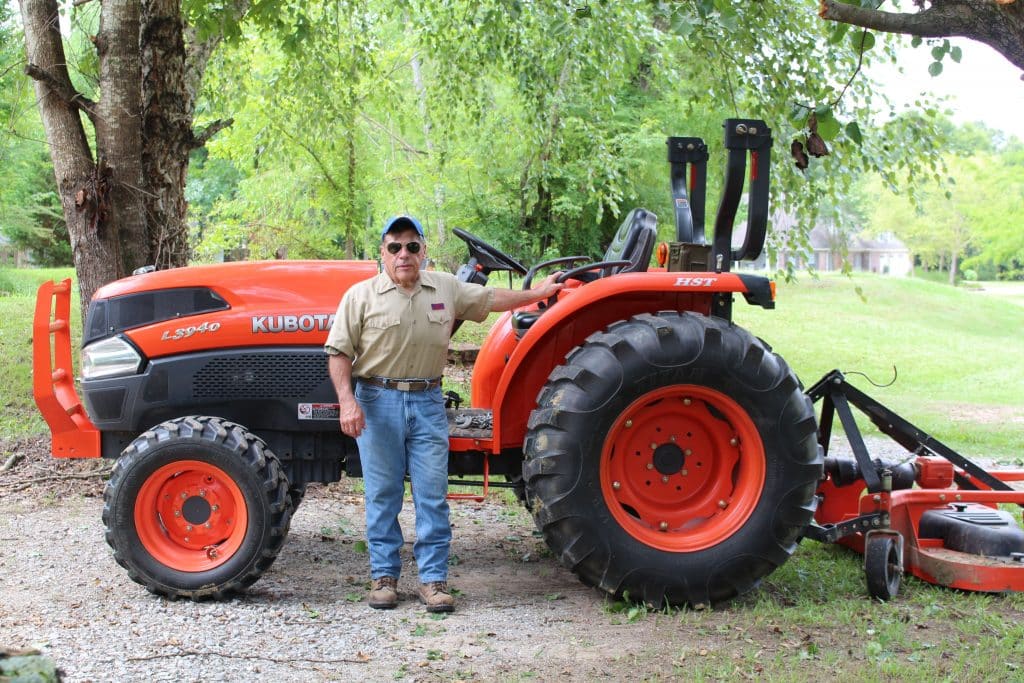 People should be more focused on numbers that really do count like for instance- blood pressure, cholesterol, blood glucose levels, their weight, and yes, just as important, measuring their waistline. Measuring your waistline is actually more important than your weight. I went from a waistline of 37.75- inches down to 29.25- inches in 9- months.
I dropped weight and inches, but I also dropped my numbers. Below is my blood pressure reading that I took just last night (28Apr2021). I DO NOT take any prescribed medication of any kind. If exercise and fitness came in a pill form, everyone would be taking it, hands down. Drugstores couldn't even keep enough in stock for their customers.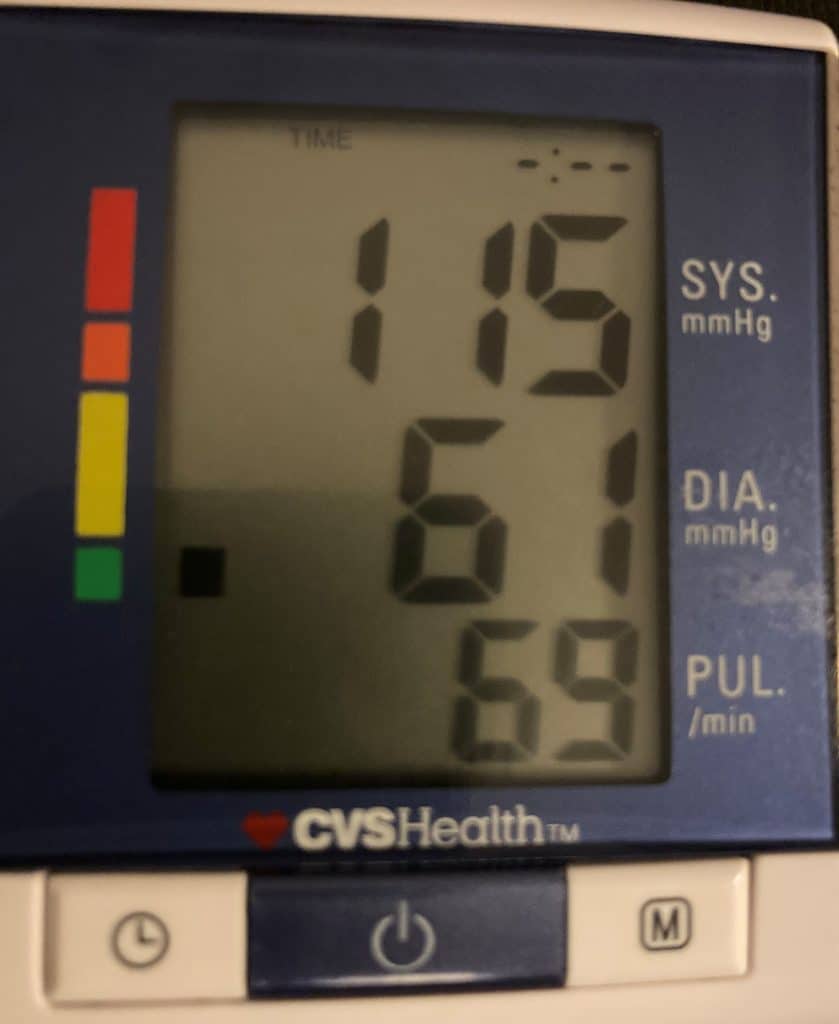 Here's another false premise, and that is as you age, your waistline will increase. That doesn't have to be the case, as I have noted. It is true that our metabolism tends to slow down after age 30. But you can help maintain an active metabolism with nutrition and by following a fitness program. Fitness is just as important to your mental health as it is to your physical health. You can turn your body, even after 30, into a calorie-burning juggernaut. I'm proof that this is true, I managed to increase my metabolism that allowed me to lose over 52- pounds at age 57 by following my ASCOT- DIET & FITNESS Program.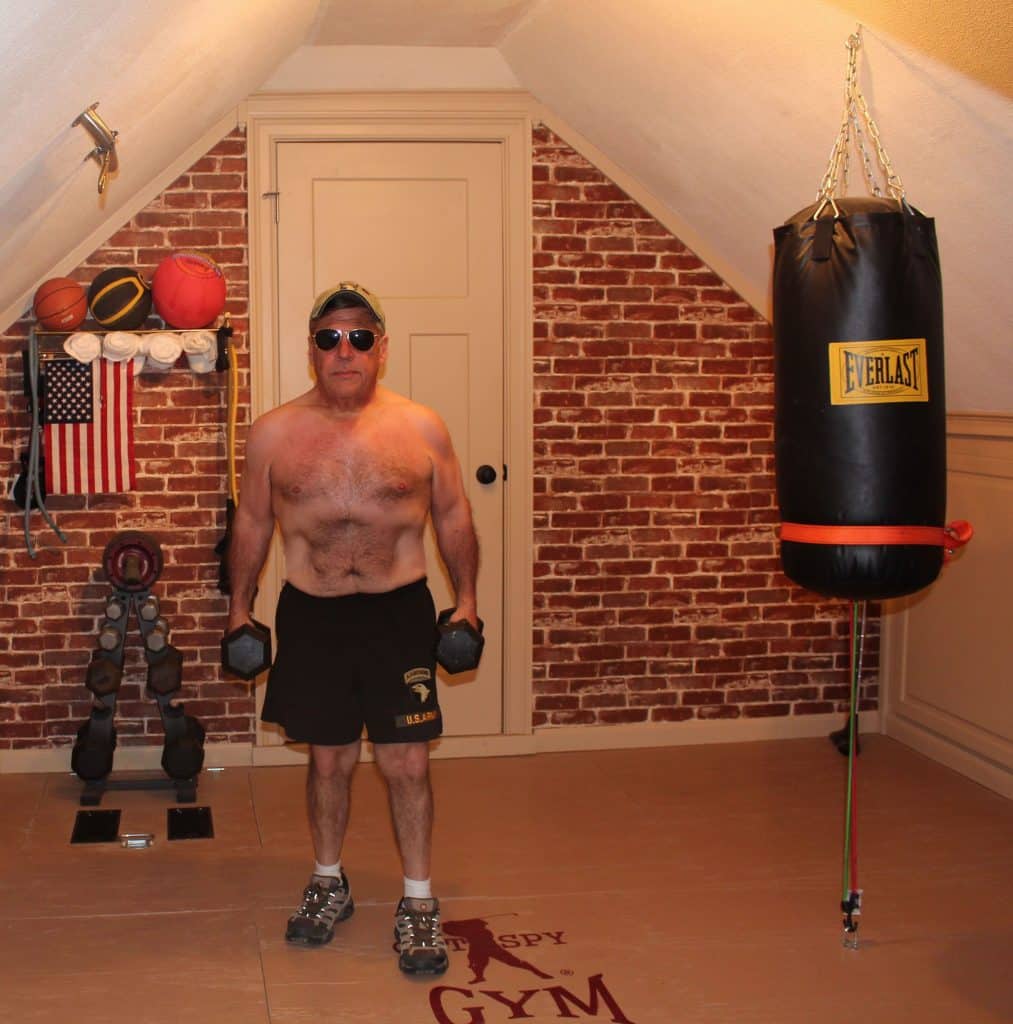 I accomplished this my gauging what I ate and when I ate. This is connected with our Circadian Rhythms that apply to our diet and not just our sleep patterns. The most important number to get acquainted with is the Weight Factor Number (WFN). Not all calories are created equal when it comes to our metabolism and your food intake. Certain calories affect how your body converts food into energy that the body can burn directly and use as energy, instead of storing our food as fat.
Just because you're over 50 doesn't mean that you don't have control over your weight or waistline. I was able to lose 35- pounds in one month, which was the month of December 2014. Below is the record that I kept of my waistline over 9- months on my ASCOT- DIET & FITNESS Program: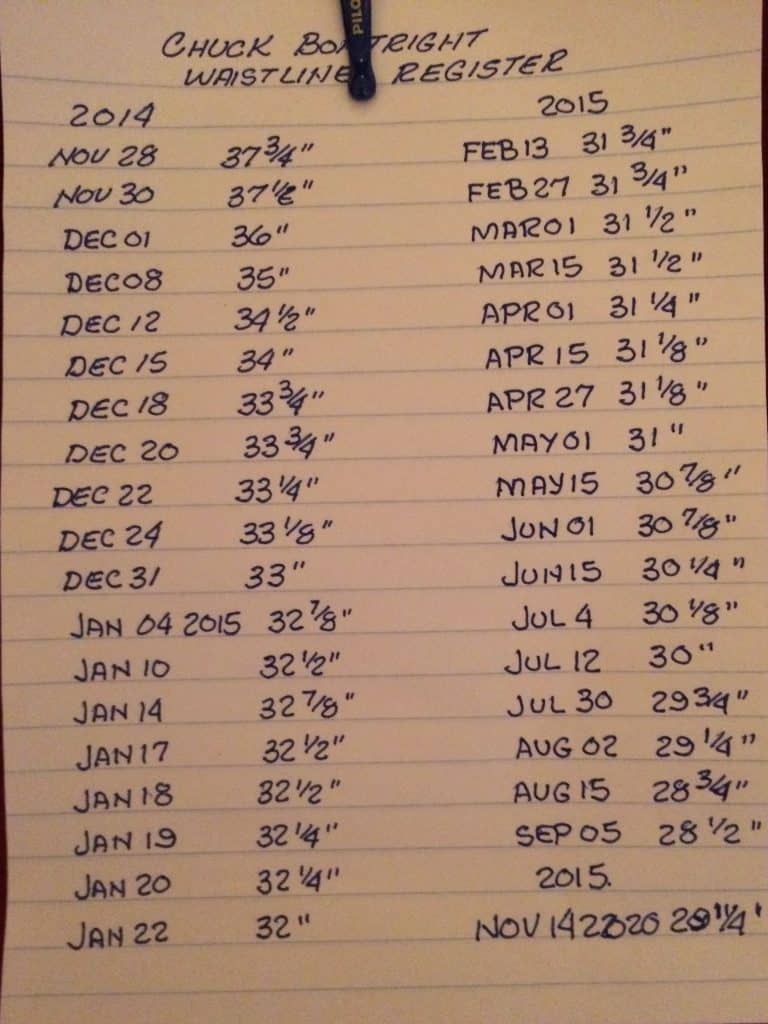 I wanted to lose the weight because I was starting my Online Health, Fitness, Sports Apparel, and Training business. To add a little more pressure to the situation, I was also going to be modeling and be an instructor in my own fitness and training videos that has allowed me to obtain my health and fitness at the present age of 63.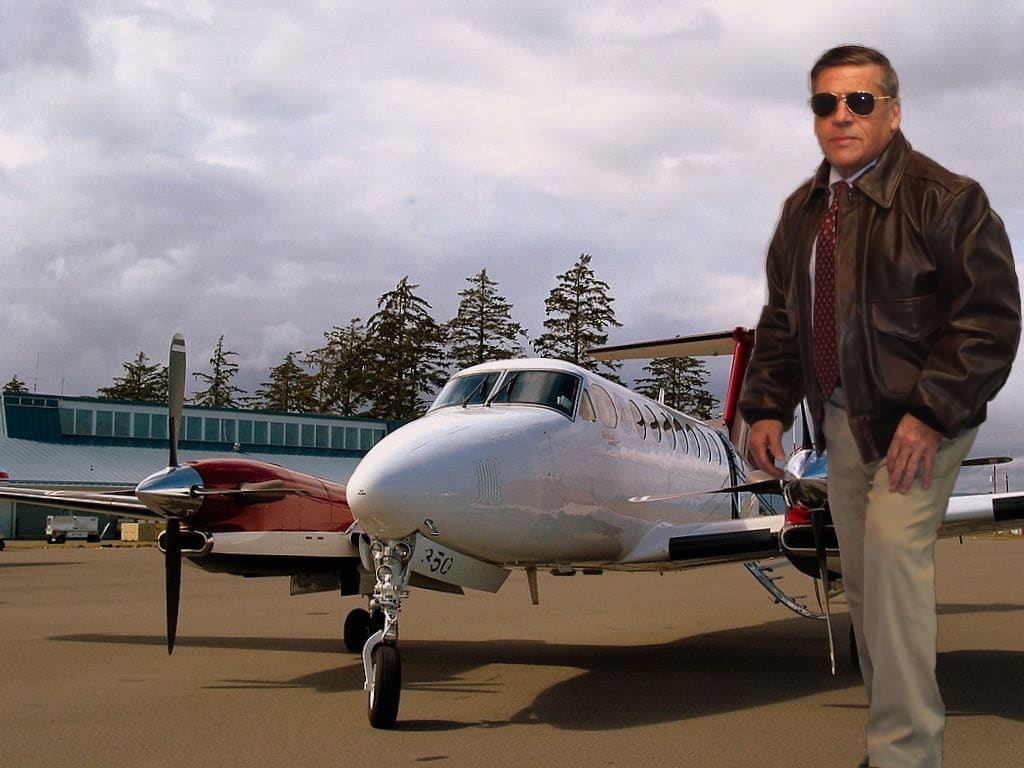 Modeling is a very demanding occupation because it puts demands on you to look and feel confident in what your are wearing. My online sporting apparel business includes the Authentic A-2 Leather Flight Jacket that we supply to the U.S. Military. This is one of four jackets we carry in our Online Store. You can also order from my online store the iconic A-2 Leather Flight Jacket that I have used to replace my wool-blend sports jacket for business or casual wear, as noted in the featured photograph, where I'm on my INDIAN Scout Bobber 60 Motorcycle.
A waist jacket actually looks better than the customary sports jacket, especially if you are sitting. There are sports and news casters that try to button their sports jacket while sitting giving the sports or news. With a tie, this looks awkward and looks as if the jacket is to small for the person. I have long since hung up my sports jacket for my A-2 Leather Flight Jacket that actually makes the person look thinner. If you are going to be in a photograph or on television, the last thing you want is to look larger than you actually are. The camera can add five -to- 10 pounds to you, so the last thing you want is to look larger.
By the way, I can use my A-2 Leather Flight Jacket for business and casual wear and it still keep its shape and looks great for any occasion. I don't leave home without my A-2 Leather Flight Jacket.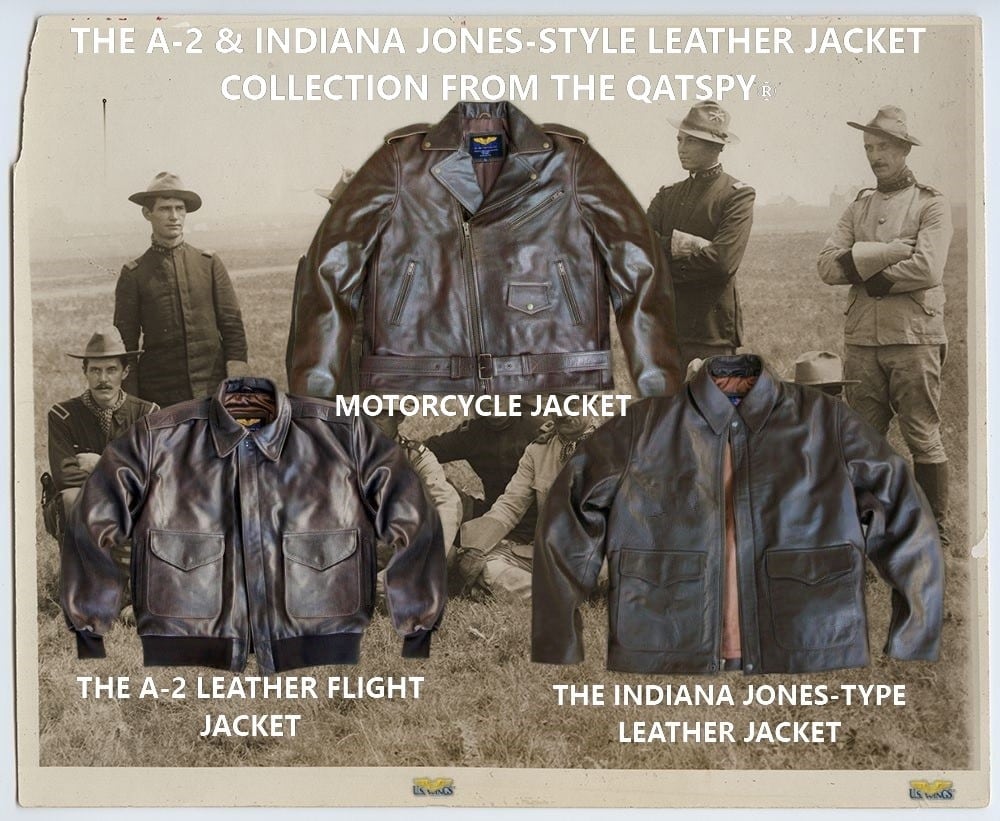 Below is the ASCOT- DIET & FITNESS Program that allowed me to lose 35- pounds in 4- weeks and 52- total pounds in 9- months: