THE QATSPY® Quapaw Aviation Tactical Sportswear Performance Yukon OUTFITTERS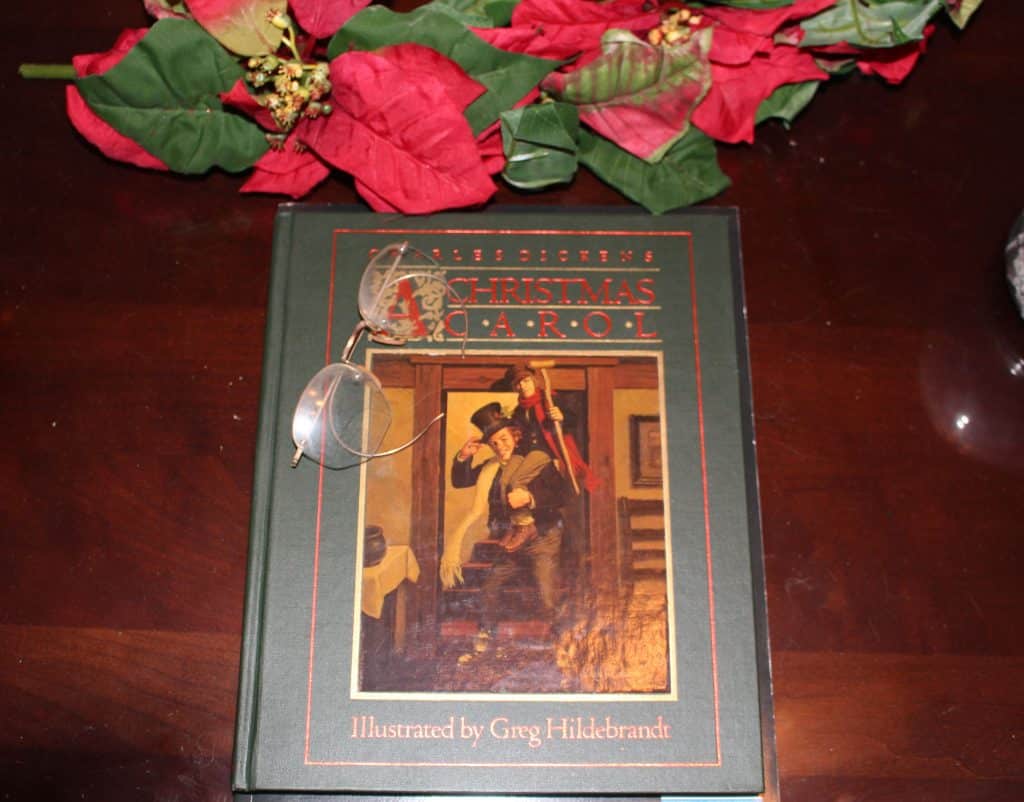 By: Charles W. Boatright
A Special Holiday Gift for You/Love Ones– Best Gift of all is Health/Fitness, Your Health, Fitness, Self Esteem is a Gift You Can't Purchase
Charles Dickens who wrote A Christmas Carol is a holiday favorite of many people leading up to Christmas during the Holidays. High schools and community theaters put on a production of A Christmas Carol each year. Even if you don't have a friend, family member, like your child in the production, go anyway and support the local arts in your area.
Two of the best actors that have played the Ebenezer Scrooge's character in Charles Dickens' A Christmas Carol were played by Sir Patrick Stewart and George C. Scott. Their depiction of the Ebenezer Scrooge character by these actors were according to the classic Dickens novel.
How One Instance can Change Your Life
A Christmas Carol is basically is about how one night changed the life of Ebenezer Scrooge that was facing a chain that he was forging link-by-link in his life that would lead him to an inauspicious future if something didn't change. At least that was what Jacob Marley was trying to warn Scrooge of that Christmas Eve night. Three ghosts visited Scrooge that Christmas Eve night revealing his past, present, and future. The future was what changed Scrooge's outlook the most. We all have had that life changing moment.
What is great about life is that we don't have to be condemned to or by our past. Like Scrooge, we can make changes in our life that can produce better outcomes especially pertaining to our health and fitness. These are the top two (2) New Year's Day Resolutions that are made each year. Like Scrooge, you don't have to be condemned to follow your past or present lifestyle in the future. With some minor changes based on WHAT and WHEN you eat along with some basic fitness, you can change your future dramatically in regards to your health and fitness. A diet and fitness program doesn't have to be strenuous to be effective.
The best investment that even Wall Street can't match is investing in your health and fitness that has a 600% return on your time and money you spend working out and following a healthy diet. The savings are realized in reduce cost for prescribed drugs and medication, doctor and hospital visits. In the photograph below, I'm 65 years old and I'm not on any prescribed medication for hypertension, diabetes, cholesterol, or any other medical issue. This photograph was taken by a fellow photographer that needed a guy working out on a boxing bag for a client writing an article.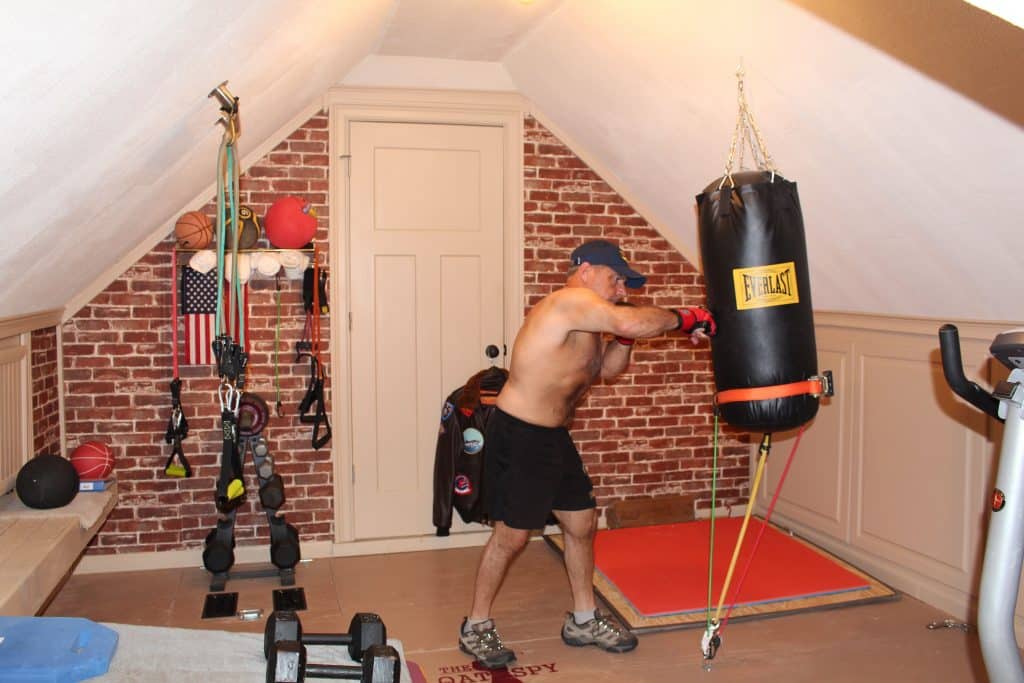 Just remember that there are no lines you can get into to purchase health and fitness to improve your life as you age. You can only invest in your health and fitness with time like a 401(k) plan for retirement; but treat you health and fitness as a health savings account. Remember, it is never too late to start investing in both your health and fitness. But the earlier the better.
In my case, I started at age 57 getting back in shape that I had in my mid- 30's. I started my DELPHI DIET & CAST FITNESS System that allowed me to model my line of sports apparel in six months. This is sportswear that I carry in my online store, THE GREAT QATSPY®. THE DELPHI DIET & CAST FITNESS System allowed me to turn my body into a calorie-burning juggernaut to get into better shape in less than 2-months.
There is one fact about improving your health and fitness, you are going to have to combine a diet program with your fitness workout. Fitness only accounts for 20 percent your weight lost. Your diet plays a major role at providing 80 percent of your health and fitness.
My Ghost Moment of being Against the Ropes
My ghost that changed my life was a photograph that was taken after an interview that I gave at a radio station ESPN THE JOCK 96.9 FM in Springfield, Missouri with Ned Reynolds. I just written a book about the golf swing of the future, THE KASPER GOLF & FITNESS COACH. It wasn't until this photograph that I recognized that I had to get into shape that I was in during my mid-30's.
I was starting a sportswear and performance business in June of 2015, that gave me 7- months to get back into shape that I was in during my 30's. But, you can't be overweight and be in photoshoots for sportswear including topics on health and fitness and still be an effective spokesperson. It just isn't too convincing of a story line to have. This was my Scrooge ghost moment in my life that I had in October of 2014 that changed my life.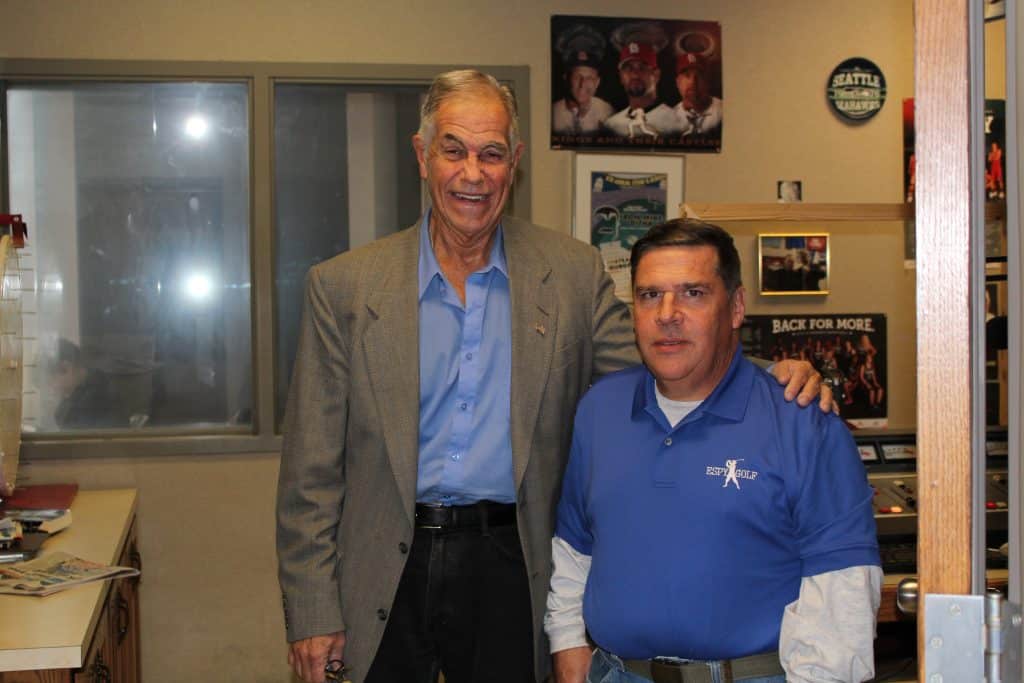 I had been working out as I did since I was in my 20's, but I still couldn't drop my overweight issue along with blood pressure (145/95), sugar (140) and cholesterol (225) levels, that were all high. I started my DELPHI DIET & FITNESS System on Friday, November 28, 2014, a day after Thanksgiving. Not exactly a great time to start a diet program for anyone right at the start of the holiday season; but a great time to test a diet.
But I was against the ropes as it were in my case, shown above. I was scheduled to start my sportswear and sports performance business in June the same month that I was to retire at age 57. That gave me only 7- months to lose 45- LBS and 5.75- inches in my waistline, manageable but still challenging. My target waistline was 32- inches, the same waistline that I had in my high school days playing fullback.
I used my Chemical Engineering background to develop what became THE DELPHI DIET & CAST FITNESS System that I have now written a book detailing my diet and fitness program with detail videos of my workout that are made in my gym. This eBook is on KINDLE that you can purchase a download copy of just my clicking on the link below, this link will take you directly to KINDLE Site:
Create Your Motivating Factors to Get into Shape
I had three motivating factors to get myself into shape and to be able to model my sportswear collection- (1st Factor) A photograph, my ghost of the present and past. (2nd Factor) A purpose to get into shape, and my (3rd Factor) My metrics to measure my progress. Don't start a diet and/or fitness program without at least these three or more incentives; you'll run out of motivation and steam. This is one reason that people give up on their New Year's Resolutions. Please at least have a (IPM) Image, a Purpose, and Metrics to measure your progress. If you can't measure it; then you can't achieve it.
Below is a photograph taken in May of 2015 and month before I was to retire in June of 2015 standing on the tarmac at our airport standing with our 206-D Bell Jet Ranger helicopter: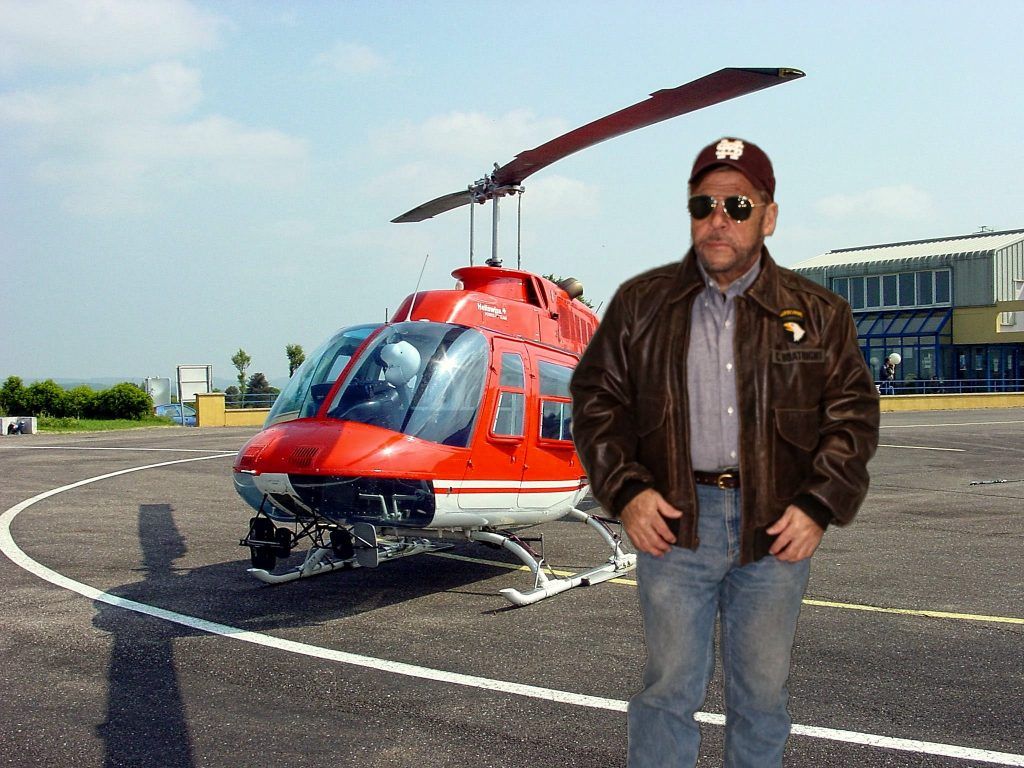 The Structure of The DELPHI DIET
The DELPHI DIET is pretty simple based on two premises, WHAT to eat (food with a Health Index Factor at or below 3.25) and WHEN to eat (have meals between 9 a.m. and 5 p.m.). Pay very close attention to when I ate, this will defy your actual age. These two Factors combined to turn my body into a calorie-burning juggernaut where I achieved my goal not in 6- months as planned, but in one-third of the time, in just 2- months, in just 8- short weeks, I lost 5.75- inches.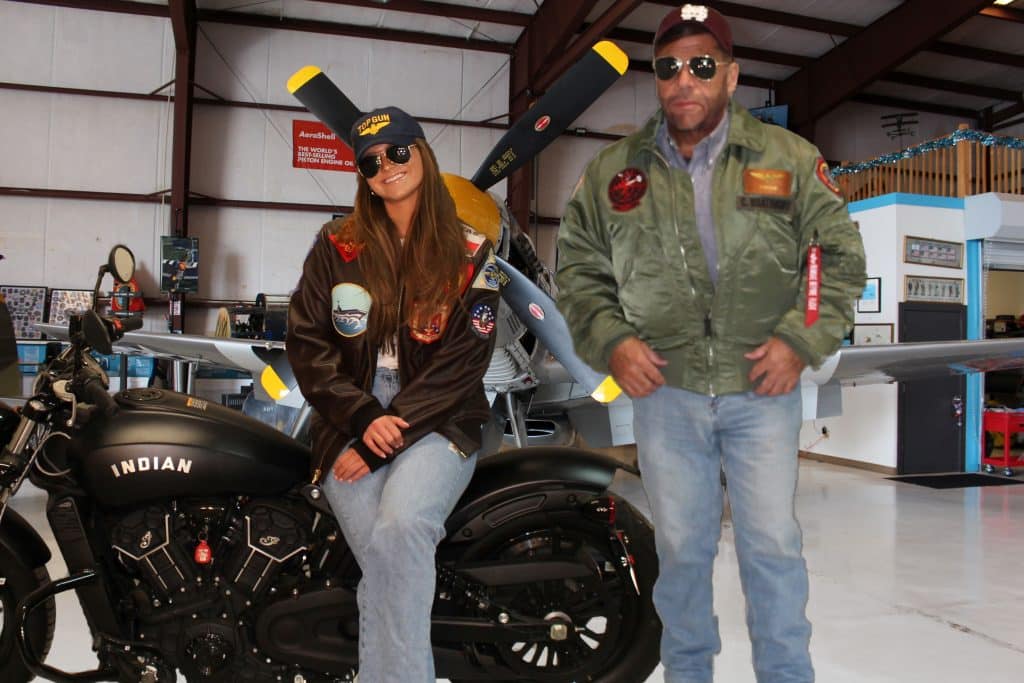 I went from 37.75- inches waistline down to 32- inches by January 22, 2015, refer to my Waistline Chart, below. But by June 01, 2015 I had a waistline of 30.78- inches. This gave me the ability to start modeling my sportswear that include the A-2 and G-1 Leather Flight Jacket. I dropped 6.88- inches in my waistline in just 6- months.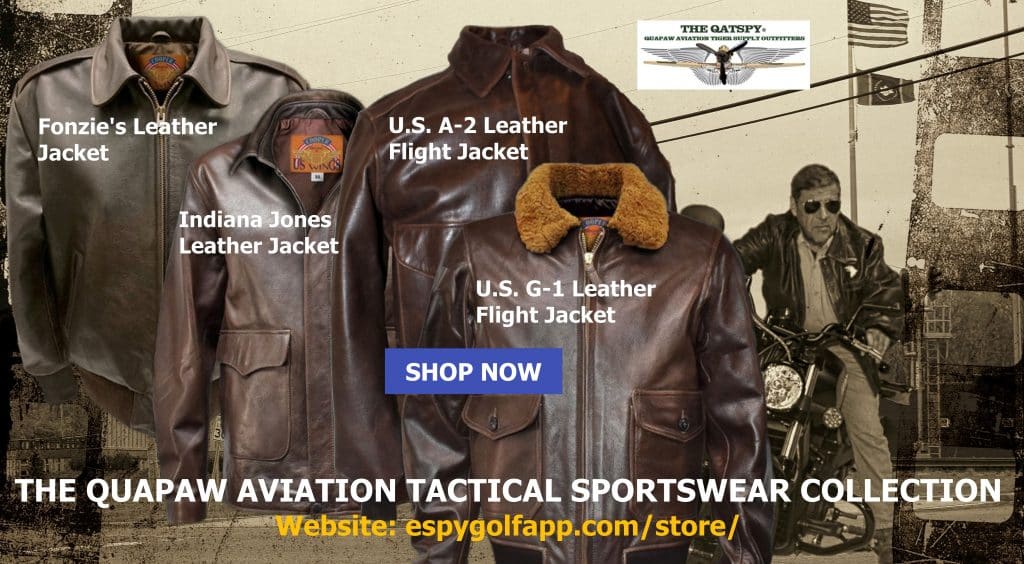 The Importance of Metrics in Achieving Your Health & Fitness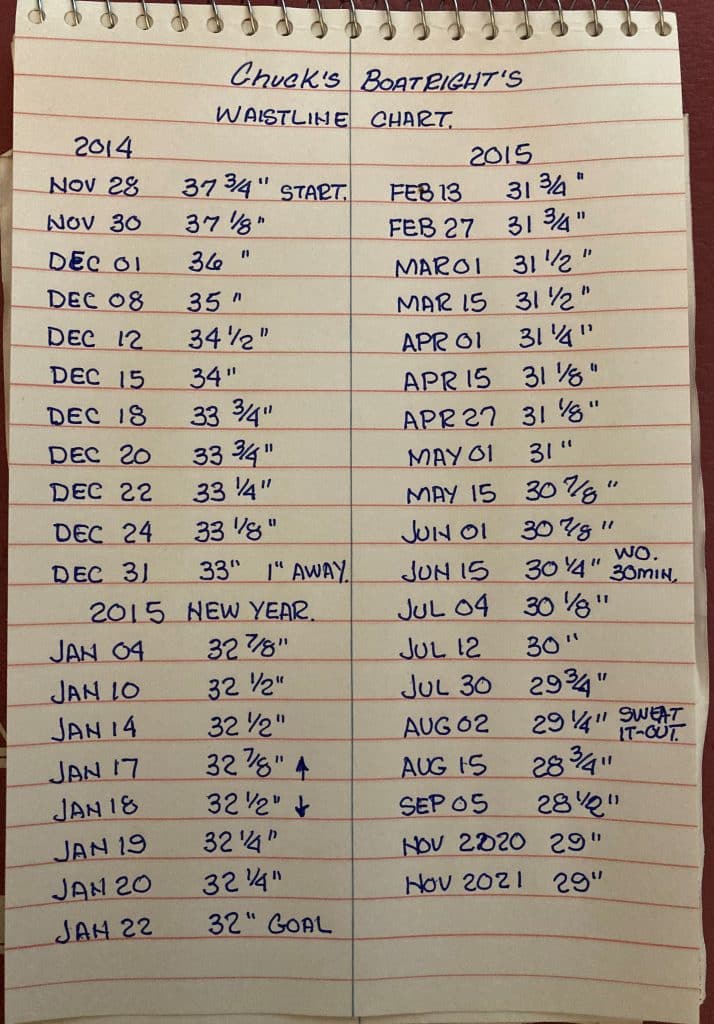 I didn't stop there, I dropped down to a waistline of 28.75- inches by September 27, 2015 where I'm at now. Going on 8- years after started my DELPHI DIET & FITNESS System where I have retained my 28.75- inch waistline going on 8- years now. I still measure my waistline once a week to insure I retain my 28.75- inch waistline.
Besides Dropping LBS. and Inches, I Dropped Something Totally Unexpected
Besides dropping pounds and inches, I dropped 25- years off the condition and appearance of my skin that I wasn't expecting to do. I was just proud to drop down to 142 pounds and have a 28.75- inch waistline.
The bonus was how I improved the condition of my skin that I had in my mid-30's, now at age 65. This is a significant advantage for a guy 65- years old modeling sportswear with young ladies in their early 20's. If you want a challenge, try modeling in front of the camera with young ladies in their early 20's. That would challenge any diet or fitness program out on the market.
After a photoshoot that we did in May of 2022 featuring our two Leather Flight Jacket collections (Quapaw Aviation & TOP ACE Collections), shown above and below, I did an AB Challenge in our hangar for my DELPHI DIET & CAST FITNESS System Book that contains details of my diet and fitness program, shown below. That is a far cry from where I was in October of 2014.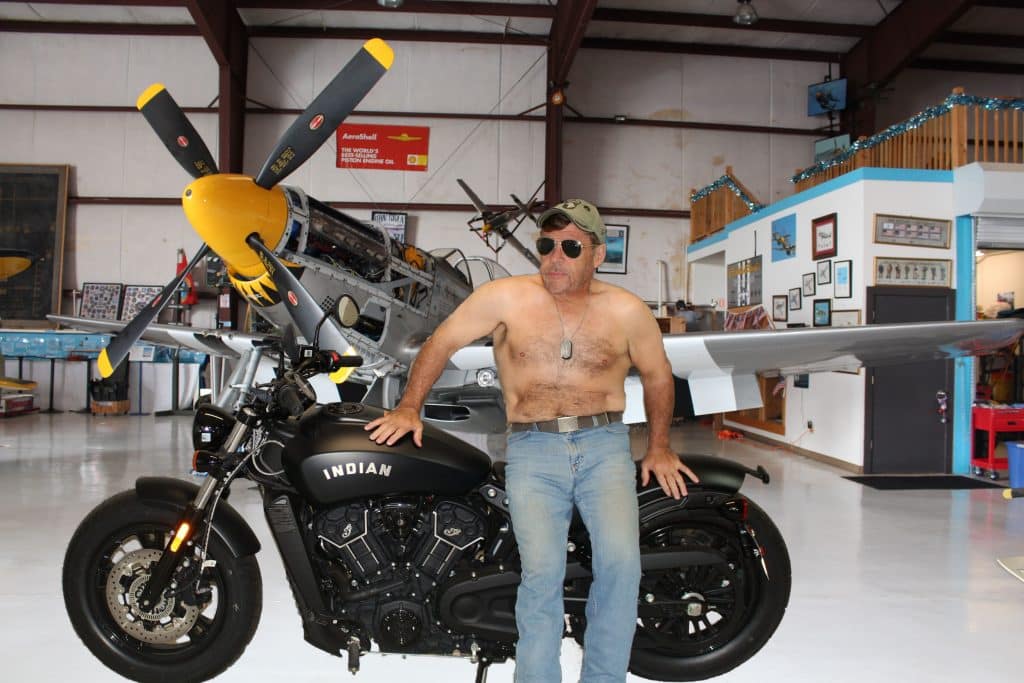 A Recommendation
In reference to my skin, I had to have a small growth removed from my skin at my belt line in November of 2022. Instead of going to my general physician or surgeon, I elected see a Plastic Surgeon to immunize scaring and because a lot of their work can be done in the office with a local anesthesia. Mississippi Center for Plastic Surgery is equip to handle surgical procedures in their office.
Plastic Surgeons are highly trained in performing and addressing skin issues and body sculpturing to minimize scarring and downtime. I highly recommend those in central Mississippi to consider Dr. David Steckler M.D. and Priscilla Resser PA-C and his professional and friendly staff at Mississippi Center for Plastic Surgery in Ridgeland, Mississippi at 200 W. Jackson Street phone No. (769) 300-4055. Even if you live outside of central Mississippi, the Mississippi Center for Plastic Surgery is well worth the commute for their professional medical care.
See more the history of Plastic Surgery and my experience with Mississippi Center for Plastic Surgery: