THE QATSPY® Inside-the-Leather Golf Coach and Sports and Fitness Page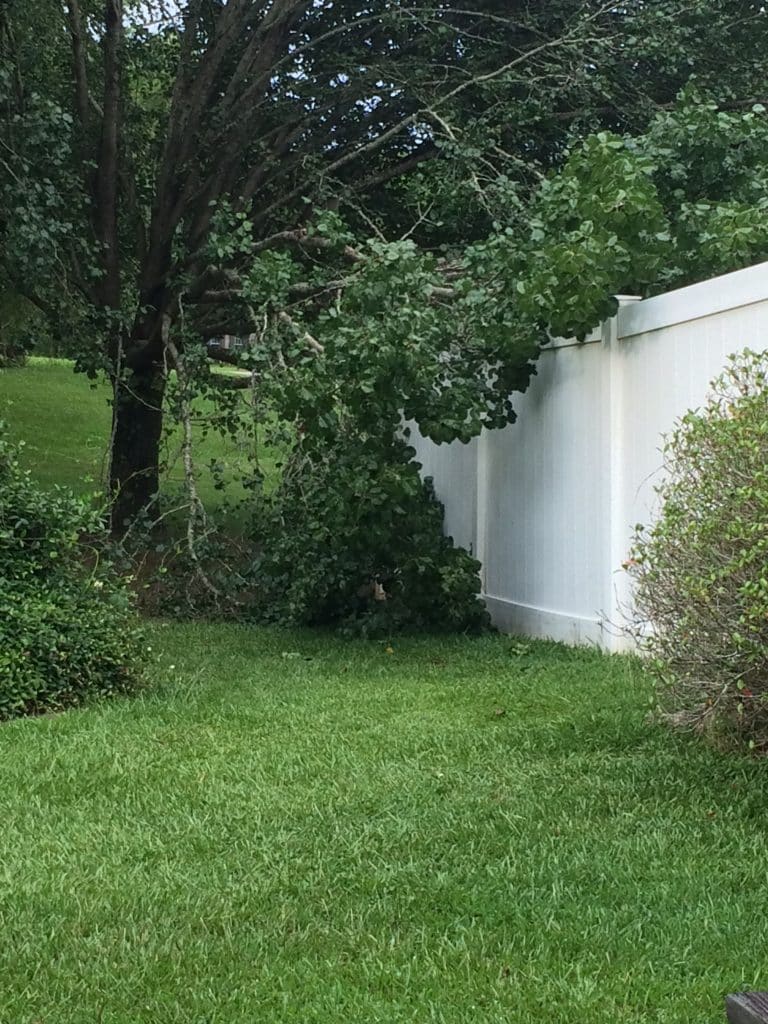 By: Charles W. Boatright
A slight change of plans 4 a Sunday afternoon golf game, as a tree on a fence line can test your fitness regimen. This proves why fitness counts
Even the best laid plans can go awry in a moment of time. I was drinking coffee with my dog Sebastian, a Golden Cocker Retriever, a great listener when I hear that very distinguishing cracking sound that I know too well from working on my farm. Some people call it a widow maker sound of a tree splitting after a severe thunderstorm that moved through the area last week.
Bradford Pears are notorious for splitting out, because of their soft fiber strength, compared with hardwoods like oaks. It's not a question of if, but when they will split. You just don't want to be under one when it happens. If you every feel the urge to plants a Bradford Pear, DON'T unless you want a yearly pruning job.
Being we're in the South, heat and humidity will test anyone's physical fitness to the max. When you have 89 degrees with 80 percent humidity, it's the ultimate test for anyone's stamina removing a tree. This isn't like working out until you're fatigued, Oh No, this is cutting the tree down and hauling off heavy debris to the chipper that I have.
If you've ever wondered why we train to remain in shape, this is the reason. You don't have mystical Mythology images descending from heaven to remove the tree while you drink coffee. Oh No, you are the mythology image to remove the tree.
Phone Call Cancelling the Golf Game with the Foursome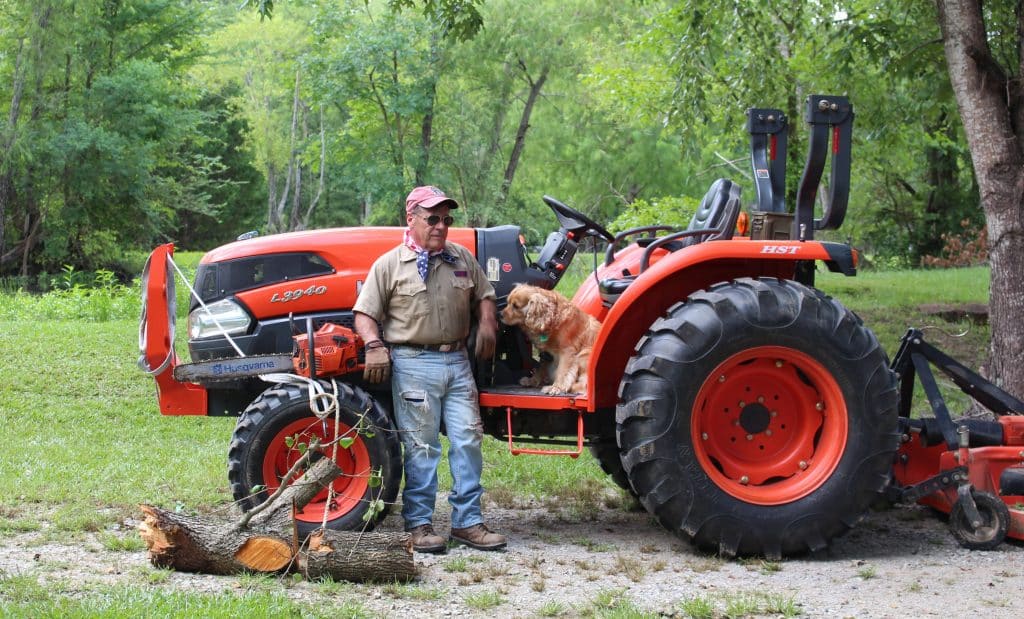 After making the call pulling out of my 2:00 O'clock golf game, I wasn't slinging a golf club, but instead a pole saw and a Husqvarna Rancher chainsaw for the next three-and-a-half  hours. Just exactly how I planned my Sunday afternoon. Why would I want to play golf when I had the pleasure of cutting and chipping 8,000 pounds of a tree.
The silver lining is always there to encourage you. While I was cutting down and up the 20-year-old tree in 89 degree temperature with 80 percent humidity, I just remembered the results of my CASPER Fitness Program where I train in a 115- degree heat for one-hour-and thirty-minutes, five times a week.
While some of my neighbors 15 years my junior would be gasping for air and fatigued after 30 minutes, I was still going after four hours at age 63. If you've ever wondered the benefits of a fitness program, I just proved it in stars and stripes. The photograph above was after I completed cutting down and chipping up the tree for mulch in my flower beds.
Do you think I was pumped at age 63 and still mowed grass and trim, YOU BET I WAS! WHY NOT. Some wonder why I workout, I think that I just proved it at age 63; I feel like I'm in my 30's, NO KIDDING. DON'T Ever short change yourself on pursuit a fitness routine, it really does pay off!. I just Proved IT that it does.
I have two friends that motivated me more than anyone else and they are with a local television station that we communicate with on an on going basis. One is John Conway, a meteorologist with WJTV, and Noah Newman, a sportscaster/director with WJTV in Jackson, Mississippi. John Conway is my go to guy on weather when I plan my golf rounds. Reason being is that I walk the course and I need to know if lightning is an issue. I play with rain, wind, and snow, but lightning is Game Changer and Game over!
The YouTube Video is me before I lost my weight, of 52-Lbs. over 9-months in 2014. This was the YouTube Video that motivated me to lose the weight if I was going to continue making my Golf Training Videos. In this video I made three drives between 285-to-300 yards within 20 feet of a 5- gallon bucket using my QATSPY Palmer 5-KP Golf Technique.
When you view this YouTube Video select the button (lower right hand corner) to maximize your screen to see the golf ball hit within my target.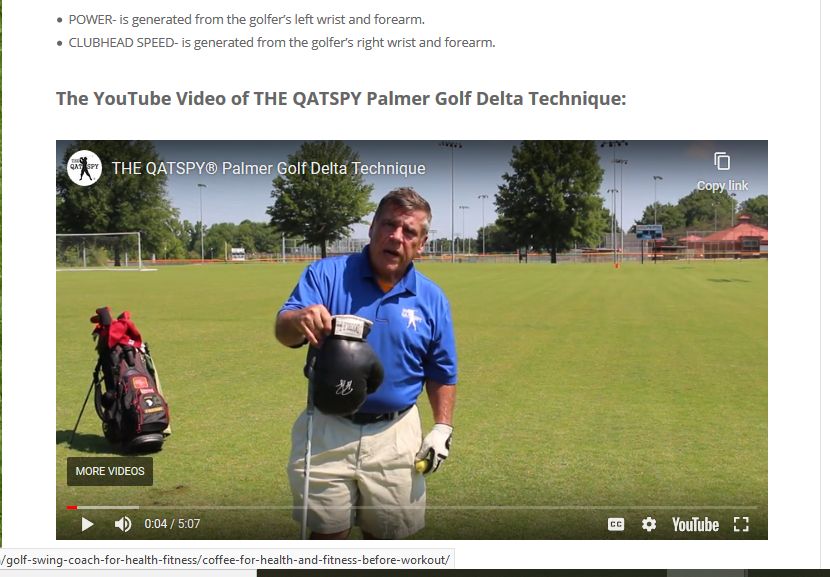 Remember this was 9-months before I lost 52-Lbs where I'm at now using the 925-MET Diet Program free to use!
This is FREE until July 31, 2020
Sponsor By: THE Great QATSPY® Yankee Personal-Style Traditional Apparel Quarters Fit-to-a-TEE Look and FEEL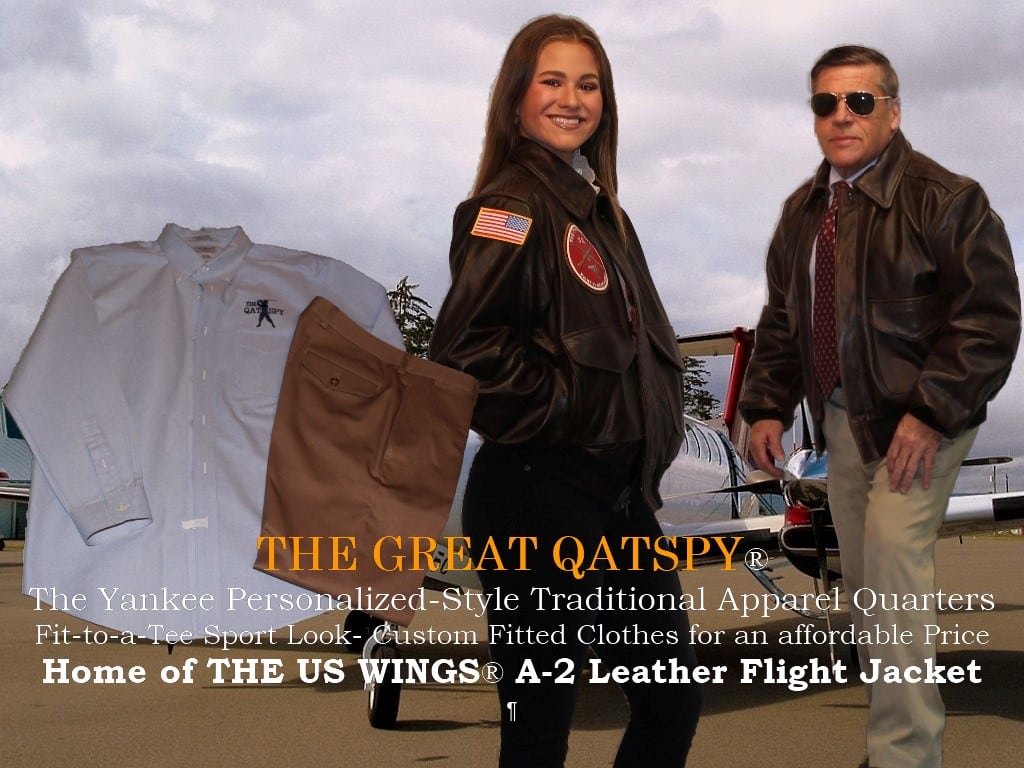 THE Great QATSPY® Online Store carries a variety of clothing apparel items that are selected, based on their quality and personalized-style that offers that traditional and classic look. We carry the full line of US WINGS® leather jackets that are great substitutes for the traditional wool-blend Sports Jacket that can be excellent breeding surfaces for bacteria and viruses.
Our US WINGS® Leather Jackets can be simply sanitized and cleaned with a simple solution of dish detergent (1 teaspoon) mixed with water (8 oz.) used to wipe down our leather jackets as needed during the course of the day. I'm an authorized dealer of the US WINGS Leather Jackets. DO NOT USE ALCOHOL to wipe down your leather jacket!.
These make great formal and leisure jackets for men and women to wear with slacks or just simply blue jeans. Our US WINGS® Leather Jackets can be worn as the new sports jacket for business and formal wear or for the weekend and these are durable enough for the open road or open skies.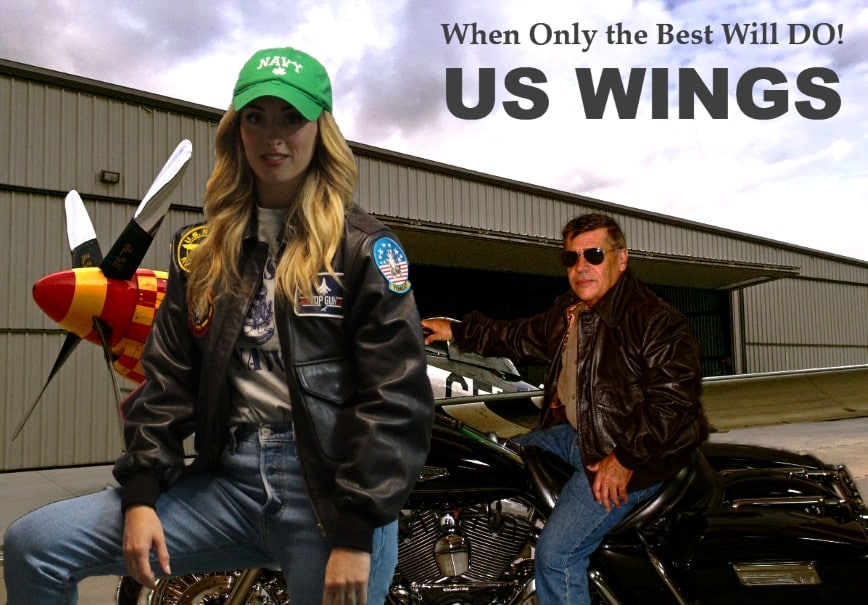 THE Great QATSPY® also carries that custom-tailored look of Button-down Oxford shirts made with 5.5 oz. per yard of cotton that can be ordered with neck sizes ranging from (14″ – 17.5″) and Sleeve length from (32″ – 37″). To complete your classic look, we also carry custom-fitted Chino Khakis pants with waist sizes from (30″ – 44″) and specified inseams from (26″ to 36″) in quarter-inch increments.
There is nothing that has the classic, custom look and style as our US WINGS® Leather Jackets, worn with our custom-fitted Button-down Oxford Shirts and Chino Khakis pants or your comfortable blue jeans. You will be properly dressed for any occasion, whether for the weekday or weekend and be comfortable.
We supply our US WINGS® A-2 and G-1 Flight Jackets to the U.S. Military. Our US WINGS® Leather Jackets meets all Military specs. You can't purchase a better leather jacket that will last you a lifetime.