THE QATSPY® Quapaw Aviation Tactical Sportswear Performance Yukon Outfitter Company,An Authorized Dealer & Distributor for US WINGS®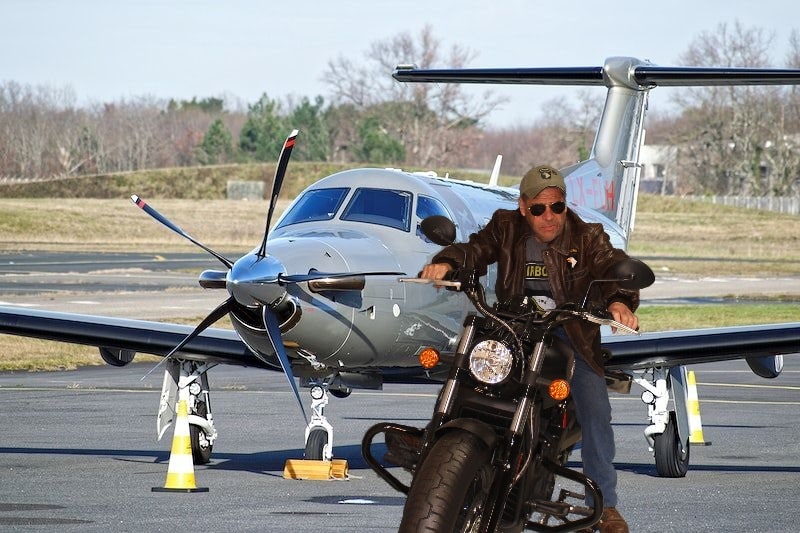 By: Charles W. Boatright
A PREMIER Age-Defying Health & Fitness– Program to help you Maintain Your Pursuit of an Age-Defying Lifestyle
PREMIER– Purpose, Reason, Execution, Metric, Incentive, Expectations , Results will help you have an age-defying and active lifestyle now and into your retirement years.
Offering Encouragement to those Trying to Lose Weight and get into better Fitness
This will be a great help to you in your pursuit to drop weight, inches, and even years off your skin! While you can't stop your aging, you can effect how you age, and proper diet and exercise is your key to an active and younger looking appearance!
This is an article for those individuals that made New Year's Resolutions to drop weight and to get into better shape on an expected schedule. I encourage you to not give up on those essential pursuits of your better health and fitness. Your health and fitness are too important to you and to your family now and especially later on in your life to quit and give up now. This is your opportunity to Look and feel better than you have possibly have ever felt or looked since your 20's or 30's.
HERE'S AN IMPORTANT QUESTION: Why work 30- odd years doing what you have to do on someone's else schedule to support your family to only retire and not be able to do the these you want to do on your own schedule?
If in the coming weeks while you are following your diet and fitness routine, you don't see the results that you have expected to achieve in your health and fitness, I would like to suggest a technique that has worked very well for me that I started back in November of 2014 at age 57 just before I retired and continue to use and follow today at age 65.
I was planning on starting a sportswear and sports performance business in June of 2015, after I retired from Entergy after 33- years, as a grid engineer. I was also planning on doing something really ambitious, I was planning on modeling my sportswear collection myself at the age 57 then and now at the age of 65. That I also hope to continue doing for years to come! If Dolly Parton can do it at age 76, I believe we all can do it! Achieving your health and fitness objective is the encouragement that I want to give you in this article; and how to Continue your pursuit!
Our Quapaw Aviation Tactical Sportswear Performance Yukon Outfitter Collection: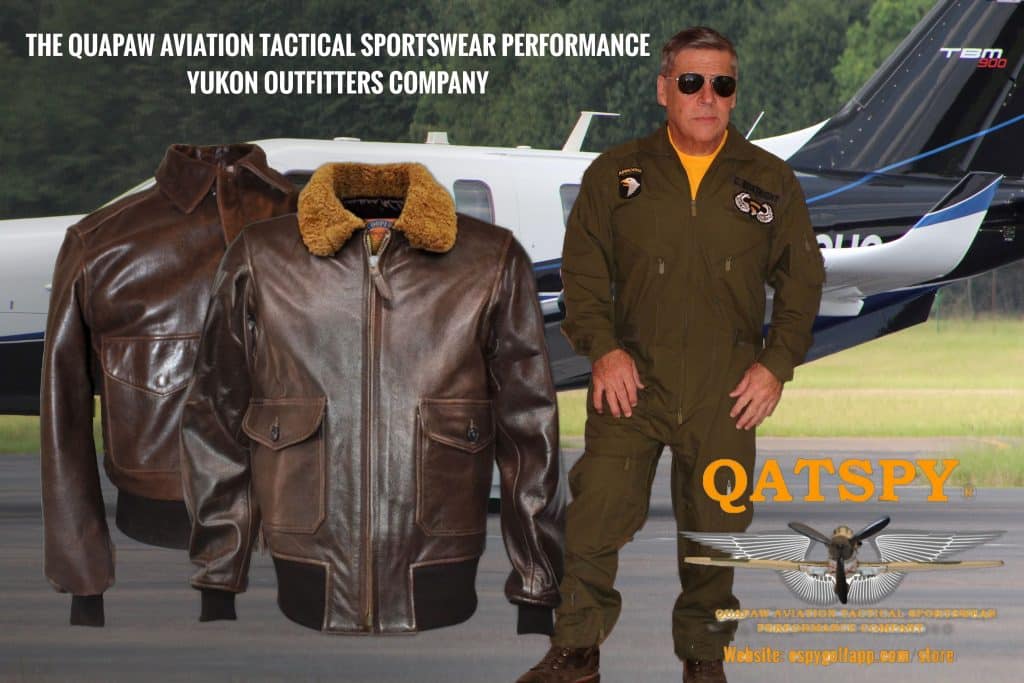 Why I Gained the Weight
My weight gain was due to a problem that I had starting in my early 40's of gaining over 45- pounds and 6- inches in my waistline due to an injury that caused me to receive a medical discharge from the U.S. Army. The pain in my knees and hip by the time that I reached my mid-40's made it impossible for me to maintain my fitness and I also got off my diet. Over the next years leading up to age of 57, I got out of shape and flying aerial patrols where you are sitting for hours between fuel stops in a cockpit of a 206(D) Bell Jet Ranger didn't help matters leading up to my mid-50's weight issues.
Life After Four Knee Surgeries and Hip Replacement
After four (4) knee surgeries and a hip replacement during my early-50's, I was able to regain pain free mobility and start back working out and get back on my diet once again. An important incentive that caused me to lose weight was a photograph that was taken back in October of 2014 just after my last surgeries to inspire me to get back into shape and on my diet to drop my weight and inches. This photograph was taken just after I gave an interview at an ESPN radio station on my golf coaching book that I wrote- KASPER GOLF & FITNESS COACH TECH.
After the interview, I had my photograph taken with the hoist of the radio show. This one Photography gave me a snapshot of the hard reality that nothing else could have done, but it is a future shock that got me to improving my health and fitness.
The Importance of PRIMER Technique to Your Health and Fitness
I'm going to explain how one photograph inspired me to have the deep and sincere desire to get into better health and fitness that I still enjoy today, eight- years later after using the PRIMER Technique. Below is the breakdown to the PRIMER Technique, I hope this helps you out as it did me:
P
Purpose– That photograph that I was referring to that got me into shape to start my sportswear and performance business in June of 2015. This just gave me seven (7) months to reach my objective of dropping weight and inches that I needed for modeling my sportswear. NOTE: Just saying that I want to get into better health and shape isn't definitive enough to inspire you to accomplish one of the hardest things to do in life, lose weight, especially after 50.
You have to have a well defined purpose to see results you want to have. I needed to get down to a 31- inch waistline to start modeling by June of 2015. By being very specific with your objective and writing them down where you can read them daily will empower you to maintain your health and fitness objectives. That one photo and writing down my objectives inspired me to actually drop 52- pounds and 9- inches in my waistline by September of 2015. If you write your objectives down and have a mental image of what you want to achieve, chances are you will exceed them.
R
Reason– It wasn't that was I just wanting to get into better shape, but it was more specific than that, I wanted to model my sportswear and produce sports performance training videos, as well. You might not want to have this ambitious of a goal of modeling as I did, but you heard a picture is worth a thousand words, will in my case, one photograph was worth a tremendous motivation incentive. Find your reason, mental image, and your incentive and you will have a key element to your motivation.
This was one of my Training Videos that I did for WJTV-12 Sports Zone that was aired before the 2021 U.S. Open:
Regardless how painful it might be for you to have your photograph taken like I did after my interview at an ESPN radio station, it is necessary. Again, It was shocking to me that gave me my reason and drive that I needed to drop my weight (52- Lbs.) and inches (9- inches).
E
Execution– I Developed a diet and fitness program in my late 20's that you can execute to drop those pounds and inches to reach and maintain your object. You don't want a diet and fitness program that only gets you to your objective, but you want a diet and fitness program that you can maintain, that is inexpensive, that is not difficult to fit into your lifestyle and schedule, or one that requires you to mail order your food. You want something as convenient as going to your local grocery store, deli, or your favorite restaurant with friends.
If your diet and fitness program is too difficult that you can only follow the program for a couple of months it won't be very useful to you over the coming years. You will soon be back at square-one; and that is the sheer definition of discouragement and feeling defeated.
Also, if your diet and fitness isn't convenient, chances are your ability to continue your diet and fitness will be slim-to-none over the coming years. My diet is as convenient as my neighborhood grocery store and visiting my favorite restaurants where I meet with friends. I use the standard Nutrition Label, like shown below, to determine the Health Index (HI) of foods that I can have to eat that are at or below a HI factor of 3.25. I just use 9- data points from the label, shown below to determined my HI. The lower the number is below a 3.25 the more perfect food is for your body to metabolize. This is the WHAT to eat component is.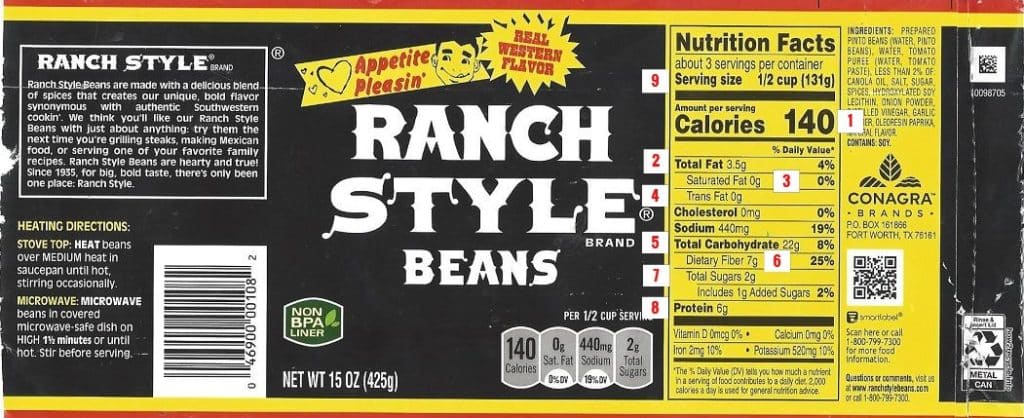 Now for WHEN to eat component (between 9 a.m. to 5 p.m.) that is just as important for dropping weight and inches as is the WHAT to eat component is, that I described above. But weight and inches wasn't all that I dropped, I dropped something else that was totally surprising to me that I was expecting, I dropped the appearance of the age of my skin and its condition, as well. This was only within 3- months in to my diet and fitness program that I experienced this age-defying effect on the age of my skin.
But if you are modeling having age-defying skin and condition is something that you would welcome in a heart beat! This was something that I wasn't expecting to see as the results of my diet and fitness program, but was pleased with having. I now have skin that I had in my mid-30's, see my AB Challenge photograph, below, taken on January 07th, 2023 preparing for a flight to Colorado.
If you are 65 years old and have age-defying skin like this, you would think that your diet and fitness program just by chance might be working in your favor. Not to mention having an active lifestyle where you are still riding your INDIAN Scout Bobber 60 to and from the hangar and playing golf.
Below was a photograph taken on January 7th, 2023 at age 65 in our hangar getting ready to fly to Arapaho, Colorado on January 9th, 2023.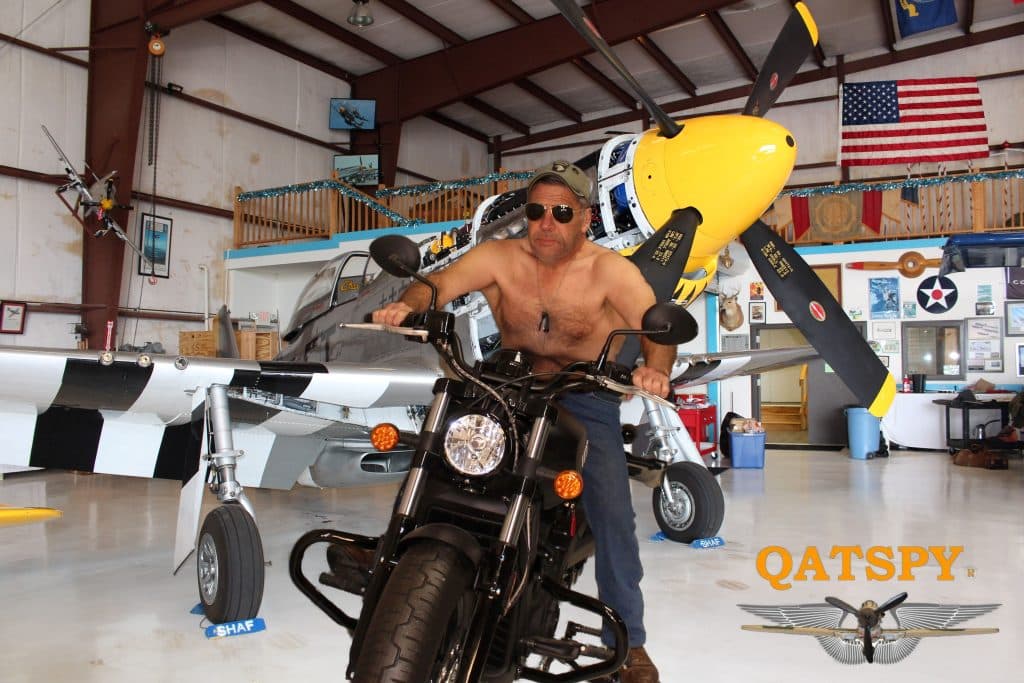 As I was preparing to fly out to Arapaho, Colorado on Monday, January 9th, 2023 for business and get some cross-country skiing in with a client and friend that I enjoy visiting. The ground crew challenged me to an AB Challenge, shown above.
Another health and fitness benefit is anytime you can get out into God's nature it is a great opportunity for you to do so and have an active lifestyle. I can't do downhill skiing due to my knees and hip issues, that impact of downhill skiing is painful on my joints the next day. I would be taking Ibuprofen for the next five-days if I tried downhill skiing. Cross-country skiing is a great option for me to downhill skiing.
Also a part of your execution element for your health and fitness is to develop at least two or three hobbies while you are working, even if you have to attend a community college/Vol-Tech School. These hobbies can become your second career after you retire. You got to stay active and challenge yourself. Believe me, you will have the most enjoyment of your life. And stay away from the Television and read instead. My hobbies are welding, carpentry, baking, and sports.
M
Metrics– If you can't measure it, you certainly can't obtain it. I measured my waistline twice a week for 10- months starting on 28 Nov 2014, and now just on Sunday mornings after I reach my goal in June of 2015. Metrics will supply you with the best motivation and the necessary adjustments you might need to achieve your goal. When you start seeing pounds and inches drop off, believe me, you will have all the motivation needed to maintain your efforts even after you have reached your goals, because you certainly don't want to go backwards, except to have age-defying skin. An age-defying skin is all the backward motion you want to have!
Again, just like in the before photograph that you take before you start your diet and fitness program, measure your waistline will be a huge benefit for you instead of weigh-ins. It will be painful for you to know where you stand with you health and fitness; but necessary one for you to make changes and be successful in your efforts.
Below is my actual Waistline Chart that I kept starting on 28 Nov 2014 and that I still maintain on another page of my Steno Pad, below: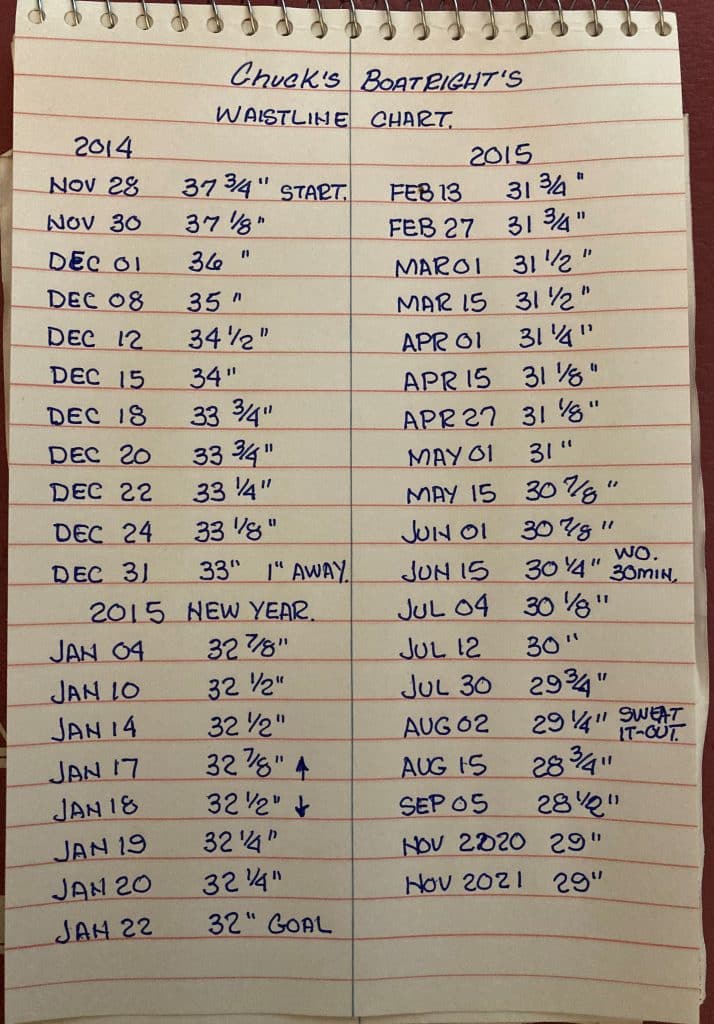 I
Incentive– I had a pretty ambitious plan for anyone over the age of 50 modeling and producing sports performance videos, especially being over the age of 60, now. But this gave me the incentive that I needed to reach my health and fitness objectives, especially being on display on several media platforms like YouTube and Television Stations sports shows.
E
Expectations– One of the keys to the PREMIER Technique is to set reasonable & realistic expectations for the intermediate and for your final objectives that you want to achieve and maintain in your health and fitness pursuit. This will be key in maintaining your motivation and being on track to meet your goal. A good expectation of weight loss is dropping about a quarter-of-an-inch (1/4″) per week in your waistline. This will be key in establishing your metrics both for your intermediate and final goals that is a healthy pace.
For example– In my case, I needed to lose from 37.75– inches waistline down to 31.0– inches; so my final objective to reach my goal would be based on (37.75- 31.0 = 6.75- inches) or my objective of 6.75 / 0.25 = 27 weeks or 189- days starting from 28 Nov 2014. So by June 05th, 2015, I should be at my expected waistline of 31- inches. I actually beat the 31- inch waistline objective and lost down to 30.125- inches (see my Waistline Chart, above).
RULE of THUMB on to Determine Your Waistline
A good method to determine your healthy waistline is to take your height in inches and divide by 2.12, just think of boiling point of water and you got the denominator, the bottom number. For me my recommended waistline would be- 66.0 / 2.12= 31.0 inches. I prefer to measure my waistline as to doing weigh ins, because you are adding muscle if you are working out doing strength training that I would highly recommend anyone do, regardless of your age. You want to lose fat but not muscle tissue. Also cloth tapes are inexpensive, standard, and they are available from most stores, like Hobby Lobby. One more thing- You don't have to worry about how accurate your scales are.
Also in regards to your strength training– It isn't the amount of weight that you lift; but the number of reps and sets you can perform that is important. Below is a photograph of my gym where I'm working out on my 80 Lb. bag. The exercise equipment you see here is all the equipment that I use six times a week for 45- minute sessions.
Matter of fact, if you have even just elastic tubing and a sturdy door and frame like I have in my gym, below, you got your gym. There are several exercise routines that you can perform with just a tubing and door. I enjoy using elastic tubing especially doing bench presses, they are safer since I work out alone. You can just drop elastic tubing if you get into a bind!
Here's an important fact about developing a strength training program with your workout program. Your strength training will be an important component in your ability to have age-defying skin due to what are called- Fibroblast Natural Growth Hormone receptors that are connective tissue that are just under the skin. These Fibroblast Growth Hormone receptors are turbocharged by your strength training.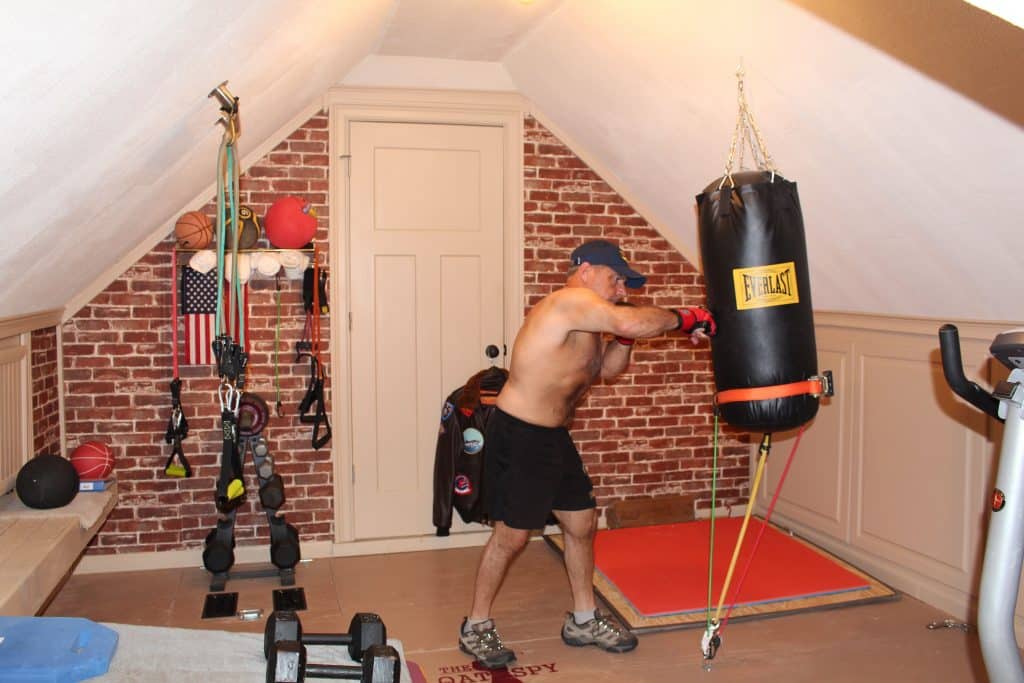 R
Results– Once you can measure and see your results with metrics and with up dated photographs, for mental image factor, nothing will be able to stop you from fulfilling your New Year's Resolution(s). Even if you don't need to drop pounds, inches, just the ability to have age-defying skin, I would think would be an interest to most men and women.
I'm able to realize my RESULTS during our photoshoots that I do and especially with the AB Challenge, shown above and below in our hangar, that was taken in March of 2021. You will find out that your clothes will look and feel better and you will enjoy your most important fashion statement of all, your health and fitness.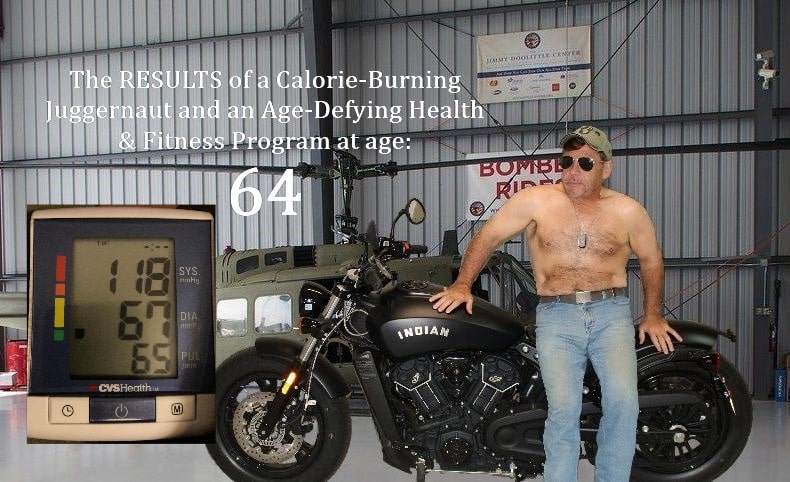 Even if you don't need to drop those pounds and inches, you might need to drop your blood pressure, blood glucose, and cholesterol numbers that I have done without being on any medication at age 65. But, I don't know too many people (both men and women) who wouldn't want to drop the age appearance and condition of their skin along with the 3- vitals that I just mentioned. The two AB Challenges, shown above, is a testament to The DELPHI DIET & CAST FITNESS System that I started in November of 2014 and still follow today.
My Book on KINDLE: DELPHI DIET & CAST FITNESS System $8.95: