THE KIOSCO JOURNAL Khaki Independent Ole Southern Cowboy Observer Journal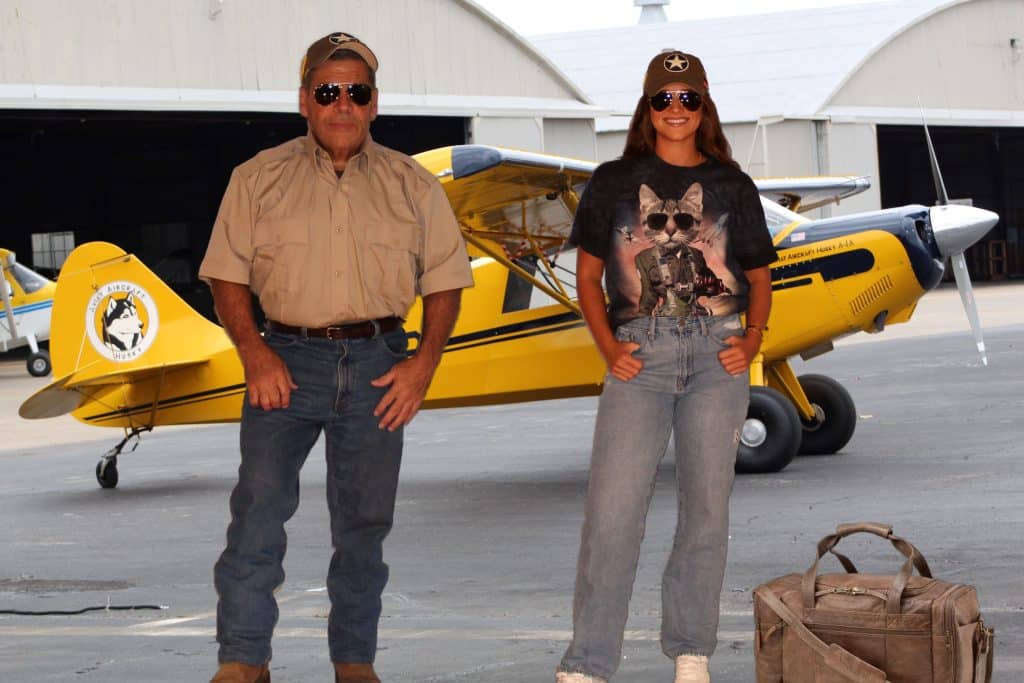 By: Charles W. Boatright, President of THE GREAT QATSPY® Company
Kiosco is Spanish for Newspaper Stand
A CHAMPS Resource/Ability for Defying Your Age– A Cardio, Hypertrophy, Aerobic, Metcon, Performance System for your Health & Fitness. I have the Health & Fitness that I had in my Mid-30's at age 66 Modeling our Cockpit Collection.
I consider my Annual Physical exam as being my championship game of the year. That is the true assessment of the work that I'm putting into my health and fitness during the year. But my regular game-day performance is when I step in front of the lens of a camera modeling.
Just to add another degree of challenge, I model with our young female molders in their early 20's, as indicated in the featured image, above. The camera will provide you with the most definitive assessment of your health and fitness that makes you want to stay in shape. The camera lens can be used as an incentive and indication on how well you are taking care of your health, fitness, and skin.
Not even the mirror can provide you with this type of scrutiny that the lens of a camera can provide, especially when it comes to your waistline and the health and tone of your skin and muscles. The camera can reveal the status of your health and fitness that might not be apparent in the marrow, believe me I have experienced that before, and was surprised at what details the camera can reveal that a mirror can't provide.
The CHAMPS
If you want to have those clothes to fit and look as good on you when you get home as they did on those models in those TV ads, in catalogs, or on the internet, your best avenue to achieve this is with The CHAMPS Program. The CHAMPS consist of Cardio, Hypertrophy, Aerobic, Metcon (Metabolic), Performance System. Hypertrophy is base on a healthy diet, exercise, and lifestyle.
Health & Fitness to The CHAMPS Program
I view my annual physical health score like I do my handicap score in golf, the lower my med score, the better results from my annual physical that I just had last week. The Doctor said that I'm in excellent condition for a man in his mid-30's. I contribute my med score to my CHAMPS Health & Fitness Program. Later on in this article, I will share my results from my August 30, 2023 physical.
The CHAMPS has Two Components Health (including Diet) & Fitness
CHAMPS Diet is based on- consuming Complex carbs ■ High Amino-acids (protein) ■ Metabolic based ■ Pyruvate/probiotics ■ Soluble fiber
CHAMPS Fitness- is based on Cardio, Hypertrophy, Aerobic, Metcon (Metabolic), Performance, System
Hypertrophy is the stimulation of muscles' tone and growth with strength training. There is also another advantage to strength training where this process also stimulates the production of a natural growth hormone and collagen that the muscles release after being worked. Strength training is your best skincare treatment that you can use to look and feel younger.
The CHAMPS Health (DIET)
The CHAMPS Diet that I follow is based on two simple concepts of WHAT I eat (food with a MPI of 3.25 or less) and WHEN I eat (between 9 a.m. to 6 p.m.). The food with a MPI (Metabolic Pyruvate Index) is equal to or less than 3.25 that indicates foods that contain Complex carbs ■ High protein ■ Amino-acids ■ Metabolic ■ Pyruvate/Probiotics ■ Soluble fiber; but low in sugar and the hidden sugars (those pesky starches). If you look for starches on the standard Nutrition Label, you won't be able to find the category for Starches listed. However starches are the major contributor to our weight gain and inability to lose weight.
Pyruvate– is Alpha-Keto Acid that you might have seen on products in stores that promote weight loss by increasing the body's metabolic rate. The CHAMPS Diet is designed to increase the body's natural metabolic rate to use food with a low MPI for energy instead of storing food as a fat with a higher MPI.
This is where the MPI (Metabolic Pyruvate Index) plays a huge part in your ability to read Nutrition Labels and to isolate those starches and eliminate them from your diet and reduce your sugars intake. You want to eliminate your simple carbs (starches) while including complex carbs. I use nine (9) data points, shown below, for reading Nutrition Labels to find foods that I can eat that are at or below MPI of 3.25. Remember, 80% of your health and fitness is based on your DIET!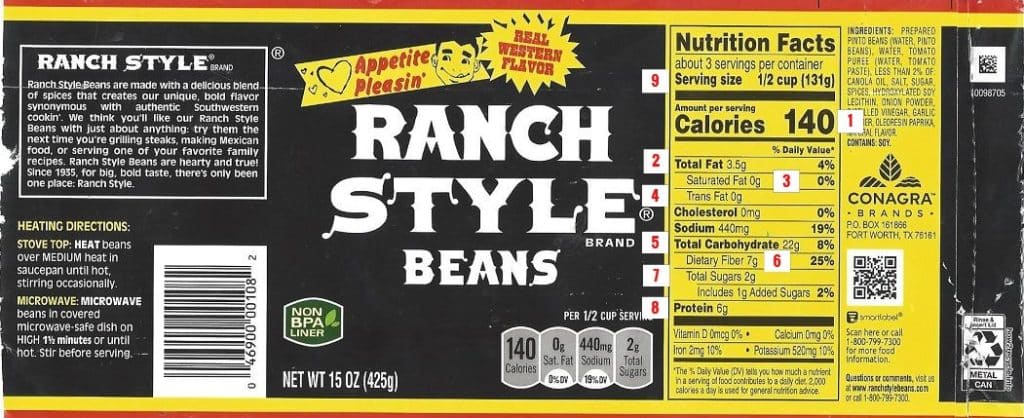 When I was trying to drop weight, I needed something that could help me to identify those starches in foods that I could avoid that are the main culprit to your and my weight gain and our inability to lose weight. If you made New Year's Resolutions before to lose weight and get into better shape and failed, your starches and your sugars are your Kryptonite. It isn't your fault, you just need a better diet and fitness program. The CHAMPS DIET & FITNESS has allowed me to achieve what I was beginning to think was impossible.
What the MPI does is that it allows you to eat healthy foods that allows your body to burn your food as energy instead stored as fat. Once you can identify those starches and reduce your sugar intake you can better control your overall health and especially lose weight. When I stepped on the scales at my doctor's office on August 30th, 2023, I weighed in at 151 pounds with clothes and shoes. That is down from 195 pounds that I weighed on November 27, 2014.
There's no doubt that the starches and sugars are the main culprit that negatively impacts your overall health and why you can't drop those extra Lbs. If you reduce the sugars and simple starches from your daily diet, you can turn your body into a Turbocharged Calorie-Burning Juggernaut where you're dropping weight in pounds, inches, and years off in weeks instead of in months, (See my actual Waistline chart, below):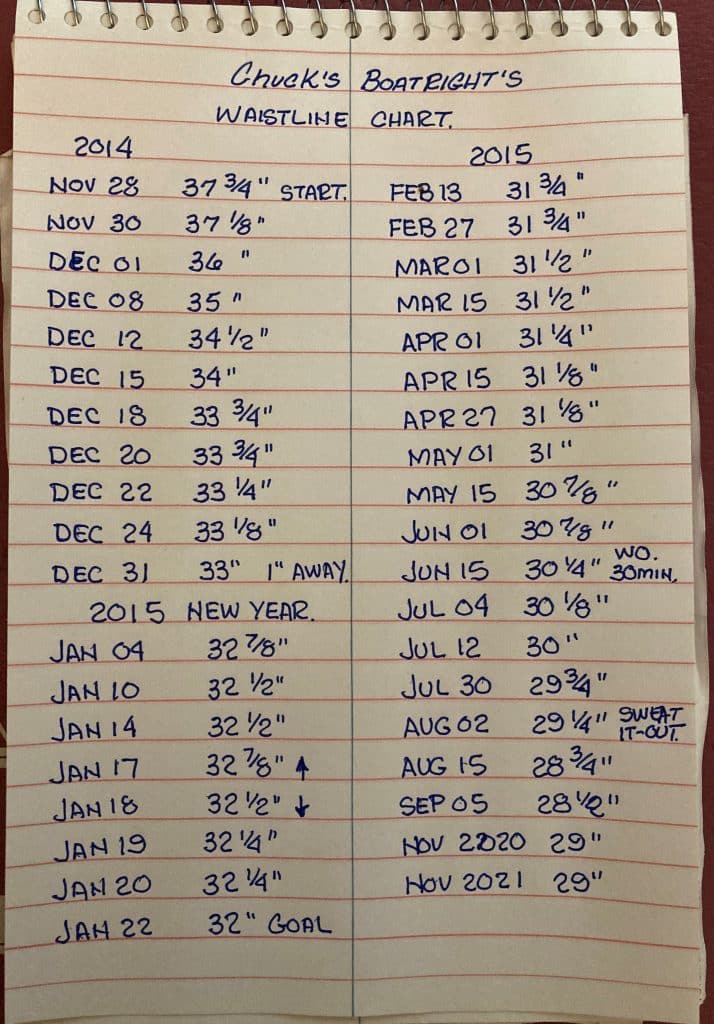 EXERCISES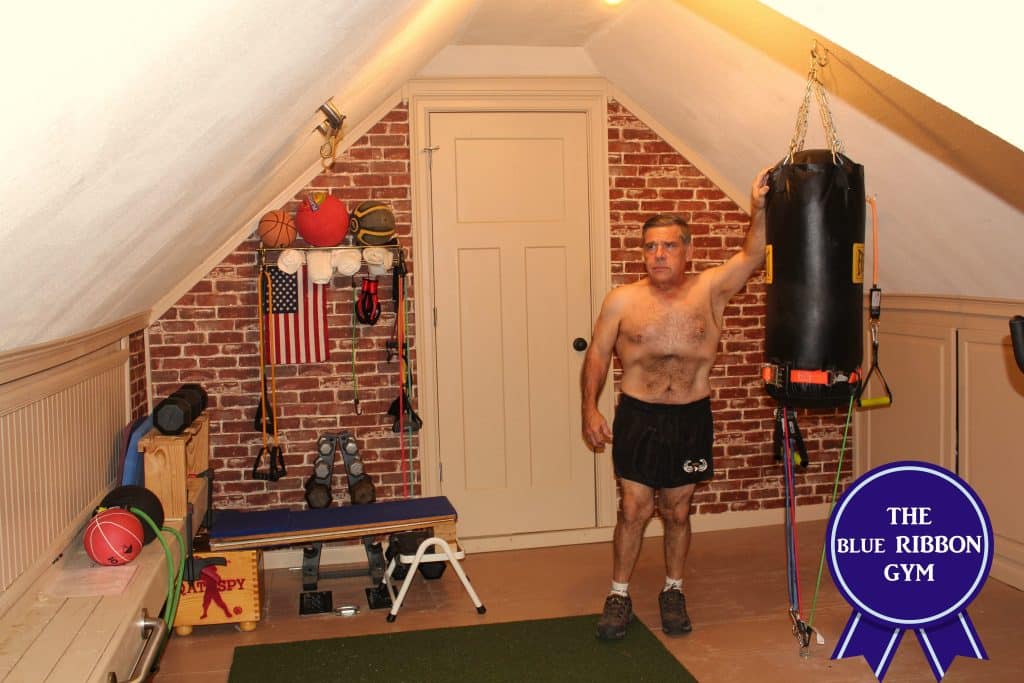 The photograph above was taken of me in my Oasis-Mojave, Blue Ribbon, Gym with the basic exercise equipment that I use six (6) times per week. My CHAMPS (Cardio, Hypertrophy, Aerobic, Metcon (Metabolic), Performance System) workout is based on me using simple dumbbells, resistance tubing, a boxing bag, and exercise bike to improve my strength and tone of my muscles.
The term Hypertrophy might be a new term, but it refers to the different types of growth of your muscle cells through the type of exercise and diet that we follow.
I have two (2) workouts, one for 15-minutes for a light weight workout with high reps 3- days a week and an extensive one for 45- minutes for a heavy weight workout the other 3- days of the week. All the equipment shown in the above photograph is all the equipment that I use, the exercise bike is in the opposite corner of my gym to the right. Don't think you have to buy expensive exercise equipment to have results. For those that are restricted to indoors and home bond, you can use resistance tubing with a door for all the strength training that I do.
The Uniqueness about Your Strength Training that is Age-Defying
What is unique about your muscles is that they are the best source of your skincare treatment, because they produce a natural growth hormone called Fibroblast. Strength training aids in providing healthy looking age-defying skin. Strength training is your best avenue to look and feel younger, fit, and toned. Your muscles when activated by strength and resistance training produce a natural growth hormone and collagen to maintain healthy joints and just as important younger looking skin.
Afterburner Weight Lost, The Biggest Advantage of Weight Training
But the biggest advantage of strength training is for every pound of muscle you add to replace every pound of fat that you burn off, you're burning 50 additional calories per day. If you add just 10- pound of additional muscle mass, you'll burn an additional 500- calories of energy per day. When I perform my heavy workout for 45- minutes, I can burn approximately 475- calories each session.
If you are serious about dropping weight, then start lifting weights and see a quadruple effect of weight loss by adding muscle mass while you are also doing Cardio-Aerobic training during your workout program. No doubt you'll burn more calories when doing Cardio-Aerobic exercises than strength training while working out. BUT THAT ISN'T THE MAIN BENEFIT OF STRENGTH TRAINING. It is the after-burn effect that you will have the benefit of.
The benefit of strength training is in the aftermath of your strength training called AFTERBURNER in that you are burning calories after your workout session during your normal course of your day; and even while you're sleeping. The Strength Training exercise will be reflected in the health, fitness, and tone of your skin in those photos. In the main image above, I'm 66 years old.
If you want to see how effective my CHAMPS Diet and Exercises Program is, below, I'm doing an AB Challenge that I did just this past August after our photoshoot for our Fall Fashion SPORTY'S WRIGHT Bros. Cockpit Collection in our hangar at age 66.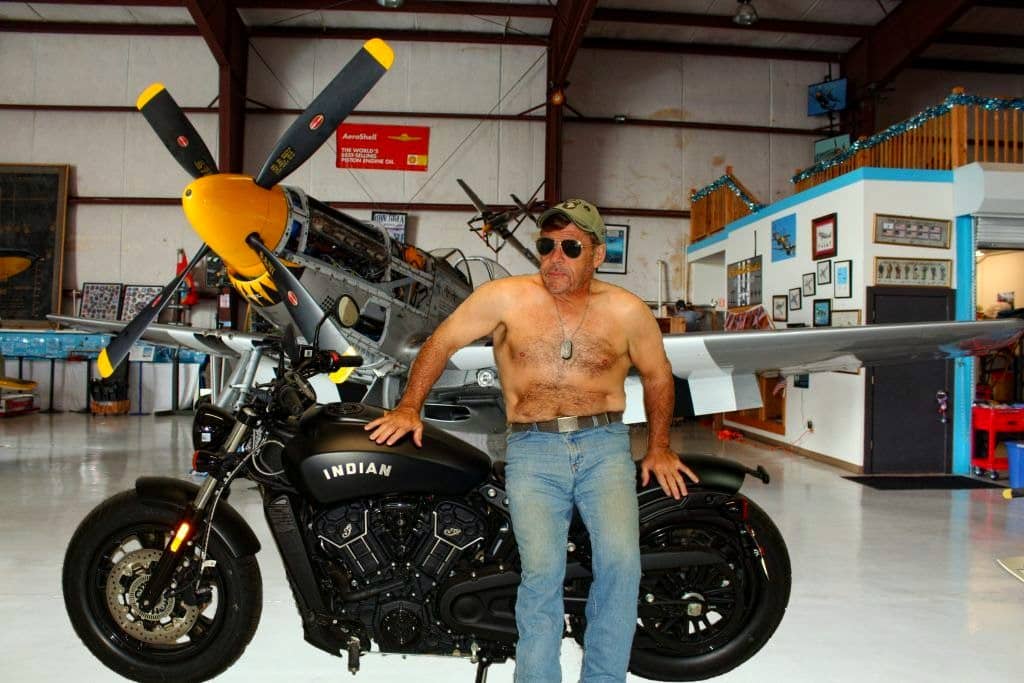 Lifestyle Performance
Maintaining an active lifestyle is essential to your overall health and not just for your physical health, but just as important for your mental and spiritual well being. We can't neglect our mental and spiritual components and just focus on our physical health alone and think all is well. Diet and fitness is essential to mental and spiritual health.
Our mental and spiritual wellbeing has a very important social component to it based on relationships we form that are critical for our being content and having a fulfilled life. We are made for relationships, hopefully with positive people.
Sports and hobbies play a significant component in our life; and just watching sports at home with friends has significant benefits on our physical, mental, and spiritual wellness. One of my main sports shows that I watch is the Paul Finebaum Show for topics and in depth interviews with his special guest that Paul has on covering a wide variety of subjects and topics. There are people that call into his show that are homebound that credits Paul's show for their wellbeing.
This is one of many reasons that sports are important to us in our social health in connecting with others. Keeping up with stats is a great mental exercise especially during the game to analyze fundamentals that also work in our life, as well. The Bible is full of sporting analogies for us to use in our life, even the Apostle Paul, who is probably the best mental coach used sports in his writings.
When it comes to your fitness, treat your fitness as a competition like a sport where you are challenging yourself to improve your scores. Your scores that you are competing for are like golf scores in how low you can post your blood pressure, blood glucose, and cholesterol numbers. Your Total cholesterol is based on your LDL + HDL + 20% (Triglycerides). My Total Cholesterol is 76 + 58 + 0.20(124) = 158.80. You want your Total Cholesterol below 200.
My Championship Scores
I consider my annual exam as my championship game that I had just this last week (August 30, 2023). I don't mind sharing with you my scores:
Blood pressure 112/64
Blood glucose (Non-Fasting) 109
Total Cholesterol number was 158.
But what I'm really proud of was my BMI and weight, weighing in at 151 Lbs. with clothes and shoes on.
Those are what championship numbers you want to turn in at your annual physical, especially at age 66.
Continue Your Education for 2nd Career-
I have a Civil and Chemical Engineering Degree, but while I was working, I went to a VoTech school and took a welding class for when I retired I could make my hobby of welding into my second profession that I enjoy doing in my spare time. I also run my Aviation & Sports Performance business, THE QATSPY® and also model our sports apparel and also cover sports.
If you want to maintain your Metacognition abilities, then start writing about something you enjoy being a part of and writing about it each week. They say if you want to learn something, then teach it or write about it. This is the same thing about writing, if you want to learn something write about it like for e.g., sports, fitness, hobbies, history, travels, faith based subjects, and etc.
I've been in aviation for over 33- years and in sports and fitness since childhood. I can still remember playing baseball, football, or rugby and working out since I was 12. One of my best additions that I did to my home office was to renovate the area over my photo studio into my personal gym. I have actually reversed my aging process not by years but by decades just by a 6- day a week workout program. (See my gym below):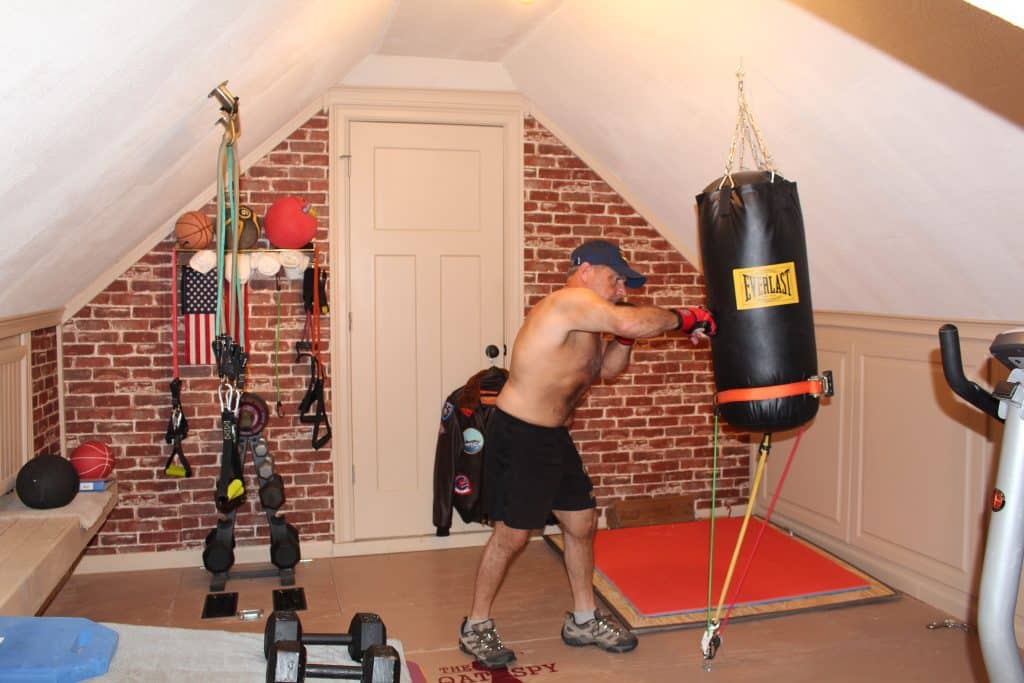 My fitness at age 66 has provided me with an opportunity to do my own modeling of our aviation and sports apparel with our younger models. Essentially what I have done was to take my hobbies of fashion, welding, aviation, with my love of sports and turn them into my second profession, THE QATSPY® (THE Quapaw Aviation Tiger Sports Performance Yukan Outfitter). I have operated my business, since I retired from transmission line work in June of 2015.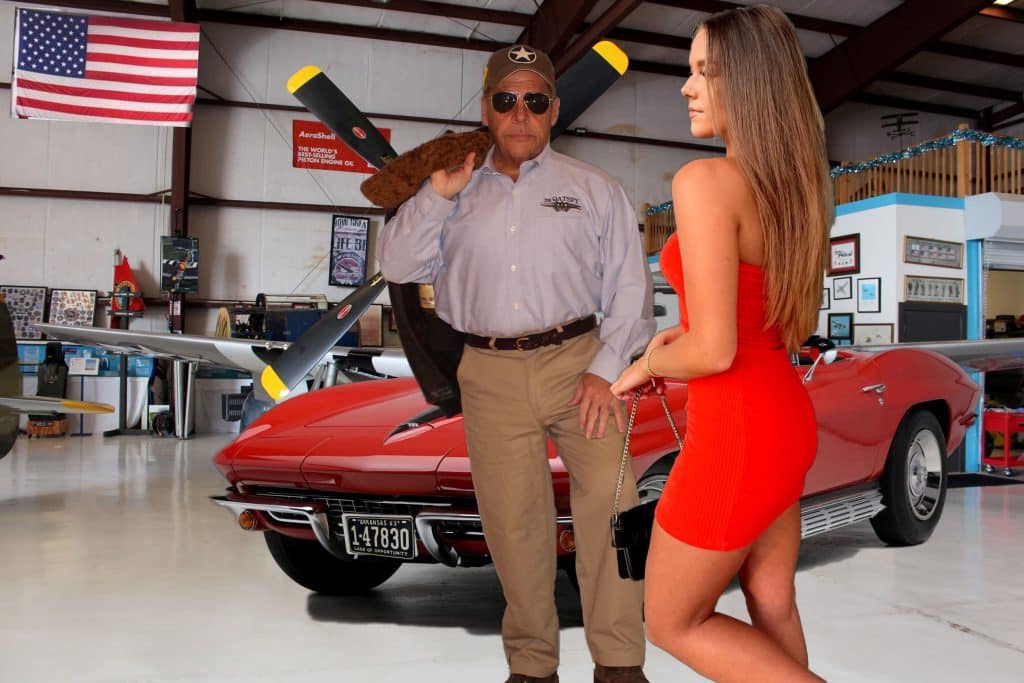 The real advantage that I have now since I'm not working with Entergy, here in Mississippi, is this, I'm no longer doing what I have to do; but I'm doing what I want to do now on my own time schedule. That is true independence and freedom that I have NOW!
I applied the same 401(k) financial planning of my financial Retirement to my physical conditioning Retirement! I considered the time I put in working out in my gym like my 401(k) plan, but for my health and fitness. This is one main reason that you want to stay in shape and in health. What is insanity is working for 30 odd-years doing what you have to do; and then retire and not able to fully enjoy your retirement due to your health and fitness.
So if you are in your 40's, start thinking two things- Your Health and Fitness and developing an hobby that you can take and turn them into your second profession when you retire, even if your making a minimum income. The main thing is that you are staying active and in shape working out and working. Just having something that constantly challenges you is the satisfaction that I can't put into words.
Lastly- Have time to yourself for a devotion and meditation period each day for your spiritual faith and growth. I have found that in the morning with my first cup of coffee with my friend is very beneficial along with the meditation that I do while cooling down in my gym. During my cool down, while I'm sweating, I'm sweating out stress when I'm the most calm and relaxed during this cool down time before my shower, shown below: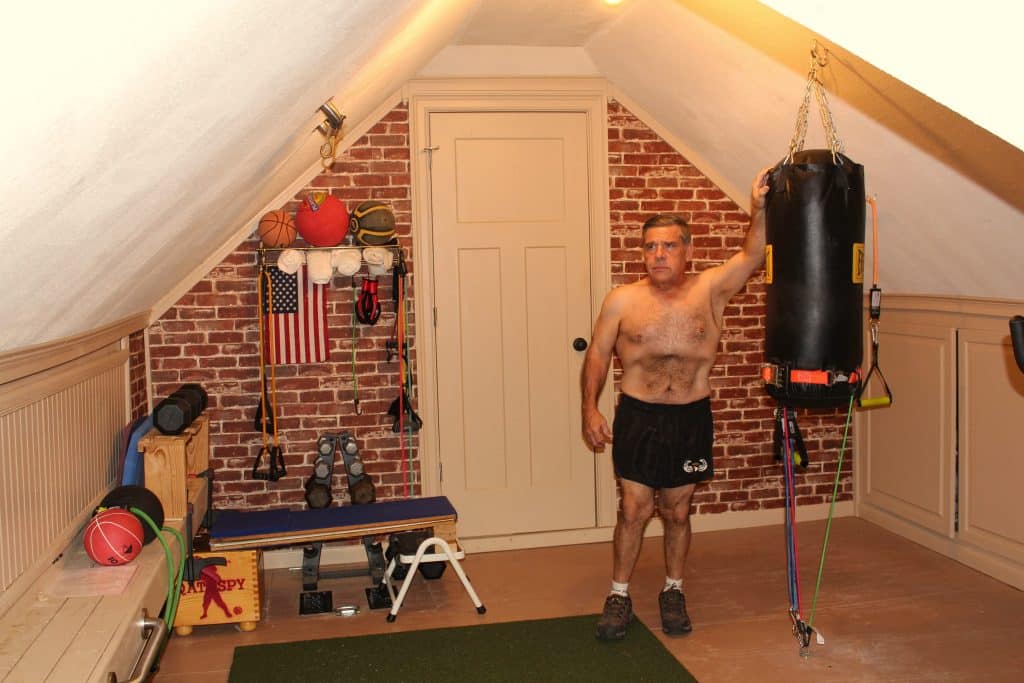 Part of my Sports Write Up From the Southeastern LA, vs Mississippi State University Football Game on Saturday, September 02, 2023
From my analysis from the game between Southeastern, LA vs. Mississippi State Football game Coach Zach Arnett team isn't just an Air Raid offense attack one dimension that some might have expected. But The Zach Arnett Era includes a well planed ground game attack with an air attack that helps MSU change up their offensive schemes to where their opponent is having to guess and to cover the entire field for that other dimension that will help them in the SEC West.
The real third dimension to MSU offense is the ability for Will Rogers, MSU Quarterback, to run and extend plays. This will in turn will help the MSU Defense by resting them from what can only be described as a meat grinder that the SEC West is. The MSU defense in Saturday's game managed the line and secondary to help them in the 2023 season.