Description
QAT-707- CASIMIR DIET Health & Fitness- How an Age Defying DIET-FITNESS Allowed Me to Lose 52 Lbs. and 8.75-inches in 6 Months at 57
Learn how to use Nutrition Labels to improve your health and fitness that you had decades earlier.
The nutrition label on foods is difficult to make heads or tails of to make a healthy choice to what you should eat in order to stay healthy. You want to be able to select healthy foods to drop weight, inches, and those numbers your doctor keeps telling you that you have to drop. It is not easy making healthy choices in food selections for your health just by reading the nutrition label. You have to understand how to use these numbers to make healthy food choices for you and your family. DON'T JUST DROP YOUR WEIGHT and INCHES, drop your blood pressure, blood glucose, cholesterol, and the number everyone wants to drop, the age of one's skin by using NINE (9) data Points on the nutrition label.
AGING IS A GIVEN; BUT THE EFFECTS OF AGING AREN'T! YOU CAN DEFY YOUR AGE WITH DIET & FITNESS! THE CASIMIR ALLOWS YOU TO DO THAT. The CASIMIR is based on WHAT and WHEN you eat and exercises of Cardio-Aerobic and Strength Training. Your muscles play a significant role in having age-defying skin. Create your own Metabolic Turbocharged-Calorie-Burning-Juggernaut SPA at home.
What I achieved at age 57 was nothing short of extraordinary, given the conventional wisdom of the difficulty of losing weight and getting into shape after age 55. I had just retired in June of 2015 at age 57 to start a virtual online health, fitness, sports training, and apparel business. I needed to lose 6.00 inches in my waist and 45 pounds within a period of 3- months before I started my business that included modeling. I tried various diets without seeing results in leading up to my retirement.
The Reason for The CASIMIR DIET is it is Age-Defying Diet & Fitness
The real challenge that I was facing was THIS- I was scheduled to appear in my golf training videos that were to start in the middle of June 2015. Just to add a little more intrigue, I was also going to start modeling my online Clubhouse sports apparel that included the same A-2 Leather Flight Jacket and the CWU-45P Nylon Flight Jacket that are Mil-Spec. Just to give you the degree of success that I had on my CASIMIR DIET, I'm modeling at age 65 years with the G-1 Flying Tiger Leather Flight Jacket and khaki chino pants on the left on January 07th, 2023. On that same day after our photoshoot, I did an AB Challenge on the right.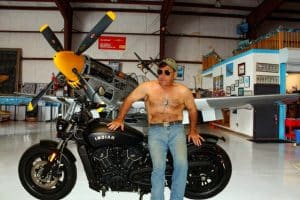 This photograph was taken on January 07th, 2023 after we did a photoshoot for my sportswear.
The photograph above, I'm 65 years old, taken at our hangar with my INDIAN Scout Motorcycle and a P-51 Mustang. I call this my AB Challenge, because it demonstrates the age-defying benefits of the CASIMIR DIET. I have been following the CASIMIR DIET since November 28, 2014.
Here's the main question you need to ask yourself, How many diets and fitness programs that are on the market and have been tried that also provide an age-defying, skin conditioning component? I would think NOT MANY!
I proved that exercise alone, regardless of how strenuous it is, didn't allow me to maintain a healthy weight. I proved that fitness alone isn't the main driver of your health, but nutrition is the main driver, including WHAT we ate and WHEN we ate as the main driver. Nutrition accounts for 80% of maintaining your health and fitness, including how young our skin looks.