THE QATSPY® Inside-the-Leather Golf Coach and Sports and Fitness Page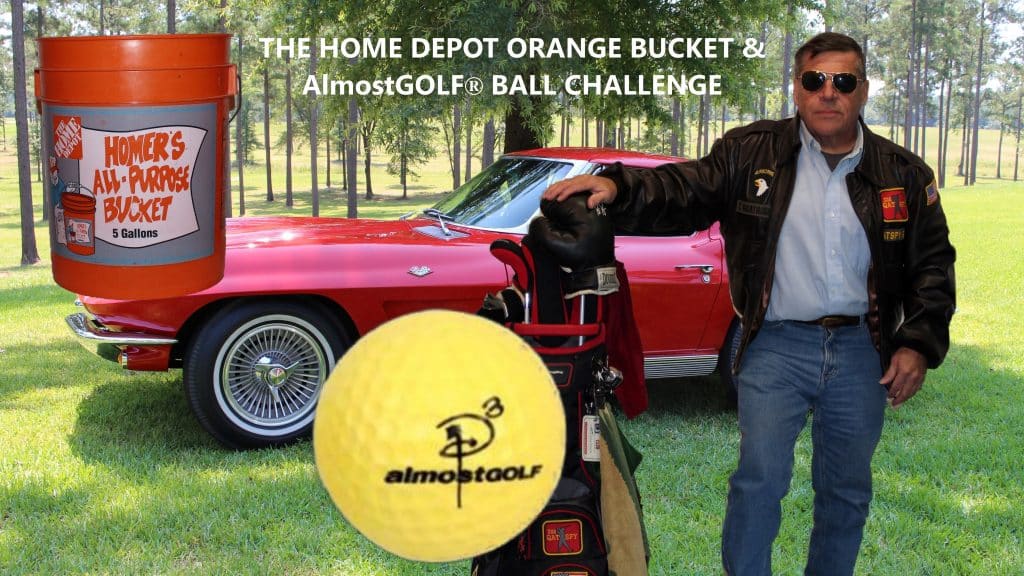 By: Charles W. Boatright
AlmostGOLF® Home Depot Orange Bucket Challenge, a Golf Coaching Technique to Take Your Golf Game from Practice to Golf Course Performance
This YouTube 405 AlmostGOLF® Balls Home Depot Orange Bucket Challenge Video was made in September of 2014 before I had my hip replacement surgery. This was the video that caused me to get serious with my weight coming off hip surgery. I lost 52- Lbs within 9 short months, with 32 Lbs dropped within 2 months.
This stop gap coaching technique takes the golfer's practice game to an in-the-zone performance on the golf course. We all have experienced what I call the Dr. Jekyll and Mr. Hyde dilemma in our golf game.
This is where a golfer's practice session reflects exactly what the golfer wants to accomplish on the course for their next round. But as soon as the golfer steps foot onto the golf course, everything that they've practiced vanishes into thin air. It is like a speaker who freezes up in front of an audience.
Their golf game is a tale of two golfers, as the golfer practices every stroke to perfection during training doesn't survive on the golf course, where the real test is. The elixir that turns the consistent and confident golfer into an unpredictable, erratic golfer is the golfer's adrenaline that kicks in, once on the golf course.
Adrenaline kicks in the golfer's subconscious mind, where the golfer's instincts are located. Once the golfer is challenged on the golf course, the golfer isn't relying on their conscious mind that they spent hours training. The golfer is actually and exclusively relying on their subconscious mind; I can guarantee this, trust me on this one. Ninety percent (90%) of the golfer's performance on the course is from their subconscious mind.
For the golfer to play like they practice, spending all of those long hours and weeks, the golfer has to practice like they play. Thus, The 405 AlmostGOLF® Balls Home Depot Orange Bucket Challenge that I use to coach golf.
The 405 AlmostGOLF® Balls Home Depot Orange Bucket Challenge
The AlmostGOLF® Balls are safe, foam-filled PVC shell, dimpled golf balls that are hit in feet, instead of yards, and that do not cause damage or injury.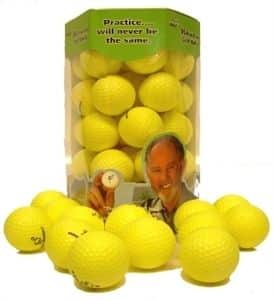 This should be a part of every golfers practice session in order for them to train their subconscious mind with what the golfer wants to do on the golf course. In order for a practice session to be effective, it has to be challenging.
Developing a Driver's Zone Mentality
The 4O5 AlmostGOLF® Balls Home Depot Orange Bucket Challenge helps the golfer to develop a zone-like mentality, where swing thoughts are gradually replaced with natural instincts. These instincts are developed in the golfer's subconscious mind where their permanent motor skills are located.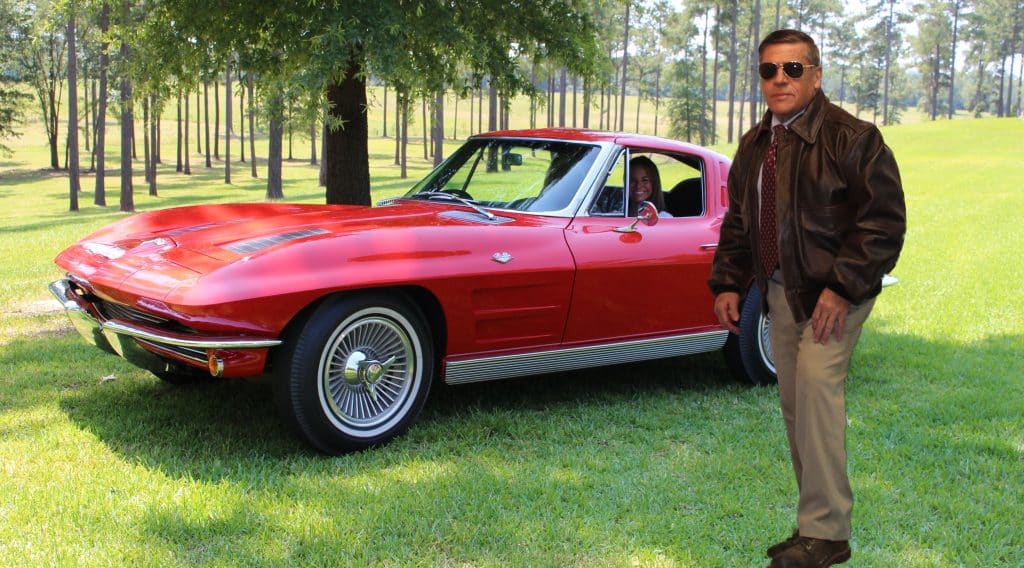 This is similar to a person learning to drive a vehicle, while, at first, each and every task is a thought process that is awkward, especially if you're learning on a stick shift, like this 1963 Corvette is a 3-Speed. But as the driver develops a routine these tasks becomes instinctive. The golfer's swing goes from being a conscious effort to a subconscious function, requiring no thought process at all.
Just like the driver of the vehicle, the more experienced the driver becomes, the driver can actually drive along stretches of highways without being aware of it. This is especially true along scenic routes, where the driver doesn't recall driving past landmarks or sections of the highway. This condition is called Driving Hypnosis, or being In-The-Zone. This is the exact process that The 4O5 AlmostGOLF® Balls Home Depot Orange Bucket Challenge is supposed to develop in the golfer.
THE QATSPY® Palmer Technique's purpose is to have a large percentage of a golfer's thought process develop into an instinctive routine that the golfer doesn't even think about or aware of, like the driver driving along a scenic route. The golfer's subconscious mind takes over the majority of the golfer's swing mechanics.
While Driving Hypnosis is unsafe for driving a vehicle down the highway, it works great for driving golf balls down the fairway and onto the green. I actually had a mental sports instructor from Texas to write me to disagree with my driving hypnosis technique. But for an athlete to reach their high level of performance, their mechanics and techniques needs to become instinctive, which is a subconscious process. This places the athlete exactly where they want to be, In-The-Zone. I would hate to imagine what his athletes are missing out on in their quest of performing at a high level.
Take for example a NASCAR Driver, at speeds in excess of 200 MPH, they have to develop lightning speed reaction that are instinctive. They have to develop a real defined focus point to focus their conscious mind where their subconscious mind can take over their driving reflexes. This is exactly what Driving Hypnosis training does that places the NASCAR driver and golfer into THE-ZONE!
Setting up The 405 AlmostGOLF® Balls Home Depot Orange Bucket Challenge:
Set up either a tee shot (like I have in the YouTube Video above) or a one-third scale model of a Par-4 or -5 hole.
Take five (5) YELLOW AlmostGOLF® Balls and five (5) WHITE actual golf balls. Use the Yellow AlmostGOLF® Balls to not confuse them with the actual golf balls that will be used for chipping/pitching.
Take the AlmostGOLF® Balls and driver and hit five AlmostGOLF® Balls to the first orange bucket. The objective is to hit at least 4-out-of-5 AlmostGOLF® Balls to within a 10-foot radius of each orange bucket.
Carry your golf bag to the first orange bucket station. Hit either your layup shot for a Par-5 or your approach shot to the next orange bucket. The objective is the same as your tee shot, to get 4-out-of-5 golf shots within a 10-foot radius.
If this is a Par-5 setup, replace the AlmostGOLF® Balls with the white actual golf balls to make your chip/pitch shot into the third orange bucket, representing the 5-foot area around the pin.
This is where The 405 AlmostGOLF® Balls Home Depot Orange Bucket Challenge is really effective in your practice session. You are getting reps with hitting various clubs to very defined target areas and then walking to your next bucket station. The real challenge comes where you're trying to drop four (4) of your five (5) golf shots within a 10-foot radius and then walking to your next shot, like you would do on the golf course.
Now this is where the golfer's adrenaline is developed in their golf practice. If more than one golf ball misses your 10-foot target around the orange bucket, guess what, the golfer has to retrieve all five (5) AlmostGOLF® Balls and start back at the tee box. The golfer repeats this process until they place 4-out-of-5 (4O5) of their shots inside the 10-foot target area around the orange bucket from tee-to-pin.
The reason The 405 AlmostGOLF® Balls Home Depot Orange Bucket Challenge is so effective of a practice technique is that it engages the golfer's subconscious mind, where the golfer can refine existing motor skills that they have already developed since childhood. This motor skill that the golfer wants to focus on is the Palmar Flexion.
The 405 AlmostGOLF® Balls Home Depot Orange Bucket Challenge is a part of each and every coaching session that I have with students.
Matter of fact, my students are actually relieved when they do get to the golf course, because they are just focused on one shot and one golf ball. It makes the golf course seem like a walk in the park.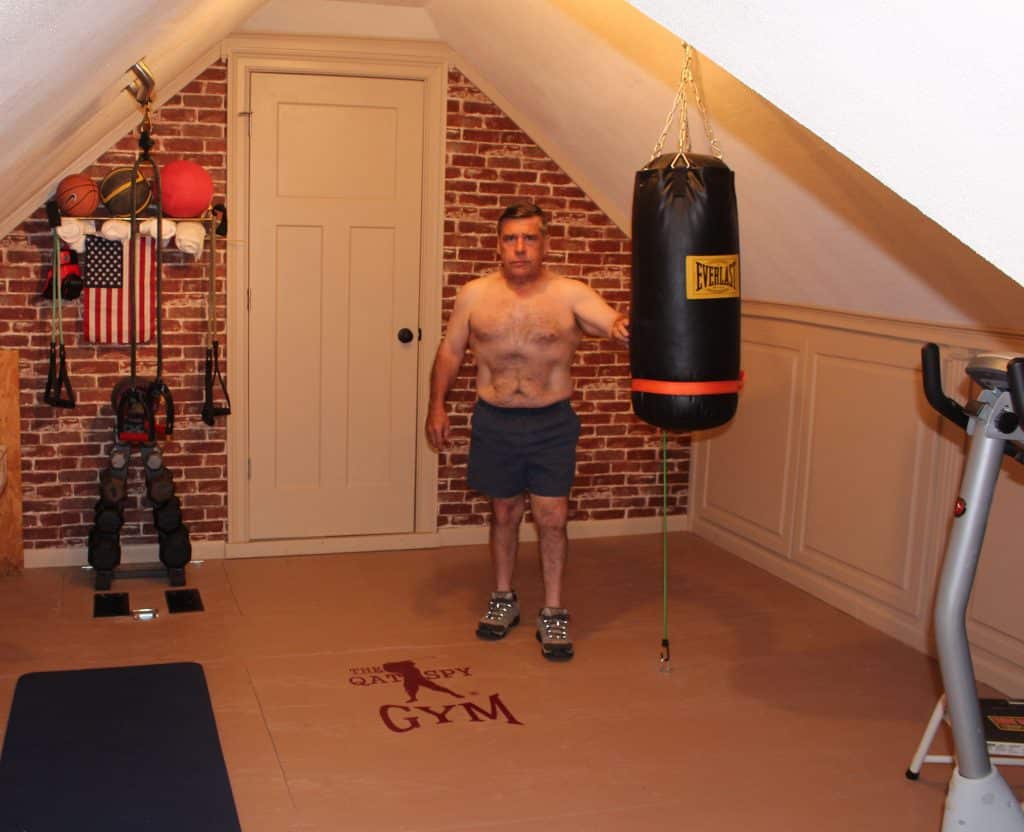 I use the same approach in my CASPER Fitness Program, My Home Gym is in the attic above my training facility. I don't turn on my A/C, where I can train in temperatures above 100 degrees F. It makes working on my farm in the summer like a cool, spring day.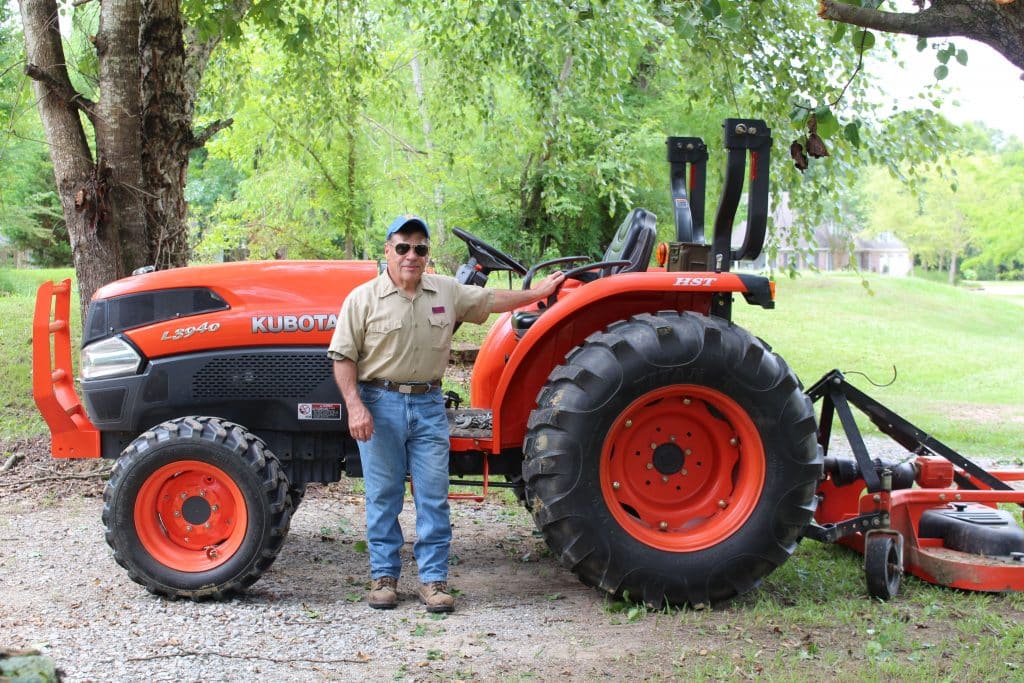 Sponsor By: THE Great QATSPY® Yankee Personal-Style Traditional Apparel Quarters Fit-to-a-TEE Look and FEEL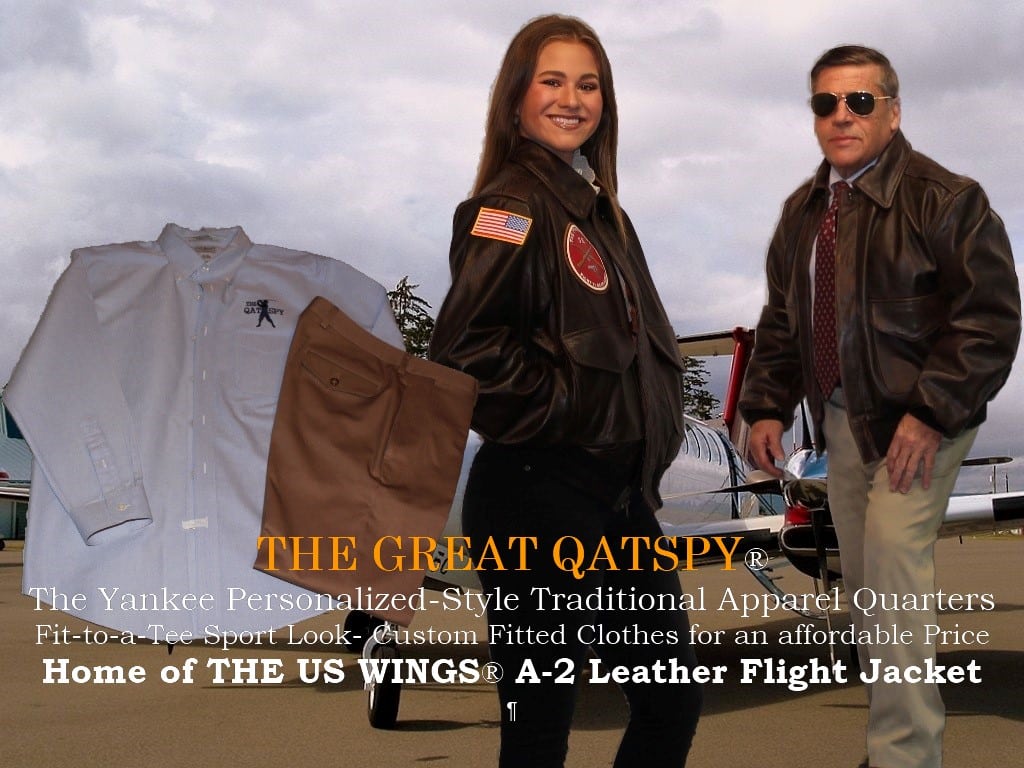 THE Great QATSPY® Online Store carries a variety of clothing apparel items that are selected, based on their quality and personalized-style that offers that traditional and classic look. We carry the full line of US WINGS® leather jackets that are great substitutes for the traditional wool-blend Sports Jacket that can be excellent breeding surfaces for bacteria and viruses.
Our US WINGS® Leather Jackets can be simply sanitized and cleaned with a simple solution of dish detergent (1 teaspoon) mixed with water (8 oz.) used to wipe down our leather jackets as needed during the course of the day. I'm an authorized dealer of the US WINGS Leather Jackets. DO NOT USE ALCOHOL to wipe down your leather jacket!
These make great formal and leisure jackets for men and women to wear with slacks or just simply blue jeans. Our US WINGS® Leather Jackets can be worn as the new sports jacket for business and formal wear or for the weekend and these are durable enough for the open road or open skies.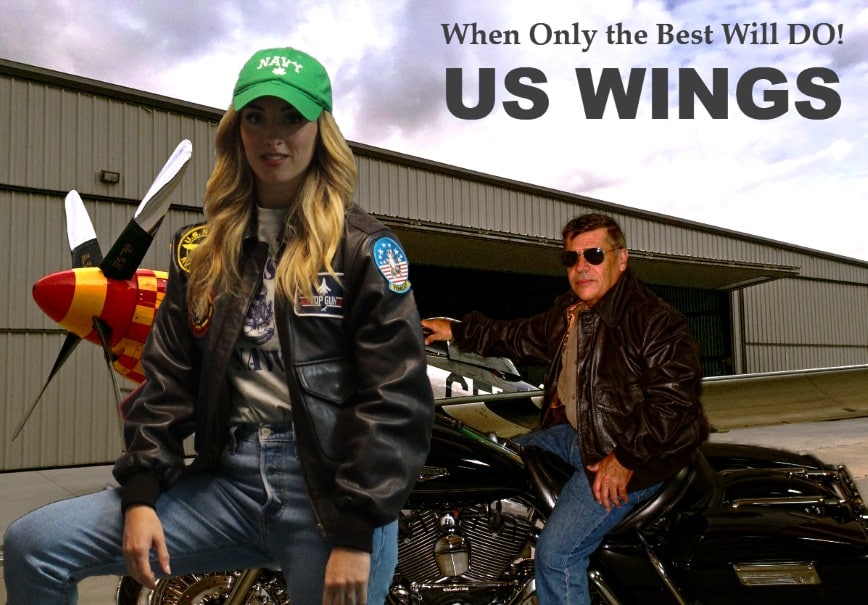 Our Leather Jackets or your jacket can be accented with the Motorcycle Rocker Patches that will make it that distinctive jacket that will attract attention everywhere your travels take you. We can also personalize your Leather Jacket with your group, organization, or company logo with hand-painted art work.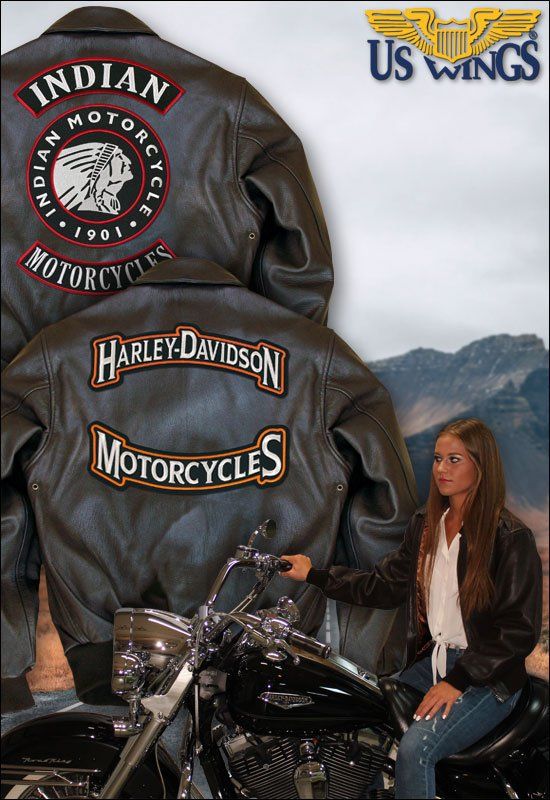 THE Great QATSPY® also carries that custom-tailored look of Button-down Oxford shirts made with 5.5 oz. per yard of cotton that can be ordered with neck sizes ranging from (14″ – 17.5″) and Sleeve length from (32″ – 37″). To complete your classic look, we also carry custom-fitted Chino Khakis pants with waist sizes from (30″ – 44″) and specified inseams from (26″ to 36″) in quarter-inch increments.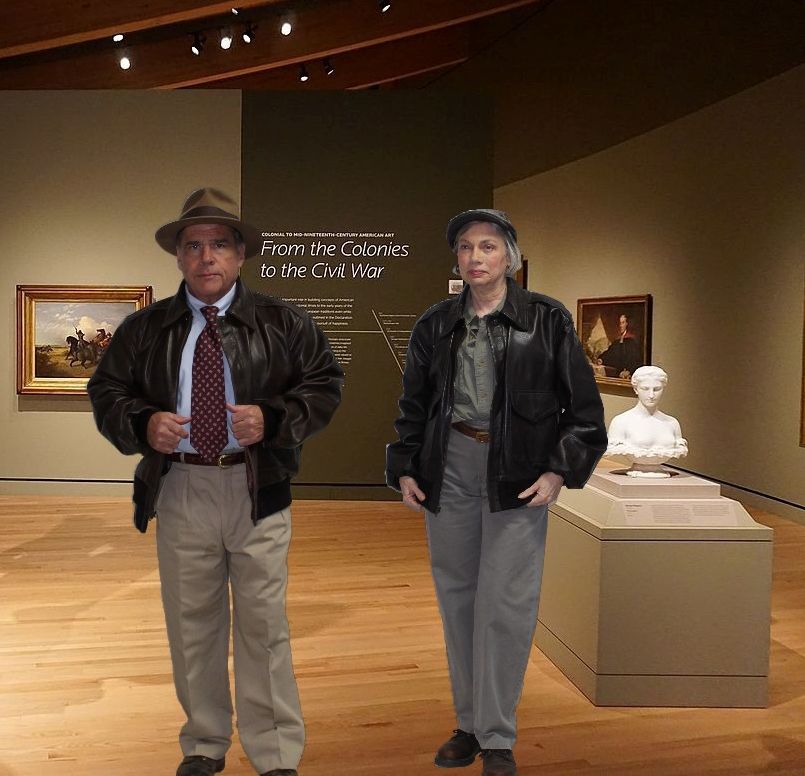 There is nothing that has the classic, custom look and style as our US WINGS® Leather Jackets, worn with our custom-fitted Button-down Oxford Shirts and Chino Khakis pants or your comfortable blue jeans. You will be properly dressed for any occasion, whether for the weekday or weekend and be comfortable.
We supply our US WINGS® A-2 and G-1 Flight Jackets to the U.S. Military. Our US WINGS® Leather Jackets meets all Military specs. You can't purchase a better leather jacket that will last you a lifetime.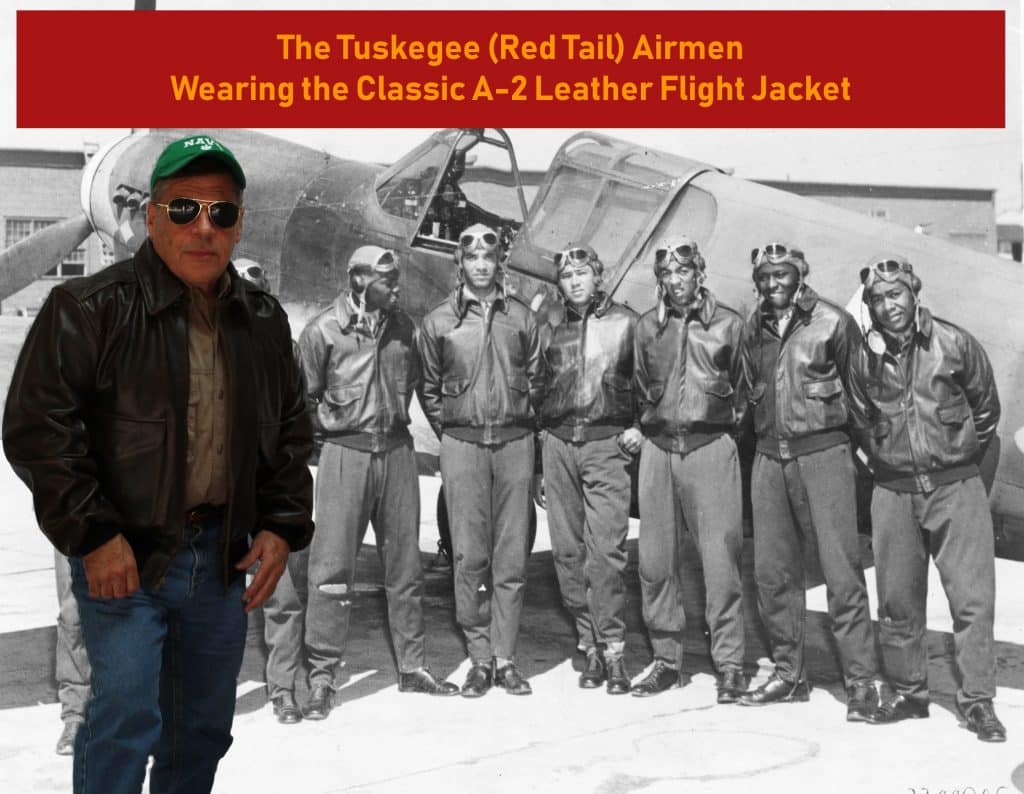 We also carry three (3) other style of our leather Jackets: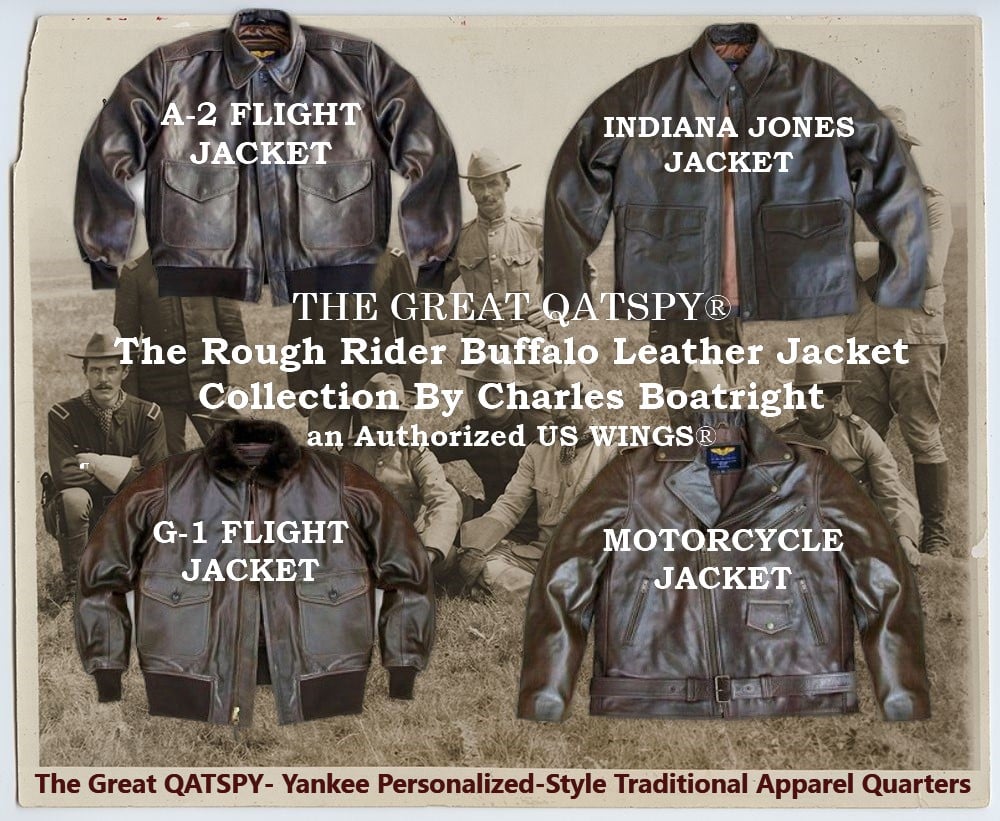 The US WINGS® Indy-Style Leather Jacket we Supply to Walt Disney World Theme Park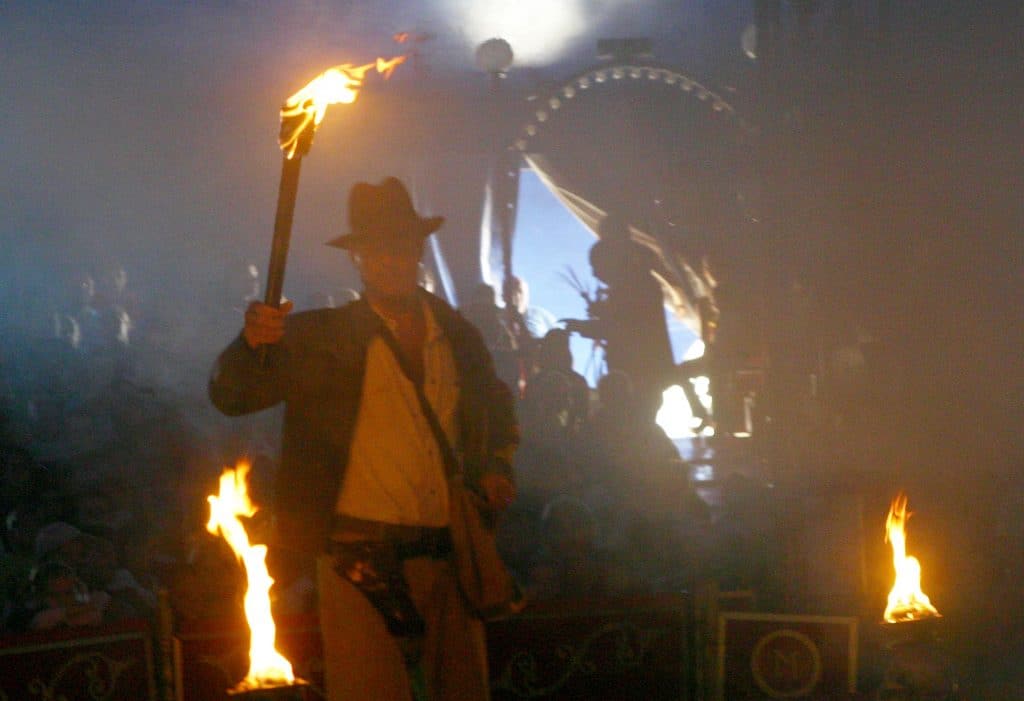 We also supply Walt Disney World Theme Park with the Indiana Jones Cape Buffalo jacket that Disney World uses in their daily production of the Indiana Jones Epic Stunt Spectacular seen by thousands each week. Disney chose the US WINGS Indy-Style Jacket for its authenticity and durability to hold up to their production schedule.
TOP*GUN 2 Nylon Flight Jacket
We carry the Replica of the TOP*GUN 2 Movie CWU-45P Nylon Flight Jacket that Maverick (Tom Cruise) is wearing in the second Movie below. This jacket has the authentic TOP*GUN Patches that are supplied to the TOP*GUN School Navy Strike Fighter Tactics at The Navy Air Station Fallon in western Nevada. It moved from Miramar in 1986.