Description
Men's Limited TOP GUN CWU-45P Nylon Flight Jacket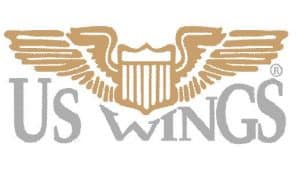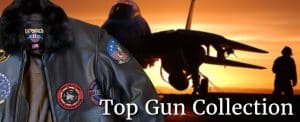 NOTE: The location of the patches on the Limited CWU-45P are correct; the thumbnail Trailer film has been horizontally flipped.
The original TOP GUN Movie that came out in 1986 featured a Naval Aviator, call sign Maverick, played by Tom Cruise. In the 1986 movie, Maverick wore a G-1 Leather Flight Jacket, while riding a Kawasaki Ninja GPz900R motorcycle which can be purchased from US WINGS® with authentic patches. In TOP GUN 2 (scheduled to be released in 2020), Maverick is wearing a CWU-45P Nylon Flight Jacket, while riding a Kawasaki H2R supercharger. This is featured in the YouTube Trailer above. This same CWU-45P Nylon jacket with the authentic patches used in the TOP GUN 2 movie is shown below that can be purchased from US WINGS®, except you will have an option to add a BIKER'S patch on the back panel that Maverick didn't have on his jacket.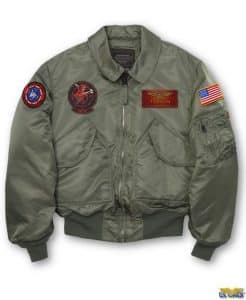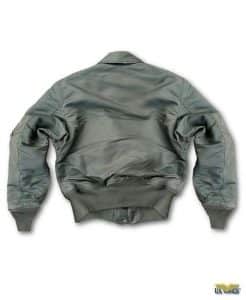 What makes this TOP GUN CWU-45P Nylon Flight Jacket Limited is the option to personalize the back panel of the CWU-45P Nylon Flight Jacket, with a similar vintage-style Harley-Davidson or the vintage-style Indian Motorcycle rocker patches, shown below. These two vintage-style patches are purchased separately at CHECKOUT, and are professionally sewn on to the back of The CWU-45P Nylon Flight Jacket by US WINGS®.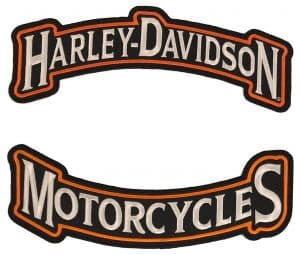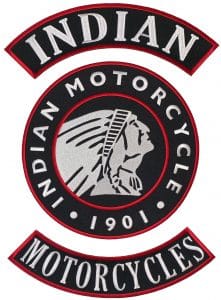 These two top and bottom rocker patches can be purchased separately at CHECK OUT, just by selecting the option of the vintage-style Harley-Davidson Biker's Patch or the vintage-style Indian Motorcycles Biker's Patch. The listed price for each patch includes the rocker patch and sewing on of the patch onto the Jacket, per customer request.
Please expect a 2 – 3 week delivery time of the jacket. This might be longer during the holiday season.
Purple Heart Patch and Certificate
Another option to The Limited G-1 Cape Buffalo Biker's Flight Jacket is that the customer can add the Purple Heart Patch and certificate, with option of Olive Drab name tags for your name, organization, and/or military patches. Perfect for companies to recognize their Veterans, associates, and their customers. Nothing says it better with class than with either the Limited A-2 LIMITED CAPE BUFFALO BIKER'S FLIGHT JACKET or the LIMITED G-1 CAPE BUFFALO BIKER'S FLIGHT JACKET.
The Purple Heart Patch and/or Certificate can also be ordered by the recipient's family, in Honor of or in Memory of the Purple Heart recipient and sewn on to the leather jacket that they purchased from US WINGS®.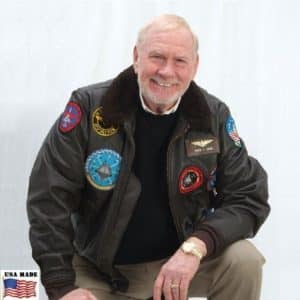 Please select the interior lining Purple Heart Certificate image above to order your certificate to be sewn on to the back inter liner of your jacket. You will be asked to supply either a color copy or a color scanned copy of your certificate to US WINGS. DO NOT send your original certificate to US WINGS. After you complete your order, please contact US WINGS to provide your ORDER No. of your JACKET and place that ORDER No. on a cover sheet that you will be sending in to US WINGS:
US WINGS Purple Heart Certificate ■ 561 E. Hines Road ■ Hudson, OH 444236 ■ PH. 1-800-650-0659
FOR DEMONSTRATION PURPOSES ONLY: The vintage-style Harley-Davidson patch is shown sewn onto the US WINGS® Limited TOP GUN CWU-45P Nylon Biker's Flight Jacket, below: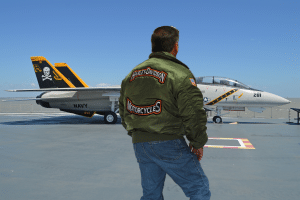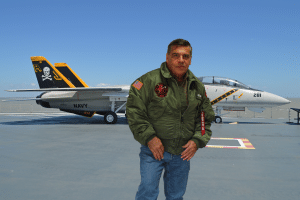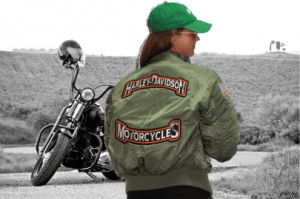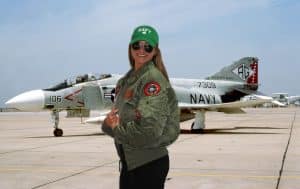 For additional patch options and/or custom patchwork for your Biker's Jacket, please visit ABC Patches by selecting on ABC Patches image. They supply both the Harley-Davidson and the Indian Motorcycle Rocker patches for the US WINGS® THE QATSPY® LIMITED Leather Jackets: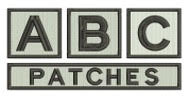 Direction to Build Your Own Jacket:
After selecting Limited CWU-45P Flight Jacket, ADD TO CART. Proceed to CHECKOUT
Both Harley-Davidson and Indian Motorcycle patches will appear.
Select ONLY ONE (1) and ADD the patch TO CART.
When you select the particular patch, the patch will no longer be featured after selecting and ADDED TO CART.
Other options include US WINGS Sunglasses.
Be sure to ADD TO CART before proceeding to additional Options.
NOTE: No returns on all personalized leather jackets with decals and/or patches. Please, No objectionable or explicit patches or wording on tags.
The CWU-45P Nylon Flight Jacket Limited is ideal for those seeking durable construction, warmth, and authenticity. It is the current issue USN & USAF flight jacket; manufactured to US Military specs, with all the details of the original military issue jacket. It has a water-repellent nylon outer shell for maximum comfort and dryness. The mid-weight jacket is suitable for mild to colder winter climates, ranging from 25° F to 40° F. With all the style and warmth you could want, this jacket has the features and durability of the original jacket!
The CWU-45P Flight Jacket is perhaps the most popular flight jacket since the WWII A-2 Leather Jacket. More stylish, practical, and versatile than the USAF MA-1 flight jacket it replaced. This flight jacket has been upgraded to "Top Gun" Status. We're proud to offer an affordable USA-made Limited CWU-45P to our customers. Our supply of this outstanding jacket is limited, so get 'em while you can! Made in the USA.
CWU-45/P History
Earlier flight jackets were made from fabrics that were found to melt when a pilot was caught in a fire. As technology improved, there was a need for a fire-retardant jacket. This led to the rise of the CWU (Cold Weather Uniform) 36/P and 45/P made from Nomex. Nomex was created by Dupont and known for its excellent thermal, chemical, and radiation resistance. The military still issue Nomex jackets to Air Force pilots. Manufacturers created the Nylon version of the CWU45P for the commercial market.
The Top Gun CWU-45P Flight Jacket (US Made) features:
100% Water-repellent nylon outer shell
Quilted nylon / polyester interlinings
Two large, lined, double-stitched Velcro closure front pockets
Heavy-duty zipper over-storm flap
Knit cuffs & waistband
Storm flap
One inside pocket
Zippered combination utility/pencil pocket on left sleeve
Chest plaque for Velcro-backed leather ID (Not included)
Colors: Green or Black
Fit: Regular
This is a great weekend jacket to attend sporting events or for weekend activities. It is comfortable, with plenty of shoulder and chest room to move. It serves as a dual jacket for warm and dry weather, with water-repellent outer shell. This is great for wearing in lieu of your A-2 leather flight jacket. I use mine for working on my farm or walking the dog.
The TOP GUN Maverick's G-1 Cape Buffalo Leather Jackets in Top Gun ONE and TWO are carried by THE QATSPY® Sports Performance Y-Apparel
Please select the Jacket from TOP GUN Movie No. 1 or No. 2 below for more information: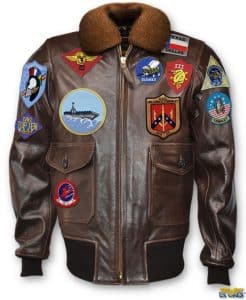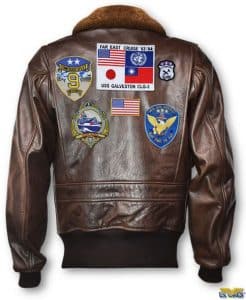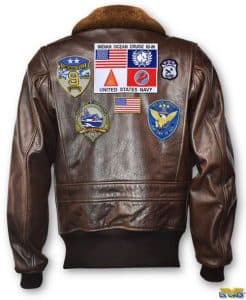 TOP GUN MOVIE No.1                   TOP GUN MOVIE No. 2
PLEASE Refer to

SIZE CHART

in the Additional Information panel for the Men's Nylon Flight Jacket that comes in Regular with chest sizes for each category.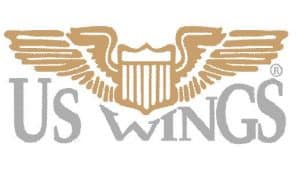 QATSPY is an authorized dealer for US WINGS.