THE QATSPY® The Quapaw Aviation Tactical Sportswear & Performance, Your Outfitters Company, Authorized Distributor for US WINGS®
The Body is a Temple of God; keep it as strong and fit as your Faith is!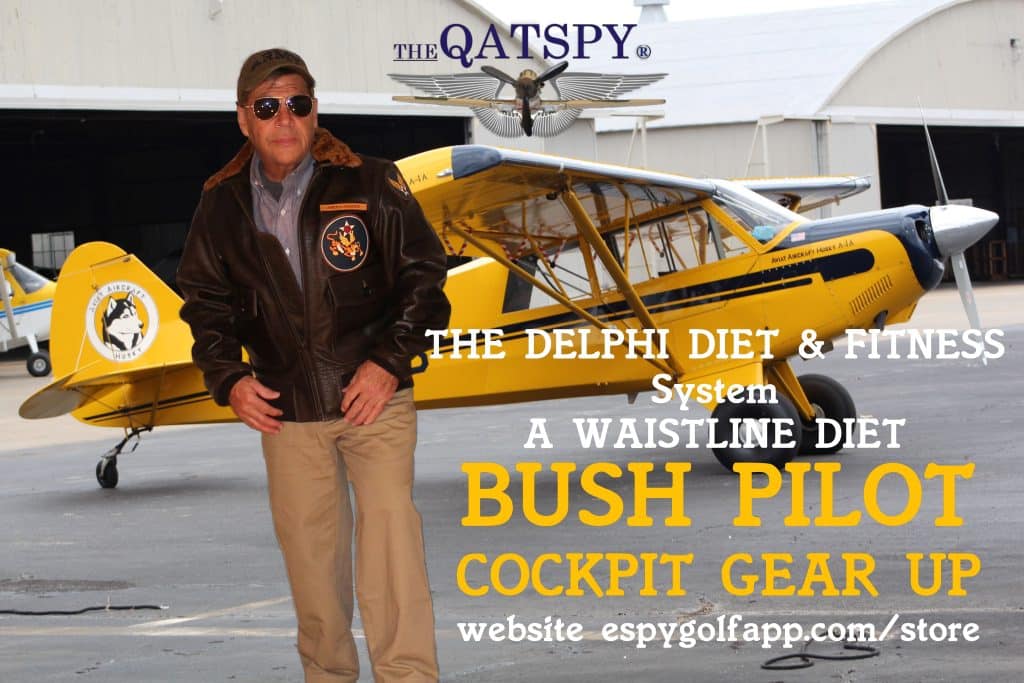 By: Charles W. Boatright, President of QATSPY
The DELPHI is More than Just a Diet-To Drop Weight and Inches, but an Age-Defying Diet, Exercise, and Lifestyle to Drop Years off Your Skin
This is better that going to a spa or purchasing expensive skincare products that only works temporary and skin deep ONLY. The diet and fitness system can even reverse that aging process.
The first of March in particular marks 59- days ( 3- months) from where you might have made your New Year's Resolution to lose weight and get into better shape. DON'T GIVE UP or QUIT on your Resolutions, your resolutions are too important to you, I have some encouragement for you with a Waistline Diet!
There is a process that can get you to your healthy waistline and numbers to where you can actually see progress over the next 3- months, regardless when you start. I started during the last part of November in 2014, right during the Holidays. If it works during the Holidays, then it will work when ever you decide to start.
But first let's start with establishing a GOAL, a PURPOSE, METRICS and a PROCESS FIRST for your RESULTS to get into better shape to look and feel better. But there is another greater benefit of getting into better shape- In order to replicating at home the clothes you saw and purchased at a store or online. Without these three starters, you will find it difficult for you to get into better shape to feel and to look better.
Your Goal
The Recommended healthy waistline goal for you: Take your height in inches and divide by 2, pretty simple base on a rough Body Mass Index (BMI).
For Example, In my case, my height is 66 inches / 2 = my healthy waistline should be 33- inches. But since I am planning on modeling our BUSH PILOT'S COCKPIT GEAR (my purpose) in front of a very unforgiving lens of the camera, I used a factor of 2.2 as my denominator or 66 / 2.2 = 30.0 inches. So my target waistline that was 33.0 inches for March that I will use for my intermediate goal will be 33- inches. However for July of 2015 when I will started modeling our BUSH PILOT'S GEAR, shown in the featured image, I shooting for 30- inches back in November of 2014.
The reason for losing the three (3) additional inches is that the camera lens adds two additional inches to your waistline. It makes a significant amount of difference especially when you are modeling or doing fitness and training videos that I do. Below, I'm in my home gym doing one of the most challenging photoshoots one can do, a AB profile side shot. This will test anyone's fitness.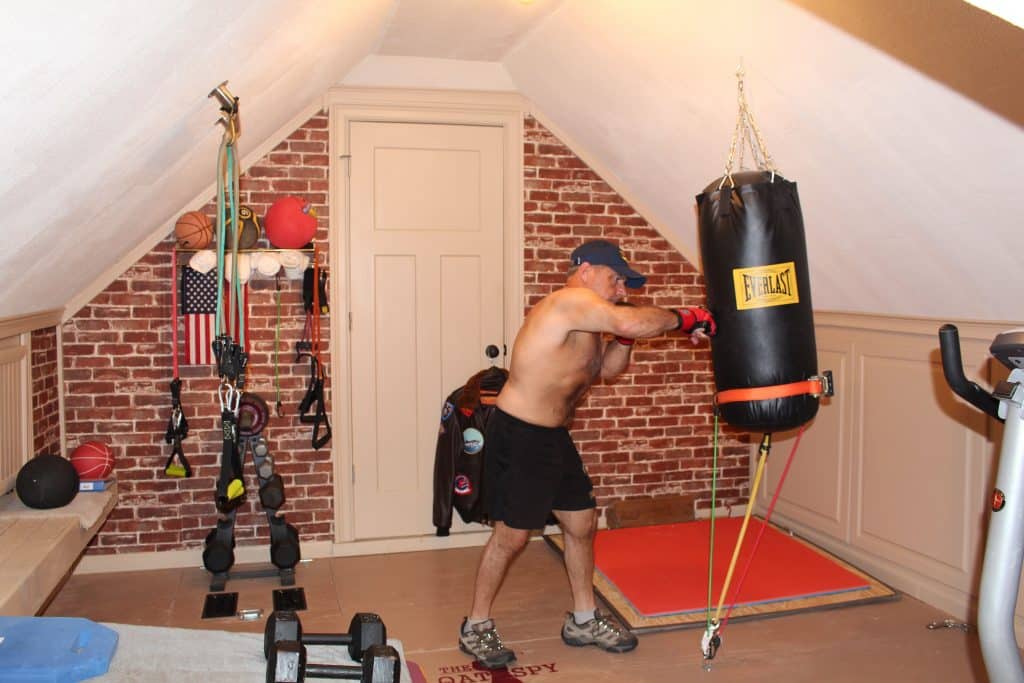 February is Heart Health Month, but every month should be heart health month. You can take that as an additional incentive to refocus your efforts to lose weight, get into better shape, and drop your numbers (WAISTLINE, BLOOD PRESSURE, BLOOD GLUCOSE, and CHOLESTEROL) the next 13- weeks. The reason Heart Health should be every month is that Cardiovascular Disease is Enemy No. 1 when it comes to the number one cause of death of both men and women. Cardiovascular Disease also contributes to strokes and other health-compromising issues, like being more susceptible to Diabetes and the effects of COVID-19.
Why Measuring Your Waistline is more Indicator of your Health and Fitness
First your start with measuring your waistline that is simple, inexpensive using a tailor's cloth tape. The reasons that I like measuring my waistline is it more accurate and it gives you a truer indicator of your health and fitness, because if you start adding muscle, you start trim up your abdominal area. For every pound of muscle you add, you're burning 50 additional calories. If you add just 5- pounds of muscle, you're burning 250 additional calories per day.
Measure your waistline is a better indicator than weigh-ins- If you have a strength training program, as I do in my workout program, I'm putting on muscles (0.613 oz/cubic inch) that weighs 15.225% more than fat (coming in at 0.532 oz/cubic inch). I certainly don't want to punish myself for putting on muscle and losing my fat content. You want to add muscle, while you drop your fat content. This is why a strength component is important, for the along run with your diet program.
Also a strength training program activates your muscles causing them to release a natural growth hormone that increases collagen levels to your joints and especially into your skin for an age-defying, younger looking skin from inside out approach. The strength training tells your muscles, joints, and skin to act younger due to the challenges that you are undertaking in a workout program.
At age 65, I can model my BUSH PILOT'S COCKPIT GEAR, shown in the feature image and in the AB Challenge, shown below. I accomplish this just by focusing on my waistline that was the result of my diet and fitness workouts.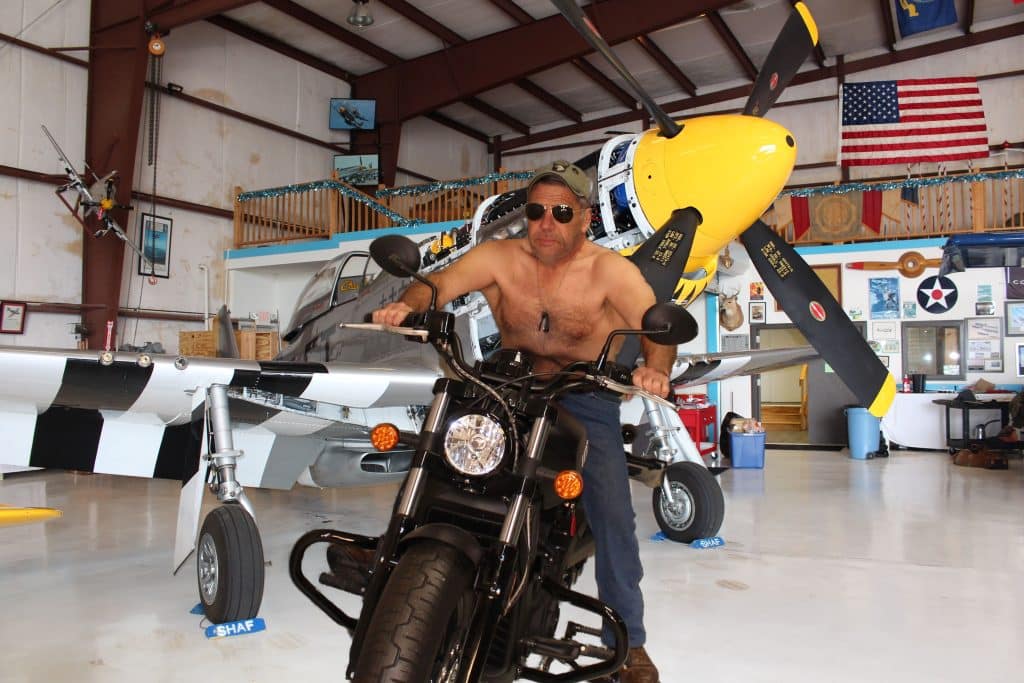 The next component to establish is your METRICS where you can track your progress in reaching your GOAL. There is nothing more encouraging and rewarding when you can track your progress and see results especially when you can compare what you want to what you have done.
METRICS
Below is my actual Waistline Chart that I kept, starting in November of 2014 and kept tracking through September 2015, when I lost 8.75- inches in my waistline that greatly improved my other four (4) numbers. My Blood Pressure is (110/64 Pulse 64), Blood Glucose (Non-Fasting 112), total Cholesterol of 178 and the health of my skin at age 65 is skin that I had at age 35. Better yet, I'm not on any prescribed medication of any type or kind. I still monitor my waistline once a week even 9- years later to compare with 29-inches that I want to maintain.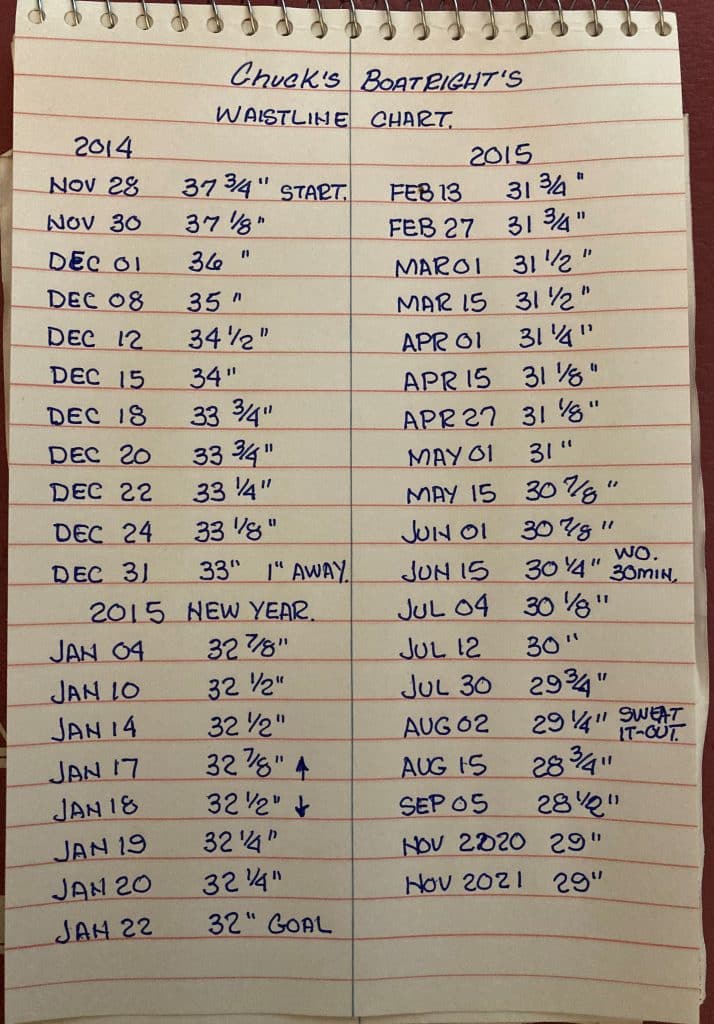 A good rule of thumb to reduce your waistline each week is to lose about three-eights (0.375)- of-a-inch-per-week, or 3.50- pounds per-week. So 13- weeks x 0.375 = 4.75- inches or 45.50- pounds if you want to weight your results in pounds.
THE PROCESS
The most effective diet is based on WHAT you eat (Health Index number at or below a 3.25) and WHEN you eat (between 9 a.m. and 6 p.m.) and Exercise with an active Lifestyle Performance to achieve your GOAL. This is the basis of THE DELPHI DIET & FITNESS System of DIET ■ EXERCISE ■ LIFESTYLE PERFORMANCE.
When you are considering diets don't dismiss, or under estimate, the importance of WHAT and WHEN you eat that can turn your body into an age-defying, calories-burning-juggernaut. I dropped 45- Lbs. and 6- inches in just 13- weeks by February 27, 2015; and drop something that I wasn't expecting, I dropped about 30- years off the age of my skin. In the featured image and below in the AB Challenges, above, I'm 65 years old.
If you start on DELPHI DIET & FITNESS System by March 01st, 2023 you can drop weight, inches, and years off your skin by May, 31st, 2023 in time for Summer Vacation. But you have to eat food at or below the 3.25 Health Index number and eat between 9 a.m. and 6 p.m.
The major factor for the age-defying results that I experienced in February of 2015 is that I wasn't eating foods over a HI (Health Index) of 3.25 and not eating past 6 p.m.The other factor, I was following my (CAST) Fitness of Cardio-Aerobic Strength Training. The AB Challenge that I did on January 07th, 2023, above, shows my results. How many diets and fitness programs allows you to post AB Challenges? Especially at age 65!
The EXERCISE– I work out 45- minutes each day, 6 times a week, following CAST– Cardio-Aerobic Strength Training Fitness program. I would recommend that you work out at least three times a week, for a minimum of 15- minutes each of those days. Start slow and build from what you can do. You can achieve this with simple exercise equipment, like elastic resistance tubing and dumbbells. If you have a door, then you have your gym with this type of simple equipment. Just make sure you use the hinge side of the door to anchor on to pull against the door jam with the elastic resistance tubing for safety.
The Importance of the Health Index Number
Your sugars and starches are the real culprits of your weight gain and your high numbers that include the age of your skin. The book Sugar Busters Diet alludes to the hidden sugars (or starches) that we have to account for in DELPHI Diet to lose weight and inches. These starches are usually laced with salt that make them even more tantalizing. Try to just eat one potato chip and you'll understand why they are so tantalizing.
In the Sugar Busters Diet, they compare the Sweet Potato (2.778) to that of an Idaho Potato (3.438), on which one was healthier to eat and help you lose weight and inches. The Health Index (HI) numbers bare this out, based on the Nutrition Labels of both, below: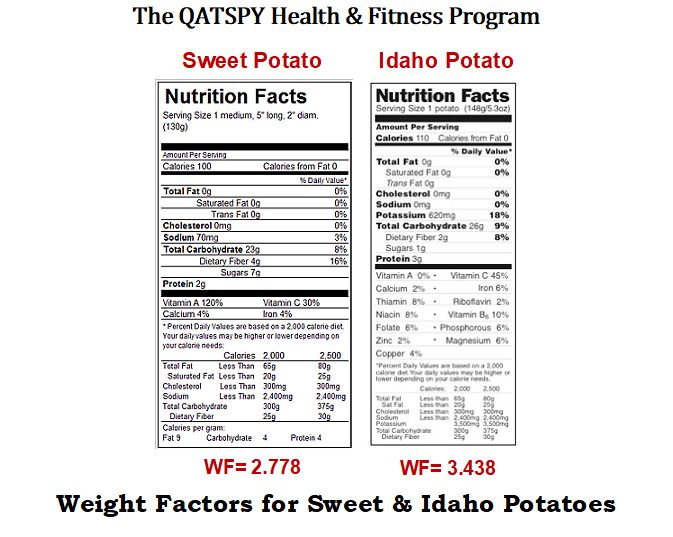 I don't eat anything with a Health Index number higher than 3.25. Even the HI of the Idaho Potato at 3.438 can adversely impact your ability to lose your weight and inches. Believe it or not, there are some foods that have Health Index numbers above 9.00 that might be a part of your diet. These are your culprits in trying to lose weight and inches.
NOTE: Anything at or below an Health Index number of 2.85 is considered a perfect food like Pinto Beans coming in at 2.75.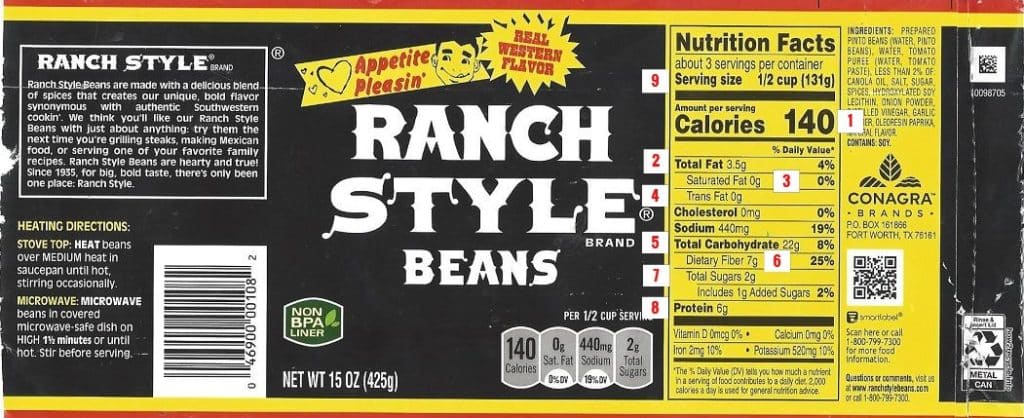 The HI of 3.25 indicates foods that are high in Protein, Fiber, Omega-3, and Probiotics that are also great for younger-looking skin and NOT eating past 6 p.m. DON'T EAT AFTER 6 p.m., because nothing good ever happens to your health or skin by eating past 6 p.m., in regard to your health and fitness; and especially the health of your skin.
The DELPHI DIET & FITNESS System that Allows me to Model at Age 65
Finally Your RESULTS
In 13- weeks from December of 2014, I dropped something more than 45- Lbs., 6.0 inches in my waistline, and my numbers; I dropped the age of my skin by 30- years to have skin that I had in my mid-30's. That allowed me to model my sportswear that includes the U.S. Military A-2 and G-1 Leather Flight Jackets that we supply the Military in our BUSH PILOT'S COCKPIT GEAR.
I also model my Flying Tiger G-1 Flight Jacket and my Flying Tiger Classic button-down Oxford shirt. But the biggest benefit of The DELPHI DIET & FITNESS System is how it allows you to replicate at home that same great look of clothes that you purchase at the store or on online. Your best fashion statement that you can make is with your age-defying health and fitness of the DELPHI DIET & FITNESS System.
NOTE: The DELPHI DIET & FITNESS is in my book on KINDLE that has my complete diet and fitness workout with videos of all my exercise routine that I do in my home gym. You can do this in your own home.
THE DELPHI DIET & FITNESS System and THE SPORTS BIBLE- YELLOWSTONE PAPERS on Kindle for $8.95 each that you can down load directly from KINDLE:
Book on KINDLE: DELPHI DIET & CAST FITNESS System:
MY KINDLE BOOK: THE SPORTS BIBLE- YELLOWSTONE PAPERS: