The QATSPY GOLF: Authorized US WINGS Dealer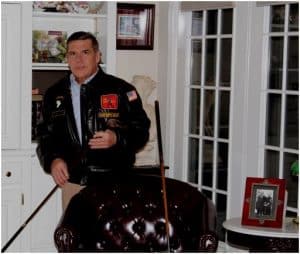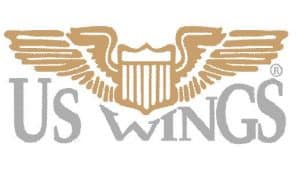 Inside the leather Classic A-2 Leather Flight Jacket Collection.
Offered By: Charles W. Boatright

US WINGS A-2 Leather Flight Jacket Product Description: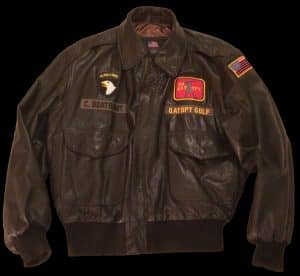 Do you remember your high school days where students wore letter jackets and the impression that they (the jacket and you) made? You can create the same impression with a US WINGS A-2 Leather Flight jacket that you can have personalized. There's no substitute for making personal and/or business calls by showing up in one of US WINGS' A-2 classic leather flight jackets.
An A-2 leather flight jacket is perfect for the week or during the weekend for that classic look you want and can be worn with either blue jeans or chino khaki pants. Enjoy the luxurious, soft feel of leather with your option to personalize your jacket to support: the military, your team, company, or event, with name tags and/or patches. Perfect for companies to recognize their associates and customers.
PERSONALIZED– Chose from military unit patches, tags identifying you and/or your organization, or send us your patches you want sewn on, either for the right or left chest panels or sleeve of the jacket. You can't make a better statement than with the classic look of a US WINGS A-2 leather flight jacket that will leave a lasting impression.
QATSPY, which is an authorized dealer for US WINGS, also offers the signature classic leather jacket "Inside the Leather" A-2 Flight Jacket, like the one featured above, that comes with the QATSPY patch, the tag "QATSPY GOLF" on the left chest panel, and the option of your name on the right chest panel and/or military insignia.
Please refer to Size Chart when ordering:

SIZE CHART
Please order per Catalog Numbers below (

We will start taking orders February 02, 2019

):

MEN'S US WINGS A-2 Leather Flight Jacket 

 

SKU: A22000       $195.00
WOMEN'S US WINGS A-2 Leather Flight Jacket  

SKU: WASPA2     $195.00
QATSPY GOLF A-2 Leather Flight Jacket

 

SKU: QAT-1942   $275.00
Your Personalized A-2 Leather Flight Jacket 

SKU: QAT-1950   $195.00 + $25 per patch we supply, or $20 per patch that is provided by the customer

.

Customer must provide their company logo patches.



Discounts available for large orders for companies or organizations, call for information.
For Personalized Leather Flight Jacket ORDERS: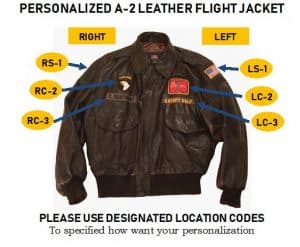 Example for specifying Patches and Name Tags, see below:
Position LS-1: Red/White/Blue American- Flag
Position LC-2: QATSPY GOLF- Patch
Position LC-3: QATSPY GOLF Name- Tag
Position RS-1: Blank in this case
Position RC-2: 101st Airborne Black/White/Yellow- Patch
Position RC-3: C. BOATRIGHT- Name Tag
NOTE: When ordering personalized jackets, please use the designation codes of what patch or Tag is to be sewn on the jacket.
Name tags: CANNOT exceed 12 characters in length including spaces.
No returns on all personalized leather jackets with patches or Tags. Please, No objectionable or explicit patches or wording on tags.        
Please mail your patches to:
QATSPY GOLF
Charles W. Boatright
400 Blackberry Cove
Madison, MS 39110
Name tags will be prepared by QATSPY GOLF Options on Name Tags: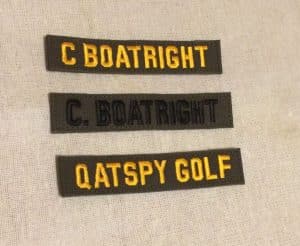 GOLD or BLACK Lettering on Olive Drab Fabric background (Maximum of 12 Characters including spaces)
PLEASE provide NAME with your order.
A Word from Sargent Hack:
US Wings is proud to offer the Modern A-2 Leather Flight Jacket! It is made from goatskin leather. Manufactured to military quality standards and specifications. Our jacket is equal in every way to the USAF-issue A-2, but with one important distinction: more pockets! With the change in time, we have also made changes to the A-2 jacket. We've added side-entry hand warmer pockets and one inside pocket to our popular goatskin bomber A-2 flight jacket. The side-entry pockets are separate from the patch pockets, which make them roomier and more accessible. The additional pockets make it far more practical.
The Italian Goatskin Leather Flight Jacket features:
100%  Goatskin leather
Snap down collar
One piece back
One piece sleeves
Snap close cargo pockets
Stitched down epaulets
Military spec brass zipper
Side entry hand warmer pockets
Brown satin nylon lining
Knit cuffs and waistband
Available in Regular and Long
Color: Dark Brown
Fit: Normal
For order or additional information about leather jackets or other items offered by US WINGS, please call

1-888-514-1228

.

NOTE: We are taking orders starting on January 26, 2019. Thanks for your interest in US WINGS.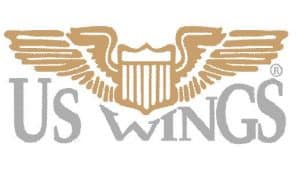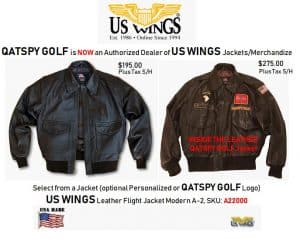 Health and Fitness information and to improve your golf game: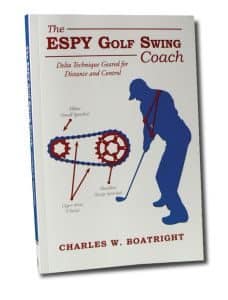 Operation DOG TAG
Sports, such as golf, along with fitness and an exercise regimen that includes yoga, has been proven to be a great Cognitive Behavioral Therapy for trauma victims. Veterans and those who have experienced a traumatic situation where the mind has been traumatized and disrupted can use golf and yoga to help re-establish connection and pathways in the brain. Golf also provides an excellent opportunity  for trauma victims to reconnect in a social setting to develop a dialogue without the pressures of clinical visits.
Introduction- Forum for Coaching Golf and Life Skills Operation Dog Tag
Section 1- Operation DOG TAG | GOLF CBT Intervention for PTSD
Section 2- Operation DOG TAG | Objectives and Scope
Section 3- Operation DOG TAG| STRUCTURE GUIDELINES