Description
The Proper Wrists Action in the Golf Swing Sequence
The anatomy of the golfer's wrists is probably one of the most important areas for golf instructors and golfers to understand and use in the golf swing instruction. Syncing/Presetting the wrists in the golf swing capitalizes on the body's natural ability to develop a proper golf swing with power, speed, and control. Ben Hogan specifically mentioned one of the two strongest muscles in the golfer's wrists, which is the Hypothenar. I refer to these as Thenars in my book, The ESPY Golf Swing Coach. These two muscles in the wrists have direct contact with the handle of the club. This should peak any golfer's interest.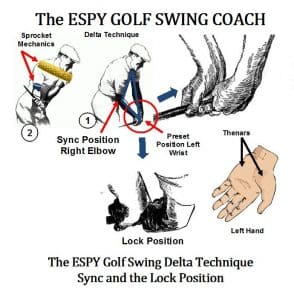 Syncing/Presetting Figure: The wrists, when set into the proper preset position, establish the correct swing plane, but also eighty (80) percent of the golf swing is completed.
So, it would be reasonable to understand the importance of these two muscles in the wrists, beyond just gripping the club. Why not take full advantage of these muscles to turbocharge the golf swing?
Please select to download your E-Copy of this Online Golf Session Training Procedure (STP). The advantage of the online Golf STP is it a training procedure that you will have in your electronic files for future reference and NOT a one time lesson where the presented material will be forgotten later or once on the golf course.