THE QATSPY® In-Side-the-Leather Heath, Fitness and Sports Performance Page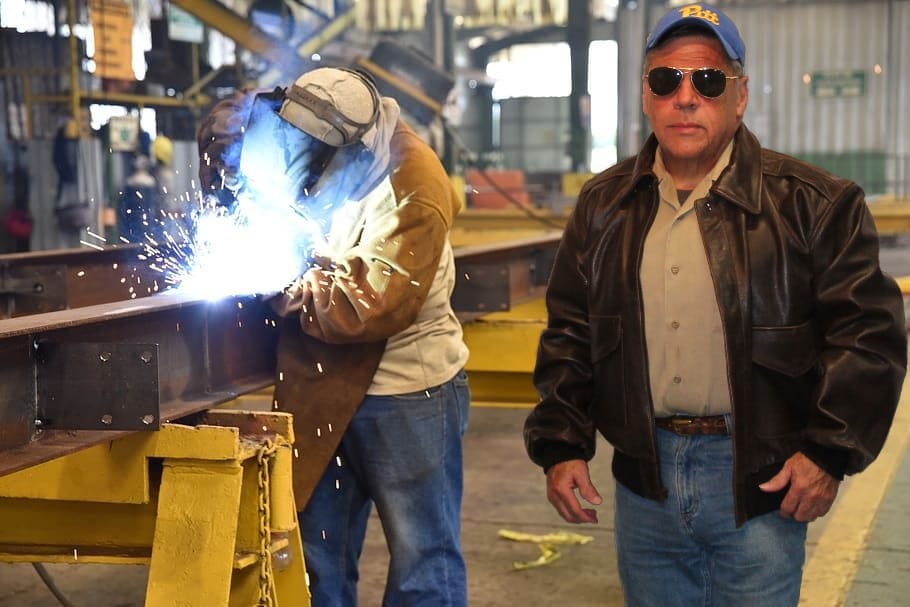 By: Charles W. Boatright
A person's potential isn't measured by what education, ability, or talent that they possess or what opportunity that they have been afforded
If there is one thing that gets misconstrued and has been proven over these last few months, it is that a person's success isn't based solely on one's education, natural abilities and/or talent. A person's potential isn't measured by what education, ability, or talent that they possess or what opportunity that they have been afforded. But it equates to one's moral fiber and perseverance that they demonstrate.
One reason we are drawn to sports is that in sports a person's success isn't weighed solely on education, ability, or talent, but success is in proportion to their moral fiber and perseverance that they demonstrate in the arena. One of the classic examples of moral fiber and perseverance is the Herschel Walker story.
The ESPN 30 for 30- The Herschel Walker Story
As a child, Herschel Walker wasn't anywhere near an athlete or he didn't even possess any athletic ability or talent. He had other obstacles of learning disabilities and was a favorite target for bullying by others. Herschel Walker proved what Roman Emperor Marcus Aurelius stated about moral fiber and perseverance– What stands in the way becomes the way.
Herschel Walker took his moral fiber and perseverance and used his obstacle to focus on developing his athletic ability or talent to became one of the modern-day premier athletes. Herschel Walker set records at Georgia that are still talked and written about even today. Herschel Walker didn't have any elaborate gym, but simply used basic calisthenics of running, push-ups, and sit ups to develop his athletic ability that made him one of the greatest athletes.
Herschel Walker's lack of natural talent, ability, and disabilities did not prevent him from becoming one of the premier running backs in collegiate or professional sports. Bo Jackson and Herschel Walker made it a habit of not running around their opponents, but running over them. The only reason that I would give a nod to Herschel Walker for being the top athlete is because of his obstacles that he had to overcome to become an outstanding athlete of the modern-era.
Read my article that I did on Herschel Walker
If you get an opportunity, watch the ESPN 30 for 30 special on Herschel Walker.
Perseverance has no Consideration of Time or Chance
Herschel Walker's story on ESPN 30 for 30 is borne out by two quotes from Anu Claudia and President Calvin Coolidge that I refer to when faced with obstacles:
President Calvin Coolidge:
Nothing in this world can take the place of persistence. Talent will not: nothing is more common than unsuccessful men with talent. Genius will not; unrewarded genius is almost a proverb. Education will not: the world is full of educated derelicts. Persistence and determination alone are omnipotent.
Anu Claudia
The race doesn't always goes to the swift, but to the one that keeps running.
Ecclesiastes 9:11
Again, I observed this on the earth: the race is not always won by the swiftest, the battle is not always won by the strongest; prosperity does not always belong to those who are the wisest, wealth does not always belong to those who are the most discerning, nor does success always come to those with the most knowledge – for time and chance may overcome them all.
What Solomon was stating was that Success can't be measured or determined by either time or chance, and perseverance has consideration of neither in its pursuit.
QATSPY® Inside-the-Leather Golfer's Sports Performance
Sponsor By: THE Great QATSPY® Yankee Personal-Style Traditional Apparel Quarters Fit-to-a-TEE Look and FEEL
An Authorized Dealer for US WINGS®We are HERE to get you inside the Leather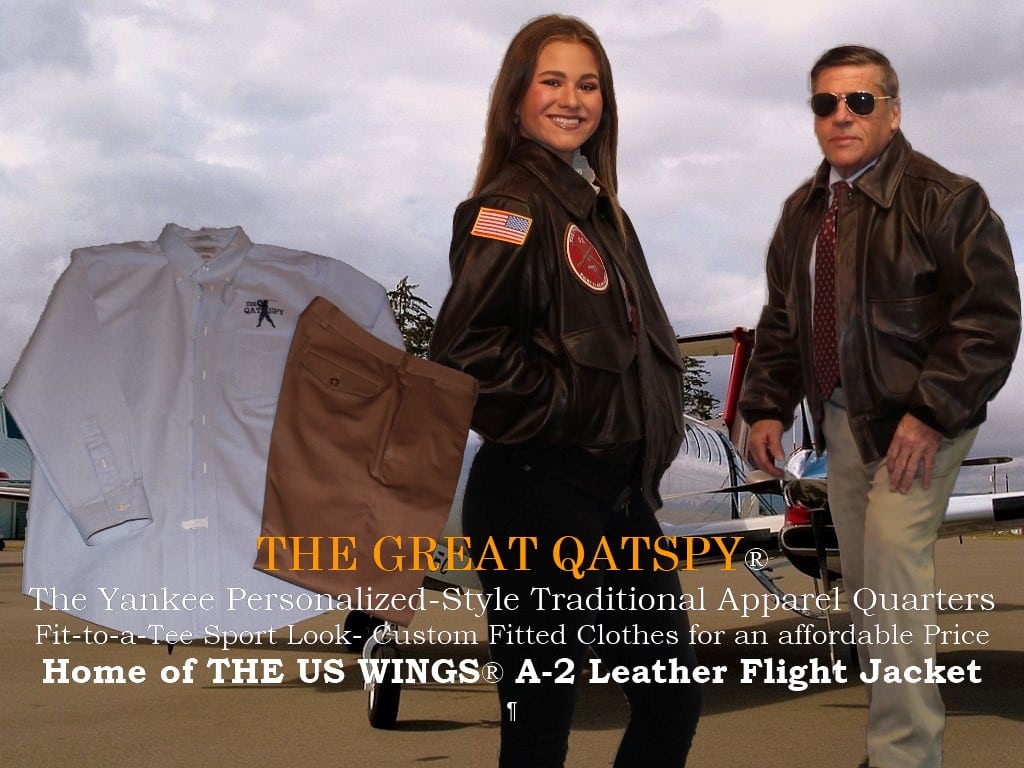 THE Great QATSPY® Online Store carries a variety of clothing apparel items that are selected, based on their quality and personalized-style that offers that traditional and classic look. We carry the full line of US WINGS® leather jackets that are great substitutes for the traditional wool-blend Sports Jacket that can be excellent breeding surfaces for bacteria and viruses.
Our US WINGS® Leather Jackets can be simply sanitized and cleaned with a simple solution of dish detergent (1 teaspoon) mixed with water (8 oz.) used to wipe down our leather jackets as needed during the course of the day. I'm an authorized dealer of the US WINGS Leather Jackets. DO NOT USE ALCOHOL to wipe down your leather jacket!
These make great formal and leisure jackets for men and women to wear with slacks or just simply blue jeans. Our US WINGS® Leather Jackets can be worn as the new sports jacket for business and formal wear or for the weekend and these are durable enough for the open road or open skies.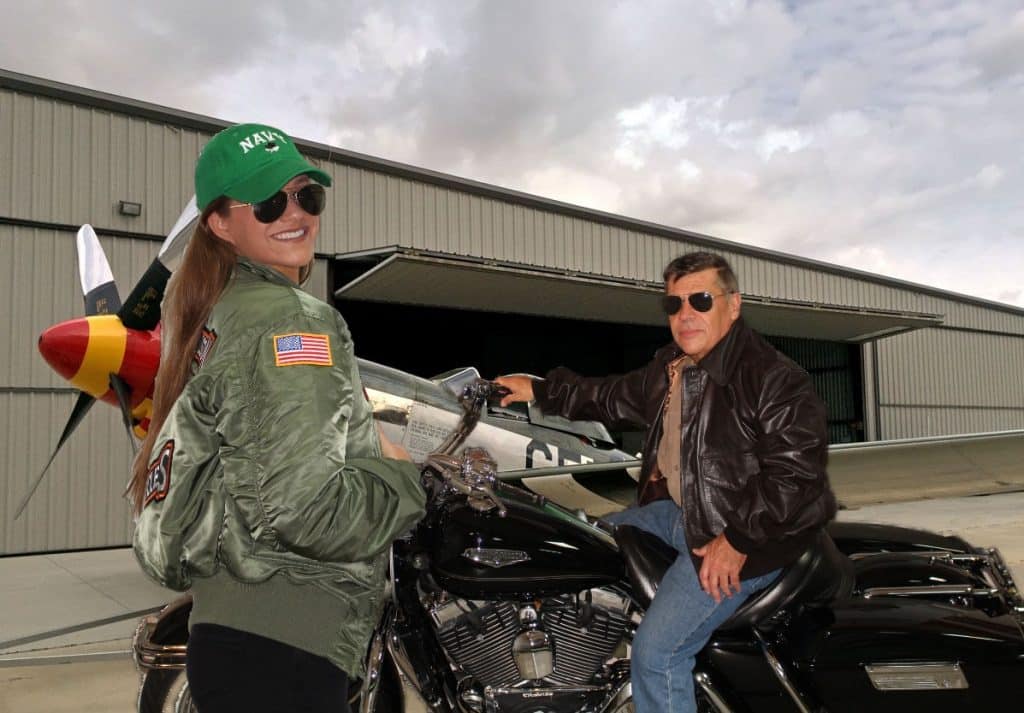 Our Leather Jackets or your jacket can be accented with the Motorcycle Rocker Patches that will make it that distinctive jacket that will attract attention everywhere your travels take you. We can also personalize your Leather Jacket with your group, organization, or company logo with hand-painted art work.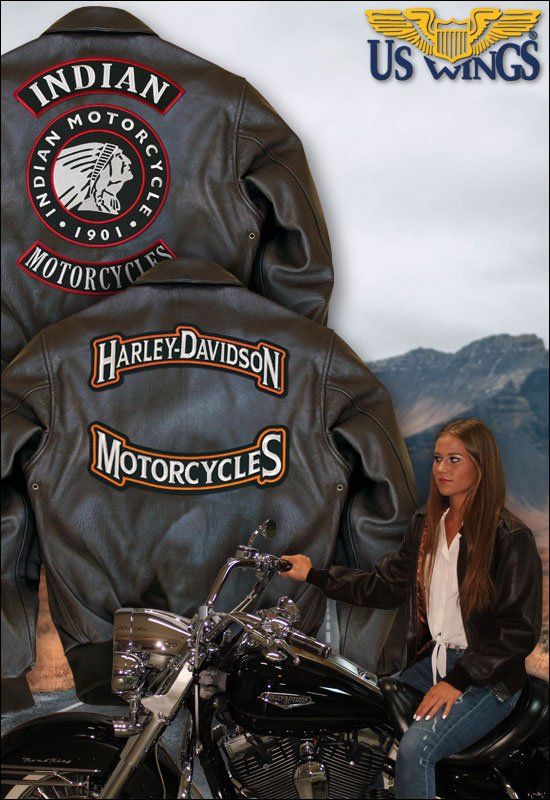 THE Great QATSPY® also carries that custom-tailored sport look of Button-down Oxford shirts made with 5.5 oz. per yard of cotton that can be ordered with neck sizes ranging from (14″ – 17.5″) and Sleeve length from (32″ – 37″). To complete your classic look, we also carry custom-fitted Chino Khakis pants with waist sizes from (30″ – 44″) and specified inseams from (26″ to 36″) in quarter-inch increments. These are as classic as the 1963 Chevrolet Corvette is.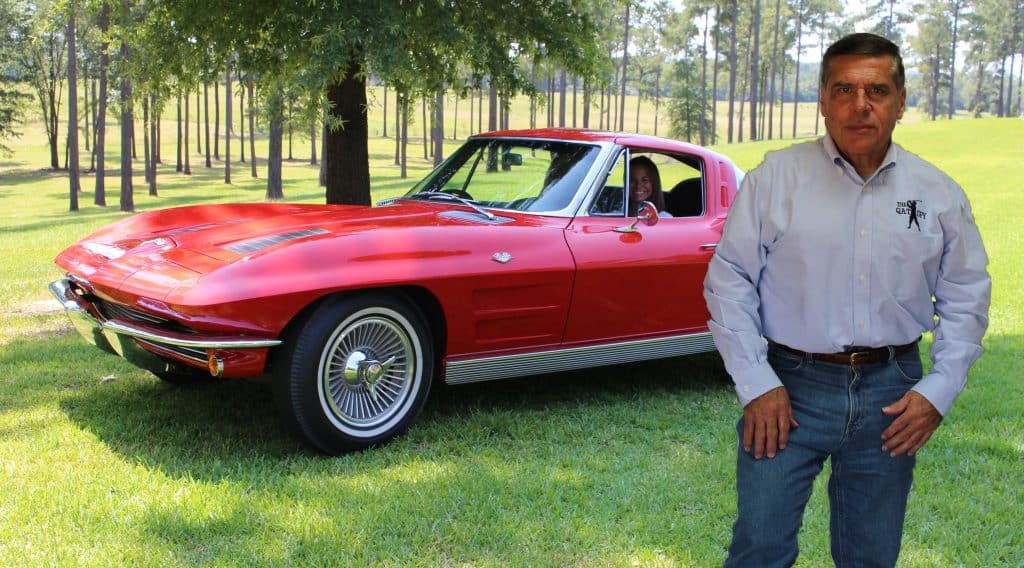 There is nothing that has the classic, custom look and style as our US WINGS® Leather Jackets, worn with our custom-fitted Button-down Oxford Shirts and Chino Khakis pants or your comfortable blue jeans. You will be properly dressed for any occasion, whether for the weekday or weekend and be comfortable.
We supply our US WINGS® A-2 and G-1 Flight Jackets to the U.S. Military. Our US WINGS® Leather Jackets meets all Military specs. You can't purchase a better leather jacket that will last you a lifetime.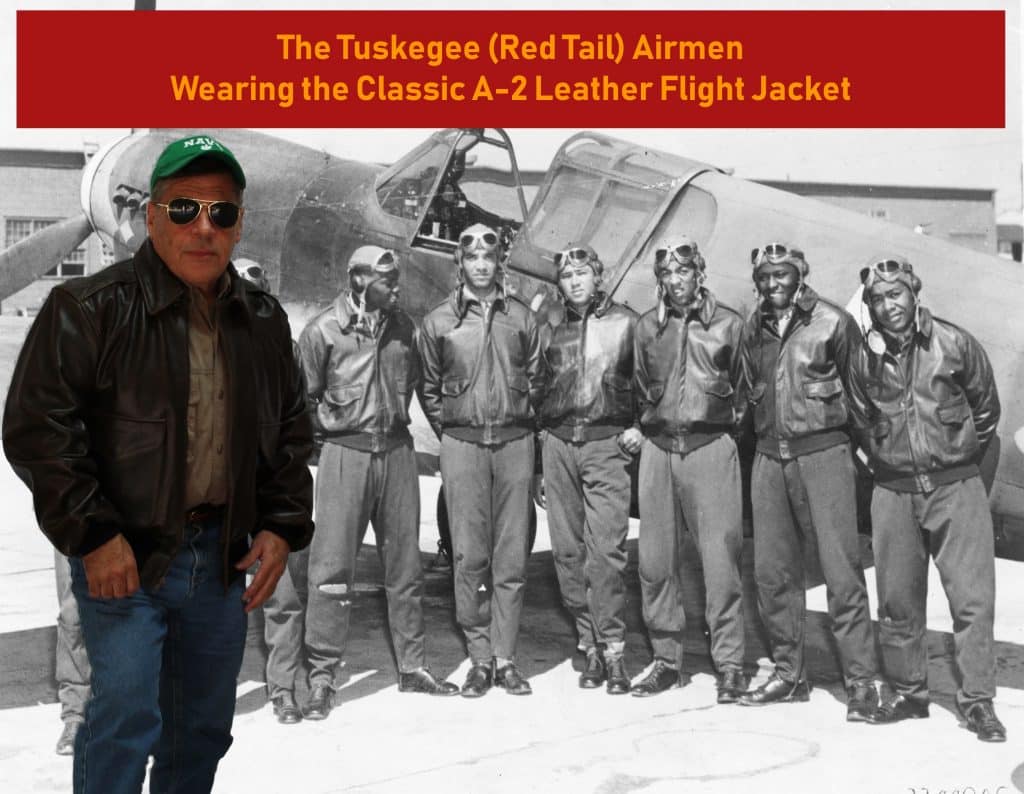 We also carry three (3) other style of our leather Jackets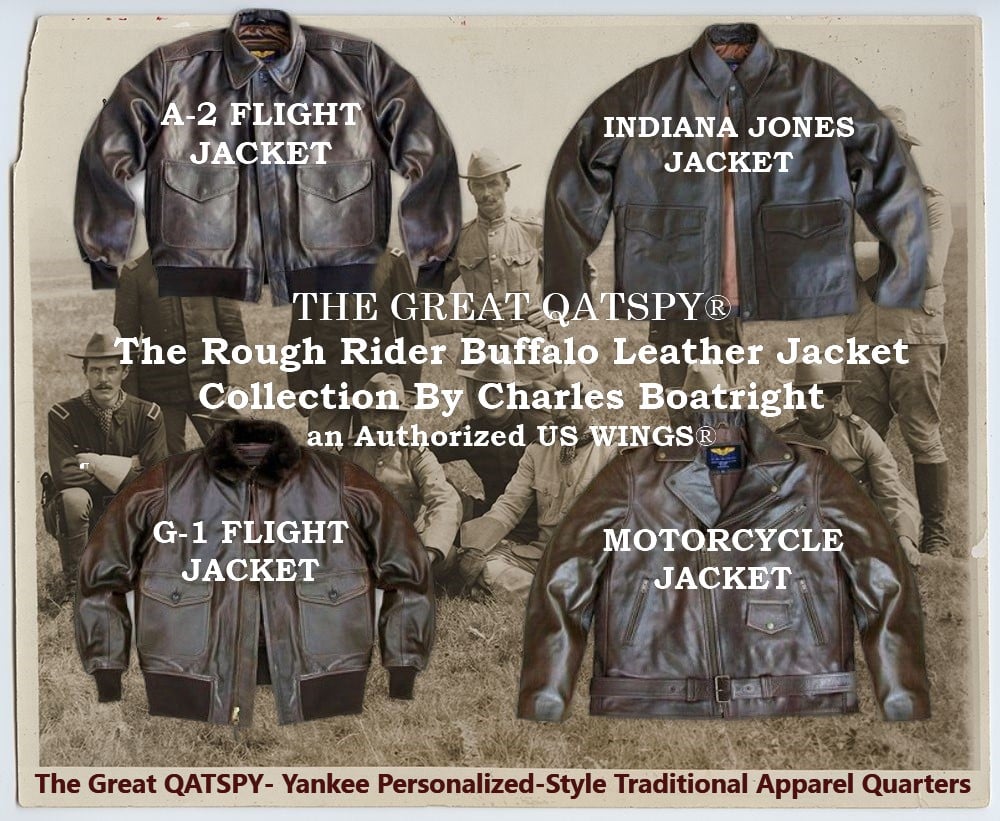 Replica Nose-Art & Patches of World War II A-2 Leather Flight Jackets For Veterans
We were commissioned by a family of a WWII Veteran for his 95th birthday to custom make an exact replica of his A-2 Leather Flight Jacket that he wore while serving on the Boeing B-17 Flying Fortress. Jim Harley hand-painted the exact replica of his 8th Air Force, 510th Bomb Squadron, and 351st Bomb Group patches with his "Woodchopper's Ball" B-17 hand-painted on the back panel.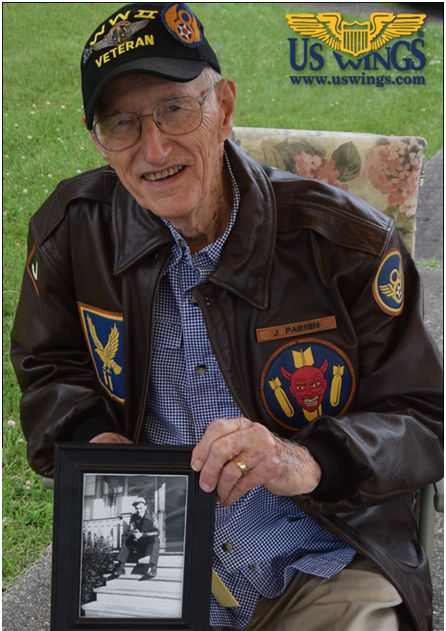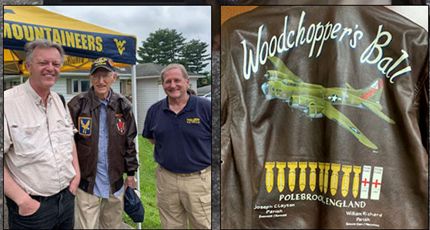 Review your Options below of Nose-Art hand-painted on our A-2 Leather Flight Jackets:
The photograph above is Jim Harley, nose-art artist, and Bob Kruty, Vice President of US WINGS®, personally presenting the hand-painted nose-art with the leather patches to the World War II Veteran at his home on his birthday.
We specialize replicating A-2 and G-1 customized hand-painted leather flight jackets with patches and aircraft artwork based on the very same flight jacket developed in 19030's. We still supply these A-2 and G-1 to the U.S. Military today.
The US WINGS® Indy-Style Leather Jacket we Supply to Walt Disney World Theme Park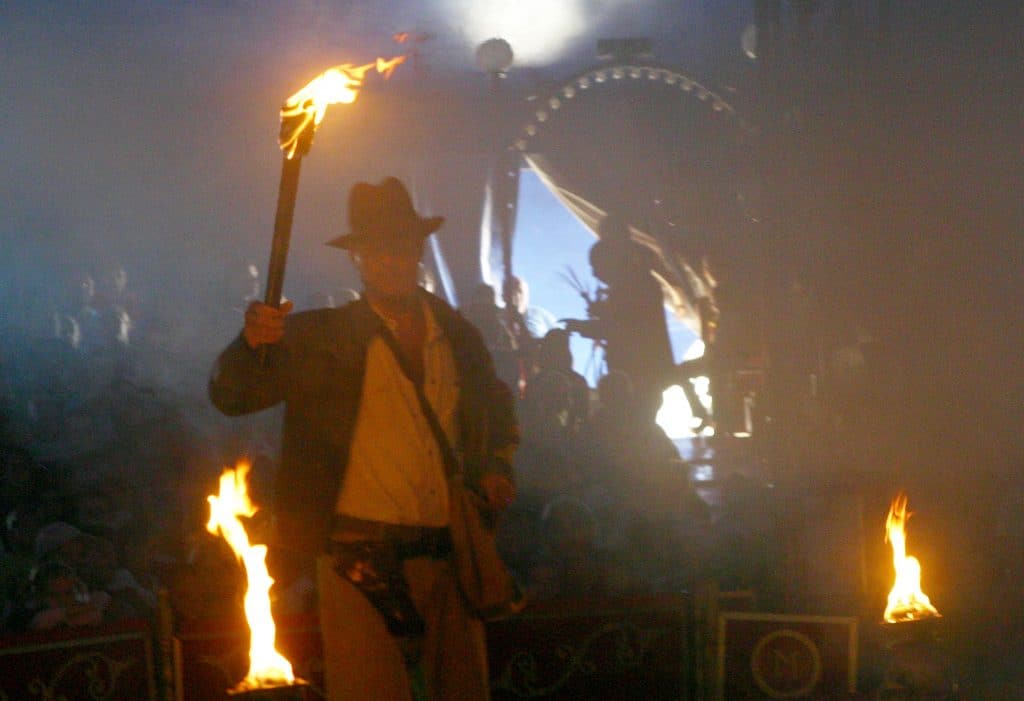 <Indiana Jones Epic Stunt>
We also supply Walt Disney World Theme Park with the Indiana Jones Cape Buffalo jacket that Disney World uses in their daily production of the Indiana Jones Epic Stunt Spectacular seen by thousands each week. Disney chose the US WINGS Indy-Style Jacket for its authenticity and durability to hold up to their production schedule.
TOP*GUN Nylon Flight Jacket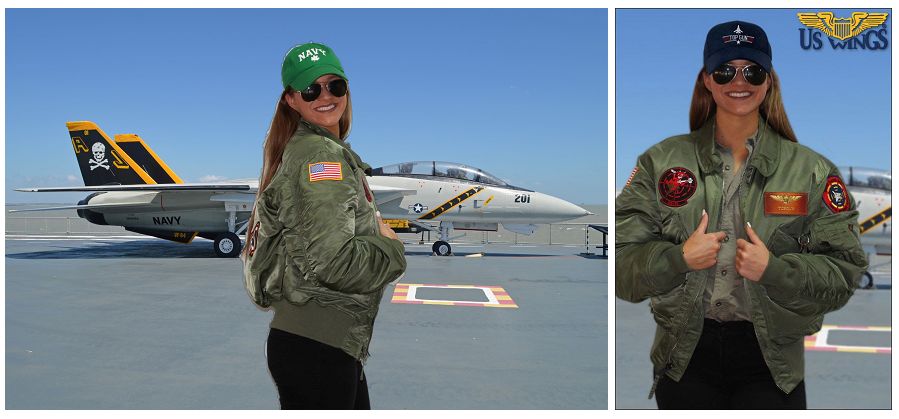 We carry the Replica of the TOP*GUN 2 Movie CWU-45P Nylon Flight Jacket that Maverick (Tom Cruise) is wearing in the second Movie below. This jacket has the authentic TOP*GUN Patches that are supplied to the TOP*GUN School Navy Strike Fighter Tactics at The Navy Air Station Fallon in western Nevada. It moved from Miramar in 1986.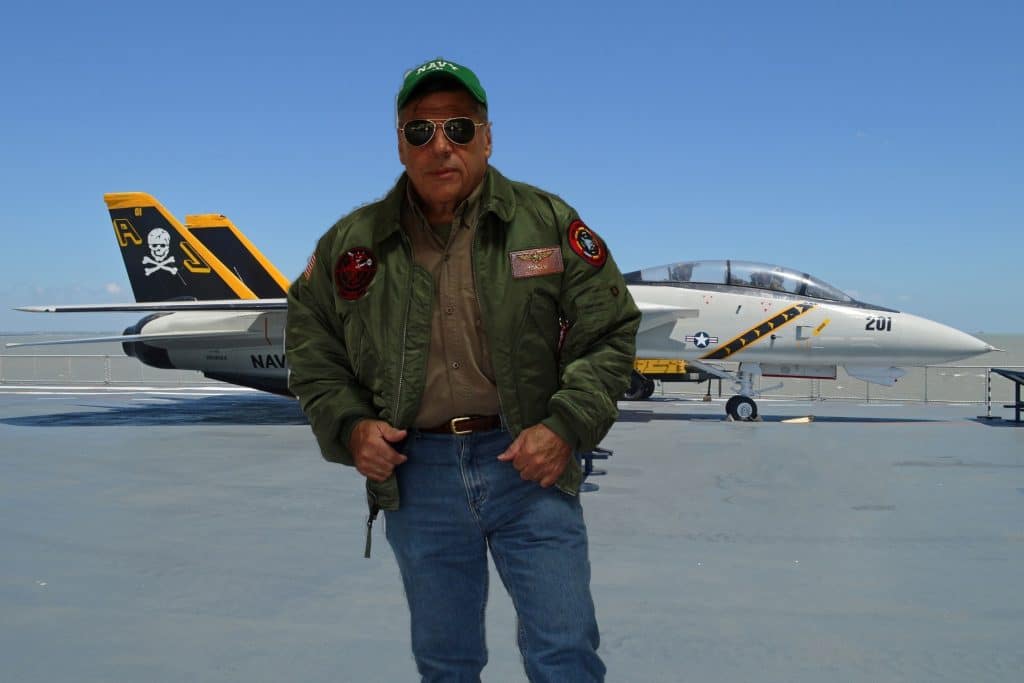 TOP*GUN Trailer