THE QATSPY® Quapaw Athletic & Tactical Sportswear Performance Yarak Outfitters
The Home of the US WINGS® Authentic U.S. Military-Issued Flight Jackets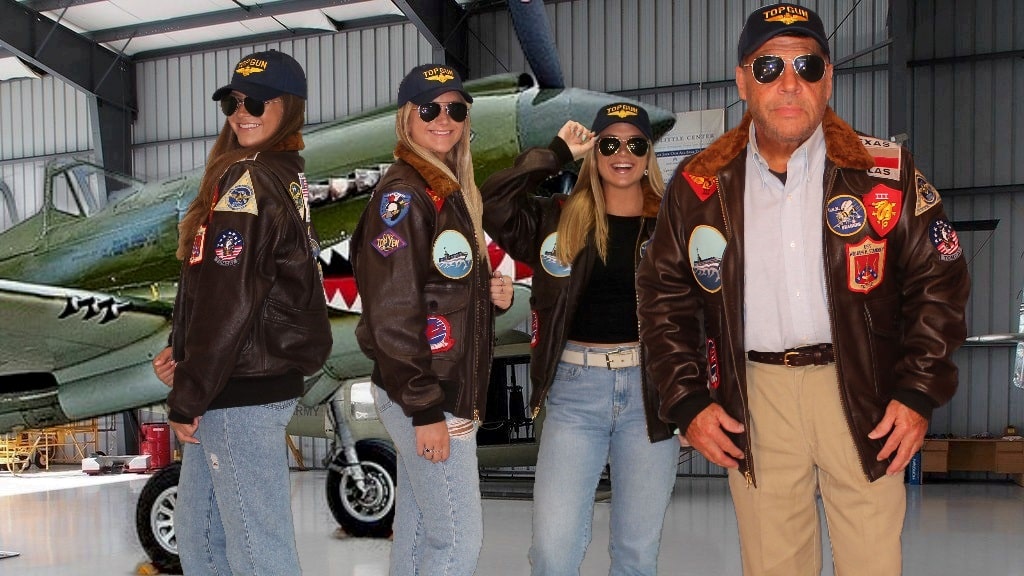 By: Charles W. Boatright
I have seen TOP GUN: MAVERICK three (3) times since its premiere in May of 2022. Yesterday, we were seated between two couples. one on our left appeared to be two ladies in their early 30's; to our right were two ladies who appeared to be in their early 60's. Both groups had similar comments during the beach scene in TOP GUN: MAVERICK Movie with- He is in great shape from the 30 somethings, Damn, He is good looking from the 60 somethings, he being Tom Cruise.
These two comments from two groups of ladies speak volumes to Tom Cruise's diet and fitness routine/program at age 59, soon to be 60 on July 03rd, 2022, not just in the beach scene, but pulling 7 plus G's in the F/A-18 Super Hornet during aerial maneuvers. As any pilot or aviator will tell you, fitness is a key component in their ability to fly and perform. (Look at the TOP GUN: Maverick Trailer Below):
Watch For This One Scene in TOP GUN: Maverick:
One scene to look for in this movie is when they launched off the Aircraft Carrier in the F/A-18's on their Mission Impossible. Watch for the overflight of Tomahawk Cruise Missiles on their way to destroy an enemy's target. That was totally impressive.
Pilots, like aviators, have to have annual physicals to certify them as being fit for flight and to operate their aircraft, according to 46 CFR § 11.709. But there is another huge benefit of following a healthy diet and fitness program; and that is not just Holding Back the Years, in Simply Red's song, but actually turning back the years or even decades, in some cases, in the condition of your skin.
In the featured image above; and the image below, these were taken during and after we did a photoshoot on Friday, May 27, 2002 for our TOP GUN: Maverick Jackets Collection. (Both of these are Authentic CWU-45P Nylon and G-1 Leather Flight Jackets that we supply to the U.S. Military.)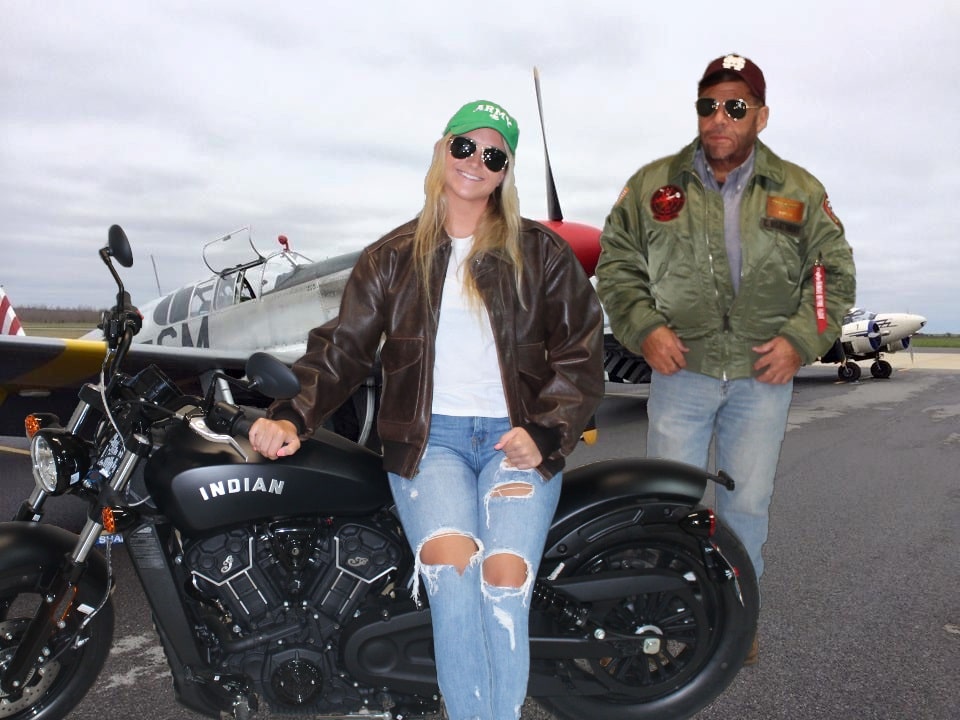 In the photographs above and below, I'm 64 years old, soon to be 65 in July, posing with girls that work with us that are in their early 20's. This is a huge challenge for someone in their mid-60's. This is like Tom Cruise appearing in the beach scene, shirtless, with the cast members of the movie that are less than half his age. If you want to challenge your diet and fitness program, just pose with young ladies in their 20's, above, and also pose in an AB profile challenge while sitting on an INDIAN Motorcycle, below. Nothing reveals your results and effectiveness of your diet and fitness program more than these two poses, in front of a camera lens.
For more information on The DELPHI DIET & FITNESS System, just click on the image below to learn how I got into shape in 20- weeks at age 57 and have stayed in shape: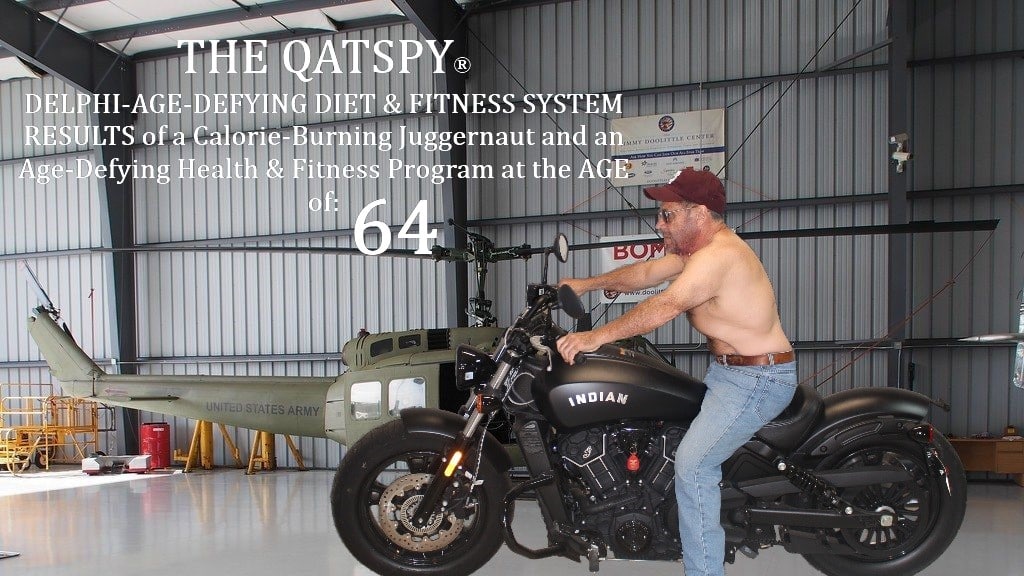 Our TOP GUN: MAVERICK Nylon and Leather Flight Jacket Collection: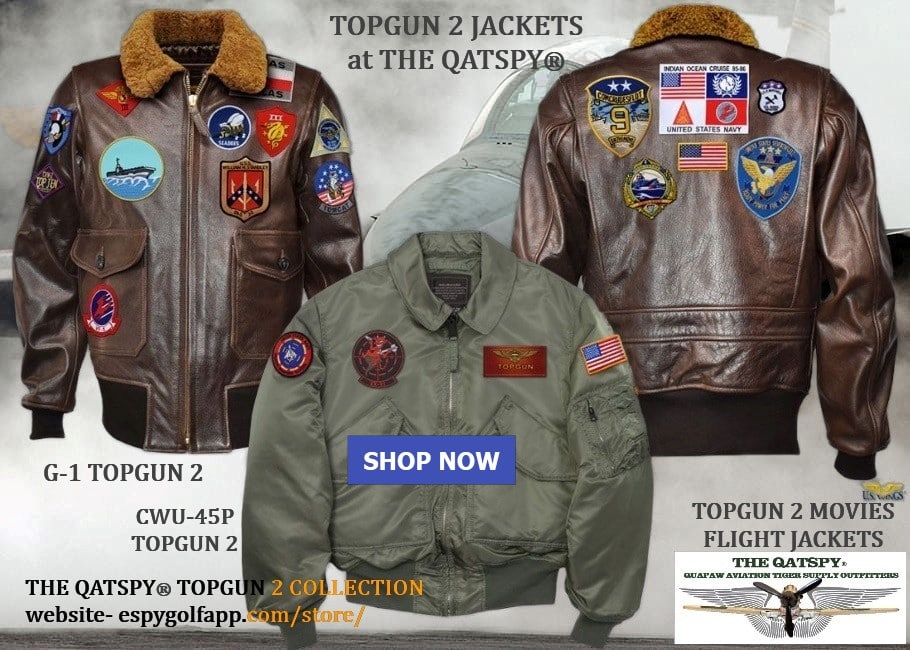 Our Quapaw Aviation Tactical Sportswear Collection: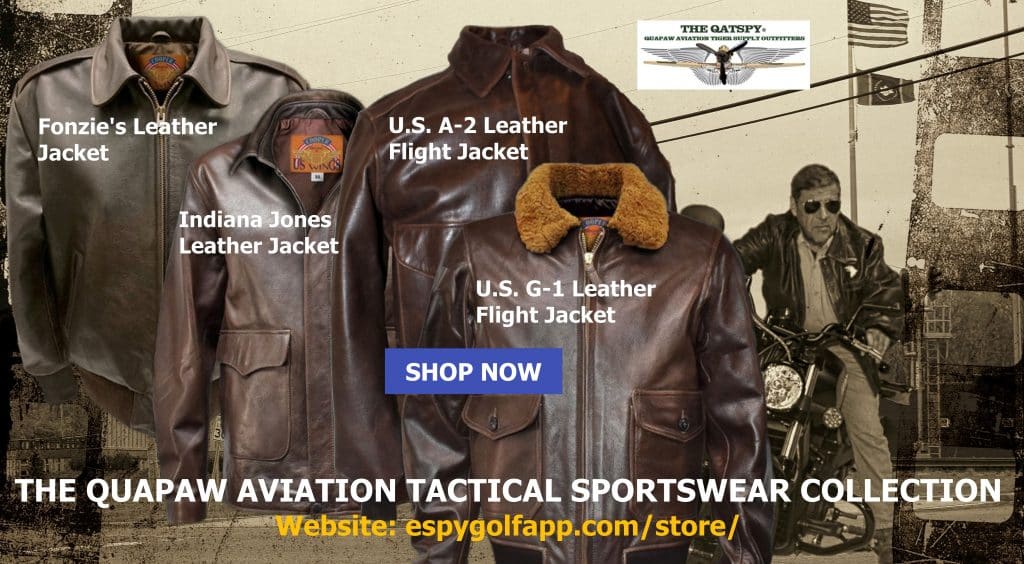 One of the young ladies that works for us takes her health and fitness seriously! Starting a health and fitness program while you're young pays off in a huge way later on in life. One way is because the healthy habits are easier to maintain later on in our life, once you have that mindset. Heather has modeled for us over the past four (4) years. Below is just an example of her work that she does: