THE QATSPY® The Yankee Perspective Synoptic of The American Quarter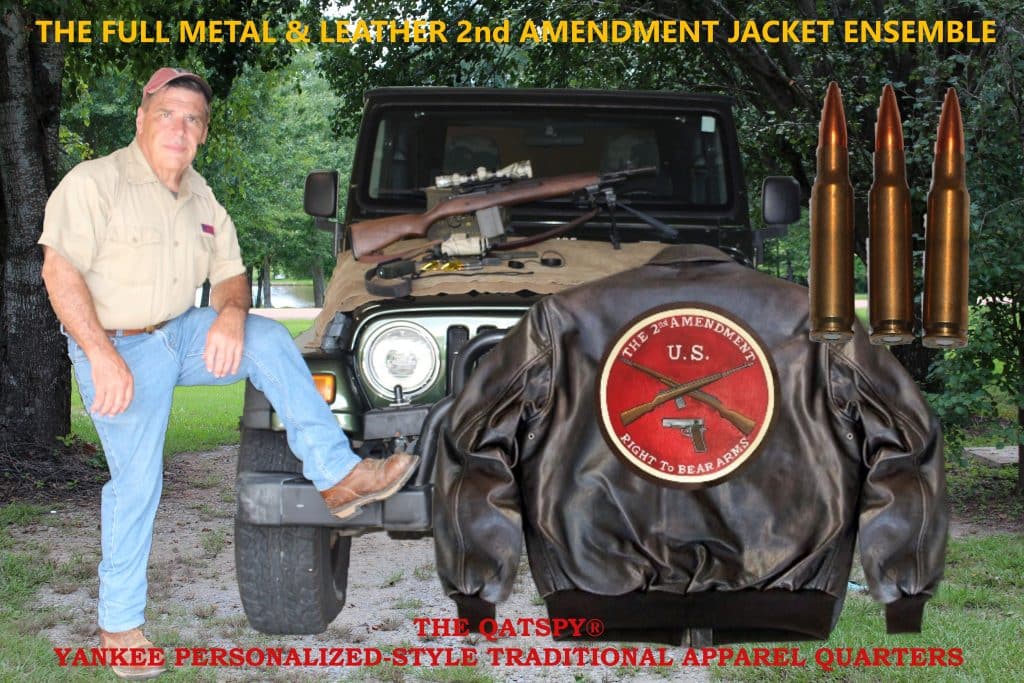 By: Charles W. Boatright
The Full 2nd Amendment Leather Bound History, American Heritage to the Right to Bear Arms to Defend & Protect our Liberties and Freedoms in the Pursuit of Happiness
In reading the 2nd Amendment of the Bill of Rights, consider how the Framers wanted our government to be formed and function for us the people. We the people are to exercise power over our Government, and not the Government exercising its power over its people. Government derives its power from its people.
At the time of the drafting of the Bill of Rights, there was a New Jersey Governor who wanted to deny the people the right to bear arms in order to exercise control over the people. During Reconstruction after the Civil War, even the Supreme Court wanted to deny African-Americans the right to bear arms to protect their right to peacefully assemble and be able to integrate into a free society and have a voice. This was a Court Case in 1876, U.S. v. Cruikshank.
Bearing Arms is essential to protecting our rights and exercising our, the people's, control over such an overreach of our Government.
The Minutemen that composed part of the Continental Army
The Continental Army wasn't totally a standing regular Army, Navy, or Marines protecting our Sovereignty that stands today. The Continental Army of George Washington's time mainly consists of civilians that worked on farms, in shops, blacksmiths (the modern-day machinist and welder), and businesses in small towns across the colonies.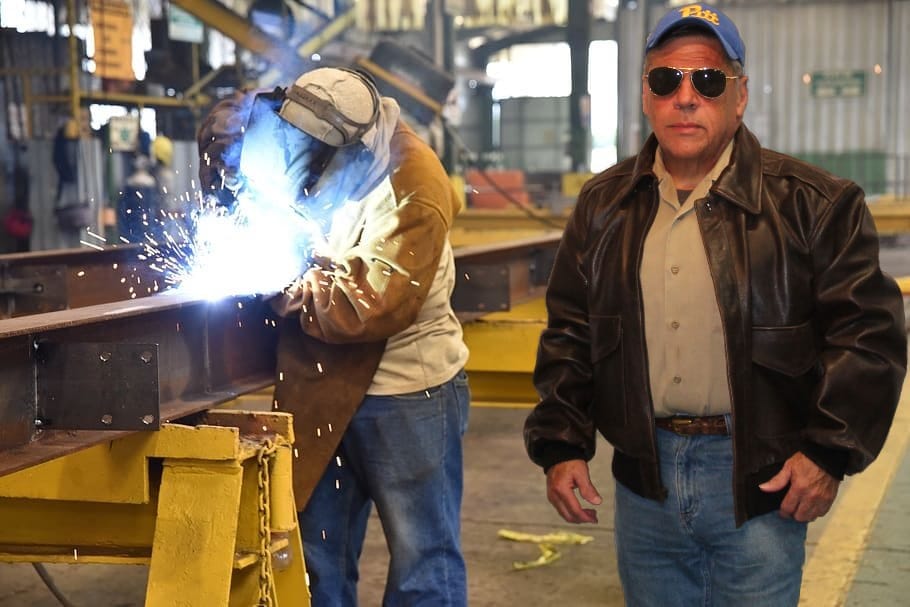 These citizens, referred to as Minutemen, made up a significant part of the regular army fighting against the British, using their own firearms for independence from an oppressive British Monarchy, King George. The 2nd Amendment addressed both the need for militia and civilians both to have the right to bear arms for security, as stated below:
A well regulated militia, being necessary to the security of a free state, the right of the people to keep and bear arms, shall not be infringed.
When you read the Bill of Rights one needs to read it in regard to the individual.
The term Arms in the 18 century referred to knives and swords as well
Some people incorrectly read and apply the 2nd Amendment as the need for a militia ONLY to bear arms. But fortunate for us, we have the Federalist Papers of what the Framers intended by including the 2nd Amendment. Just as King George used the militia to impose his authority over the people, both James Madison and Alexander Hamilton saw the need of a standing militia, but just as important for the citizen to have the right to bear arms to protect their individual rights, family, and property from a foreign or domestic power, especially a domestic power. There was no doubt this was Madison and Hamilton major concern.
The Federalist Papers was a collection of writings from James Madison, Alexander Hamilton, and John Jay of articles that they wrote for newspapers to inform the people of the intent and need for the U.S. Constitution and Bill of Rights. The balance that Madison and Hamilton was weighing was the need for an uniform, well-trained Federal and state militia to protect the colonies and coastline from foreign powers. But just as important, if not more so, are the rights given to the people to protect themselves from an overreaching Government, seeking to violate the rights contained in the other Amendments, and especially the 1st Amendment.
In order for Democrats to form either a Socialist and/or a Marxist form of Government, the Democrats have to take power from the people and invest it with a centralized Government. The only two ways that they can achieve this is to provide social security proposals that is temporary to the people in exchange for the Government seizing control over the people. The second was to impose strict gun control laws on how the courts during even Reconstruction interpreted the 2nd Amendment as well as now in our current times.
Hamilton and Madison were just as concerned that local and Federal Governments would use the militia to impose their will over the citizenry and denied their right to assemble and their right to self-govern, as they did in Britain, the very reason colonist lift Britain, to start a free life from a overburden Government. In 1876, there was a court case where a fraction of the Democrat militiamen used violence and intimidation to deny African-Americans the right to assemble, protect themselves, and have a voice in their government.
It was ruled, INCORRECTLY at the time, that the 2nd Amendment applied only to the militias, THAT'S WRONG. How in the world could you interpret that from what James Madison wrote AND the right of the people to keep and bear arms, shall not be infringed. The answer, YOU CAN"T! It is obvious that this was the wrong ruling of the 2nd Amendment, influenced mainly by people who still supported segregation. The 2nd Amendment applies to citizens equally.
A correct ruling was issued in 2008 (District of Columbia v. Heller) and again in 2016 by the Supreme Court. It stated that a person had the right to bear arms and NOT ONLY pertain exclusively to the militias.
The term arms refers to knives and swords as well. The 2016 (Caetano v. Massachusetts) ruled that a women had the right to protect herself with a stun gun from an abusive man case came before the Supreme Court. Possessing a stun gun was considered illegal in the State of Massachusetts (a Blue State), as the Supreme Court ruled that a stun guns, like knives and swords, were considered arms, and were protected under the 2nd Amendment. The Supreme Court overturned the Massachusetts law forbidding citizens from Possessing stun guns.
The Segregation Mentality that Existed both in the Legislative and Judicial Branches During Reconstruction
You see, after the Emancipation Proclamation, signed by President Abraham Lincoln (Republican), and during Reconstruction, there wasn't an eagerness of people to abolish segregation in the south, much less granting equal rights, to previously held slaves. Mainly in Democrat-controlled states in the South resisted the efforts to integrate African-Americans into a free society that ALL MEN ARE CREATED EQUAL. This existed well up into the 1960's, with efforts by Democrat Governors to oppose desegregation and Civil Rights. Desegregation was specifically opposed by Governors Orval Faubus (AR) in the case of the Little Rock Nine, Ross Barnett (MS), and George Wallace (AL) all Democrats.
So now you wonder why Democrats are always talking about proposing legislation to deny the people the Right to Bear Arms. The 2nd Amendment is the very rock foundation that gives us the right to self-determination Liberty, Freedom and the pursuit of Happiness.
In Shakespeare's, Julius Caesar, in Act III Mark Antony speaks at Caesar's funeral–
Friends, Romans, countrymen, lend me your ears.
I have come to bury Caesar, not to praise him.
The evil that men do lives after them;
The good is oft interrèd with their bones.
So let it be with Caesar. The noble Brutus
Hath told you Caesar was ambitious.
If it were so, it was a grievous fault,
And grievously hath Caesar answered it.
So, in regard to Mark Antony's speech at Caesar's funeral referring to those that suppress other with grievous ambitious, their deeds will live far after them and is lift to others to remedy with more costly pain and sulfuring. It took a Civil War to remedy what the U.S. Constitution started, but men failed to adhered to- That all men we created equal that they are endowed by their Creator with certain unalienable Rights, that among these are Life, Liberty and the pursuit of Happiness.
To support the 2nd Amendment, I designed the 2nd Amendment Patch that can be sewn onto your jacket or our A-2 Leather Flight Jacket, shown in the featured photograph :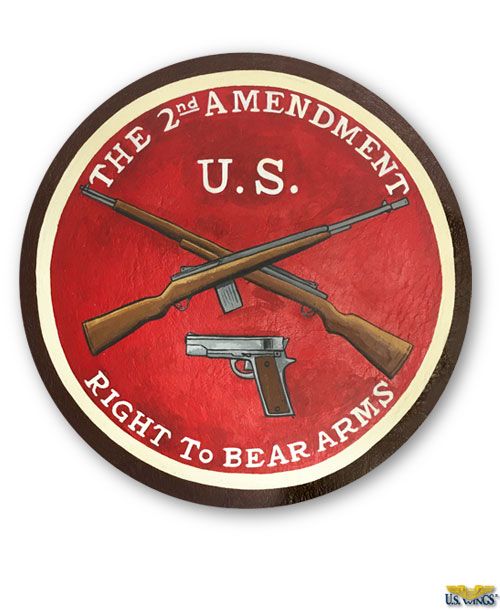 Sponsor By: THE Great QATSPY® Yankee Personal-Style Traditional Apparel Quarters Fit-to-a-TEE Look and FEEL
An Authorized Dealer for US WINGS® We are HERE to get you inside the Leather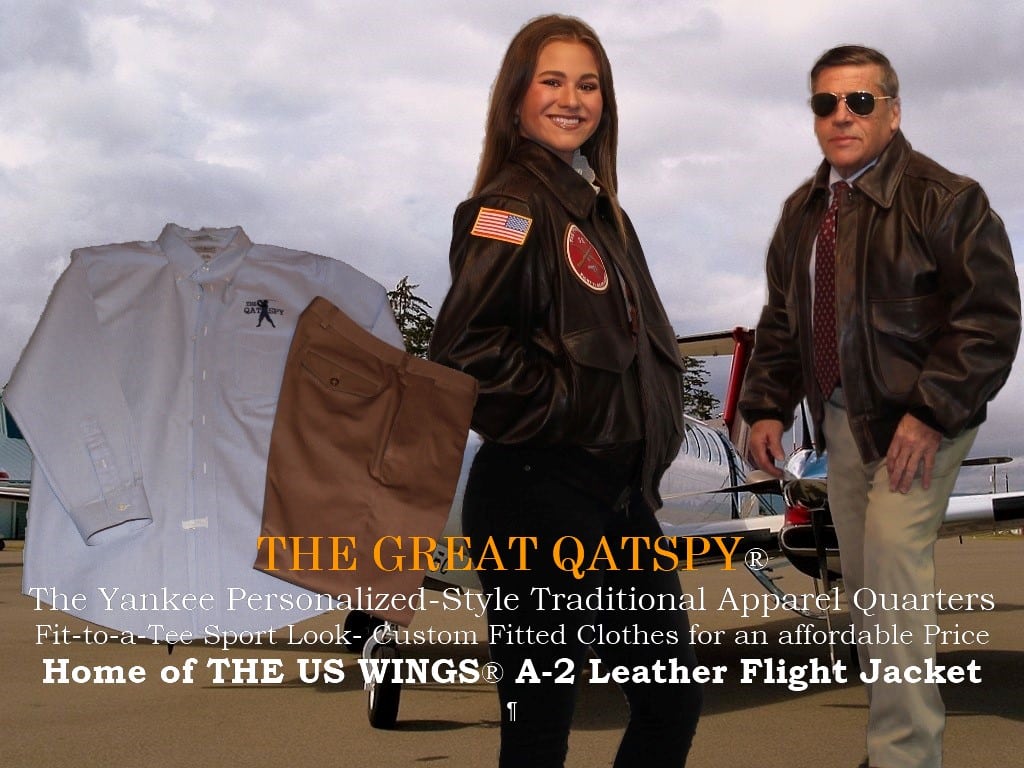 THE Great QATSPY® Online Store carries a variety of clothing apparel items that are selected, based on their quality and personalized-style that offers that traditional and classic look. We carry the full line of US WINGS® leather jackets that are great substitutes for the traditional wool-blend Sports Jacket that can be excellent breeding surfaces for bacteria and viruses.
Our US WINGS® Leather Jackets can be simply sanitized and cleaned with a simple solution of dish detergent (1 teaspoon) mixed with water (8 oz.) used to wipe down our leather jackets as needed during the course of the day. I'm an authorized dealer of the US WINGS Leather Jackets. DO NOT USE ALCOHOL to wipe down your leather jacket!
These make great formal and leisure jackets for men and women to wear with slacks or just simply blue jeans. Our US WINGS® Leather Jackets can be worn as the new sports jacket for business and formal wear or for the weekend and these are durable enough for the open road or open skies.
Our Leather Jackets or your jacket can be accented with the Motorcycle Rocker Patches that will make it that distinctive jacket that will attract attention everywhere your travels take you. We can also personalize your Leather Jacket with your group, organization, or company logo with hand-painted art work.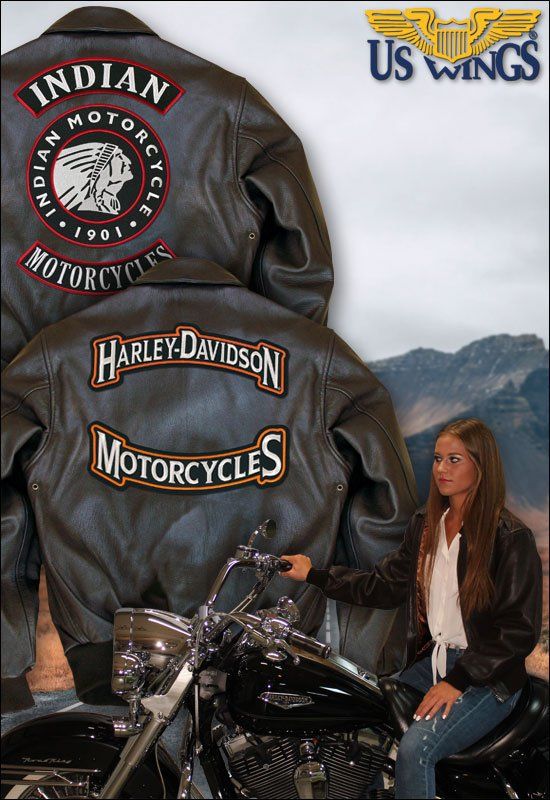 THE Great QATSPY® also carries that custom-tailored sport look of Button-down Oxford shirts made with 5.5 oz. per yard of cotton that can be ordered with neck sizes ranging from (14″ – 17.5″) and Sleeve length from (32″ – 37″). To complete your classic look, we also carry custom-fitted Chino Khakis pants with waist sizes from (30″ – 44″) and specified inseams from (26″ to 36″) in quarter-inch increments. These are as classic as the 1963 Chevrolet Corvette is.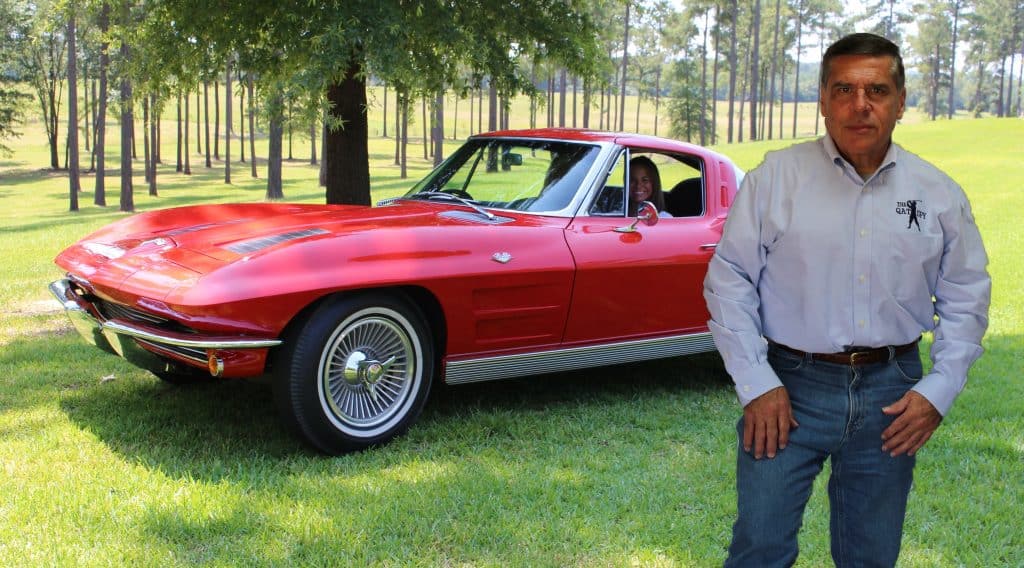 There is nothing that has the classic, custom look and style as our US WINGS® Leather Jackets, worn with our custom-fitted Button-down Oxford Shirts and Chino Khakis pants or your comfortable blue jeans. You will be properly dressed for any occasion, whether for the weekday or weekend and be comfortable.
We supply our US WINGS® A-2 and G-1 Flight Jackets to the U.S. Military. Our US WINGS® Leather Jackets meets all Military specs. You can't purchase a better leather jacket that will last you a lifetime.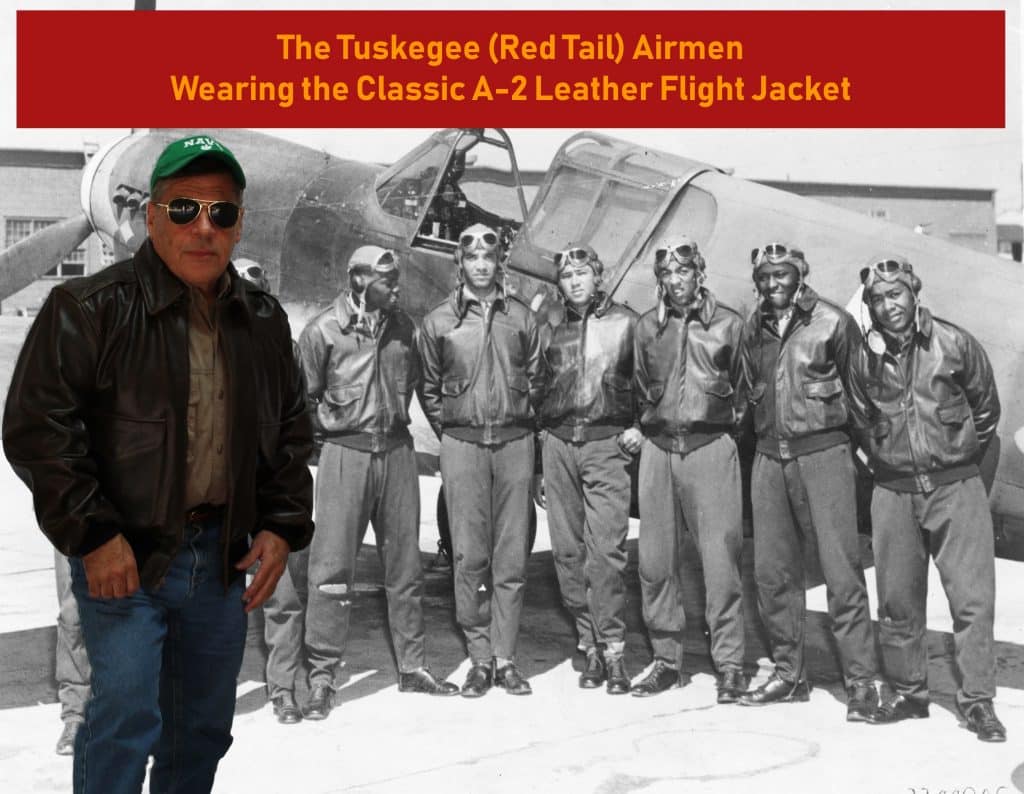 We also carry three (3) other style of our leather Jackets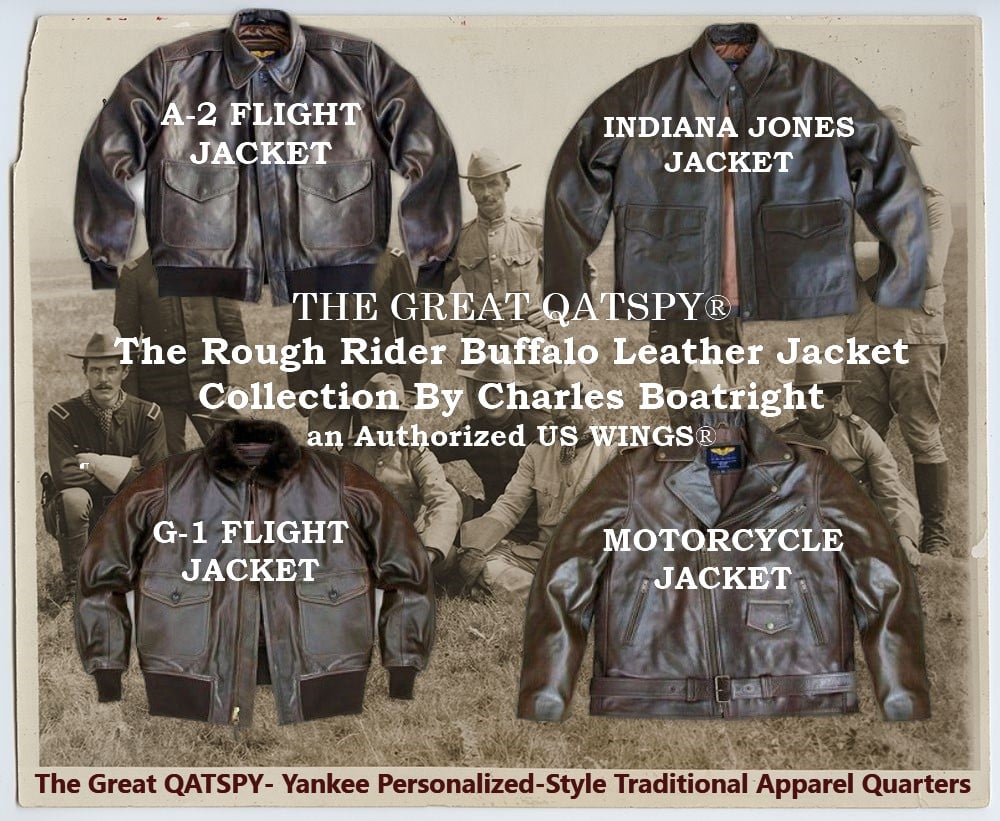 Replica Nose-Art & Patches of World War II A-2 Leather Flight Jackets For Veterans
We were commissioned by a family of a WWII Veteran for his 95th birthday to custom make an exact replica of his A-2 Leather Flight Jacket that he wore while serving on the Boeing B-17 Flying Fortress. Jim Harley hand-painted the exact replica of his 8th Air Force, 510th Bomb Squadron, and 351st Bomb Group patches with his "Woodchopper's Ball" B-17 hand-painted on the back panel.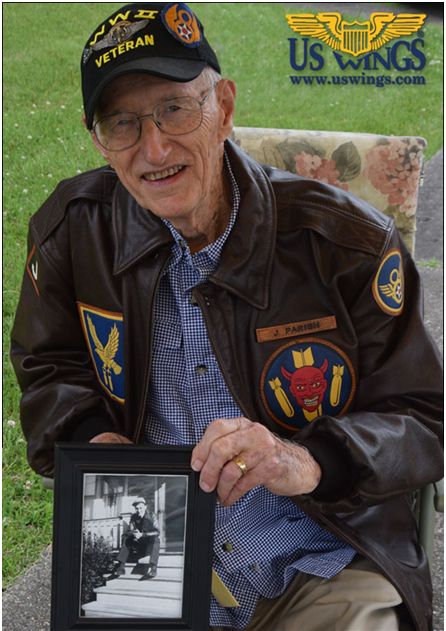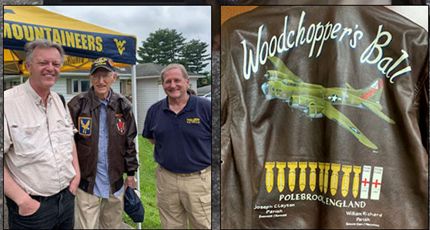 Review your Options below of Nose-Art hand-painted on our A-2 Leather Flight Jackets:
The photograph above is Jim Harley, nose-art artist, and Bob Kruty, Vice President of US WINGS®, personally presenting the hand-painted nose-art with the leather patches to the World War II Veteran at his home on his birthday.
We specialize replicating A-2 and G-1 customized hand-painted leather flight jackets with patches and aircraft artwork based on the very same flight jacket developed in 19030's. We still supply these A-2 and G-1 to the U.S. Military today.
The US WINGS® Indy-Style Leather Jacket we Supply to Walt Disney World Theme Park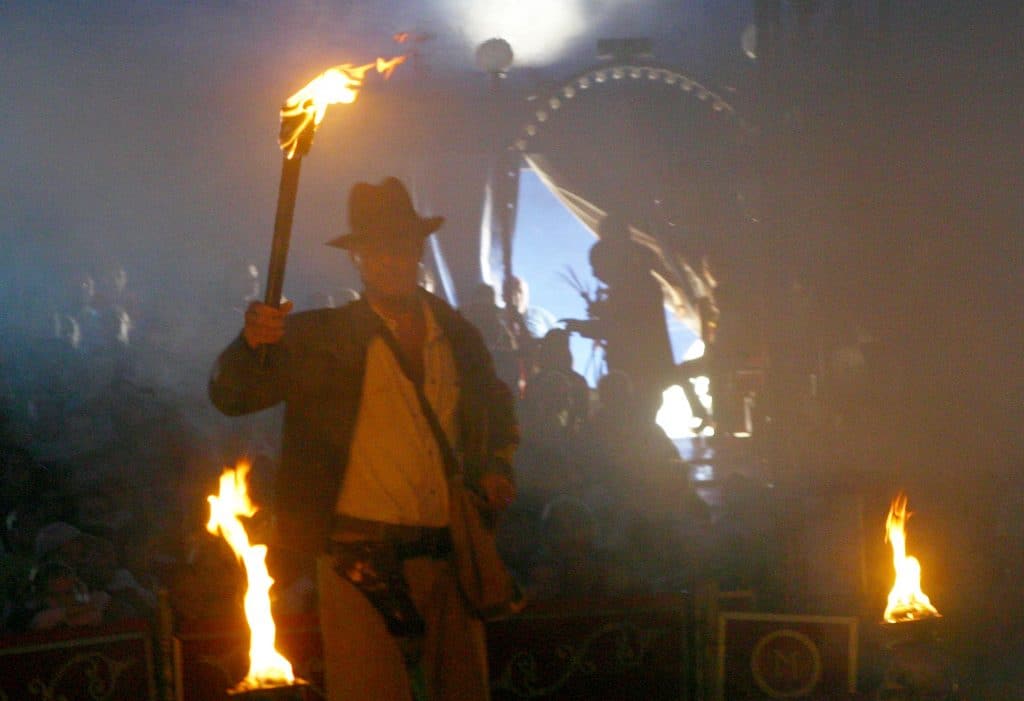 <Indiana Jones Epic Stunt>
We also supply Walt Disney World Theme Park with the Indiana Jones Cape Buffalo jacket that Disney World uses in their daily production of the Indiana Jones Epic Stunt Spectacular seen by thousands each week. Disney chose the US WINGS Indy-Style Jacket for its authenticity and durability to hold up to their production schedule.
TOP*GUN Nylon Flight Jacket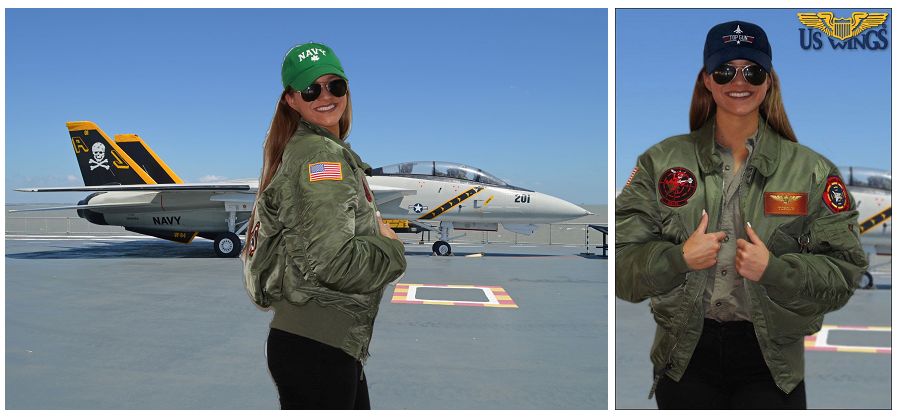 We carry the Replica of the TOP*GUN 2 Movie CWU-45P Nylon Flight Jacket that Maverick (Tom Cruise) is wearing in the second Movie below. This jacket has the authentic TOP*GUN Patches that are supplied to the TOP*GUN School Navy Strike Fighter Tactics at The Navy Air Station Fallon in western Nevada. It moved from Miramar in 1986.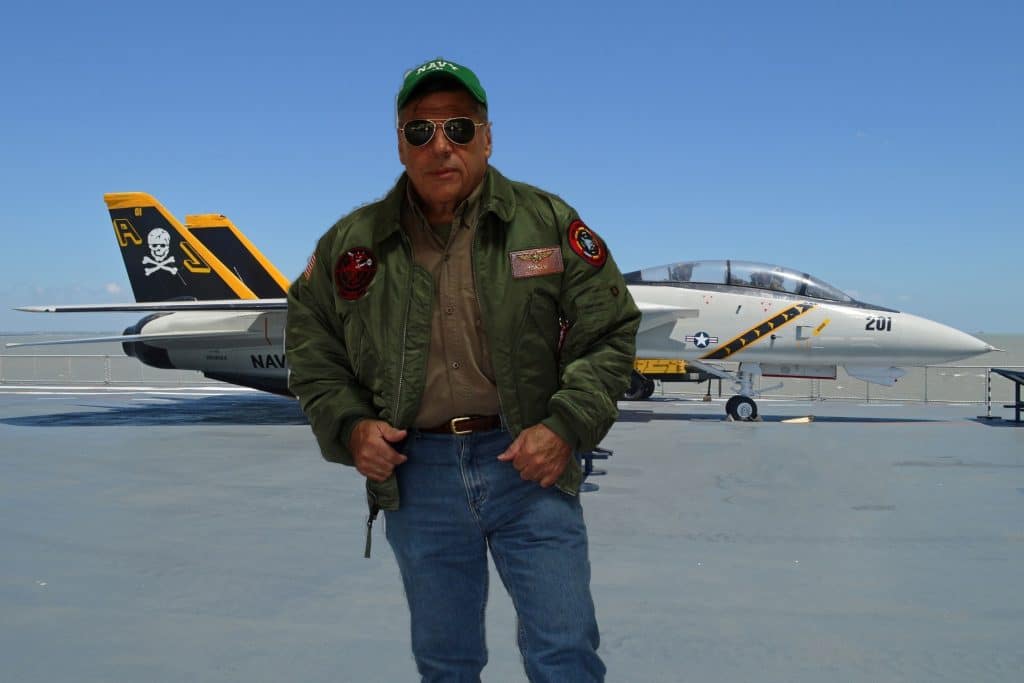 TOP*GUN Trailer