THE QATSPY® Quapaw Aviation Tactical Sportswear Performance Yellowstone Outfitter Company An Authorized Dealer & Distributor for US WINGS®
Your best style that you can have is your Health and Fitness that allows you to be comfortable and confident in what you do and wear, even in your mid-60's, as I am!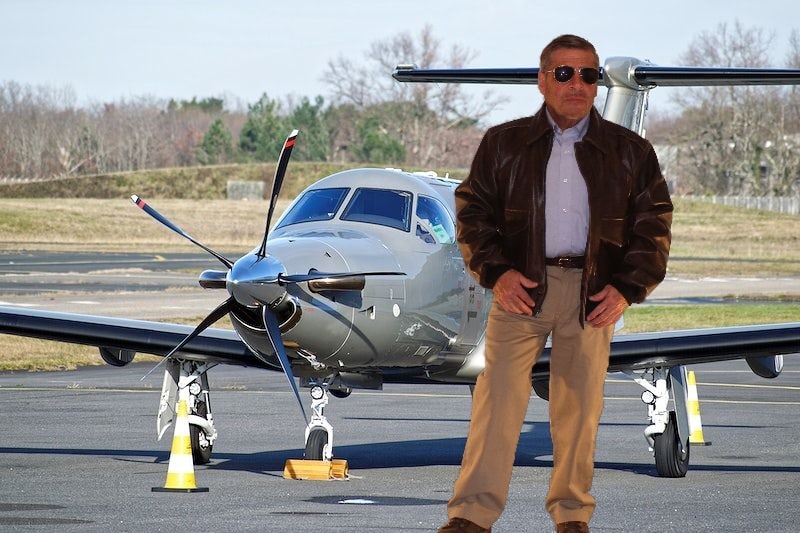 By: Charles W. Boatright
Style Criteria Determines What You Wear and What You Purchase: Our closets are proof the stark contrast to the clothes we buy & actually wear
From past experiences, even my own, we gravitate more toward personal styles rather than fashion trends. We often choose particular styles and colors that project our personality that allows us to feel comfortable and confident. My style is Classic 40's that includes Chino khaki A-2 Leather Jacket, pants, and a button-down Oxford. This is one reason I still enjoy watching Indiana Jones Movies, due to that Indy's style.
The history behind Khaki, Chinos, and the Indiana Jones' Leather Flight Jacket: Khaki, Chinos, & Indiana Jones-Style Leather Jacket.
Major part of our comfort and confidence in our styles pertains to two areas- our personality and our physique. Our choices in these two areas project our style preferences, based on four categories- Classic, Casual, Sporty, Practical, or Professional. The Sporty category includes- outfits for participating in a sport, attending sporting events, or a fitness workout.
The Stark Contrast between what Clothes We Buy and actually Wear
Our physique probably has the biggest impact on causing the contrast between clothes that we actually wear and clothes that we purchase that we don't often wear. Our closets offer proof that the clothes we purchase are in stark contrast to the clothes that we actually wear, day-to-day that represent about 20 percent of the inventory in our closet(s). The clothes that we actually wear are governed by five criteria of fit concerning: the neck area, torso, legs/glutes, and particularly the waistline area. The Waistline, without a doubt, receives the most attention by us and others.
Retailers of clothes are very much aware of these five critical areas in mind when they set up their displays and do their photoshoots focusing on the neck, torso, legs/glutes, and waistline fit. Particularly in photoshoots, the health and fitness of the model is paramount in these five areas. These five critical areas are what cause the largest contrast between the clothes we wear and clothes we leave hanging in our closets or folded up in our drawers, based on fit, more than style or occasion.
Improve Your Personal Style & Fit with Your Health & Fitness
But the good news is that we have direct impact on these five critical areas of the neck, torso, waistline and the legs/glutes with improving our overall health and fitness. Our health and fitness contributes to our confidence and comfort level that enhances what clothes we are wearing. You can actually transform your entire approach to your style by improving the fit of those clothes and expand the clothes selection to those other 80 percent of your clothes in your closet(s) and create even more confidence in your style.
That includes shorts, pants, or shirts we would like to wear, but our neck, torso, waistline, and legs/glutes limit the comfort level of wearing these, due to the fit and look. In my case, I had some great chino khakis and button-down oxford shirts that I wanted to wear, but due to my waistline, torso, and neck, I couldn't get the fit or look that I wanted and still feel comfortable wearing.
After I got back on my diet and fitness program at age 57 after four (4) knee surgeries and a hip replacement in my early to my mid-50's, I dropped both pounds and inches in my neck, torso, and especially my waistline and firmed up my legs/glutes. I went from not wanting my photo taken to modeling my sportswear items in my Online Store.
Now at age 65, I have a waistline, torso, neck, legs/glutes, and complexion that I had in my early 30's. My current waistline is 29- inches and my neck size (16- inch) is what I also had in my early 30's. In high school and into my mid 20's, I was a power lifter and developed my upper body that can be challenging to have clothes to fit the way you want them to, even now in my mid-60's.
I'm Not Only Wearing the Clothes that I'm Confident and Comfortable with, But I'm Modeling them, as well
Not only am I wearing those chinos and button-down oxfords that I wasn't comfortable wearing, but I'm able to model them as part of my sportswear that I carry in my Online Store, THE QATSPY®. THE DELPHI DIET & CAST FITNESS System that has allowed me to regain the neck, waist size, and firm up my leg/glutes condition and complexion of my skin that I had in my early 30's, but now at age 65. The most critical critique of your fitness, like your neck, torso, waistline, and legs/glutes, will be accentuated by the lens of a camera and, believe me, the camera lens amplifies everything you wear.
The Importance of WHAT You Eat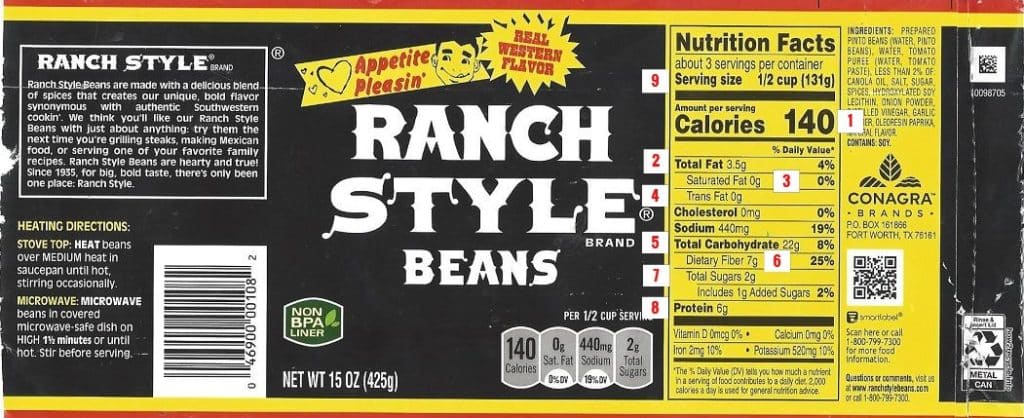 There is nothing difficult about following this diet or the CAST fitness program that I have been on since November of 2014. This is the same diet and fitness program that I followed, leading up to my early 30's, until my knee and hip issues flared up. The diet part is based on knowing how to read and use nutrition labels for foods that have a Health Index (HI) number at or below a 3.25 that identifies the perfect food for our health and fitness.
The Health Index number is the WHAT component for selecting menu items that are high in protein, fiber, and Omega 3 elements, but low in sugar and especially the hidden sugar (starches). The other problem with starches is that are laced with salt that makes them even more tantalizing. The Health Index number of 3.25 or lower are foods that turn your body into a turbocharged-calorie-burning-juggernaut that allowed me to drop 6.0- inches in just nine weeks. I dropped a total of 9.0- inches over nine and 52- pounds within (9) months, where I'm at presently. Refer to my Waistline Chart below: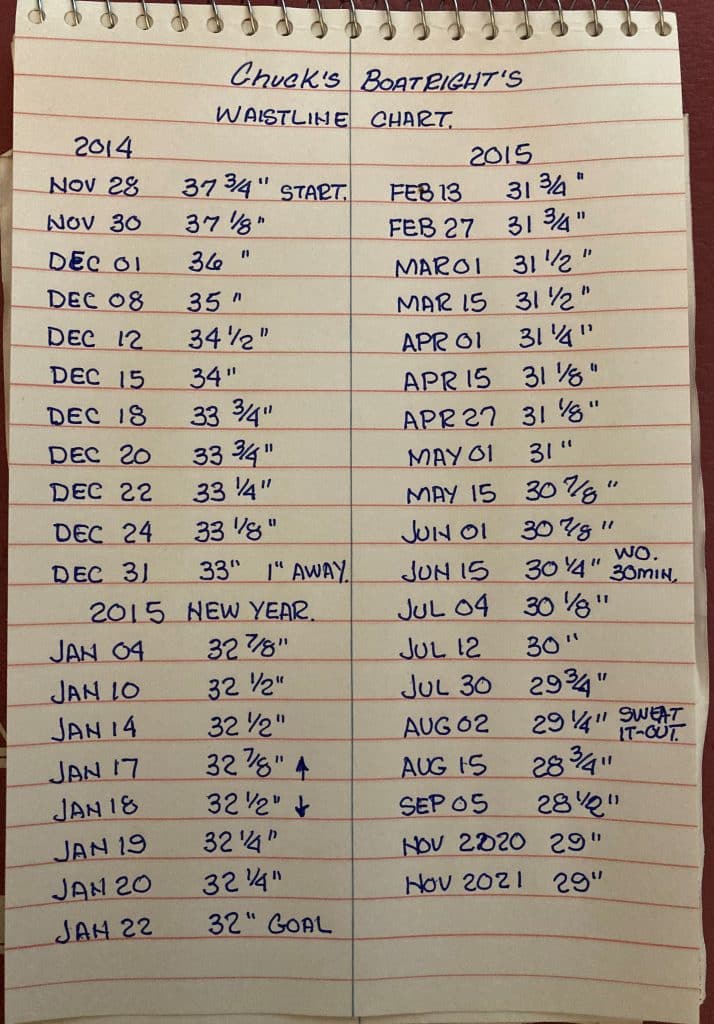 The Importance of WHEN You Eat
The other component of the diet is WHEN to eat. You want to eat your meals between 9 a.m. and 6 p.m. This had the biggest impact on me dropping my weight, inches, and best of all, 30- years off the condition of my skin; look at my photograph taken January 07th, 2023 in our hangar, below. Eating past 6 p.m. interferes with your body's natural ability to repair and rejuvenate your skin at night while you're asleep. Just remember- Nothing good ever happens by eating past 6 p.m. to your health and fitness, for several reasons, your weight is just one factor. When you eat has a huge and a direct impact on your BIG THREE (3) vital numbers- Blood pressure, Blood glucose, and Cholesterol levels.
Even if you don't purchase THE DELPHI DIET & CAST FITNESS System for $8.95, do this one thing; have all your meals between 9 a.m. and 6 p.m. and please start a fitness program regimen and stay with it.
John Tesh on the Benefits of Eating before 6 p.m.
The WHEN that I had my meals was substantiated by John Tesh that was a major part of my age-defying fitness and contribution to my complexion at age 65 and to have skin that I had at age 32. John Tesh, on his radio show, Intelligence for Your Life, sighted a Cleveland Clinic report that aired on May 11, 2022, that discussed the age-defying health benefits of eating before 6 p.m. This is a huge component of your diet and I have proven it in my photograph, below, taken in our hangar on January 07th, 2023, where I'm 65 years old.
Now for Fitness– The Benefits of Working Out
The CAST Cardio-Aerobic and Strength Training Fitness component firms up, conditions, and tones your body and skin by working out using Cardio-Aerobic and Strength Training. Please don't just focus on your Cardio and Aerobic workout and not do your strength training. Strength training is what firms up and tones your muscles and your skin.
Stronger muscles contribute to stronger and firmer skin. Between my diet, fitness, and my active lifestyle, I have found an age-defying process that is better than purchasing expensive skincare products that come in a tube or jar. Below was a photo that was taken on January 07th, 2023 while at our hangar, where I'm 65 years old.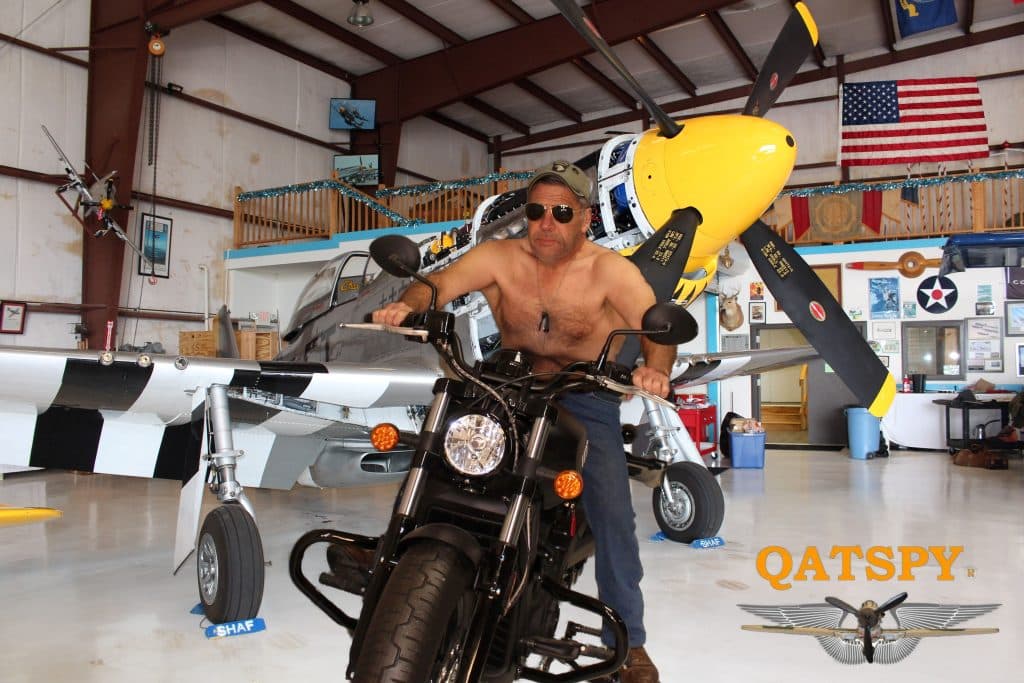 If your DIET & FITNESS Program works this well as indicated by my AB Challenge photograph above, then you need to stick with it at age 65!
You'll Drop More than Weight, Inches, and Years off Your Skin by following the DELPHI DIET & FITNESS System
I dropped more than just weight, inches, and years off my health and fitness, I dropped my blood pressure (115/65), blood glucose (Non-Fasting 112), and cholesterol (Total 178) levels, as well. I have three monitors at home that I use to check my three numbers every week.
Even at age 65, I'm not on any prescribed medication and better yet, I'm able to model my sportswear as part of my CAJON-Style Quapaw Collection. What is a huge advantage for me is that I'm available to model my sportswear collection almost anytime and I work very cheap. Below, was an AB Challenge that I did on January 07th, 2023, when temperatures were in the upper 60's. This was a lot better that the temperatures were just two weeks earlier on Saturday, December 24, 2022, in the lower 20's. Not exactly motorcycle conditions for riding.
Below is my DELPHI DIET & CAST FITNESS System with training videos on KINDLE for download for $8.95, along with my CAJON-Style Quapaw Collection:
My CAJON-Style Quapaw Collection: