THE QATSPY® Quapaw Aviation Tactical Sportswear Performance Yukon OUTFITTERS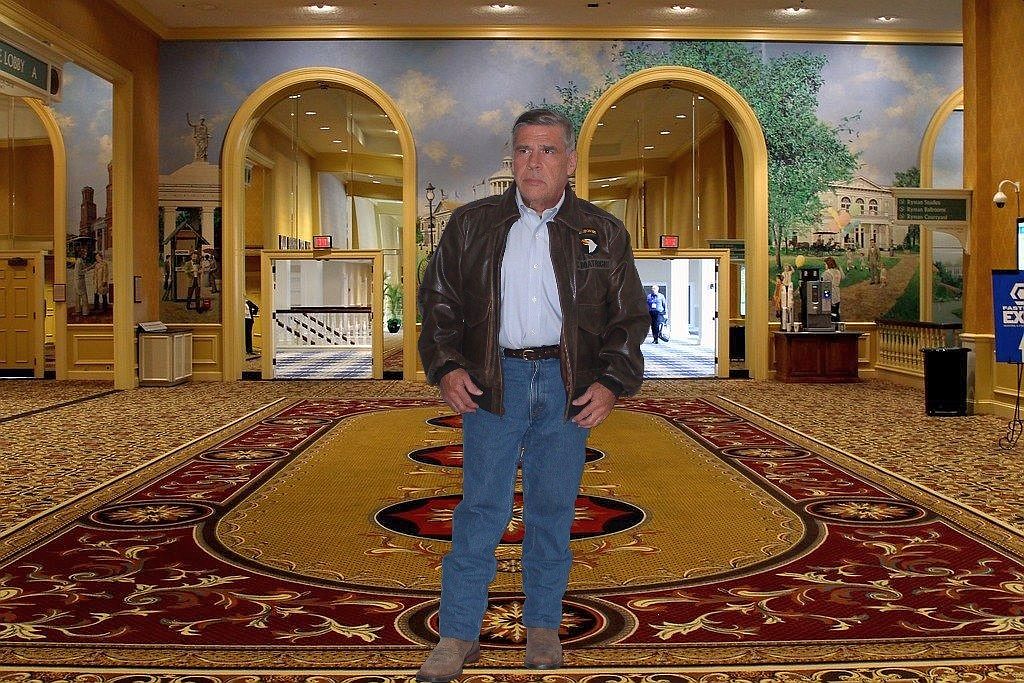 By: Charles W. Boatright
Rethink Holistic as Part of Your Fitness– Holistic is the healing of the Entire Person- Mind, Body, and Soul, rather than Symptoms & Diseases
When we think of Holistic Medicine, we often think about natural approach to our health care; but we might not include with Holistic Medicine the importance that DIET and FITNESS play in our health care, as well. What is even more important is how inexpensive following a healthy DIET and FITNESS really is and the huge dividends that you receive from following a healthy DIET and FITNESS routine!
You don't have to have expensive exercise equipment to have an effective fitness program. Below, in this article, I have a photograph of me working out on a boxing bag in my Home GYM with all the basic exercise equipment that I use.
Holistic has been a part of the medical lexicon since 1926 as an Evolution approach to improve the delivery of quality care to people, not just to heal the body, but more importantly, improve our quality of life. Holistic medicine incorporates the body's ability to repair and rejuvenate itself based on natural processes, including one's diet and fitness that play a major role.
There's little doubt that one's diet plays a huge role in one's health and fitness as we age. Our diet is composed of about 80 percent of our total health. A person's diet can help them avoid the common issues, especially as we age– e.g., obesity, hypertension, diabetes, high cholesterol, cardiovascular diseases and certain cancers. Your diet that is high in protein, fiber, and Omega-3, but low in sugars and starches can play a large component in our Holistic Health Care.
But there still remains another part of Holistic Health Care that doesn't get a lot of notice or recognition that is just as significant and has a direct impact on our health. It is our diet and fitness that should include strength and conditioning, even for those over the age of 60. We all should have at least 2.5- hours of moderate exercise per week that includes Cardio-Aerobics and Strength Training.
Fitness is a Significant Part of Holistic Health Care
I listen to radio shows that discuss the topic of Holistic Health Care as part of our medical care options that often don't stress the fitness component nearly enough. As the term Holistic is based on the Greek word holos meaning whole, or in this case, the whole body approach to our health care that should include diet and fitness. But a major part of our health care should include strength and conditioning fitness training, along with our diet.
You would be surprised at the medication that you could avoid having to be prescribed and the money you could save if diet and fitness were included into our total health care approach at an early part of our lives. I typically model my line of sportswear during the year, on August 13, after we did a photoshoot for our line of leather jackets. I did an AB Challenge for one of my diet and fitness articles to show the benefits of my diet and fitness. Below is a photograph taken in our hangar with a P-51 Mustang, like the one Tom Cruise flew in TOP GUN: Maverick and like the one that appears in Lady Gaga's video soundtrack Hold My Hand: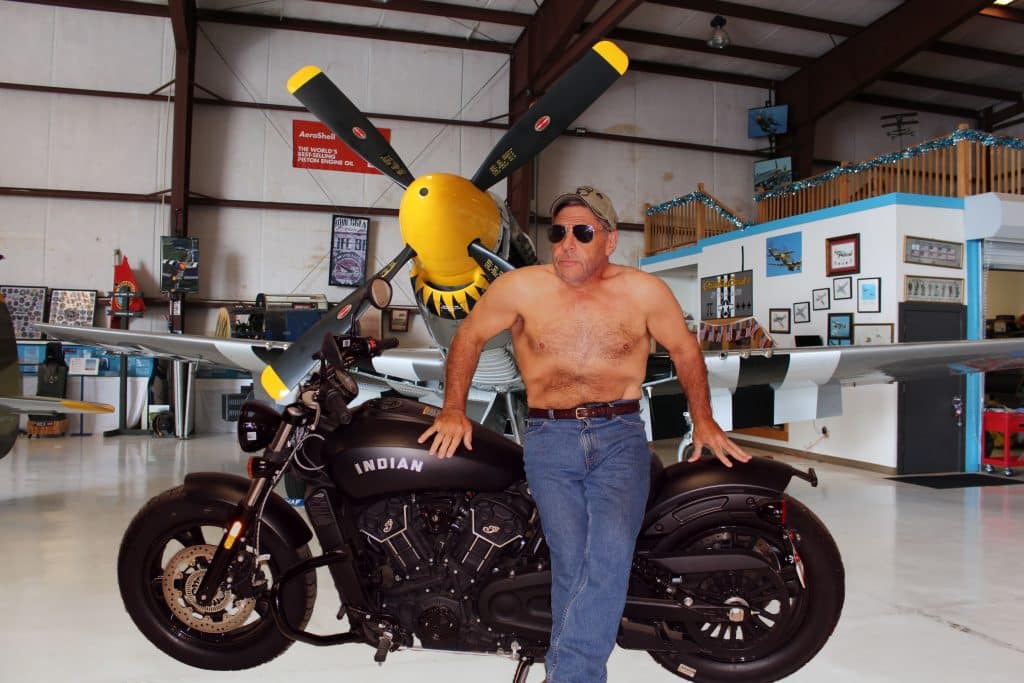 A well-designed fitness program actually addresses our entire health care including body, mind, and soul. There is a direct correlation between heart health and mental and spiritual health. What benefits the heart we also see as evidence that this benefits the mind and our soul, as well. Fitness is just as important to our soul as our body and mind.
If I were to list all of the benefits gained from a well-designed diet and fitness program, I would be listing bullet point after bullet point that would take up a significant part of this article. I will just list a few major big hitters from a well-designed diet and fitness program, below:
Turns the body into a calorie-burning juggernaut.
Allows the body to burn your food as energy, instead of storing it as fat.
Burns the stubborn belly fat around the waistline.
Reduces your risk of certain cancers.
Reduces your risk of cardiovascular diseases.
Reduces your risk of diabetes.
Reduces your total cholesterol level.
Reduces your hypertension.
Improves your quality of active lifestyle.
Improves your quality of sleep.
Improves your immune system, especially as we age.
Reduces inflammation and risk of Alzheimer's and Dementia.
Provides the best fashion statement, which is your fitness.
Provides the biggest benefits, an age-defying condition of the skin.
The Key to a Healthy Diet and Fitness is to Start Early
If you are a parent, I strongly encourage you to get your son and/or daughter involved in sports and especially develop a positive attitude toward their diet and fitness. Most of the topics concerning Holistic Health Care center on our diet, but when you are talking about the entire body approach, fitness has to play a major part in our health care, as well.
My uncle was telling me a story many years ago about his neighbor who had Diabetes who just retired. He started walking and strength training that allowed him to overcome his diabetes issue. I was in my 20's when my uncle told that story to me. It caused me to double my focus and efforts on my diet and fitness. I started my personal research project by finding foods that allowed my body to metabolize my food more efficiently as energy, instead of as storing it as fat.
From this research, I was able to use the standard Nutrition Labels on food items to develop what I call a Health Index (HI) factor, that is the WHAT. I managed to drop 45 pounds and 6.0 inches in my waistline, within 9- weeks for starters. I finally lost 52 pounds and 9.0 inches over the next seven months, where I'm at now, going on 7- years at age 65. The other Factor was WHEN I ate, between the hours of 9 a.m. to 5 p.m. If you go to John Tesh's website, you will see an article that refers to the benefits of not eating past 6 p.m. for better-looking skin and health.
So, it is NEVER TOO LATE TO START a Diet and Fitness program, but the sooner the better, for optimum results as we age. Think of your diet and fitness program like your 401(k) plan, but for your health as you age. Believe me, your body will thank you when you start benefiting from a diet and fitness program. Don't limit your fitness to typical Cardio-Aerobic workout, but include boxing bag workout element, as well. In my Home GYM I have an 80 LBS Boxing Bag and workout using kickboxing gloves. Below shows me in my Home GYM working out on my bag:
Home GYM Fitness Program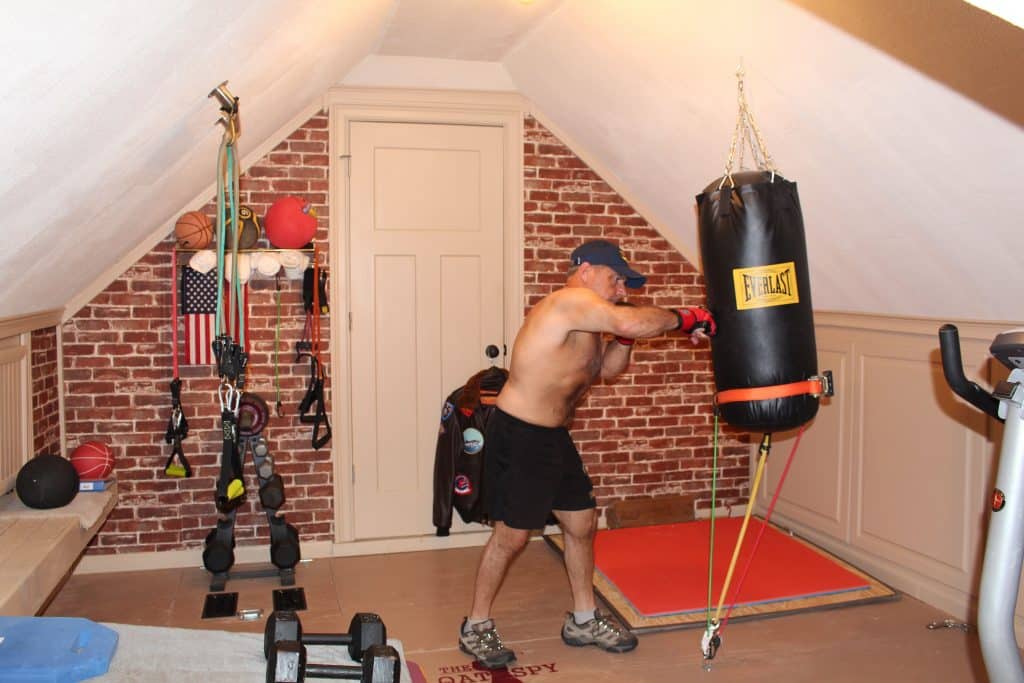 I Dropped More than Just Inches and Pounds
After the initial 9- weeks of following my diet and fitness program, I also dropped something totally unexpected, as I dropped years off the appearance of my skin. A diet that is based on a high protein, fiber, and Omega-3 diet, but is low in sugar and starches, helped me to drop years off the appearance of my skin, where I had skin that I had in my mid-30's at age 65. Refer to the feature photograph and below when I rode my INDIAN Motorcycle to Starkville, Mississippi, to visit with friends on game-day on September 24, 2022.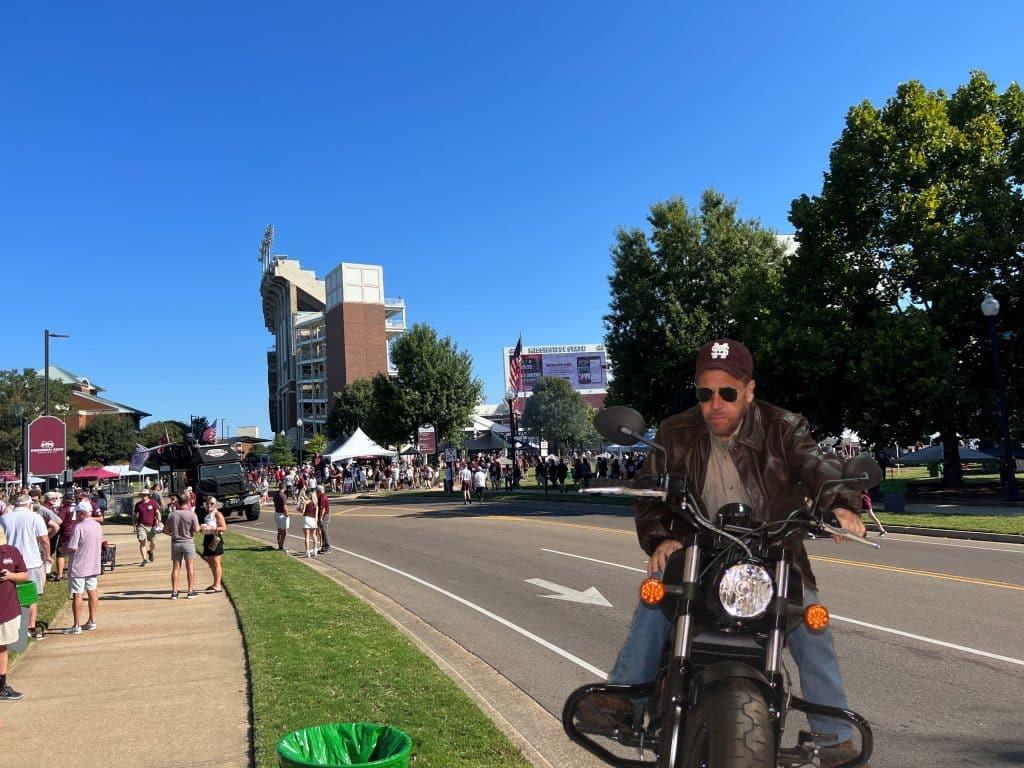 It is one thing to feel fit and healthy; but it is a totally different matter to look decades younger and have your clothes look and fit better, as well. When you consider Holistic Health Care, just don't consider your diet and natural medicines, but include a strength and conditioning fitness program, as well.
I have included my diet that I developed and still follow, along with my strength and conditioning fitness program in my book that is now on KINDLE entitled: THE DELPHI DIET & CAST FITNESS System. This DIET & FITNESS System has allowed me to look and feel, as if I'm in my mid-30's at age 65. Use the link below to purchase:
THE QATSPY® Quapaw Aviation Tactical Sportswear Performance Yukon Outfitters Collection provides the style that you are looking for in business and for the weekend with friends. Whether you're wearing khakis or blue jeans, our leather jackets include the authentic flight jackets that we provide the U.S. Military. These jackets provide the style for any occasion you are looking for:
THE Quapaw Aviation Tactical Sportswear Yukon Outfitters Collection