The QATSPY® Inside the Leather PRESS BOX Interview Series
A Special Conversation with Noah Newman, The WJTV-12 Sports Director in Jackson, Mississippi,
Noah was named Sportscaster of the Year 2022 by NSMA (National Sports Media Association)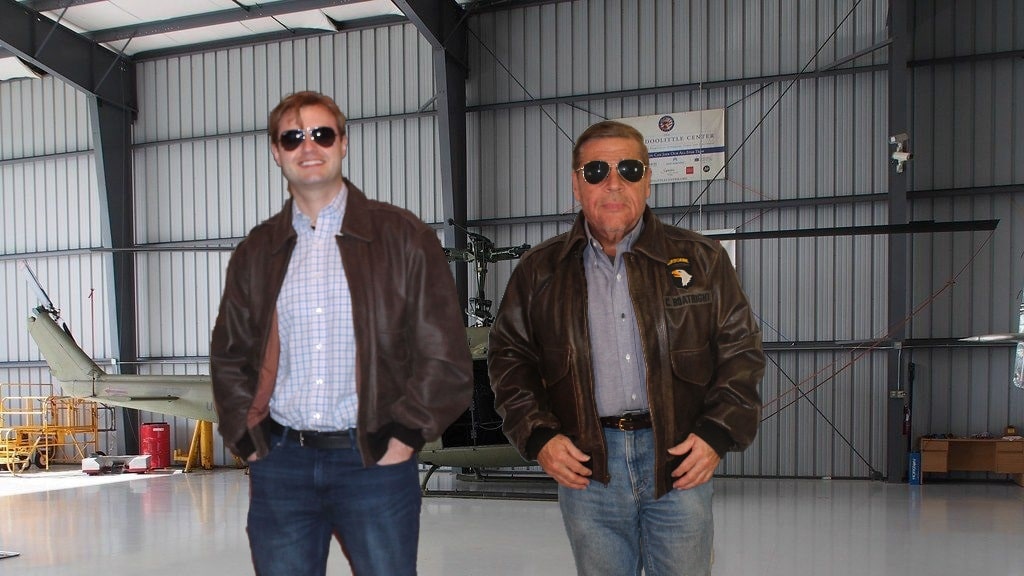 By: Charles W. Boatright
Press Box Highlights from Noah Newman- Sports Director with WJTV-12 in Jackson, Mississippi Takes a Seat in the Press Box for a Play-by-Play
Write UP from my Interview with Noah Newman on Tuesday, February 08, 2022
One of the best techniques that I have learned doing interviews is to initiate an interview with an ICE BREAKER– I started the interview off telling Noah Newman that I wasn't heavily recruited by college basketball teams coming out of high school, being that I'm 5 ft – 6-in. The ICE BREAKER works very well in giving speeches, as well. It put your guest and you at ease!
I had the privilege of sitting down with Noah Newman in our hangar, a Sports Director and Broadcaster with WJTV-12 Television Station, here in Jackson Mississippi, on Tuesday, February 08th, 2022. This interview was timely, especially since Noah is from Ohio and Joe Burrow, Quarterback with the Cincinnati Bengals, grew up in Ohio, and is playing in Sunday's NFL Super Bowl.
Noah being from Ohio where Joe Burrow grew up and went to high school and college (The Ohio State University), before transferring to LSU where he helped LSU win a National College Football Championship. I have always been intrigued about Ohio and the people and what Ohio companies produce and the number of U.S. Presidents that are from Ohio, as the list is impressive, not to mention athletes. This is the main reason that I wanted to sit down for an interview with Noah Newman.
Noah is wearing our US WINGS® A-2 Leather Flight Jacket that is also manufactured in Hudson, Ohio that we carrying in our hangar outlet store at The QATSPY® that pilots and the U.S. Military personnel wears. This makes a great Sports Jackets as well for tailgating or enjoying games.
Noah Newman's Background
Noah is from South Euclid, a suburb of Cleveland, Ohio and attended Hawken High School where he played baseball and also called baseball games. This was Noah's first job, apparently it was in Noah's DNA to be associated with sports. South Euclid was also where Bob Feller lived that played and was a pitcher with the Cleveland Indians, below was a photograph of Bob Feller after he retired from baseball. So sports was a passion of Noah's, even at a very young age that continues to be part of his profession as the Director of Sports at WJTV-12 Television Station in Jackson, Mississippi. WJTV-12 is a CBS affiliate Station.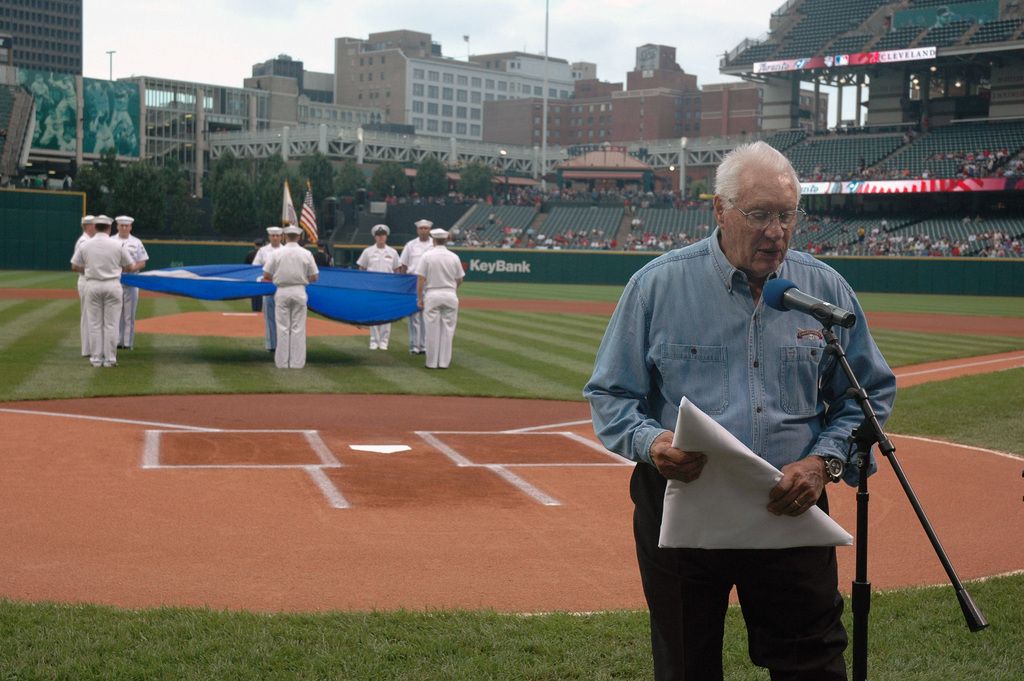 A former boss of Noah's in Ohio came to WJTV-12 from a Television where Noah worked and invited Noah to become part of the sports team at WJTV-12, where he would be covering the SEC, one of the main sports conferences in College Sports. That was an attractive offer to cover the SEC for Noah Newman to not take advantage of an be on one of sports biggest stages. This position was previously held by the late Rick Whitlow, and TJ Werre. These are some of the best in the business of sportscasting.
While covering all of the high school, college, and professional sports that is his profession and passion, baseball is Noah's sport that he likes to cover the most. Noah had what he considers an opportunity of a lifetime when he was able to travel to Omaha, Nebraska and cover the 2021 College World Series, where Mississippi State University (MSU) Bulldogs won a spot to be one of the eight elite teams to travel and play in what is the Super Bowl of College Baseball. In the Super Regionals, MSU played and beat out a very good Notre Dame Baseball team at Dudy Noble Field, home of the 'Left Field Lounge.' I had my photograph taken at the Left Field Lounge to mark the special occasion right before MSU was to hold their Championship parade.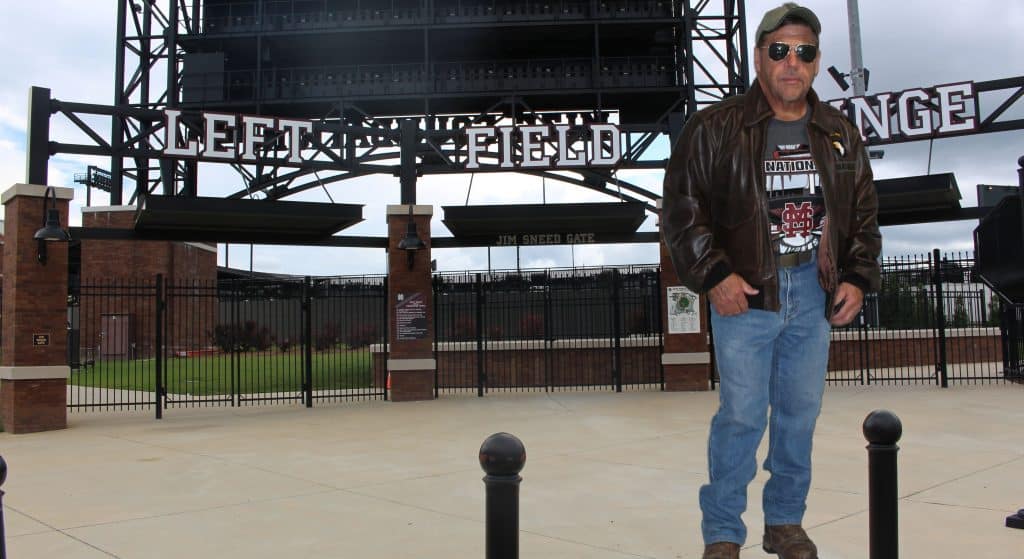 Like most young kids growing up in the pre-video games era, he spent his spare time playing football, 3-on-3 basketball, and sandlot baseball outside during every hour that we could squeeze out of each day. That was the method that we in this era got our fitness. Noah now gets his fitness doing calisthenics that includes pushups, pull ups, and setups, similar to the Herschel Walker fitness program. This is another reason why sports is important to young people and young people at heart. You are never too old to start working out and be active in all parts of your life. Noah even recently did a story on a local man of 71 years old that does IRON-MAN Triathlons.
Noah, while in high school, played baseball because he didn't hit a growth spurt until after high school, so he gravitated toward baseball. Believe me Noah caught up to his height that he missed during his youth. He played baseball for the same reason that most of us do, because in baseball it didn't matter what your size, you could be Frank Thomas (The Big Hurt) 6 ft- 5 in 210 LBS or Ichiro Suzuki 5 ft- 11 in 175 LBS and still play at an effective and a competitive level.
Notables from Ohio
As we were discussing sports, Noah was talking about the best golfer of all time, my area of sports, and he mentioned four golfers– Arnold Palmer, Jack Nicklaus, Tiger Woods, and Bobby Jones, Sr. He like me favored Jack Nicklaus, not just because he was a native Ohioan, but because of his majors and longevity in professional of the sport of golf and what he and Arnold Palmer did for the sport of golf, before the era of Tiger Woods.
We discussed the difference in technology today with that of Arnold Palmer and the Jack Nicklaus era with that of Tiger Woods' era that has the benefit of strength training and a father that was in Special Forces. Tiger's father trained him (Tiger) with mental toughness that is 95 percent of all sports. Noah added that the mental toughness in Tiger Woods' case was a major factor in Tiger's success and with any sport. Mental Toughness is a major part of the current athlete's makeup and achievement.
Noah's Career Path
If Noah didn't pursue sports broadcasting as his profession, he would like to have something to do with animals, like a veterinarian or dog trainer, as he loves biology and medicine. Biology was Noah's favorite subject in school. If Noah wasn't a sports broadcaster, he would like to have taken courses in animal husbandry. He realized that medicine and biology would have been a tough field to take courses in. So he pursued a Degree in Media journalism and history from Dayton University.
As an offshoot of history, a major part of Noah's job that is vital to interviewing people, in and out of sports is a person history and bio. He emphasizes during our interview the importance of knowing the people that you are interviewing. Study their background and accomplishments, i.e., what their record is, if they have been named to certain awards, or the important games that they've played.
I related a story about Joe Iupe, told to me of a newspaper reporter that interviewed him (Joe Iupe) and not one time did they mention or ask him about being in the Mississippi Sports Hall of Fame, for his golf career. Noah stated that If a person doesn't do their research, and interviews an athlete the athlete will detect that and will feel disrespected that you didn't care enough about your job to do the background research.
After College, Noah's first job was doing play-by-play for Taylorville High School in Illinois for football, basketball, and baseball. Being an announcer and play-by-play guy is the most enjoyable part about his profession, even today. When Noah retires from being a sports broadcaster, he would love to pick up play-by-play again.
Noah did add, even being from Ohio, he has never announced a Hockey game, that in his humble opinion would have to be one of the most difficult sports to call.
What part of Sports Noah Likes the Most
But to be a good play-by-play announcer and/or sports broadcaster, there is a learning curve that is critical to one's development, especially going back and watching the early part of one's career starting out in announcing or broadcasting. But watching those tapes and videos, as painful as they are for a person to watch, this is critical to one's development and gaining experience.
On the other end of the spectrum, if Hockey is the fastest sport to announce. or call, Baseball is on the slow side where time between pitches, the announcer has to fill the air time with some intriguing information to keep your audience's attention. Noah mentioned that some of the best filler info is stats, players information, or how the outfield or infield will be playing each batters tendencies that includes pitcher's strategies for each batter.
Basketball is the easiest sport to call play-by-play for, because the players are the same on defense and offense, the action is continuous and has very little down time to fill in with trivial information. You just turn your brain on and get into the zone and go with the flow of the game.
Just an observation and suggestion to those interested about getting into sports broadcasting, shadow someone that has called games for a period of time and learn everything from them you can. Never pass up an opportunity to learn from those in the business. I just listed a few tips that Noah provided during this interview for those interested in sports broadcasting. And please do yourself and your listeners a favor, avoid crutch or gap words. These are very distracting from your broadcasting.
Cincinnati, Cleveland to Mississippi Sports
Even though the Cincinnati Bengals are in the 2022 Super Bowl, BUT in Cleveland, if the Cleveland Browns ever got into the Super Bowl and won the Super Bowl, Ohio would erupt. Noah explained that he couldn't even describe the epic excitement in Cleveland and what northern Ohio would be like.
Joe Burrow, being the second year in his professional playing career in the Super Bowl after playing in and winning the 2019 National College Football Championship, would be the next level of excitement to Cleveland Browns winning the Super Bowl. Noah, after our interview, had an interview with Cam Akers, a Clinton, Mississippian that is playing for the LA Rams as Running back. So to have Joe Burrow and Cam Akers is a sportscaster's dream to report.
Noah commented that he has never been in a state, given its per capita population, that has produced the number of outstanding athletes that the state of Mississippi has produced in all three major sports. There are athletes from Mississippi that are under-recruited. Case in point of an under-recruited athlete is Jerry Rice from Starkville, Mississippi, where the only college that looked and offered him a scholarship was Mississippi Valley, Located in Itta Bena, Mississippi. I believe that Jerry Rice had a pretty good career in the NFL.
Noah on the College Football Playoffs and Expansion
If the College Football Playoff expands to eight (8) or 12 team playoff brackets, Noah believes that number ONE would still be playing number TWO in the finals. In regards to the 2022 College Football Playoff, he believed that Ohio State would have paired better with Georgia than Michigan did. But, no doubt, Georgia would have still won the matchup.
He (Noah) believed that if we had an eight team playoff, that Michigan would have been upset by one of those teams in an eight or 12 team bracket playoff structure. He went on to describe that if we do expand the brackets for the College Football Playoff, you should get closer games in the semi-finals.
Noah on the NIL and Transfer Portal Issue
The NIL
The NCAA's lack of action on responding to athletes' lack of ability to earn on their performance over the decades has caused the current situation to occur, The Wild-Wild-West. The NCAA didn't evolve with technology and times with the athletes ability to earn money or compensation for off the field activities that were so ridiculous that a player couldn't even be compensated even with a meal. With the current media technology for local businesses supporting their team, the athlete now can do endorsements and earn money for products they use or endorse.
The Portal
The good side of the portal is teams like Ole Miss don't have to rebuild every five years or so, and they are able to just reload plug-and-play four and five star athletes to avoid a down season, like this coming season could have been without the transfer portal for Ole Miss. The bad side is the unlimited season that athletes can use the Portal.
The Analytic Part of Sports
Background- Analytics philosophy that has impacted the biggest part of football of going for first down on fourth down. This is becoming more and more popular, even in college and professional ranks. The first institution to have started this was a high school coach in Little Rock, Arkansas at Pulaski Academy, by Coach Kevin Kelley, who is now a college coach.
This program was so notable at Pulaski that they played a local Mississippi team, MRA- Madison-Ridgeland Academy, where Coach Herbert Davis is the head football Coach, in the opening game of the 2021 football season. This game was so notable that ESPN televised the game. Going for First down has become part of the playbook In College and even in Professional football ranks that has made these games more exciting to watch.
Noah stated that this philosophy has made Football more exciting for the fans point or view, even Coach Lane Kiffin, Head Football Coach for Ole Miss, used it against Alabama inside Ole Miss' 40. Noah explained–Say you are on the 50 yard line with 4th and two. If you punt the ball into the end zone and no return, then the ball is placed on the 20, you are essentially giving up to the opposing offense 30 yards. But if you go for first down and get it, you keep your opponent defense remains out on the field and give your defense an additional time to rest. This also sends a signal of confidence in the team's offense.
Four and out, doesn't give your defense the critical rest time they need on the sidelines, especially where the name of the game now is speed with strength.
A Review on Penalties in Football
Noah discussed several penalties in Football that don't make a lot of sense:
ONE was the offense about to cross the goal line and fumble the football out of the End Zone; and the ball is placed on the 20- yard line, turning the possession over to the defense. Anywhere else on the field, the offense after fumbling the football out of bounds, would retain possession of the football. If anything, allow the offense to retain possession of the ball, but place it on the defense's 20- yard line at the next down.
SECOND is the dead ball foul penalty after a touchdown, where the penalty is assessed against either the kicking team or the receiving team on the place of where the football is kicked from. Noah discussed that the penalty should be assessed after the possession by the receiving team as a dead ball foul. Wherever the ball is caught or carried to on the field, the penalty is assessed from that point.
Statistics on Success of certain Play Calls:
During our conversation on sports in general, the following statistics were discussed about Football specifically –
· Onside kick has a 60% chance of working when not expected, 20% chance when expected.
· Going for first down on 4th and short has a 40% chance of working.
· Screenplay has a 14.2% chance of working. That's 1.4 plays in 10!
With analytics having a major influence in sports and decision-making, I wanted to get Noah's response to these three special play calls and their success rate-
The Onside Kick, Fourth Down, and Screenplays
Noah was surprised by the stats on Onside kick stats when unexpected and expected. On the four down stat, Noah felt like those were pretty good odds and agreed with them. Screenplay, in his opinion, was overused, because that only works effectively when the defense pass rush is destroying the offensive line. It causes the defense to divert from the pass rush outward to cover the wide receivers. And downfield blocking is critical for the screenplay to work.
The prime example where it didn't work was during the Bengals versus the Titans during the fourth quarter in the semi-final playoffs. The Titans had an effective ground game, driving down inside the Red Zone of the Bengals, as Titan's Quarterback, Ryan Tannehill through a screenplay to the right side that was intercepted that changed the outcome of that game and ended the Titans hopes of playing in the Divisional Championship game.
The Unifying Effect of Sports
Noah described that there were very few human endeavors that brought people of all backgrounds together, even opponents of sports are brought together. Sports unites people of different nationalities and languages to a common cause, to watch athletes compete on the field, court, or course.
And sports, unlike most other pursuits in life, can't be faked. You can talk about how individuals are going to perform in the office or on the job and conceal and disguise their record or their results, but in sports, an individual or a team can't fake performance. Sportsmanship is pure and has such a major influence on all parts of our life. This is the very reason the sports shows and broadcast are more popular that news shows and talk shows around news. Again you can't fake performance in sports.
Noah concur with what Reverend Billy Graham's stated about coaches, Coaches have more of an influence on young people's lives than even he (Rev. Billy Graham) had. It isn't difficult to agree with Rev Billy Graham.
Noah believes that coaches have an enormous impact on shaping young people's lives, in pursuing other professions outside sports. He totally agreed with what Rev. Billy Graham stated about coaches.
The Evolution of Sports and Especially Football Play Calling
The Wildcat–
Noah believed that the wildcat had given another dimension to the ground game that allowed the quarterback to avoid injuries, especially in runs option. The coach can even have the running back run option plays without jeopardizing the health of the quarterback, like in Darren McFadden, Felix Jones, and Peyton Hillis under Houston Nutt's era at The University of Arkansas Razorbacks Football. I told Noah, that I remember when most college teams ran the Wishbone-style Offense that Coach Darrell Royal devised in the late '60's. Today Army runs a form of the Wishbone-style offense to a very effective level.
Most running backs are accustomed to handling the football in passing or tosses on run option plays. Some might have even played quarterback in high school days.
The PROS & CONS of the Shotgun and Pistol Formations–
Noah believes that in short yardage that the shotgun isn't as effective as the quarterback or running back setting up under center is. The shotgun or pistol actually makes picking up short yardage more difficult, with the option of quarterback sneak or play action under center and running backs pushing or blocking and poking a hole for the quarterback to surge through.
During the Jackson State Celebration Bowl, JSU had 4th and short and lined up in a shotgun that they failed to gain first down. The only thing JSU needed to do was to line up under center and hand the ball off to a back.
Coach Deion Sanders' Impact on JSU and Metro Jackson Area
Noah stated that the Coach Deion Sanders Factor is a huge impact on athletes and in the community with his faith and belief have drawn players from across the nation to JSU, where Walter Payton played. Coach Sanders drew a top 5-star player from FSU to JSU.
The economical impact is astronomical, Noah stated that there was research done by WJTV-12, and the impact is in the multi-million dollar range flowing into the Jackson area. The other factor is Television time on ESPN that also factors in the economical factor and recruiting. Like Coach Kirby Smart stated in a press conference– Eighty percent of coaching is dependent on recruiting. No one can make an argument against that.
The Experience of Omaha, Nebraska with MSU at the College World Series–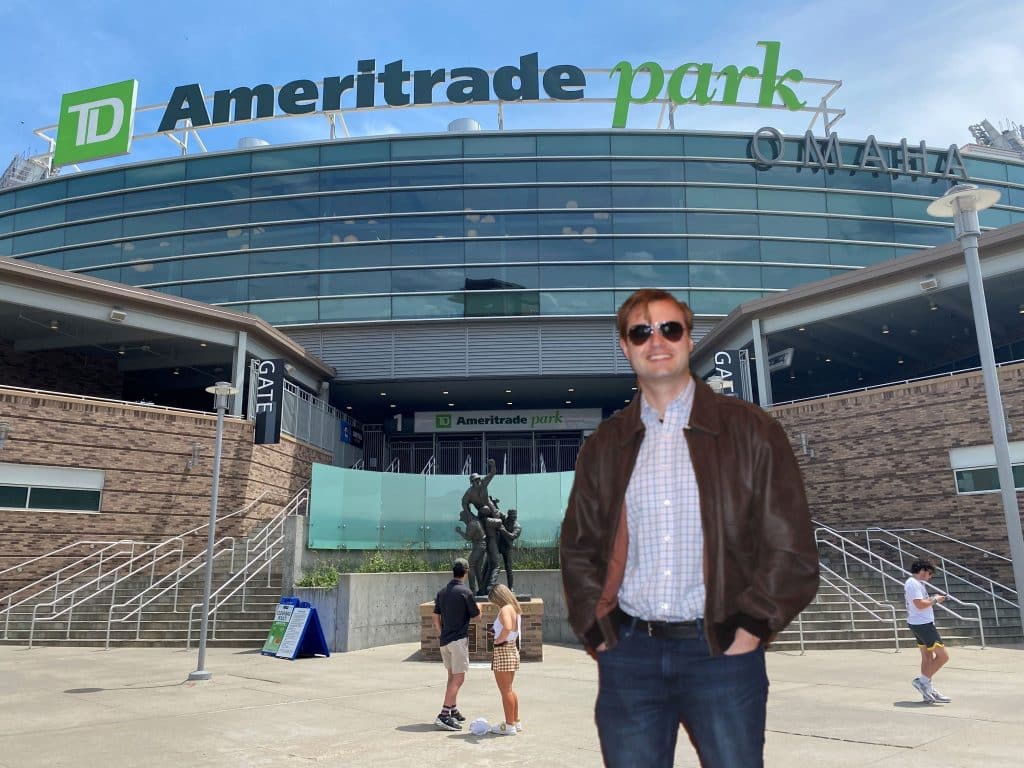 Noah ranked the Mississippi State Baseball Team's appearance at the College World Series to that of the Cleveland Indians winning the 2016 World Series. He has never covered a National Championship until the 2021 College World Series and recorded the spirit and energy from that was the most exciting Noah has ever experienced.
What was unique at the 2021 CWS was the COVID Restrictions that made him and his camera guy, Justin Burks, go out and interview fans at tailgates and the play-by-play announcers. And especially the bus driver that has been with the team for decades. They even got the MSU Baseball team sending get-well wishes to a lady that loves the MSU Baseball. Coach Chris Lemonis had his entire team stand in front of Ameritrade Stadium and wish this fan get-well-soon wishes that she watched from her hospital bed!
They also interviewed Rafael Palmeiro at the Omaha game and covered the Championship parade at Starkville, Mississippi that followed the Championship win
.
Noah actually stated that covering the 2021 College World Series win of Mississippi State over Vanderbilt was actually the biggest sporting event that he has ever covered.
I would like to thank Noah Newman for sitting down with me during our Press Box discussion and talking about the most favorite subject of SPORTS and its positive impact on young people and young people at heart.
Sponsored By: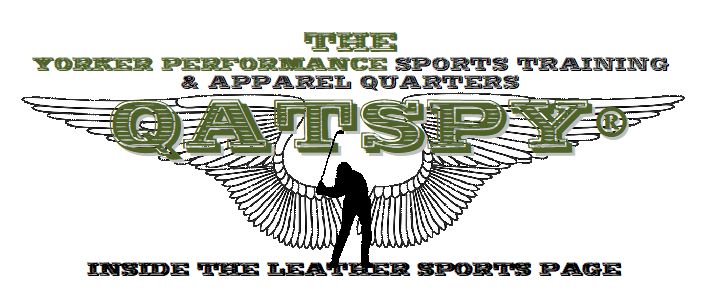 Coach's Press Box Play-by-Play Golfer's Tips & Techniques
How to use the Shot Clock in Your Golf Game to Hit more Fairways and Greens
How as simple as using a Shot Clock, Throw-down Home Plate and Batter's Box can develop a more Consistent Golf Game to lower your Handicap and Frustration Level in Your Golf Game. READ MORE BY SELECTING ON THE OVER VIEW of the Shot Clock Technique:
Website: espygolfapp.com/Store
1-888-514-1228
Contact:
Other Services that We Offer
Please contact us to arrange for a corporate golf Instructional outing, ■ How to take advantage of Sportsmanship and coaching techniques to apply it to your workforce and build a motivated team ■ and How to develop mental and physical fitness in the workforce for health and wellness. A stronger workforce is a better performing workforce.
My online store, THE QATSPY®, specializes in Sports performance apparel that offers both men and women clothing for the office and the weekend. I wear my A-2 Leather Flight Jacket traveling for business meeting clients and what I call my Buffalo Rider's Jacket. This A-2 Leather Flight Jacket offers that Charisma look for all occasions.
Promoting Your Business
There's is nothing that gets notice like our authentic our Leather Flight Jacket that we can personalize for companies, organizations, or individuals. Each jacket comes with its own spokesperson that knows your business. Our collection of Leather Jackets are better than business cards, but make sure that you carry plenty of business cards with you; because you will need them. We have a interior linear pocket where I carry my business cards.
THE QATSPY® AMERICAN CLASSIC LEATHER JACKET COLLECTION
The U.S. A-2 Leather Jacket has been a major part of our history (both military and civilian) since 1931 when the U.S. Army Air Corps developed and issued the leather flight jacket to pilots during World War II. A version of this iconic and classic A-2 Leather Flight Jacket became the persona of two legendary entertainers/actors- Fonzie in Happy Days and Indiana Jones in Raiders of the Lost Ark.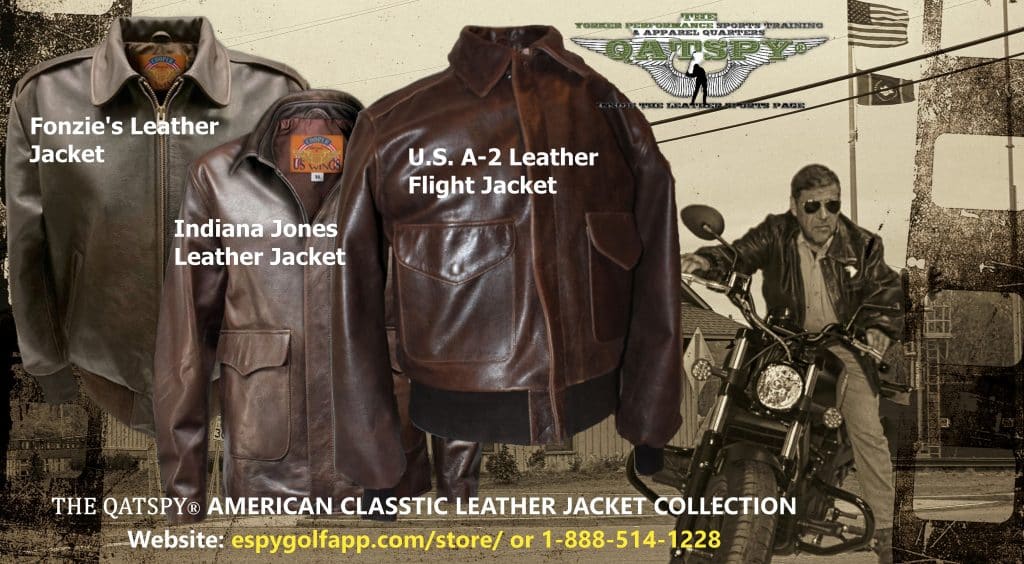 As Fashionable are our US WINGS® Jackets are, your best fashion is Your Fitness
In the photograph below, I'm 64 years old. This photograph was taken after we did a WINTER Photo shoot (18Jan22) for our line of US WINGS® Leather Jacket that I carry in our online store. We took advantage of an unseasonable warm January day in the mid-60's to do this photo shoot. The camera crew challenged me to an AB Challenge where I'm posing without my shirt. I credit my DELPHI DIET & FITNESS System for my physical condition, and the condition of my skin.