The QATSPY Golfer's Sports Page: Golf Swing Tips

By: Charles W. Boatright
Picture Perfect Preset Golf Swing Sequence to Work on During the Off-Season
The Tiger Woods 2017 Golf Hero World Challenge marks the unofficial start to the wrap-around season with a picture perfect made for TV golf tournament setting from Albany, Bahamas. This showcases 18 of the best professional golfers in the world. Not only did this showcase 18 of the best professional golfers, but Tiger Woods' long awaited return, after his fourth back surgery and rehabilitation.
Not only did Tiger Woods demonstrate to his fans that he is capable of playing golf on the world's stage again, but he demonstrated to himself that he could play competitive golf again at the highest level, without the physical, mental limitations or discomfort. Whatever your opinion of Tiger Woods, Golf owns Tiger Woods' recognition for the game's popularity and growth of the game since the era of Jones, Palmer, and Nicklaus.
Tiger Woods' major impact on golf started with his Masters appearance and win in 1999 to his outstanding performance at the 2008 U.S. Open. Tiger Woods won the 2008 U.S. Open in an 18-Hole playoff at Torrey Pines with Rocco Mediate. Tiger Woods was able to play beyond his physical limitation of a torn ligament, with a double fracture to his tibia, to win that tournament which was played on the following Monday.
Not since the Bobby Jones, Arnold Palmer, or Jack Nicklaus eras has golf had the popularity that it has during the Tiger Woods era on bringing people into the sport from all age groups, races, or gender. Believe it or not, Tiger Woods' absences is one of the reasons for the drop in golfers not participating in this lifelong game. I'm personally glad to see him back competing. At age 41, he has nine or more years left to compete in tournaments.
Golf Swing Sequence to Gain a Mechanical Advantage without Injury
The Hero Challenge Golf Tournament offered a picture perfect opportunity to see how Tiger Woods had to adapt his new golf swing sequence to his body after the Anterior Lumbar Interbody Fusion (ALIF) to fuse together two of his discs, L4 and L5.
You heard that An ounce of prevention is worth a pound of cure. You can apply this same concept to your golf swing mechanics. The golfer can take advantage of developing proper golf swing mechanics using a picture perfect preset golf swing sequence. It starts with syncing and presetting the golfer's wrists and lower forearm, using the simple Sync/Preset technique. In addition to the golf swing mechanics that Sync/Preset provides, this takes a tremendous torque off the golfer's lower back, while simplifying their golf swing sequence.
During this tournament, the commentators commented how Charlie Hoffman, who was leading by five, lost his synchronization in his golf swing to finish second behind Ricky Fowler. A great means to simplify and synchronize your golf swing mechanics is by applying the Sync/Preset golf swing technique by using the wrists and lower forearms.
I refer to it as the picture perfect preset golf swing sequence to improve your golf swing mechanics. This is a Finger Tip Picture Perfect preset golf swing technique, shown above, for the right-handed golfer. The golfer wants to perform, what I term, the CAM-OVER golf swing technique with their left wrist. They want to be able to see the index and middle finger tip in the Lock Position, shown in the above illustration.
One distinction the golfer must make to capitalize on this CAM-OVER golf swing technique is to identify their wrists. The wrists are not where one would wear a wristwatch or bracelet, for this is the lower forearm, or wristband on a pair of boxing gloves, as shown below.
Sync/Preset Golf Swing Mechanics Technique
David Duval gave an excellent interview with Charlie Rymer on presetting his wrists on the Golf Channel, in the early part of 2017. Charlie Rymer was so impressed with David Duval's golf swing when David preset his wrists, even before David took the handle of the club back or to the top of his golf swing. That is what Charlie Rymer called That Wrist Thing.
The golfer wants to focus on Presetting the left wrist, just above their left pinky, in a muscle called the Hypothenar. This will, in turn naturally sync the right lower forearm, or right wristband on the right boxing glove. There is an important tendon on the medial (in side) of the golfer's right lower forearm called the Palmaris Longus Tendon, or what I referred to as the Palmer's Tendon. This tendon (links muscle to bone) connects the golfer's wrists and hands with the muscle (Palmaris Longus) running up the forearm to the elbow.
The Sync/Preset is too important golf swing technique not to use to improve the golfer's distance, control, consistency, and confidence.
This tendon is visible in about 80 percent of people. The reason I refer to this as the Palmer Tendon, is because of the importance it plays in the synchronizing of the golfer's swing. This tendon and muscle is involved in synchronizing the golfer's right elbow and their shoulders. This is an important technique the golfer should include in their golf swing sequence.
A Golf Swing Tip That Arnold Palmer Gave the President
Before a Pro-Am in the early '60's, Arnold Palmer gave the President an important golf swing tip that drastically improved the President's golf game, with distance and control. Arnold Palmer wanted the President to keep, or sync, his right elbow next to his right side during the initial part of the golf swing and right before impact. This should be a major part of any golf lesson or coaching technique.
A great golf swing technique to accomplish this is the Sync/Preset maneuver. The golfer, using their left wrist, can naturally sync the Palmer's Tendon and sync the right elbow with their shoulders. The way the golfer knows that they have developed the correct Sync/Preset golf swing mechanics is the picture perfect preset view of the tips of the left middle and index finger, shown above in the illustration.
Looking down after the Sync/Preset maneuver, the golfer should see a picture perfect preset golf view of the left middle and the index finger tips, as shown above in the Sync/Preset Figure. This will naturally sync the golfer's right Palmer's Tendon and right elbow with their shoulders. This is also what is meant by the term compact golf swing, of keeping the right elbow next to the golfer's right side at the initial part of the golf swing; and again right before impact.
The golfer's right elbow, synchronizing with their shoulders, creates a tremendous technique to establish basic golf swing mechanics for distance and control. The golfer will realize more natural power and clubhead speed just by using this Sync/Preset technique.
Remember, you want to see a perfect picture preset golf swing with the left middle and index finger tips on the left hand, for a right-handed golfer. This is an easy golf swing technique to create great golf swing mechanics and sequence, without incurring injury to the lower back.
Try this one golf swing technique that simplifies your golf swing and makes it a lot easier to perform on a consistent basis, on and off the golf course. Just by performing the Sync/Preset maneuver, 80 percent of your golf swing has been established. The only thing the golfer has left to do is to take the handle of the club to the top of their golf swing and then just stop, drop, and roll, like in the FIRE DRILL.
To learn more about your picture perfect preset golf swing sequence, purchase your copy of The ESPY Golf Swing Coach from the links below, or visit your local bookstore: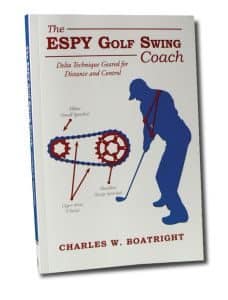 My book can also be purchased at Edwin Watts Golf Store in Jackson, Mississippi. Phone No. 601-956-8784
820 East County Line Road, Ridgeland, MS 39157
My book can also be purchased on-line at:
Health and Fitness Program Golf Exercise for Power
This book is based on a self-coaching forum (ASPEN Pyramid) that provides the beginner and advanced single-digit handicap golfer with a safe, ergonomic classic golf swing for more power and control, without debilitating injuries that are common with some modern-day golf swings. As part of the ESPY Golf Swing Coach is a workout program designed especially for golfers and an effective diet program detailed below.
Please take advantage of my SR-925 Diet Program, where I lost 6 inches in my waist in 3- months (FREE of CHARGE) with the CASPER Workout Program, detailed in Section 20 of my book, great golf swing workout:
One component in my CASPER Workout Program that I follow is using a Medicine Ball to perform what I call Stocking the Shelves, illustrated below in the figure:
Please include an exercise routine in your weekly schedule.
ESPY Golf Swing Coach- Rhythm Without the Blues
Also, learning The ESPY Golf Swing Coach process is an excellent way to develop Rhythm without experiencing the Blues in your golf game for confidence; learn how to take your baseball-style swing from the batter's box to the tee box.
THE LOCKER ROOM a source for golf tips
Please visit "The Locker Room" for an Index of all my golf articles to improve your golf game and life. Discover how you can take your baseball swing from the batter's box to the tee box.
Learn How to take your baseball-style golf swing from the batter's box to the tee box.

For Comments or questions please contact me at 1-888-514-1228 Mon – Fri from 9 am to 4 pm CT Zone.
A Recommendation for your Golf Game:
I would like to recommend an interesting radio program that I regularly listen to from my home state Arkansas on my I-Heart Radio app on KARN 102.9 FM station, out of Little Rock, AR. They air a golf show called Arkansas Fairways and Greens, at 7:00 AM CT each Saturday morning, hosted by Bob Steel, and co-hosted by Jay Fox and Charles Crowson. Bob occasionally as has his guess Alex Myers with Golf Digest and Ron Sirak with Golf Channel. I was interviewed on his show about my book, The ESPY Golf Swing Coach. This show is worth tuning into for golf news and information.
Jay Fox is an Administrator with Arkansas State Golf Association that discuss amateur golf and rules of the game.
Check out my full library of BLOGS @ www.espygolfapp.com/blog or purchase your copy of "The ESPY Golf Swing Coach" @ www.espygolfapp.com/store.
Facebook – The QATSPY Golf Approach
Twitter – @cwboatright
Google+ – ESPY Golf Swing Coach
YouTube – ESPY Golf Swing Coach
Once you learn WHY, you don't forget HOW!
YouTube Videos:
https://youtu.be/ZGVNrIw_wlo (Cam & Cam-over elements)
https://youtu.be/K2FDHZ3AX9w (Figuring your proper swing plane)
https://youtu.be/TO82PMO6G8M (Developing muscle memory)
Two decisions that you can make for yourself and your kids are to get a copy of my book and place the book and a golf club into their hands. You will never look back, but only forward. You will not miss with this for yourself and/or your kids.
Until next time– Be Synched, Tee-to-Green, with The ESPY Golf Swing!