THE GREAT QATSPY® Quapaw Aviation Tactical Sportswear Performance Yukon Outfitters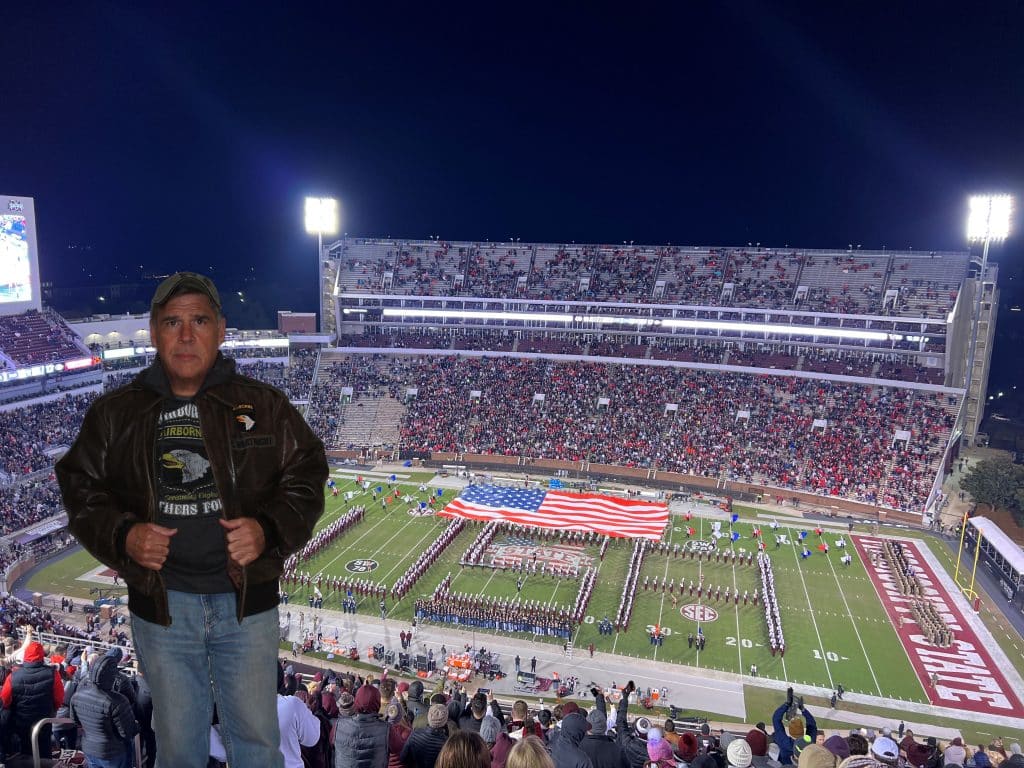 By: Charles W. Boatright
Observing Veterans Day & Election Holiday– Honoring Our Veterans & Those that Fought for Our Right to Have a Voice in Our Limited Government
A historical viewpoint on making an Election Day a Federal Holiday on the day that we also honor our Veterans on Veterans Day that has been observed since 1919.
This past weekend several college teams honored our Veterans with both pageantry and special emblems on their helmets and on the gridiron. The game between Georgia and Mississippi State was no exception.
Sports and our Armed Services have been affiliated with each other, going back to World War I, and especially to World War II. Another affiliation that Colleges have with Veterans is the Montgomery GI Bill that provides tuition for Veterans to have an opportunity to attend college and/or Vocational Schools. This has allowed Veterans to make a significant contributions to our Society ten-fold or more.
Veterans Day was formerly referred to as Armistice Day until it was changed in June 1, 1954 at the request of Veteran groups to specifically honor Veterans that fought in previous wars. The bill was signed into law by President Eisenhower, who was the Supreme Allied Commander during World War II in Europe, and who also helped plan and lead The D-Day Invasion that took place on June 6, 1944.
November 11th was selected for Armistice Day, now Veterans Day, when World War I ended on the 11th hour, of the 11th day, of the 11th month in 1918. We often associate Veterans Day with the freedoms and rights that we have, including expressing our views in our government. This right to vote was defended by both Veterans and civilians alike for the opportunity for all citizens of our great country to have the right to vote.
Election Day Holiday
There is a conservative effort to make Election Day a Federal Holiday. Since Veterans Day is on the 11th of November within days after Election Day, this would be a great opportunity to honor our Veterans by voting on the day we honor them for their sacrifice.
Tuesday was designated as Election Day in the early 1800's after the first Monday in November to allow people to travel to polls to vote. Today, we have highways and vehicles that make what was once a day's travel, that now can be traveled in a matter of hours or less. Precincts are convenient to where people live and work today. At one time, states had the right to set their Election Day within 39- Days prior to the first part of December.
Veterans Day Holiday
Before 1975, Veterans Day was observed on the Monday before the 11th of November, and now it is moved back to 11th of November, so there's precedent for both Election and Veterans Day to vary, instead of being observed on a particular day in November. Even July the 4th, if occurs on the weekend, is observed on either a Friday or Monday, depending on the day of the weekend the 4th occurs.
Linking Election Day to Veterans Day as a Federal Holiday will honor our Veterans and give one of the most sacred rights we as citizens have, and that is to have a voice in their government on the same Holiday. I hope that readers will contact their Representative and Senator and express their view on making Election Day a Federal Holiday that would accrue on Veterans Day.
Editorial by THE GREAT QATSPY® The Quapaw Aviation Tactical Sportswear Performance Yukon Outfitters, Home of the authentic Leather and Nylon Flight Jackets that we supply to the U.S. Military, movie studios, and to the public.