THE QATSPY® The Yankee Perspective Synoptic of The American Quarter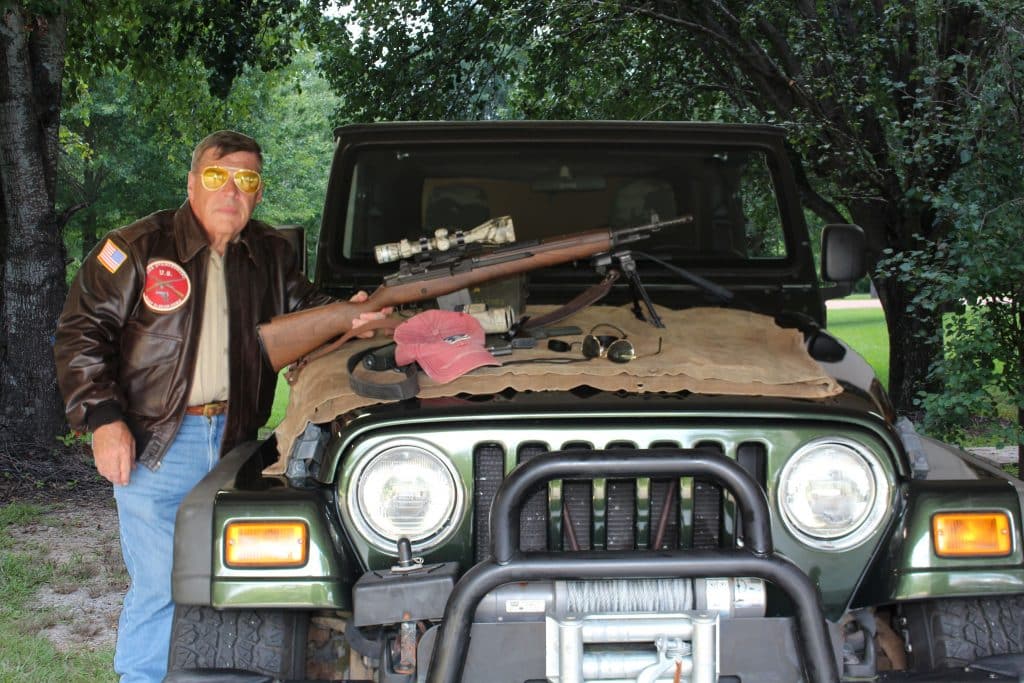 By; Charles W. Boatright
Enjoying The 2nd Amendment Springfield 300 Run as part of my Birthday routine to maintain my edge at Marksmanship on the farm on a July Day
As part of my birthday festivities is setting aside time to fire my M-14 Scout Rifle with a 12x Power Scope and collapsible bi-pod at a 300 yard range. I usually like to shoot at 500 yards, but due to summertime heat waves, I have to reduce my firing range to 300 yards. Since I was 12 years old, I have been target practicing first with 22 Caliber Longs Rifle Ruger 10/22 Model. On my 16th birthday, I bought my first high-power rifle with money I made from working on the farm.
I bought a 30-30 Caliber Lever Action Model 94 Winchester that I always enjoy firing when hunting or for target practice. In the Military, I fired the M-14 Springfield 7.62 x 51 mm NATO Caliber, all 9.4 pounds. The M-14 replaced the M-1 Rifle, just after World War II. I had always had an admiration for both the M-1 that shot 30-06 round and the M-14 that shot a Winchester 0.308 round.
I enjoy shooting the M-14 that I qualified with, that I went and bought 10-years ago the M-14 Scout Model that is approximately 4-inches shorter than the standard M-14 Model. The M-14 saw a short service life between World War II, the Korean War, and the start of the Vietnam War, with the introduction of the lighter-weight M-16 that fires the 5.56 X 45 mm or 0.223 round.
But M-14 has been resurrected in recent time during the Afghanistan and Iraq Wars; especially used by Special Forces that use the version of the M-14 SOCOM Rifle that is 16.25 inches. What makes the M-14 a favorite of mine is the dependability and its accuracy at long ranges up to 500 yards. One other advantage the M-14 had over its predecessor is the external magazine that held 20- rounds to the internal magazine of the M-1 Garand Rifle that only held 8 rounds.
General George S. Patton wrote a letter to Springfield Armory stating that the M-1 Semi-Automatic Rifle was in his words– "In my opinion, the M1 rifle is the greatest battle implement ever devised." I couldn't imagine what General Patton would say about the M-14 Rifle, with its 20-round external Magazine that does not has that iconic ping sound of the clip holder being ejected out of the M-1 Garand Rifle after the last round was fired.
The 20-round M-14 magazine would have given the U.S. GI that stormed the Normandy and Iwo Jima beaches, just to name a few, an even more significant edge over the 8-round clip. That ping sound with the M-1 Garand Rifle was like a public address announcement telling your opponent that I'm empty, unless you got cleaver and had an empty clip holder that you could throw down onto the ground.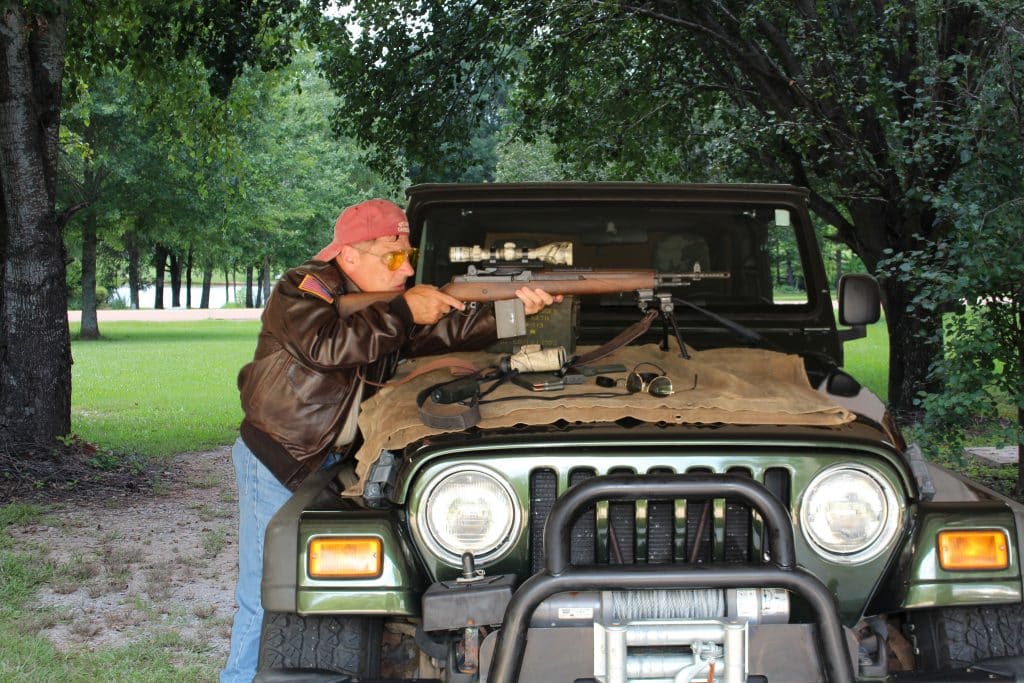 If you use a hood of a vehicle as a firing position, make sure the ejection is away from your windshield and that you use a tarp or blanket to protect your hood of the vehicle. Where I like to fire is in a pasture with a hillside at the far end. Always have a earthen embankment to be your backstop. Preferably without any surface rock to cause a ricochet to occur. Always wear eye and ear protection. I have ear plugs here, I sometime wear headset when others are firing.
I'm wearing my 2nd Amendment A-2 Leather Flight Jacket with the 2nd Amendment Patch, that I designed on the front and back. The front patch is 5- inch Dia. and the back panel patch is 10- inch Dia. hand-painted leather patch. The patch shown below has the M-1 Garand Rifle and M-14 Rifle with my personal favorite sidearm, a Model 1911 under the crossing rifles. The wording on the patch at the Top: THE 2nd AMENDMENT, Center: U.S., and Bottom: RIGHT To BEAR ARMS.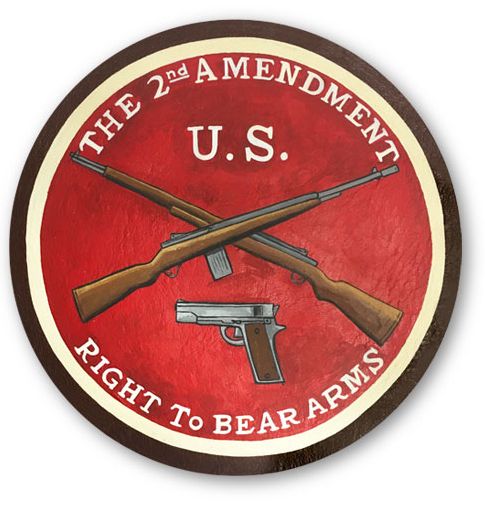 Ladies, this isn't just for men 2nd Amendment A-2 Leather Flight Jacket, this 2nd Amendment A-2 Leather Flight Jacket makes a great jacket for you as well. Hailey, in the photograph below, is wearing the Men's :Regular Fitted, Medium size jacket that I'm wearing as well: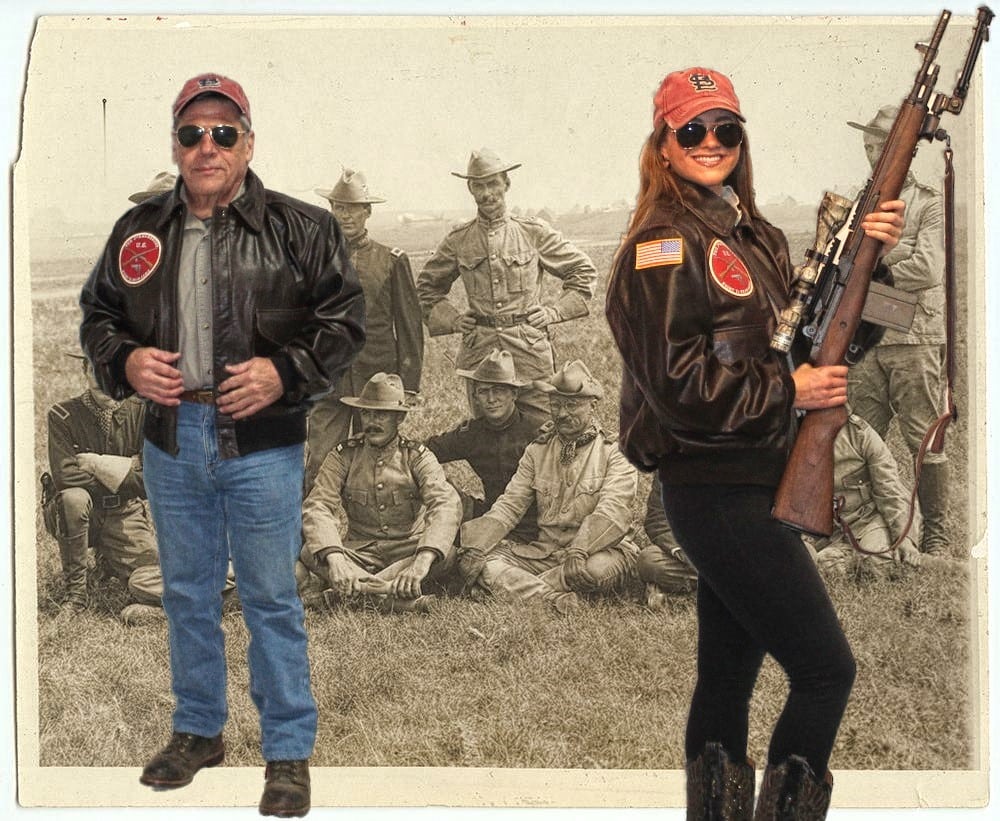 Below is my target results from my target practice with my M-14 Scout Rifle at 300 yards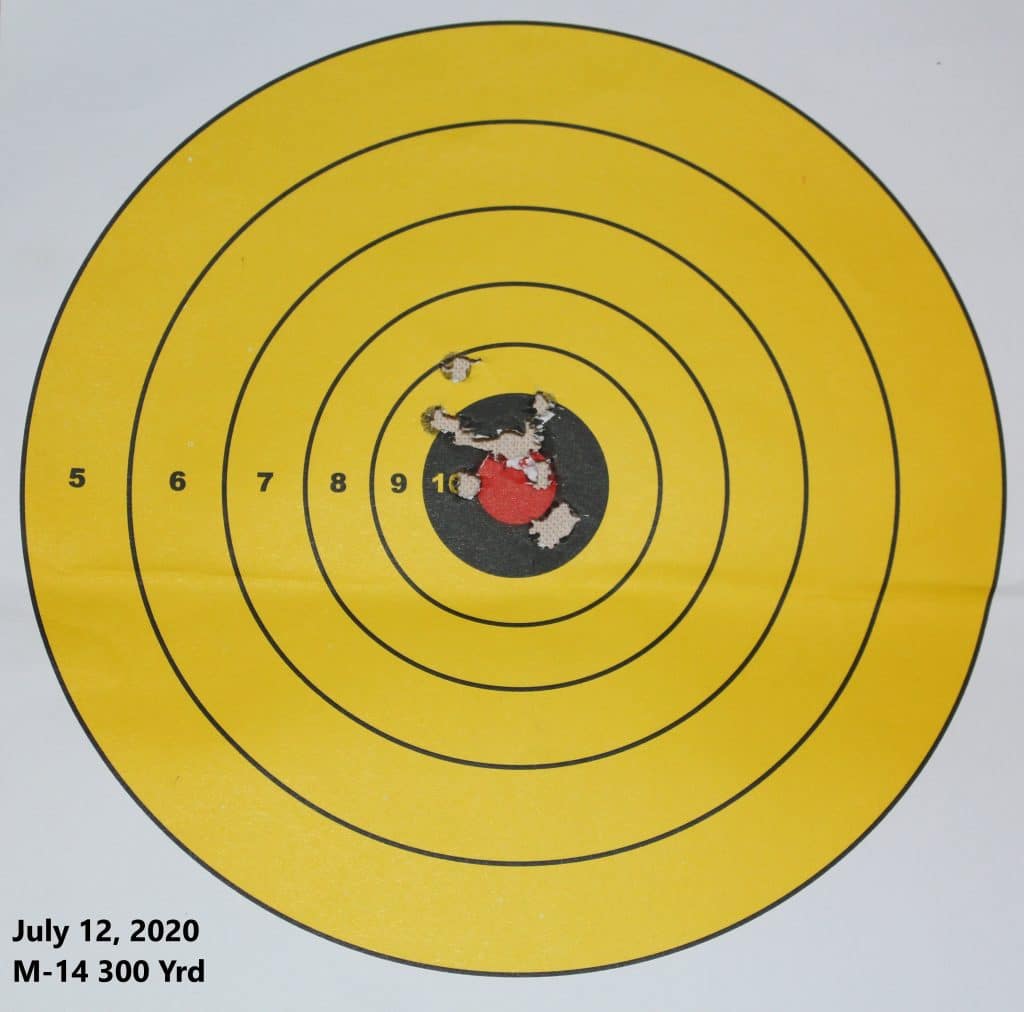 Just like golf, target practice is all mental, being able to control your breathing and heart rate is essential. Since I've been exercising more after my hip replacement, I have gotten my blood pressure low, as shown below.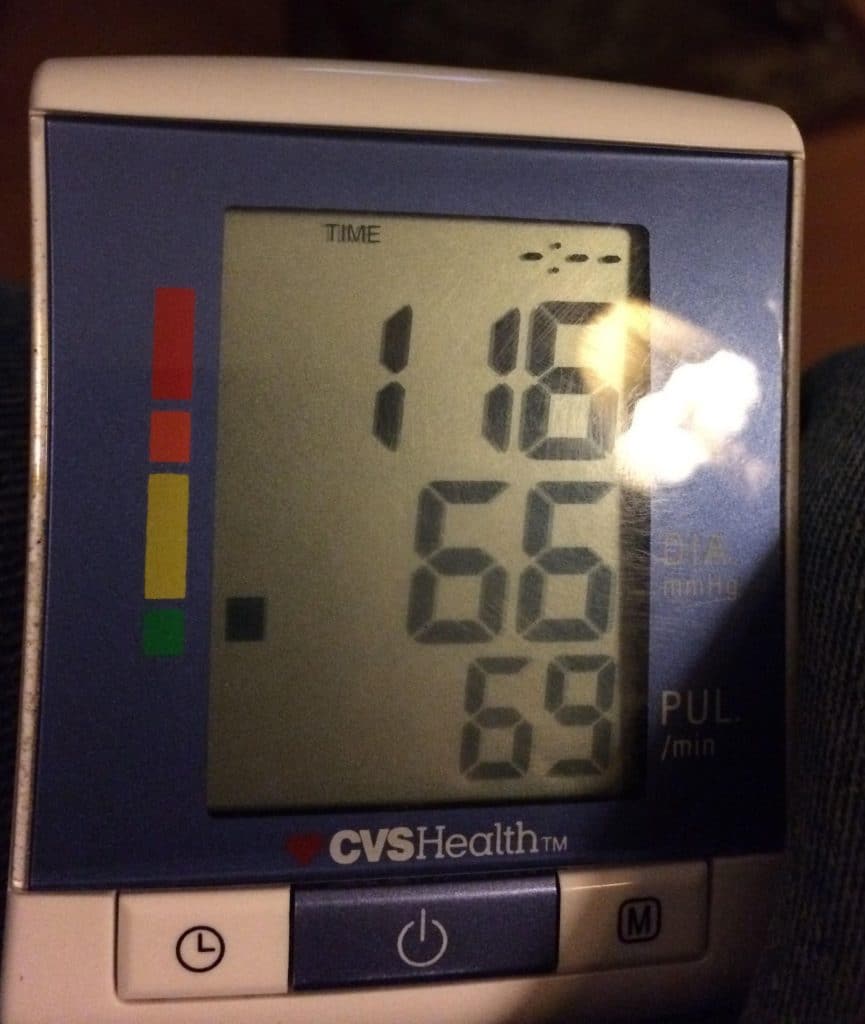 I have also lost 52- Lbs within 9- months. I went from a waist of 37.5- inches down to a waist of 29.2 inches. This was taken last month before I turn 63.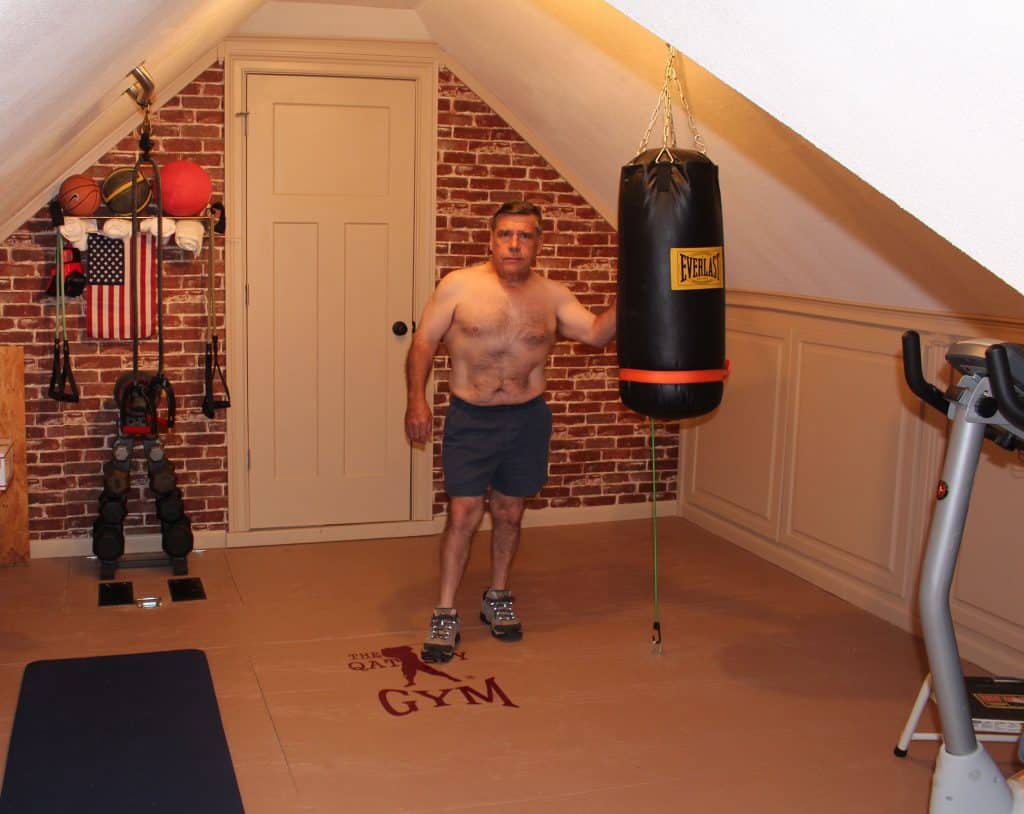 Sponsor By: THE Great QATSPY® Yankee Personal-Style Traditional Apparel Quarters Fit-to-a-TEE Look and FEEL
An Authorized Dealer for US WINGS® We are HERE to get you inside the Leather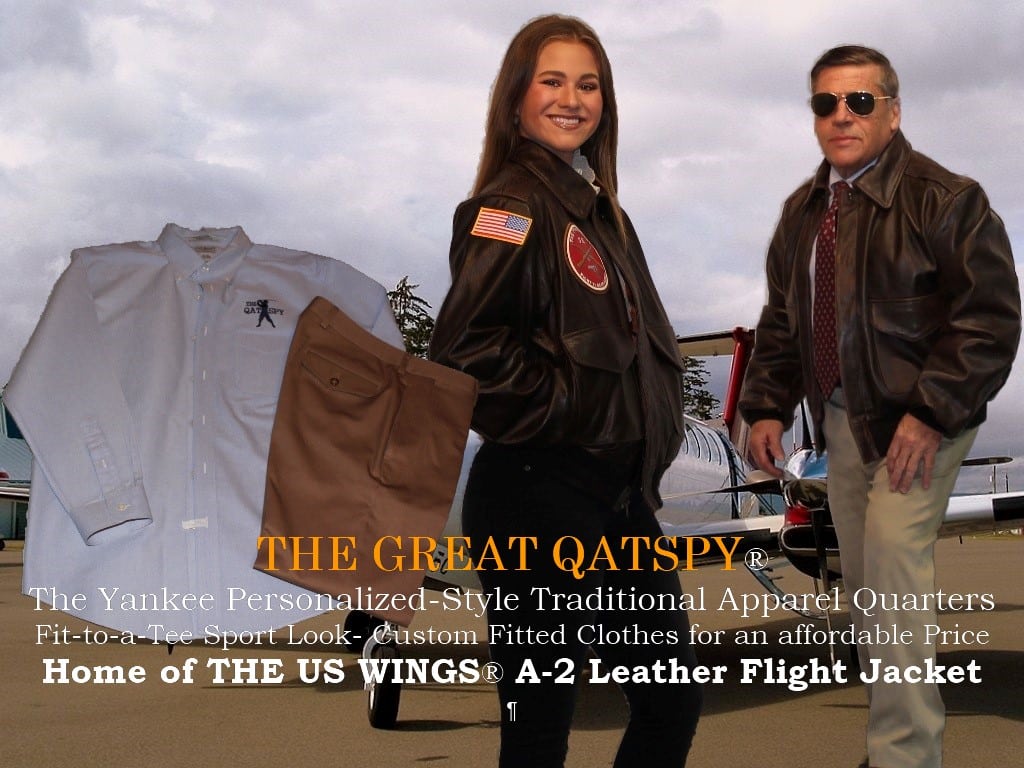 THE Great QATSPY® Online Store carries a variety of clothing apparel items that are selected, based on their quality and personalized-style that offers that traditional and classic look. We carry the full line of US WINGS® leather jackets that are great substitutes for the traditional wool-blend Sports Jacket that can be excellent breeding surfaces for bacteria and viruses.
Our US WINGS® Leather Jackets can be simply sanitized and cleaned with a simple solution of dish detergent (1 teaspoon) mixed with water (8 oz.) used to wipe down our leather jackets as needed during the course of the day. I'm an authorized dealer of the US WINGS Leather Jackets. DO NOT USE ALCOHOL to wipe down your leather jacket!
These make great formal and leisure jackets for men and women to wear with slacks or just simply blue jeans. Our US WINGS® Leather Jackets can be worn as the new sports jacket for business and formal wear or for the weekend and these are durable enough for the open road or open skies.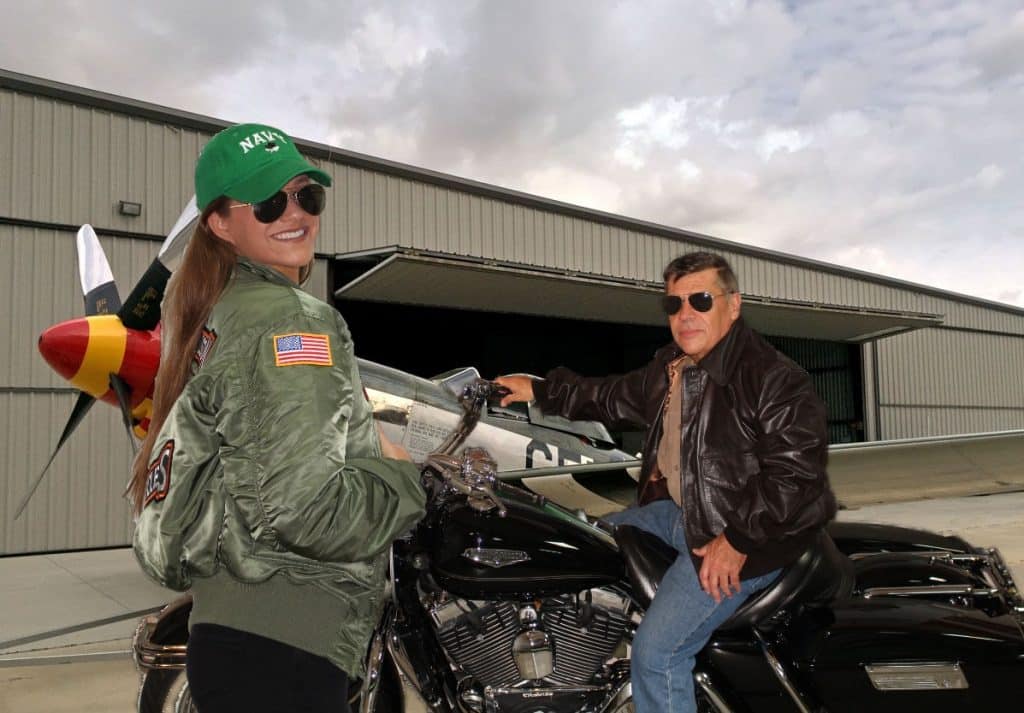 Our Leather Jackets or your jacket can be accented with the Motorcycle Rocker Patches that will make it that distinctive jacket that will attract attention everywhere your travels take you. We can also personalize your Leather Jacket with your group, organization, or company logo with hand-painted art work.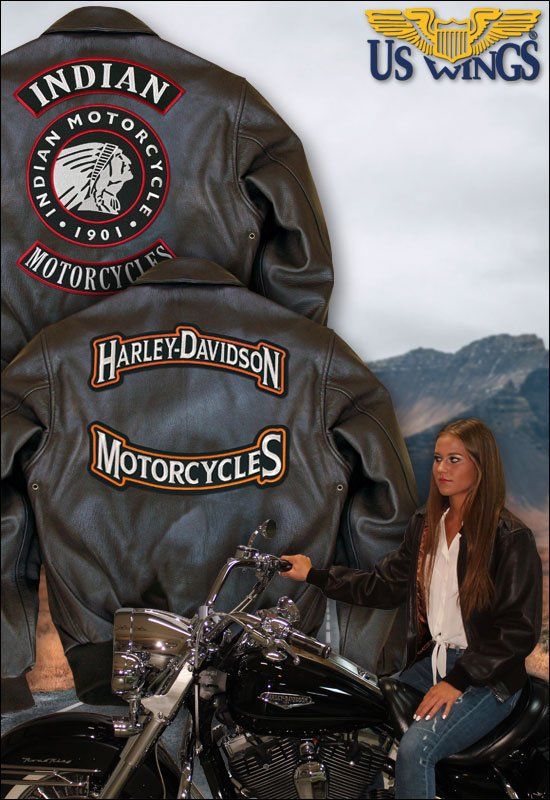 THE Great QATSPY® also carries that custom-tailored sport look of Button-down Oxford shirts made with 5.5 oz. per yard of cotton that can be ordered with neck sizes ranging from (14″ – 17.5″) and Sleeve length from (32″ – 37″). To complete your classic look, we also carry custom-fitted Chino Khakis pants with waist sizes from (30″ – 44″) and specified inseams from (26″ to 36″) in quarter-inch increments. These are as classic as the 1963 Chevrolet Corvette is.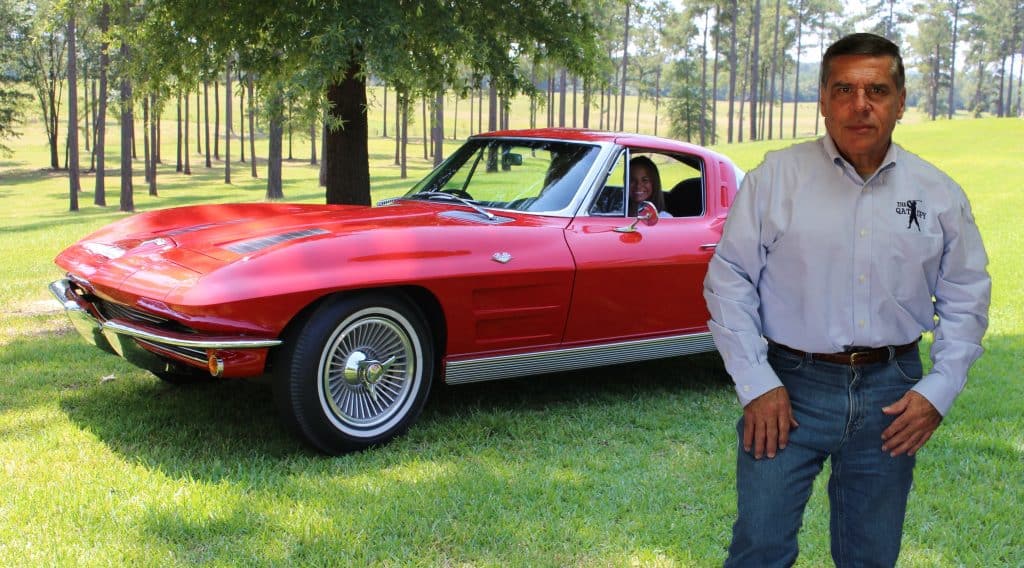 There is nothing that has the classic, custom look and style as our US WINGS® Leather Jackets, worn with our custom-fitted Button-down Oxford Shirts and Chino Khakis pants or your comfortable blue jeans. You will be properly dressed for any occasion, whether for the weekday or weekend and be comfortable.■
We supply our US WINGS® A-2 and G-1 Flight Jackets to the U.S. Military. Our US WINGS® Leather Jackets meets all Military specs. You can't purchase a better leather jacket that will last you a lifetime.
We also carry three (3) other style of our leather Jackets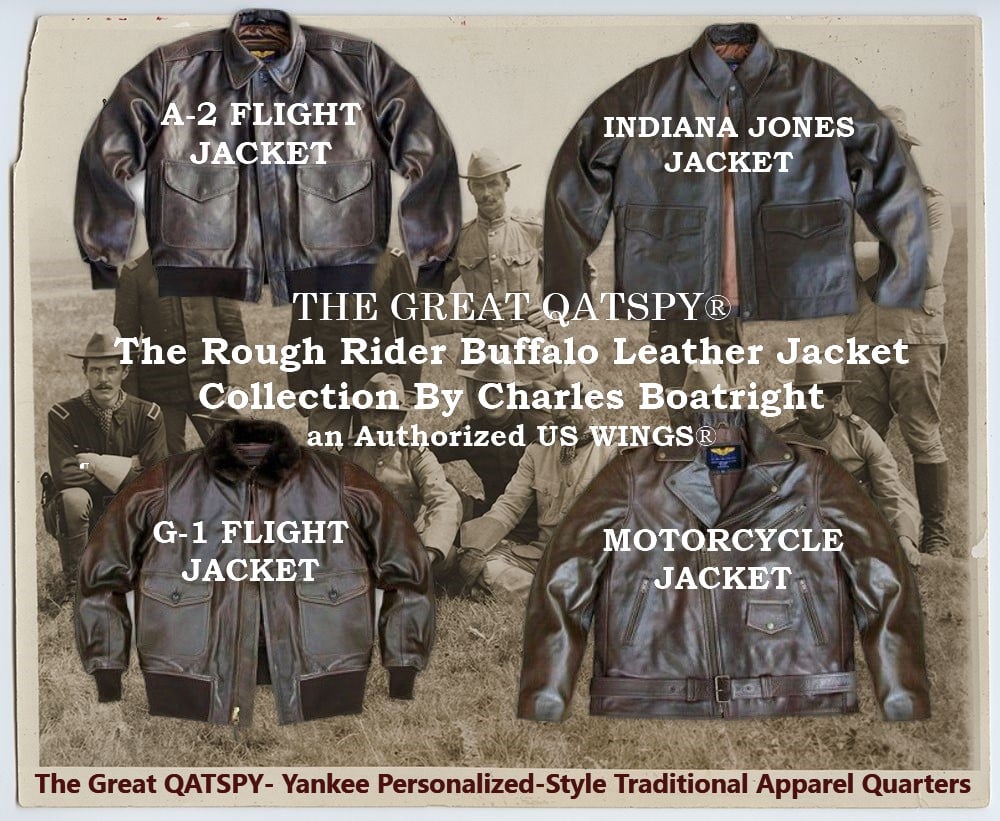 Replica Nose-Art & Patches of World War II A-2 Leather Flight Jackets For Veterans
We were commissioned by a family of a WWII Veteran for his 95th birthday to custom make an exact replica of his A-2 Leather Flight Jacket that he wore while serving on the Boeing B-17 Flying Fortress. Jim Harley hand-painted the exact replica of his 8th Air Force, 510th Bomb Squadron, and 351st Bomb Group patches with his "Woodchopper Ball" B-17 hand-painted on the back panel.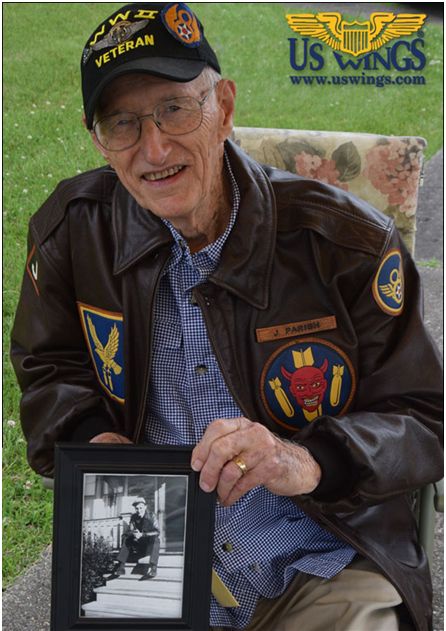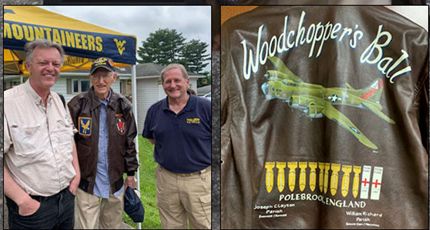 Review your Options below of Nose-Art hand-painted on our A-2 Leather Flight Jackets:
The photograph above is Jim Harley, nose-art artist, and Bob Kruty, Vice President of US WINGS®, personally presenting the hand-painted nose-art with the leather patches to the World War II Veteran at his home on his birthday.
We specialize replicating A-2 and G-1 customized hand-painted leather flight jackets with patches and aircraft artwork based on the very same flight jacket developed in 19030's. We still supply these A-2 and G-1 to the U.S. Military today.  
The US WINGS® Indy-Style Leather Jacket we Supply to Walt Disney World Theme Park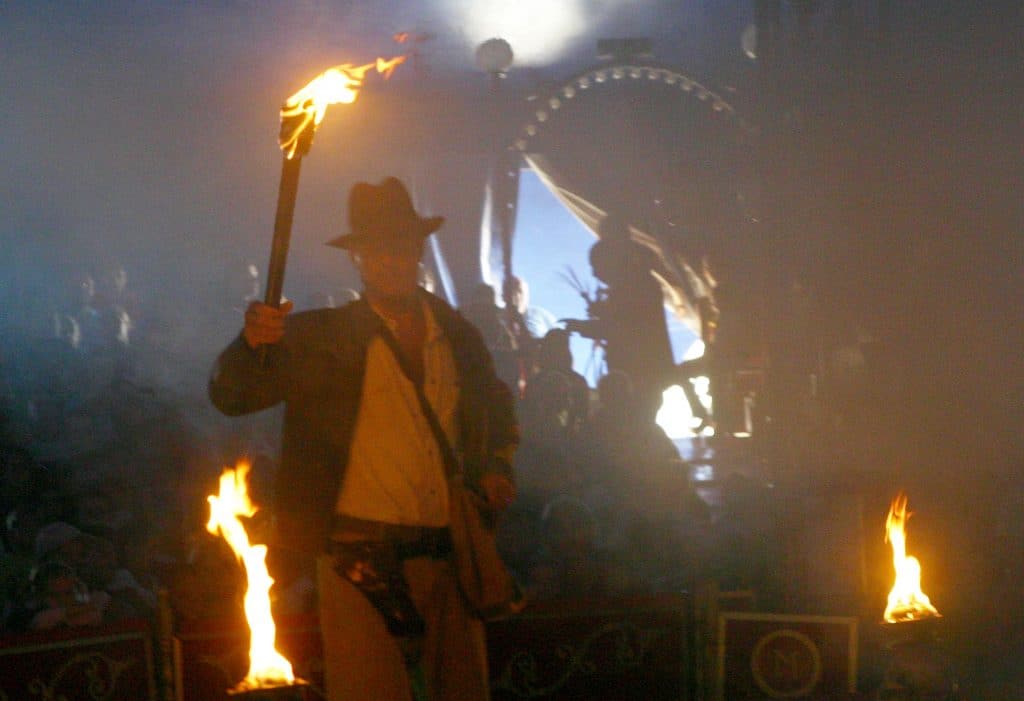 We also supply Walt Disney World Theme Park with the Indiana Jones Cape Buffalo jacket that Disney World uses in their daily production of the Indiana Jones Epic Stunt Spectacular seen by thousands each week. Disney chose the US WINGS Indy-Style Jacket for its authenticity and durability to hold up to their production schedule.
TOP*GUN Nylon Flight Jacket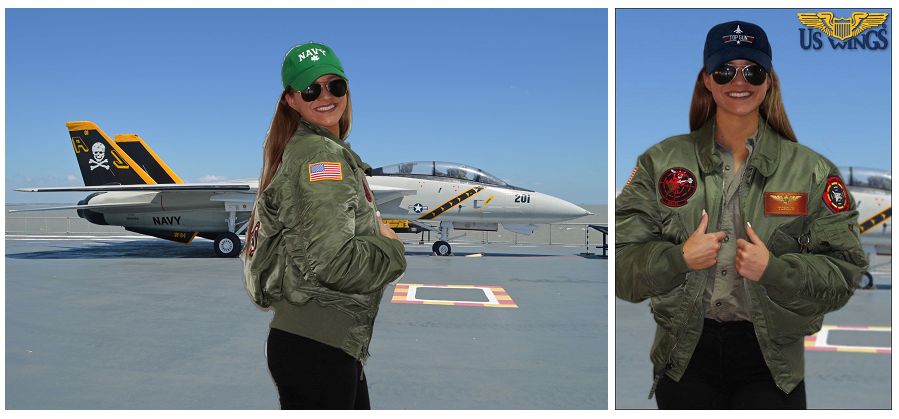 C
We carry the Replica of the TOP*GUN 2 Movie CWU-45P Nylon Flight Jacket that Maverick (Tom Cruise) is wearing in the second Movie below. This jacket has the authentic TOP*GUN Patches that are supplied to the TOP*GUN School Navy Strike Fighter Tactics at The Navy Air Station Fallon in western Nevada. It moved from Miramar in 1986.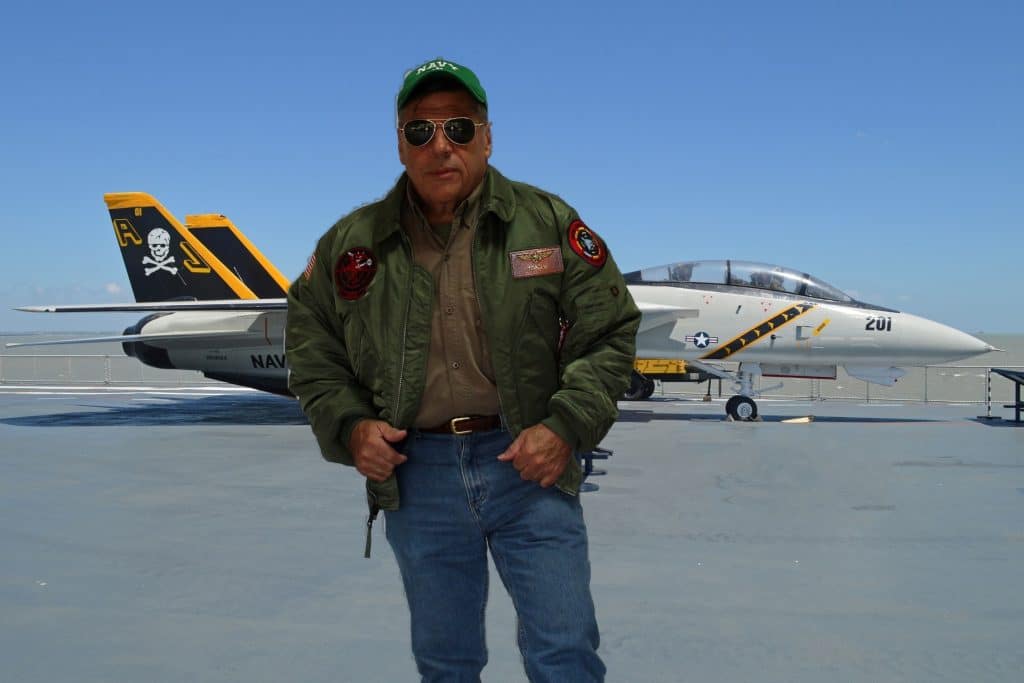 I'm wearing the TOP*GUN CWU-45P Nylon Flight Jacket on board the USS Lexington, in Corpus Christi, Texas with a F-14 Tomcat Jolly Roger Squadron. I was actually performing aerial patrol in North East Mississippi at tree top level when a F-14 Tomcat from the Jolly Roger Squadron dropped down from 10,000 feet to tree top level about a quarter-of-a-mile ahead of my flight route just to pay their respects before going almost vertical back up to 10,000 feet.
TOP*GUN Trailer