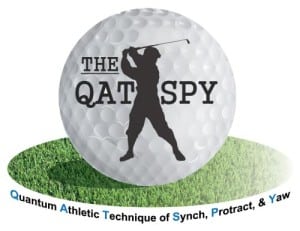 THE QATSPY GOLFER
By: Charles W. Hall
On Monday, May 9th, I was traveling about an hour-and-a-half north to Grenada, Mississippi to meet with a gentleman for an interview and deliver a box of my books, The ESPY Golf Swing Coach, to him. I was so preoccupied as I prepared for the trip that I forgot about having left my wallet in my back right pocket. I don't usually keep anything in my back pockets. I knew better than to leave my wallet in my back right pocket from my days of flying aerial line patrol, when I was working as a transmission grid engineer.
Since I had hip replacement surgery in 2007, I could not have anything in my back pockets and sit in the helicopter for long periods of time. The pressure of the wallet in my back pockets would irritate my right artificial hip joint and place pressure on the sciatic nerve, as shown in the diagram. A delayed symptom would cause stiffness or tightness, and pain in both my calf muscles first, followed by pain shooting up my quadriceps, up to my lower back.
On the return trip back to Madison, MS, I removed my wallet, but the sciatic nerve was already irritated. As soon as Wednesday, I started having the typical symptoms with stiffness and cramps in my calf muscles on the golf course, while playing a practice round. That night I knew that I needed to relieve the tension on my right sciatic nerve in order to play the next day. So, that night I used the McKenzie therapy I learned during my ergonomics and kinesiology classes and followed it with exercise early the next morning. By mid-morning, the pain and cramps were relieved, and I could played golf without cramps or stiffness in my legs. Golfers depend on the coiling of the Quadriceps muscles to generate power in their golf shot.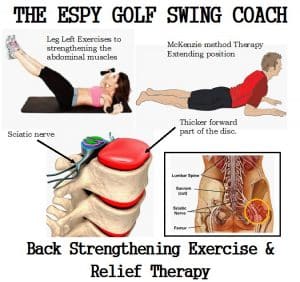 The McKenzie therapy consists of lying on your stomach and elevating your shoulders and head on pillows for about 15 minutes. Then about 8-hours later, follow this therapy by performing legs lifts, while lying flat on your back for about 15 reps, refer to the illustration.
What occurs when you sit in a car or the cockpit of an aircraft for long period of time is that the lumbar area is flexed forward, causing the fluid in the discs to push backward, toward the thinner wall portion of the disc, where the sciatic nerve is located. This causes the disc to slightly bulge, placing pressure on the nerve. This, coupled with me having a wallet in my back right pocket below my hip socket, placed additional pressure on the sciatic nerve. This caused the sciatic nerve to become inflamed, resulting in both stiffness, tightness, and cramps in the calf muscles.
That night after my practice round, I got to a point where I was having to bend slightly forward, just to walk the course. But after performing the McKenzie physical therapy that night in my bed, I felt 80 percent better and totally recovered the following morning after exercises. During my morning exercises, I did my regular CASPER Workout that includes leg lifts, as noted in the illustration.
If you are going to be sitting for long periods of time, like at a desk, or driving or flying, you will need to first remove anything from your back pockets. And second, get up every hour and perform relief exercises, like standing straight up with your hands on your hips and extending or bending backwards about 15 degrees at the hips and holding for ten breaths for 5 reps. This is similar to a standing McKenzie therapy. Your back, legs, and calf muscles will thank you by not being in pain.
By: QATSPY GOLF Approach
Charles W. Boatright
Madison, MS
1-888-514-1228
The ESPY Golf Swing Coach– Price for Paperback $15.75 and E-Book $8.99, Hardback is also available on my website: www.espygolfapp.com/store OR your local bookstore and also:
Lulu Publishing: The ESPY Golf Swing Coach, Charles W. Boatright
Amazon.com www.amazon.com/The-Espy-Golf-Swing-Coach/product-reviews/1483416356
Barnes & Noble.com http://www.barnesandnoble.com/w/the-espy-golf-swing-coach-charles-w-boatright/1120604749
Check out my full library of BLOGS @ www.espygolfapp.com/blog or purchase your copy of "The ESPY Golf Swing Coach" @ www.espygolfapp.com/store.
Facebook – The QATSPY Golf Approach
Twitter – @cwboatright
Google+ – ESPY Golf Swing Coach
YouTube – ESPY Golf Swing Coach
Once you learn WHY, you don't forget HOW!
YouTube Videos:
https://youtu.be/ZGVNrIw_wlo (Cam & Cam-over elements)
https://youtu.be/K2FDHZ3AX9w (Figuring your proper swing plane)
https://youtu.be/TO82PMO6G8M (Developing muscle memory)
Two decisions that you can make for yourself and your kids are to get a copy of my book and place the book and a golf club into their hands. You will never look back, but only forward. You will not miss with this for yourself and/or your kids.
A Recommendation for your Golf Game:
I would like to recommend a wonderful radio program that I regularly listen to on my I-Heart Radio app on KARN 102.9 FM station, out of Little Rock, AR. They air a golf show called "Arkansas Fairways and Greens," at 7:00 AM CT each Saturday morning, hosted by Bob Steel and Jay Fox. Bob occasionally has on his show a guest named Shawn Humphries, a Professional Golf Instructor from Dallas, Texas. One thing that Mr. Humphries stresses is the mental part of golf, not focusing on the results but the process.
Until next time– Be Synched, Tee-to-Green, with The ESPY Golf Swing!