THE QATSPY® Quapaw Aviation Tactical Sportswear Performance Company OUTFITTERS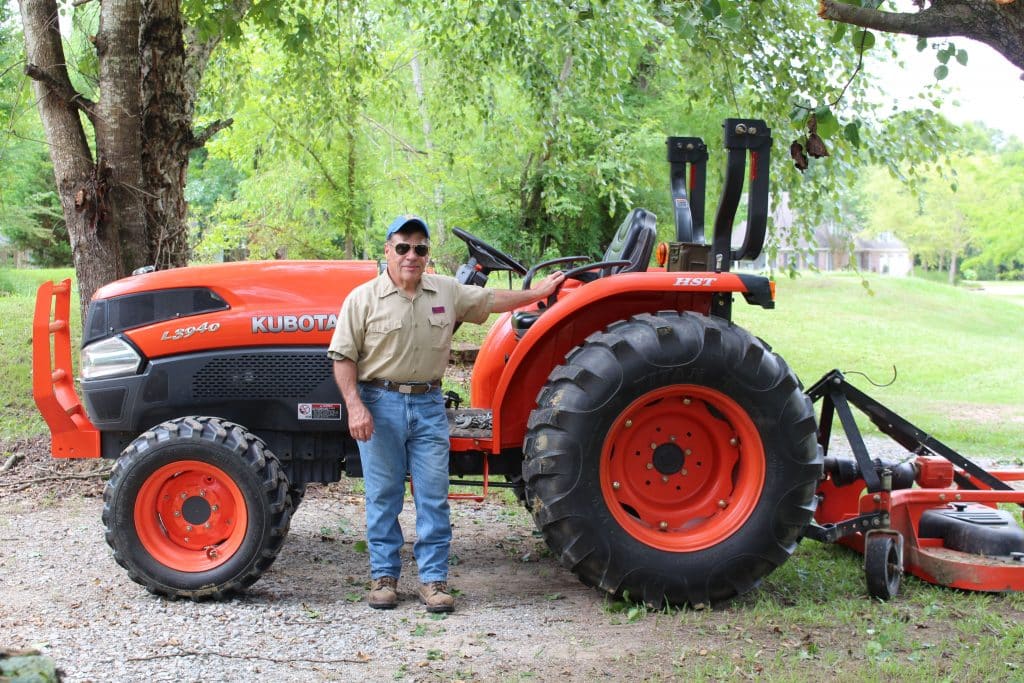 ASCOT Health & FITNESS GYM Athletics– Aerobic-Cardio Strength Conditioning Optimized Training to Maintain an Age-Defying Active Lifestyle
The last three days I have been heavily dependent on my health and fitness to work on my farm, to help my neighbor put a corrugated metal roof on his barn, and place hardware cloth in the gutters of my house. The last two projects took a lot of climbing and elevated work going up and down the ladder and working off the roof and the scaffolding that I use.
There isn't a better test and verification of my health and fitness than these last past three (3) days spent performing construction work, especially on a barn roof, in Mississippi with temperature in the 90's and humidity to almost match. The number ONE reason why I maintain my health and fitness is to give me the ability to help others and work around my farm doing as much as I can myself.
Here's the question– At age 65 after working on my farm and helping a neighbor out, and installing gutter guards, did I experience soreness and stiffness this past Sunday morning getting up at 5:30 a.m.? The answer is YES I did! But my recovery time was in hours not days. By the time I finished my second cup of coffee, I had recovered no soreness. Health and Fitness just doesn't give you the ability to be active and work; but more important, to avoid injuries and have faster recovery time. If you ever wonder why Yoga is important to include in your workout, this is the reason, for balance and flexibility. DON'T SKIP OUT ON YOGA in your workout!
Taking Care of My Sciatic Nerve Issue
I have a sciatic nerve issue that makes its presence known after a hard day's work, especially going up and down on a ladder with loads. But since I have started my Rowing element during my exercise workout, shown below, I have tamed this debilitating situation.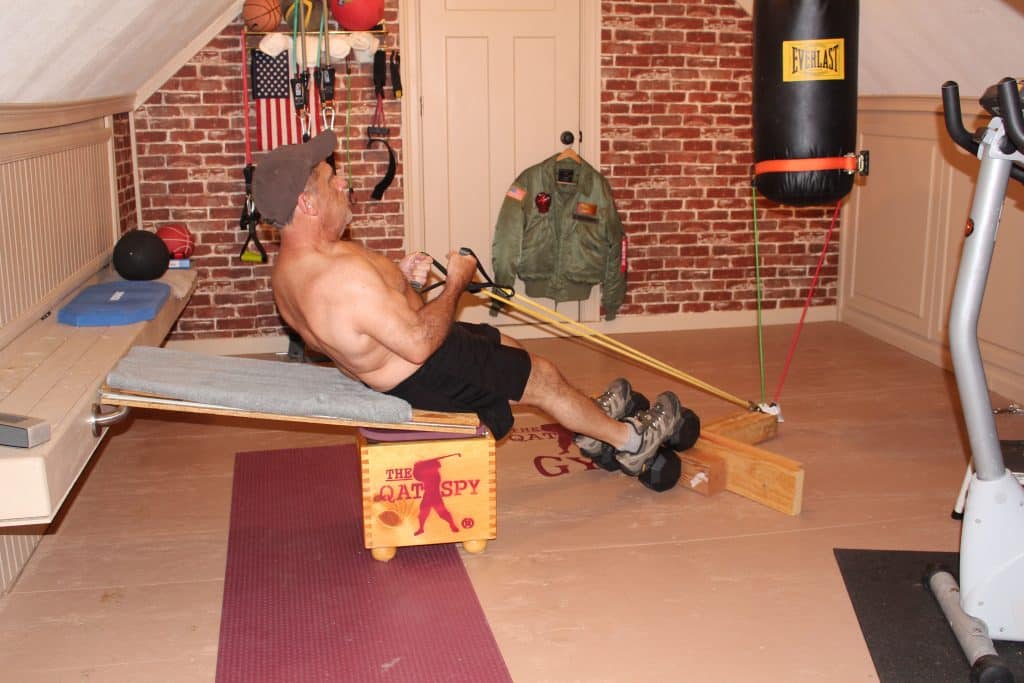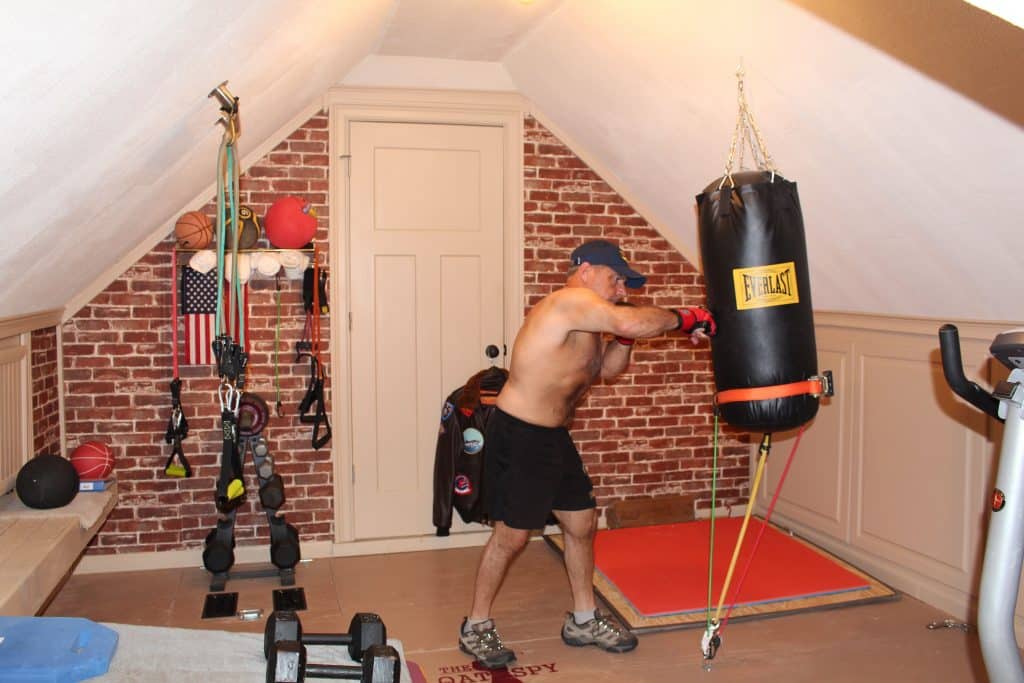 I'm able to work as hard as I did these last three days as if I was in my mid 30's now without having a long recovery period of two days or longer. I built my own home in 1999, all but laying the brick, and renovated the attic space over my photography studio into my gym in 2019, shown above. The gym provides significant fitness and conditioning component for me, shown below in our hangar.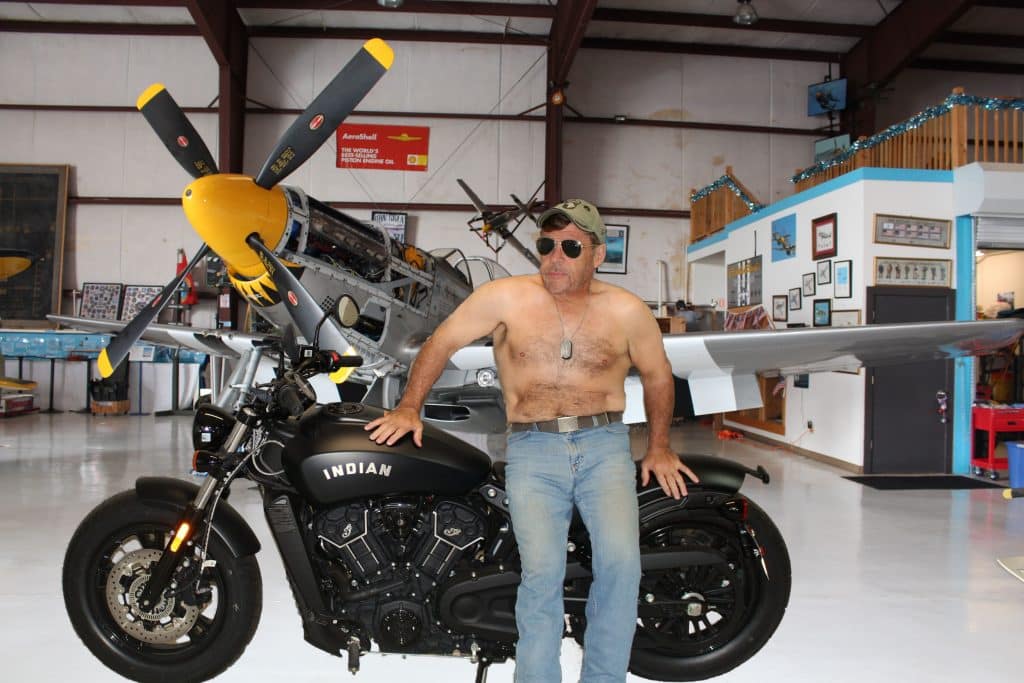 What my health and fitness did this week was to give me that freedom and the ability to be active and work around my farm and help my neighbor even at age 65. This work that I did is a testament to my ASCOT Health and Fitness program that includes the DELPHI DIET. I wrote a book that is now on KINDLE, listed below entitled, THE DELPHI DIET & FITNESS SYSTEM that has given me the ability to defy my age not just in appearance only but also in my ability.
The Gutter Guard System that I installed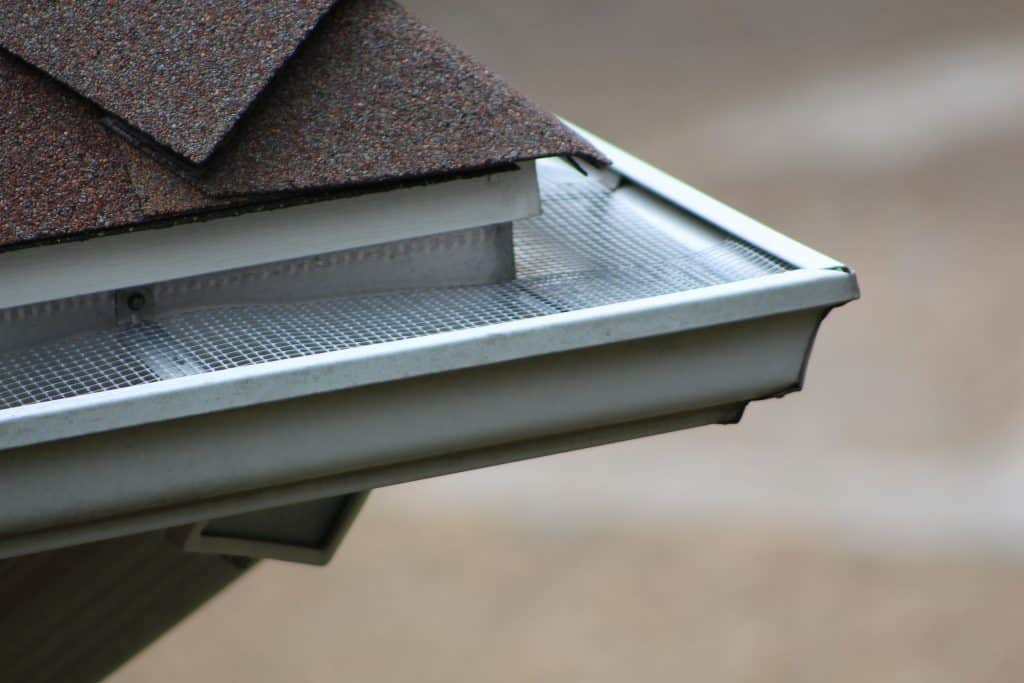 For less than $56.00, I installed 253- linear feet of 1/4-inch Hardware Cloth that I purchased from Tractor Supply Company (TSC), one of my favorite places to shop. I use a 12- inch chop (miter) saw with a masonry blade to cut the wrapped roll of 24- inches x 50 feet hardware cloth into 4.50- inches widths sections. This allowed me to roll-out and to fit the hardware cloth snugly into the gutters over the diaphragm brackets. This will help suspend the leaves and debris on the hardware cloth where the wind or a leaf blower can clear them off the cloth.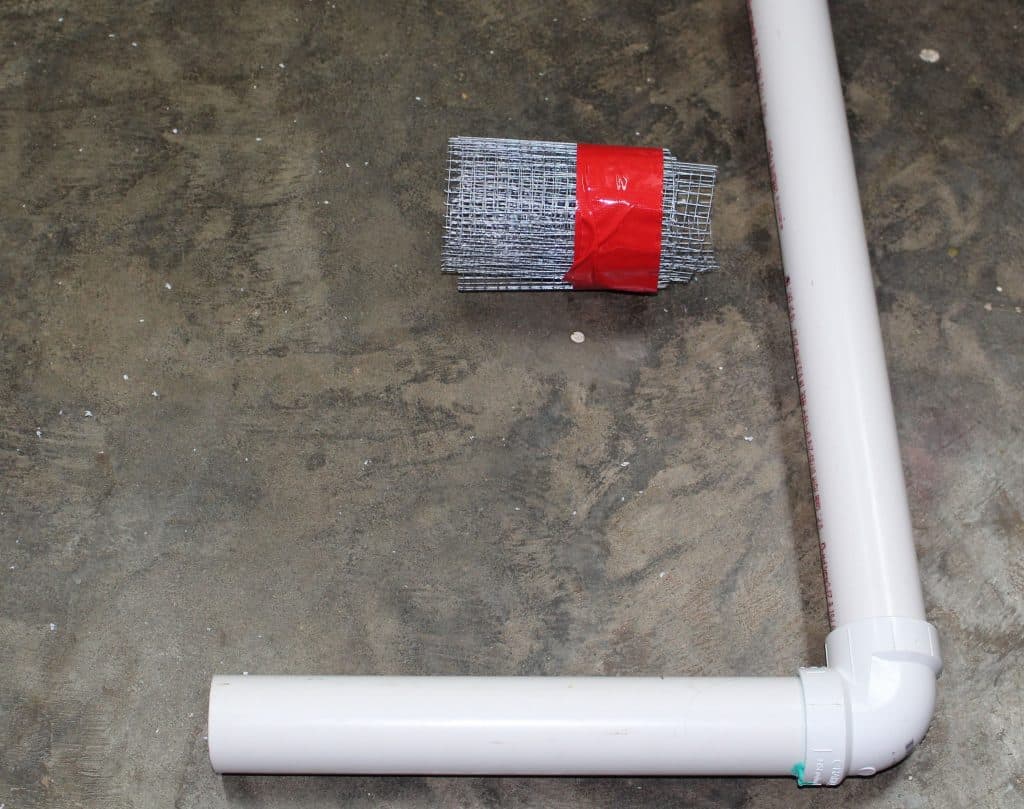 I Used my chop saw to cut off the individual 4.50- inch width rolls to allowed me to just roll-out the 4.50- inch wide cloth over the gutter without having to cut the entire 50- feet length with metal snips on the ground and roll it back up into a rolled section. That would make for a long day that I would want to avoid, if all possible.
Just make sure that you wear goggles and keep the wrapping on the roll of hardware cloth while you are cutting the sections off, because there are sparks. My dog was very intrigued by the sparks, so I had to temporarily let him inside the house while I made my cuts.
When you work with a utility in transmission/distribution line work, safety is second nature to you that allows you to Think Things Through, or what we called The Triple Play of safety in our business.
Fall Leaves Removal off the Hardware Cloth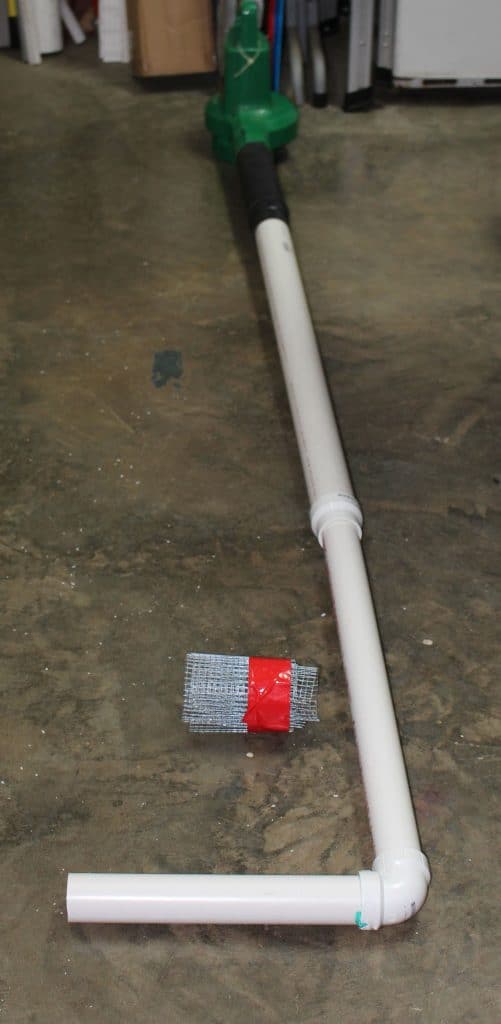 The leaves that do fall and gather on the hardware cloth, I will just take my leaf blower with a PVC "L-Shape" extension arm, shown above, to routinely blow off the screen hardware cloth during the fall season. The hardware cloth screening will prevent leaves from settling down into the gutter and building up that leads to clogging the downspouts. If you have a Live Oak Tree, they shed their leaves in April.
The air that passes through and under the hardware cloth will help lift the leaves up and allow the electric leaf blower arm extension to remove the leaves where I can then mulch them up during the fall months with my tractor with a finishing mower, shown in the featured image. I don't know how, but ever since I have been mulching my leaves, I don't have as many weeds in my yard and my grass is healthier without fertilizer.
Precautions Concerning Working from Ladders
My own preference is not to work off ladders, if all possible. I prefer to work off my scaffolding working over 5- feet off the ground. When I was a grid engineer, before I retired, one of my responsibilities was being the Chairman of the Fall Protection Committee. The photograph below was taken during my last month that I worked before I retired in June of 2015 from Entergy. I'm shown here testing out a horizontal rail system to prevent falls.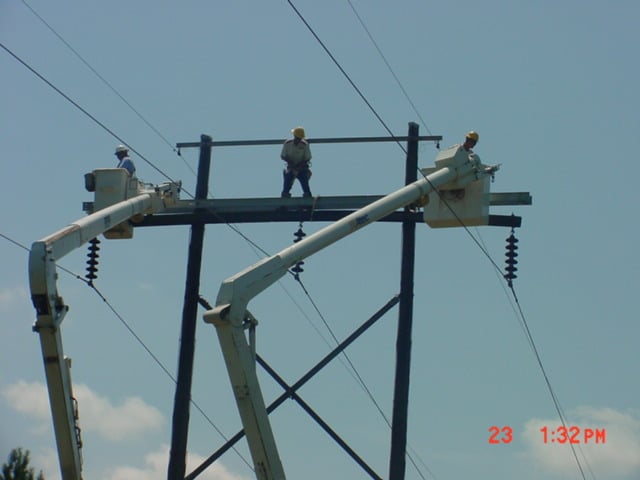 Falls from ladders are the number one cause of accidents and deaths for individuals at home or on the job. When you are on a ladder you are tempted to overreach which is the number one culprit leading to falls. The only reason that I used a ladder these past two days was to get up-and-down to or from my scaffolding.
Also Yoga, Strength, and Conditioning are a major part of providing balance at age 65. Believe me, when you do the Warrior Pose III Yoga Pose, you learn how to balance off on one foot. Warrior Pose III for me was very challenging until I developed my balance.■
Below is our Quapaw Aviation Tactical Sportswear Collection, that includes the U.S. Military Leather Flight Jackets that are available to the public also: