The QATSPY GOLF Inside-the-Leather Sports and Fitness Page
The Secret Behind How I Achieved My Health/Fitness Objectives that is Simple and Efficient within 9-Months
This article will reveal how I defied the conventional wisdom of losing weight after the age of 55 and kept the weight off for going on 5 years. The success of an effective diet isn't losing the weight; it's keeping the weight off!
In November of 2014, I produced a series of golf instructional videos on the specific techniques and mechanics of THE QATSPY® Golf Swing. As I was reviewing and editing the videos, I got a shock that no other medium provides. I saw how overweight I was, despite the dieting and exercising I was following, as shown through the camera lens.
I realized that the camera lens isn't kind to you, by adding five-to-eight pounds to you. But what I saw wasn't just five-to-eight pounds. What I saw was more like 40-to-45 pounds that seemed to just appear. I had to get serious about dropping my weight from 190 pounds and a 37.5- inch waistline, to where my ideal weight should be, which was 150 pounds and a 30-inch waistline. This represented approximately losing eight inches in my waistline. I actually lost more than eight inches; I lost 9.2- inches, down to a 28.25- inch waist.
This is the reason I made the Download price of $28.25 to give the buyer a great deal on weight loss and to recognize the 9.2- inches that I lost, which represented 52-pounds.
Failed Diet that Didn't Work
Like I mentioned earlier, I tried diet after diet, eating healthy and following an exercise regimen, four to five times per week. But, I still was faced with failure after failure and discouragement. You know the old adage, If you want a job done right, do it yourself. So I followed the old adage and used the Internet and started researching how the body's digestion system functions. I'm not going to bore you with details, but what I found had to deal with the Circadian Rhythms of the digestion system.
Just like we should get 8-hours of sleep each night and a consistent sleep regimen, I decided to apply the same 8-hour theory to my diet schedule. But where do I start was the issue for me. I knew one thing for certain, I was the hungriest at 2:00 p.m. So I applied what sounds like a football defense scheme, 5-3 meal schedule. So I started eating at 9:00 a.m. and stopped eating at 5:00 p.m. I had marginal success at first. I lost a couple of inches in my waist over a four- week period. Certainly not what I was looking for. I needed to find my turbocharger!
The Incidental Weight Loss Experiment
When I was 32-years old in 1990, I had a work schedule that started a 7:00 am until 4:00 pm, with an hour off for lunch. So I eat my breakfast around 9:00 am with a lunch at 12:30 pm, then dinner at 4:30 pm after I got off work. About an hour after I eat, I rode my bicycle everyday for about 10 miles.
I started losing a tremendous amount of weight, down to a 32-inch waistline. I just caulked it up to the exercises I was getting riding my bike. But, in actuality, it was my eating schedule from 9:00 am to 5:00 pm that caused the weight lost and the foods I was eating high in fiber and protein, like Pinto Beans. But I didn't have any correlation to confirm that at the time.
Revisited My 925-Diet Program I Followed
I decided to revisit my 1990 weight lost experiment; and re-apply the same 8-hour theory to my diet schedule again. So I started back eating at 9:00 a.m. and stopped eating at 5:00 p.m.
So I looked back to 1990 and the diet that I was eating at that time frame. I love pinto beans that I had at lunch and dinner with a green salad. I knew from medical research that Pinto beans are considered the perfect food, along with sweet potatoes.
Then I started looking at the basic Nutrition Labels on back of packaging and menu items at restaurants for help in my quest to lose inches and weight again. I called what I developed over a period of 3- months The Weight Factor. The Weight Factor is based on Algorithms, which is a fancy term for using key data to plug into a formula to calculate and to find the CULPRIT for our weight again and obesity problems as a society that we are having today– SUGAR and STARCHES.
The weight and obesity problems aren't just affecting older adults, but kids and teens. Mater of fact, the military is finding it difficult recruiting young men and women because of obesity issue. Diabetes and heart disease are being found in kids under the age of 12. So you need to look closely at The 925-MET Diet, not just for the adult trying to lose weight, but, more importantly, our kids for a healthier future.
Since I've been on my 925-MET Diet since November of 2014, I not only lost 52 pounds, or 9.2- inches in my waist, I'm not on any prescribed medication at age 61. My blood pressure is usually around 116/69 with a pulse of 67. I take my blood pressure at the same time every night.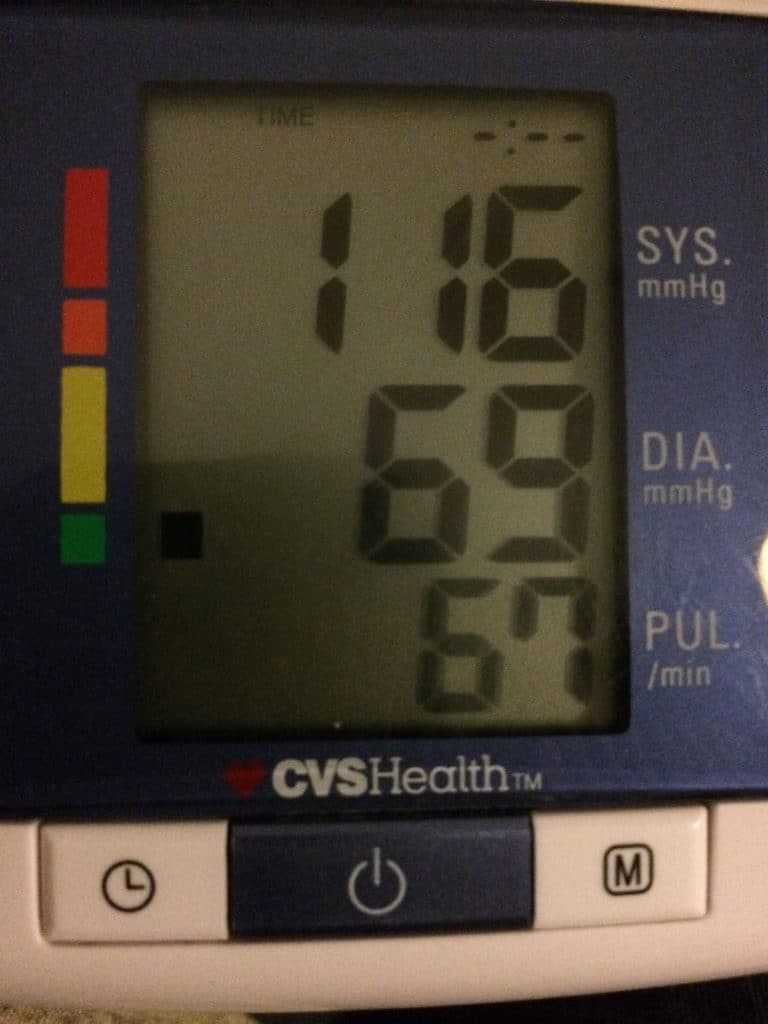 Proof is in the Photo Promotional
I'm an authorized Dealer for US WINGS®, where I have a line of Military Spec Leather Flight Jackets and Chino Khaki pants in my Online Store. I was doing a promotional for our Leather Flight Jackets in front of a Huey Helicopter, as seen below. Six (6) months ago, I had to order our Chino Khakis with a 30-inch waist from my Online Store, due to the amount of weight that I had lost. I have now a smaller waistline than what I had in high school, which was a 32-inch waist.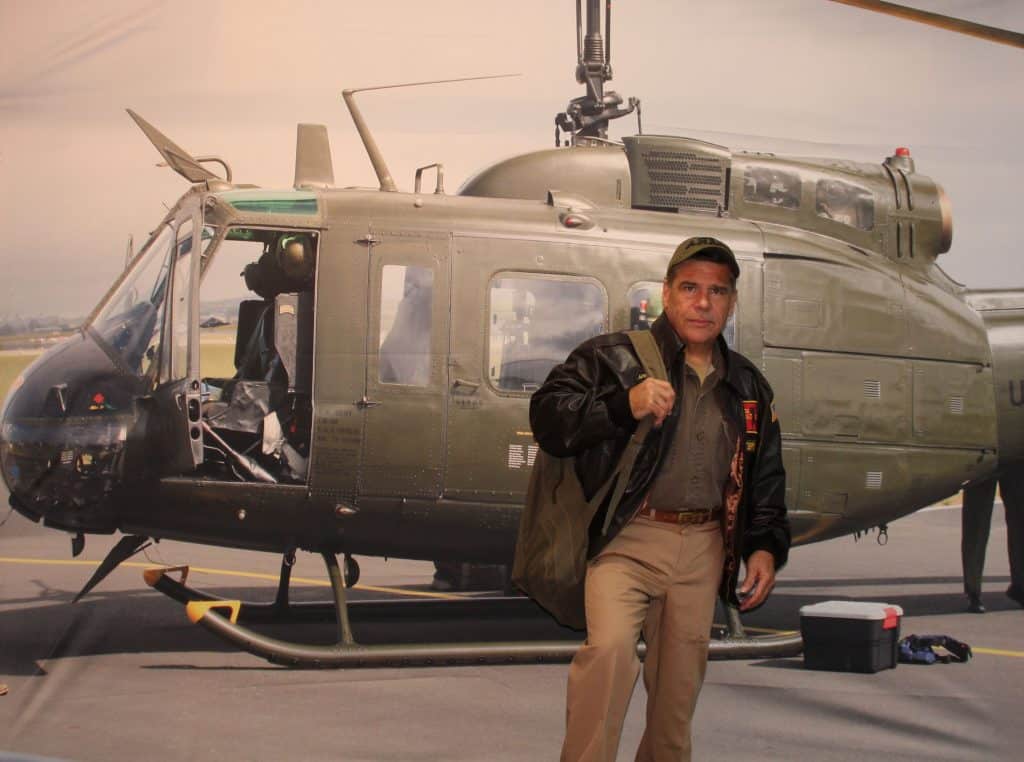 NOTE: At the time of this Photograph was taken, I'm 61 years old.
You can experience the same success as I did, without expensive, prepackaged food to order, or expensive diet plans to follow. You can even use the 925-MET Diet at your favorite restaurant, just by looking at their Nutrition posted on their website. On your I-Phone you can both find the restaurant's Nutrition information and do a simple calculation to determine the Weight Factor. Best avenue to take is to look at the restaurant's Nutrition information before arriving and see what selections you can have.
Once you develop your Weight Factor data, you will know what you can or can't eat. And yes, I still have a bowl of pinto beans at each meal. Some of the best canned pinto beans are packaged by GLORY Foods Seasoned Southern Style Pinto Beans with Onions, shown below. Even though these are just heat and serve, I prefer to low heat the Pinto Beans for two hours before serving them. You will think you cooked them yourself.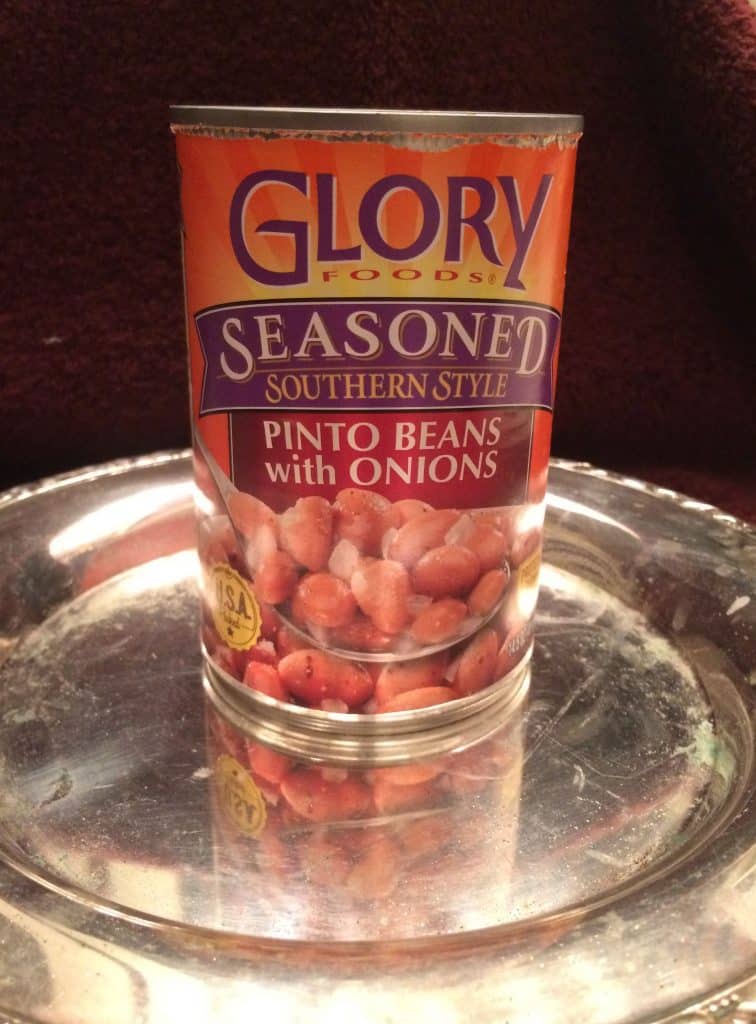 I even have what I call my splurge meal once a week, where I reward myself for working toward and reaching my health/fitness goals. This usually includes pizza, especially after I get off the tractor from bush-hogging on my farm.
Success of a diet plan isn't in the pounds and inches you lose, but the pounds and inches you can keep off over the long haul. I've been following my 925-MET Diet going on now for five years and not only have maintained my waistline, but actually lost an additional half-inch in my waist.
This Download will show you what and how to read your Nutrition Labels to maintain a low Weight Factor of foods you can select to eat for 90 percent of you meals, while eating 10 percent of your meals items as a reward. For 90 percent of my meals, I keep the Weight Factor at or below 3.25 with 10 percent of my meals I keep at or below 5.50 Weight Factor.
One thing that you will discover about the low Weight Factored foods are these foods are high in fiber and protein. Fiber besides being a great janitorial service for your body, it is also a great anti-aging supplement for your skin and complexion. Again, I'm 61 in the photo promotion above for US WINGS Leather Jacket and Chino Khakis pants.
Also the low Weight Factors calculation from the Nutrition label are also a great indicator of foods that can prevent Alzheimer's. This was something I just found out about 18- months ago.
Please purchase your 925-MET Diet Program for $28.25 and start having control over your health/fitness, as I proved.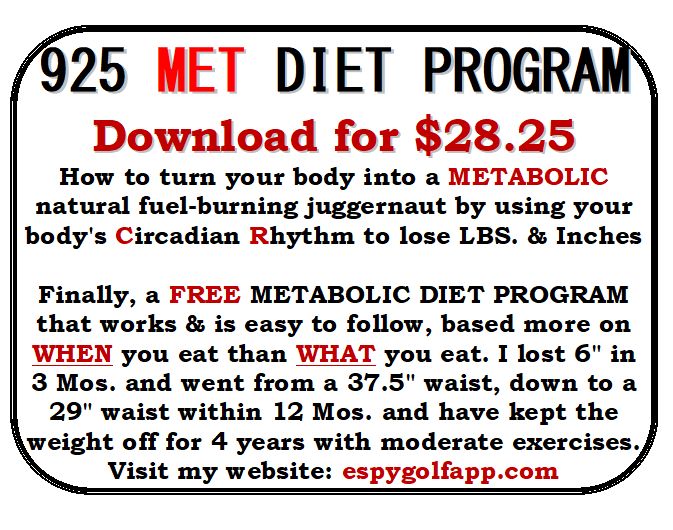 The following is a YouTube Video I produced showing 10 of my 12 exercise elements in my CASPER (Cardio, Aerobic, Strength, Plyometrics, Exercise Routine) that I follow three to four times per week.
What is nice about the CASPER Fitness Program is that you can tailor it to your performance and intensity needs based on number of reps, number of sets you can perform, and the amount of you weight use. The average workout time for me is 40- minutes base on the Yoga that I include with the CASPER Fitness Program. On the weight rack just behind me in the YouTube Video, I don't have a dumbbell weight over 35- pounds. I rely on reps and number of sets I perform for my conditioning/fitness.
For those golfers that are just as interested in their golf game as their health/fitness, I have also included a FREE You Tube Video that I produced in my training center. This YouTube Video covers what I call a Bunt-Type Chip/Pitch shot that you can practice where you practice your putting; just have a backstop in place to catch those wayward chip or pitch shots as I do in the video. What is great about the Bunt-Type Chip/Pitch shot is that it consist of the same techniques used in the regular golf shot to create instinct and feel.
There is one thing about golf that I can't stress enough, if your golf swing insn't instinctive (second nature) you won't have what you practiced for hours on the practice range or taking golf lessons.
I practice the Bunt-Type Chip/Pitch shot constantly because your subconscious mind can only retain techniques for two-weeks at the most. Your subconscious mind accounts for 90 percent of your golf game. One other thing to remember, your subconscious mind works off instincts not new techniques you just learned on the practice range or golf lesson.
If you walk the golf course like I do (usually 9.2 miles for 18-holes), you can have the ability to lose weight and become healthier while enjoying a great sport. I have several Downloads along the right side of this article to help you improve you golf game. Golf is suppose to relieve frustration and not cause it. The more you enjoy your golf game the more confident you will become.
Now when you lose the weight a great way to reward yourself is with a new wardrobe that you will need. In my Online Store I have Leather Flight Jackets that meets all Military Specs and Chino Khaki pants with the inseam in quarter inch increments from 26-inches up to 36-inches. Please feel free to visit my Online Store: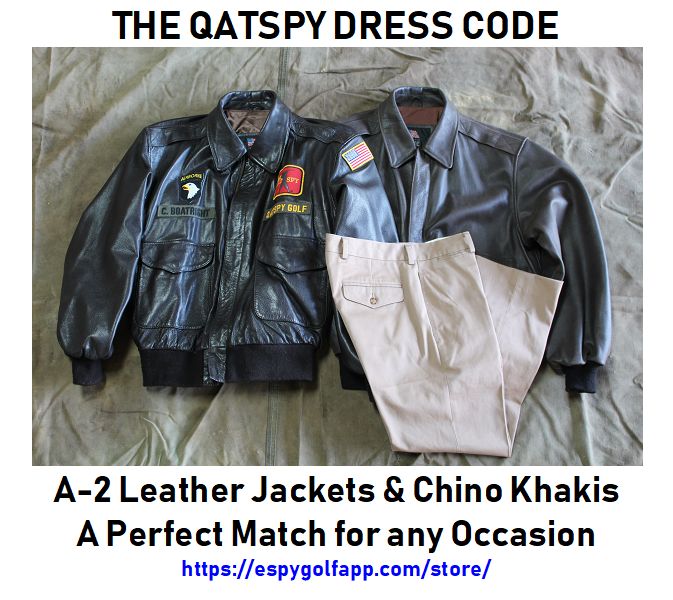 Hailey is modeling the women's A-2 Leather Jacket below: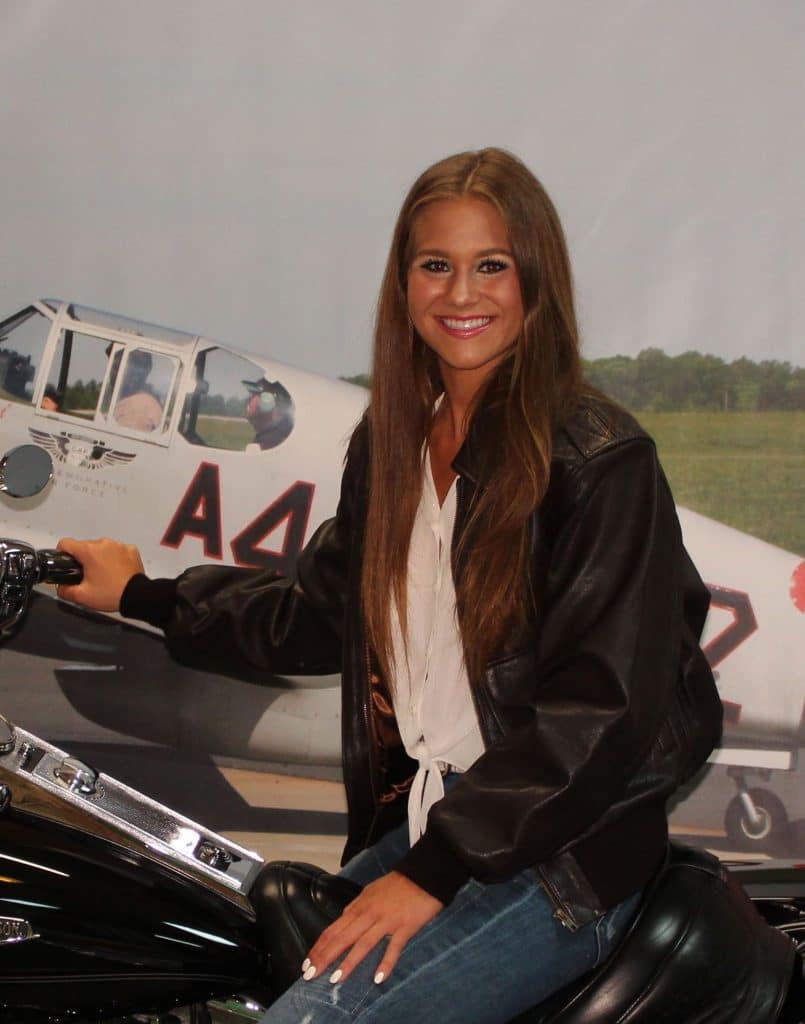 Charles Boatright
QATSPY GOLF
Website: espygolfapp.com
QATSPY: Contact Us

Phone No. 1-888-514-1228
Email: espygolfapp@gmail.com