The QATSPY Sports Page 4 Golfers

SUBJECT-  Improving the Golfer's Power with a Medicine Ball Regimen Featured in Men's Fitness Posting.
The Medicine Ball exercise was featured in Today's ( Sunday, 23Apr2017) Men's Fitness Magazine Twitter post entitled: 6 Must-Have Elements for Your Workout Program. These six must-have or essential exercise components make up half of the exercise elements in my CASPER Workout Program. This is in Section 20 of my book, The ESPY Golf Swing Coach. The name CASPER stands for Cardiovascular, Aerobic, Strength, Plyometrics, Exercise Regimen. A major part of the elements in the CASPER Workout Program focuses on balance, stability, and core-strengthening exercises.
Over one-third of the CASPER exercises include working out with a Medicine Ball to improve the golfer's core strength and stability. This strengthens the quads, abdominal, chest, arms, and forearm muscles, but, more importantly, the lower back muscles. Strong abdominal muscles are essential for back health and fitness. The Medicine Ball regimen is a great golf exercise for power and speed.
Syncing the Golfer's Elbow with the Shoulders for Sprocket Mechanics
Speed does not come from swinging the arms and forearms faster, but from the golfer's core muscles, the high Threshold muscles. Using the ESPY Golf Swing, the golfer is learning to synchronize the elbows with the shoulders to provide a significant mechanical advantage called sprocket mechanics. This was a technique that Arnold Palmer gave President Eisenhower at an American Heart Association Pro-Am.
Along with Cardio, Aerobic, and strength training in the CASPER is plyometrics, or a jumping element. Plyometrics is a good golf exercise for power, generated from the quad muscles. I utilize an exercise procedure called Assisted Pull-ups, or Chin-ups. This is where I jump up to perform a typical pull-up or chin-up, then I lower myself back down to the floor. This reduces the impact of landing on my joints, particularly my knee and hip joints. I had a hip replacement, and this reduces the impact on my hips, something that my Orthopedic Surgeon suggested.
Men's Fitness Article on Improving the Golfer's Range of Motion
Included in the Men's Fitness article was an emphasis on range of motion. I don't have to explain the importance to the golfer of maintaining your range of motion.  I use the Medicine Ball, in concert, with a series of Yoga poses, or movements, to not only improve my range of motion, but also to increase my core strength, stability, and something not always emphasized enough, which is balance.
One advantage of using a Medicine Ball for the golfer is to increase their range of motion. I use an exercise component called Stocking the Shelves. But this component, Stocking the Shelves, can be combined with a forward lunge to knock out two elements in the CASPER Workout. This provides a Cross Fitness component to your workout session. I personally use a 20-lb Medicine Ball for this procedure. After you complete this component, you'll realize it also.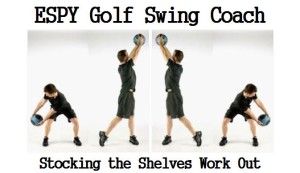 Using Yoga to Improve the Golfer's Physical and Mental Game
The Medicine Ball, with my other strength training, is a great golf exercise for power. But just as important as strength training are the rest periods that I include in my workout to allow the body to absorb the lactic acid. Lactic acid causes soreness, stiffness, and can lead to injuries on the course. These rest periods allow me to perform my GOLFER Yoga elements in the chart below. This doesn't just allow me to rest, but to stretch, and is probably your least favorite procedure to perform. But Yoga makes stretching more bearable.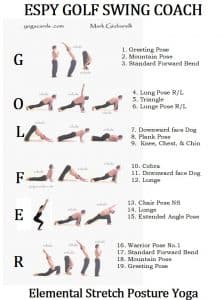 One reason why yoga is important as a golf exercise for power is the mental power it provides in the form of meditation. Yoga allows the golfer to meditate or focus to develop their ZONE-like performance. This is where the golfer can get in touch with their target muscles without distractions.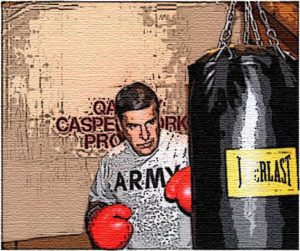 At the start and completion of my workout, I have two three-minute rounds with my punching bag. This is a great method to increase the golfer's stamina, while receiving a full body warm-up and cool-down. One of my last cool-down procedures is taking a walk with my four-legged friend. This effectively helps my body deal with the lactic acid that builds up in the fiber of the muscles.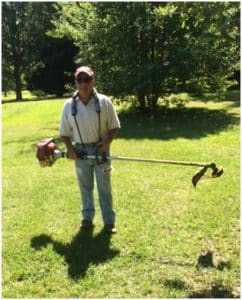 I'm 59 years old and still walk the course four times a week and work on my farm. This is a picture above is of me last year doing some trimming around my farm at age 58. I still have the strength and enjoy the distance and control that I had at age 39. I contribute this to my CASPER Workout Program that I performed over the past thirty years.
The Men's Fitness posting is a great fundamental that any workout program should consist of. I've worked with Orthopedic Surgeons and Physical Trainers, and used my ergonomics and kinesiology to develop my CASPER Workout Program. I credit my CASPER Workout as part of my health and fitness regimen.
To improve your fitness and golf game with sprocket mechanics, purchase your copy of The ESPY Golf Swing Coach from the links below, or visit your local bookstore:

My book can also be purchased at Edwin Watts Golf Store in Jackson, Mississippi. Phone No. 601-956-8784
820 East County Line Road, Ridgeland, MS 39157
This book is a self-coaching forum that provides basic and advanced fundamentals to help you play golf with confidence and start lowering your handicap.
Please take advantage of my SR-925 Diet Program, where I lost 6 inches in my waist in 3- months (FREE of CHARGE) with the CASPER Workout Program, detailed in Section 20 of my book:
Please include an exercise routine in your weekly schedule.
Also, learning The ESPY Golf Swing Coach process is an excellent way to develop Rhythm without experiencing the Blues: