By: Charles W. Boatright
Classic Mental Rules for Golf
The classic mental rules for golf were on full display at The (146th) Open Championship at Royal Birkdale Golf Club by Jordan Spieth and his caddie, Michael Greller. During the press conference at Royal Birkdale Golf Club, Southport, England; Jordan Spieth highlighted some of the classic Mental Rules for Golf. Jordan Spieth lead The Open for three straight days until the middle of his final round.
Without a doubt, leading a tournament for three straight days has an additional pressure that the golfer feels they have to perform flawlessly. Jordan Spieth's tee shot off the first tee box was an indication of the pressures that Spieth was going to have to deal with on the final day.
Jordan Spieth's first tee shot went wide left, hitting a mound, and coming to rest on a downhill lie in a clump of grass, just off the left fairway. Jordan Spieth started to assess the situation as a disappointing start. But as Michael Greller pointed out to Jordan Spieth, a key component of the Mental Rules for Golf was Concentration. Concentration isn't what you did, but what you will do, and have to do. Michael Greller mentioned to Jordan Spieth to forget about the tee shot, and let's start here from this point.
The Athlete's Perceptions is key to Success
The athlete must maintain focus on what they are doing now, the current shot, and not on what just happened, whether good or bad. The golfer is only as good as their next shot. The worse the athlete or golfer can do is to look backwards, instead of what they need to do. As soon as you make a golf shot, it is in the past. You can't put the toothpaste back into the tube.
All through the round, especially on the tee shot on 13, Michael Greller was encouraging Jordan Spieth to create a mental image to spark his imagination to realize his potential, regardless of what just occurred. Most people, without a mental image and an imagination, would have had a mental collapse after hitting their tee shot more than a hundred yards off the fairway into tall grass on a steep downhill lie. The only option at this juncture would be to take an unplayable lie.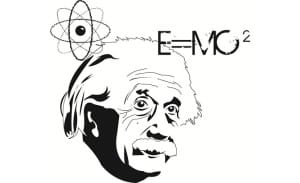 Albert Einstein's quote on the importance of a person's imagination- Imagination is more important than knowledge. For knowledge is limited, whereas imagination embraces the entire world, stimulating progress, giving birth to evolution.
It's critical for an athlete to assess the issues, but it is just as critical to start looking at options to get back in the game and on track. The golfer has three options after taking an unplayable lie:
Take two club lengths from where the ball lies.
Take stroke and distance on a line from the ball and hole and drop ball back along this line.
Go back to the tee box.
Jordan Spieth asked one of the most critical questions in this situation. Jordan Spieth asked- "Is the hitting range in play?" The rules official stated that it was. So Jordan Spieth took the second option of stroke and distance from his unplayable lie and managed to bogey the par 4- 13th.
This gave Jordan the confidence needed to go on to finish with birdie on the (14th), eagle on the (15th), birdie on the (16th), birdie on the (17th), and par on the (18th) for a score of 69 for his round. This proves a great motto in athletics and in life- "The athlete uses failure for experience to develop grit; and uses success for confidence." Jordan Spieth did this to perfection on the final round.
What Jordan Spieth did on the final day, with help from his caddie, Michael Greller to win the 2017, 146th British Open, was to prove one of the critical components of the ASPEN Coaching Forum about Preparation and Performance. The Preparation/Performance consists of the athlete developing four distinct self-coaching skills of mental imagery, managing anxiety, and developing confidence in one's game, where practice and performance are mirrored with each other on the golf course. This is like the golfer taking a page out of the football coach's playbook to set up a scrimmage-type practice, called the 405-Training Drill.
The rest of the components of the ASPEN Coaching Forum Pyramid are indicated in the illustration below.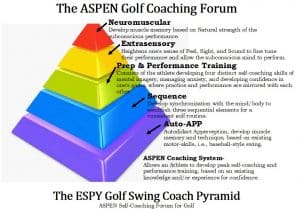 ASPEN Coaching Forum, a self-coaching Technique:
APPERCEPTION– Develop muscle memory and technique, based on existing motor-skills, (i.e., baseball-style swing).
SYNC– Develop synchronization with the mind/body to establish three sequential elements for a consistent golf preset and routine.
PREP/PERFORMANCE– Consists of the athlete developing four distinct self-coaching skills of mental imagery, managing anxiety, and developing confidence in one's game, where practice and performance are mirrored with each other.
EXTRASENSORY– Heightens one's sense of Feel, Sight, and Sound to fine tune their performance and allow the subconscious mind to perform.
NEUROMUSCULAR– Develop muscle memory based on Natural strength of the subconscious performance.
To learn how to develop the ASPEN Coaching Forum style training, purchase your copy of The ESPY Golf Swing Coach from the links below, or visit your local bookstore: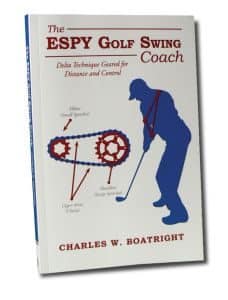 My book can also be purchased at Edwin Watts Golf Store in Jackson, Mississippi. Phone No. 601-956-8784
820 East County Line Road, Ridgeland, MS 39157
My book can also be purchased on-line at:
This book is a self-coaching forum that provides basic and advanced fundamentals to help you play golf with confidence and start lowering your handicap.
Please take advantage of my SR-925 Diet Program, where I lost 6 inches in my waist in 3- months (FREE of CHARGE) with the CASPER Workout Program, detailed in Section 20 of my book:
Please include an exercise routine in your weekly schedule.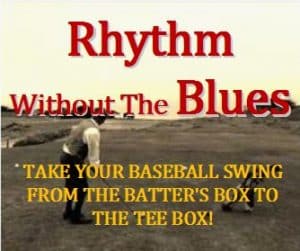 Also, learning The ESPY Golf Swing Coach process is an excellent way to develop Rhythm without experiencing the Blues in your golf game, learn how to take your baseball-style swing from the batter's box to the tee box.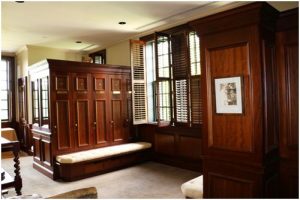 Please visit "The Locker Room" for an Index of all my golf articles to improve your golf game and life. Discover how you can take your baseball swing from the batter's box to the tee box.
For Comments or questions, please contact me at 1-888-514-1228 Mon – Fri from 9 am to 4 pm CT Zone.