THE QATSPY GOLFER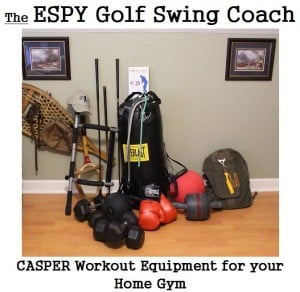 FIRST OF ALL IN ORDER TO HAVE THE PROPER PERSPECTIVE ABOUT FITNESS AND YOUR WORK OUT PROGRAM, YOU NEED TO CONSIDER YOUR BODY A TEMPLE and NOT A STORAGE ROOM!
Because you are not going out and purchasing another place to live on this earth. Take good care of the body you have. Included in this article is a great and effective diet program I discover called the SR-925 Diet Program. I personally lost six-inches in 3-months. After being on the SR-925 Diet Program (That is FREE) a year, I have lost additional 2-inches. I have now reached a smaller waist line than I had in high school. I'm 58 years old this year.
The CASPER (Cardio, Aerobic, Strength, Plyometrics Exercise Regimen) Workout program can be set up in your home and used at your convenience. It is not necessary but if you have a spare room to work out in, this works very well. I use my office at my home pictured above, where I work out. The CASPER Workout is pretty basic and requires only basic exercise equipment that is easy to follow. The following equipment is what I use in my CASPER Workout:
Resistance Tubing (10, 15, 20, 45 and/or 100 lb)
Medicine Ball (8, 10, 12, 15 and/or 20 lb)
Pull-up bar
Dumbbells (8, 10, 15, 20, and/or 35 lb)
Ab Wheel with Stadium Seat Cushion

Kick Ball
A pair of good running shoes
*Boxing gloves
*Boxing Bag (80 or 100 lb)
*Stationary Bicycle or Ten-Speed Bicycle
(*) Optional equipment
NOTE: One of the most important benefits of working out with weight program is not only the additional muscle mass that is added, but the density that the person is increasing to their bone structure. Weight bearing exercises add density to the bone structure, thereby reducing the possibility for breaks or fractures. Also if the person wants to lose weight, they need to start lifting weights. Higher Reps with moderate weights is the best workout technique for golfers. If the golfer does want to use heavier weight training they can, but to retain your flexibility which is essential, the golfer needs to use lighter weights to retain their flexibility after the heavier weight work out period.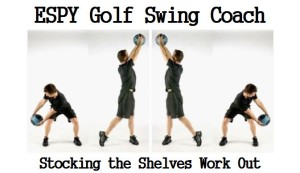 One of the best piece of equipment you can buy for your home gym is a Medicine Ball (between 5 lb up to 20 lb) and incorporate the Medicine Ball in some of your workouts. I would recommend a Medicine Ball weight light enough where you can do higher reps instead of going to a heavier Medicine Ball with low reps. A good weight would be between 8 lb and 12 lb. The Medicine Ball is great for building core strength that is essential for back health and also a power and speed in your golf swing. One particular exercise that is included in the CASPER Workout Program is called Stocking the Shelves. If you were running short on time during your work out, this would be one of the exercise I would recommend doing.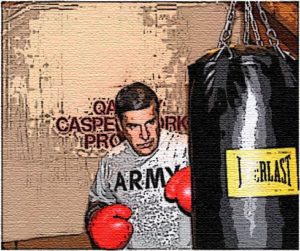 As part of your aerobic and cardio workout, you can include a boxing bag workout, bicycling, walking, jogging, swimming, tennis, golf, handball, racquetball, basketball, or any other exercise sport that you enjoy as part of the CASPER Workout Program. This workout program can be found in my book, The ESPY Golf Swing Coach, in Section 20. An important part of your overall fitness is diet to either lose weight or maintain your weight. A great diet plan I developed is the SR-925 Diet Plan where I lost 6-inches in my waistline within three months, and an additional 2-inches after a year. One better than that of losing weight and reducing my waist line is keeping off the weight. It gets better than this, the SR-925 DIET PROGRAM is FREE of CHARGE! You can access this diet plan from my blog link http://goo.gl/AGulqo.
One point to make for those thinking about just exercise alone without a diet plan is the amount of exercise required just to burn 400 calories. In order to exercise yourself to lose weight, you got to follow a diet program to maximize your workout program. In order to burn 400 calories, one would have to walk briskly (a fast pace) for four miles. When I exercise on my bicycle for just 20 minutes at 17 to 18 mph, I only burning 375 calories.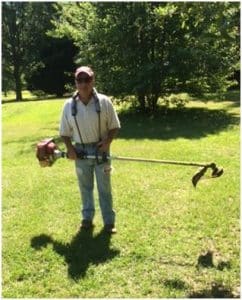 Also a new way to think about your yard trimming work not just to make your yard neat and trim but also improve your health and your golf swing. Yard trimming that I use to dread because I have 2-acers is now a part of my workout program. Yard trimming actually builds abdominal and upper torso muscles needed in your golf swing. This is a picture my wife took of me right before I started trimming out my yard. I'm 58 years old here. I always exercised since I was ten years old. Working on my grandfather dairy farm helped me also. SAFETY NOTE: Always wear safety glasses when you trim please. Also it does not hurt to wear boots to protect those feet and ankles. A part of my job as transmission grid engineer was safety. SAFETY FIRST, JOB SECOND!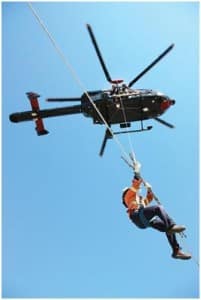 Another task that I help developed for our company allowing linemen to perform their job in inaccessible areas or on tall lattice steel structures was what is called "Short Haul" process. Safety was everything.
Two decisions that you can make for yourself and your kids are to get a copy of my book and place the book and a golf club into their hands. You will never look back, but only forward. You will not miss with this for yourself and/or your kids.
The ESPY Golf Swing Coach– Price for Paperback $15.75 and E-Book $8.99, Hardback is also available on my website: www.espygolfapp.com/store OR your local bookstore and also:
Amazon.com www.amazon.com/The-Espy-Golf-Swing-Coach/product-reviews/1483416356
Barnes & Noble.com http://www.barnesandnoble.com/w/the-espy-golf-swing-coach-charles-w-boatright/1120604749
Check out my full library of BLOGS @ www.espygolfapp.com/blog or purchase your copy of "The ESPY Golf Swing Coach" @ www.espygolfapp.com/store.
Facebook – The QATSPY Golf Approach
Twitter – @cwboatright
Google+ – ESPY Golf Swing Coach
YouTube – ESPY Golf Swing Coach
Once you learn WHY, you don't forget HOW!
YouTube Videos:
https://youtu.be/ZGVNrIw_wlo (Cam & Cam-over elements)
https://youtu.be/K2FDHZ3AX9w (Figuring your proper swing plane)
https://youtu.be/TO82PMO6G8M (Developing muscle memory)
A Recommendation for your Golf Game:
I would like to recommend a wonderful radio program that I regularly listen to on my I-Heart Radio app on KARN 102.9 FM station, out of Little Rock, AR. They air a golf show called "Arkansas Fairways and Greens," at 7:00 AM CT each Saturday morning, hosted by Bob Steel and Jay Fox. Bob occasionally has on his show a guest named Shawn Humphries, a Professional Golf Instructor from Dallas, Texas. One thing that Mr. Humphries stresses is the mental part of golf, not focusing on the results but the process.
Until next time– Be Synched, Tee-to-Green, with The ESPY Golf Swing!