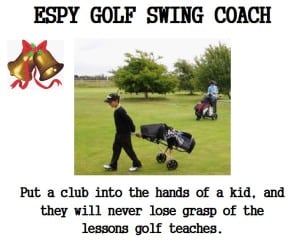 I always thought that golf was a great sport to get your kids involved in at a young age. The younger, the better! But in 2006, I knew that golf was not just a great sport for all kids, but I was convinced that golf was one of the best sports for any kid to be a part of. The fundamentals that golf teaches are exponential.
The 2006 Kraft Nabisco Championship was played at Mission Hills Country Club in Ranch Mirage, California, where LPGA Pro Lorena Ochoa lost a heart-wrenching defeat to a great competitor, Karrie Webb, during a sudden-death playoff. Lorena was in tears not just because she lost, but how she lost by putting her tee shot in the water hazard, off the tee box on the 18th par five hole.
That was not the end to the story that made Lorena Ochoa a great golfer. During the off-season of 2006, Lorena proved that she was a grinder by using her failure and defeat at the Kraft Nabisco Championship as a tool, not as a tragedy. Lorena used her failure to build experience and incentive to train and practice harder. The following season, Lorena won eight LPGA events, including the Women's British Open at the Old Course, Saint Andrews. She became the first LPGA member to win $3 million in a single season, up to the Open, only to win another million to place her winnings at $4 million for a single year. I personally respect her character and her work ethic that she exhibited during her defeats and her success of wins. She used her failures to motivate her to work harder as she refined her swing mechanics. Just as there are fundamentals used in golf for a successful golf shot, there are also fundamentals used to develop a successful life. If you are a parent or have an opportunity to be a role model in a child's life, you can help them to develop:
A love, respect, and acceptance for God, themselves, Country, and others.
A hard work ethic with patience and perseverance.
A clear distinction between the right way and wrong way to live and develop integrity.
A clear dream or vision to establish goals and objectives.
An ability to develop a discipline to establish their faith for what they hope for can become a reality.
I'm proud to say that golf is a sport that embodies these same fundamentals. What more could you expect from a gift given to your kids!
This summer, I was on my home course playing behind a father, an uncle, and a son. They kept motioning for me to play through, but at each time I replied I was just working on my short game and to carry on. Finally as we got to the turn, the father asked me if I could work with his son. I replied, "I'll be glad to, but why don't you work with him?" As I signed my book, I gave him the signed copy of a paperback.
About four weeks later, I saw the father again at the course, and he expressed his thanks for letting him have an opportunity to coach his son. He added, the odd thing about it was I learned more than my son did. I replied, "The best way to learn something is to coach it." This was the basis of my book, The ESPY Golf Swing Coach.
Golf provides a great opportunity for kids who are not athletically-inclined toward football, basketball, or another sport to develop their athleticism in golf on an individual or a team level. Golf is a sport that 95 percent of the participants can play at a competent level and play for a lifetime. Golf can also work very well into the home-school curriculum to provide a sporting activity at a relatively inexpensive investment. Golf is a great developmental activity for leadership that can be a valuable asset in the business world.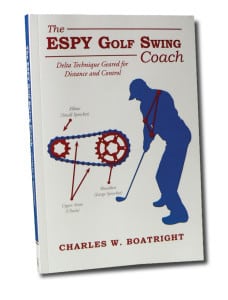 The ESPY Golf Swing Coach– Price Paperback $15.75 and E-Book $8.99.
Hardback available on my website: www.espygolfapp.com/store OR your local bookstore and also:
Amazon.com http://www.amazon.com/The-Espy-Golf-Swing-Coach/product-reviews/1483416356
Barnes & Noble.com http://www.barnesandnoble.com/w/the-espy-golf-swing-coach-charles-w-boatright/1120604749
According to the Learning Pyramid, self-coaching has a 90 percent retention rate, compared to conventional golf lessons that are basically given on a lecture format. So this Christmas Season, put a set of golf clubs into your kids' hands. They will never lose grasp of the lessons that golf teaches.
Check out my full library of BLOGS @ www.espygolfapp.com/blog or purchase your copy of The ESPY Golf Swing Coach @ www.espygolfapp.com/store.
Facebook – The QATSPY Golf Approach
Twitter – @cwboatright
Google+ – ESPY Golf Swing Coach
YouTube – ESPY Golf Swing Coach
Once you learn WHY, you don't forget HOW!
YouTube Videos:
https://youtu.be/ZGVNrIw_wlo (Cam & Cam-over elements)
https://youtu.be/K2FDHZ3AX9w (Figuring your proper swing plane)
https://youtu.be/TO82PMO6G8M (Developing muscle memory)
https://youtu.be/BWksNM6X8a0 (Baseball-type golf swing)
Until next time– Be Synched, Tee-to-Green, with The ESPY Golf Swing!