THE QATSPY GOLFER'S PAGE
By: Charles W. Boatright
After Jason Day won The Canadian Open in 2015, he described the amount of time that he and Colin Swatton, his coach/caddie, spent mentally preparing for each tournament. Jason discussed how he kept detailed notes of each golf course. These notes are kept with his yardage book. A golfer spends the majority of their time mentally playing each shot off the yardage book for each and every hole before the tournament. Visualization is king to the golfer's preparation. When they address the ball, the golfer has already executed the golf shot in their mind. This was an important process that Colonial George Robert Hall used to survive seven-and-a-half years as a P.O.W. at the Hanoi Hilton in North Vietnam.
Colonial Hall, whom I had the pleasure of interviewing at the Hattiesburg Country Club in Mississippi, used a mental-type yardage book to mentally play his home course each and every day in his seven-and-a-half foot square prison cell. It was remarkable enough that he mentally played his golf course every day in his mind, but what more remarkable was what Colonial Hall was able to do within six weeks after his release, and that was playing in a PGA Pro-Am event in New Orleans. Colonial Hall shot a 76, his handicap at the Greater New Orleans POW Pro-Am Open Golf Tournament. He credited his ability to shoot his handicap of four (4) with a mental yardage book he had memorized to every detail.  For more details of Colonial Hall's story and my interview, please use this link: http://goo.gl/24lFvo.
The yardage books are used by golfers to develop their strategy and mental game plan for the round, much like Colonial Hall did. These yardage books are also used to allow the golfer to mentally replay the course, shot-by-shot, in a post-game analysis to improve their mental game and practice sessions. There is a significant amount of research indicating that the person who takes personal notes, in addition to textbook work, can significantly increase his/her retention rate by 4 times. The retention rate, with the method in which typical golf lessons are presented, is less than one-third of the self-coaching technique or homework approach. Self-coaching technique has a 90 percent retention rate, as indicated by The Triad Learning Pyramid in my blog http://goo.gl/7z1EJD. One doesn't learn until one understands the subject of WHAT, WHY, and HOW.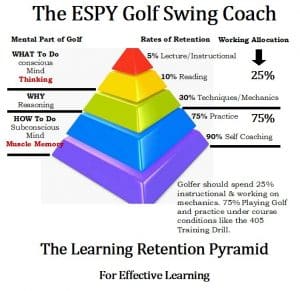 The notes that I keep from each round of golf are placed on a standard letter size piece of paper (8.5 x 11) that is folded in half, three times, into small 2.75″w x 4.25″h segments. I call this my "cut-sheets," where I write down each shot for par fours and fives on each segment of the cut-sheet. The par-threes are placed on the bottom portion of the segment of the previous hole, noting the shot into the green only. For example, in the diagram of a 276 yard, Par-4, 6th hole, I have a target area of 172 yards from the blue tees.
The target area is about a 24-foot radius (6-paces) that I treat as a large clock, with 12 o'clock pointing toward the pin. In this case, my golf shot landed at T-6-10, which means I placed my tee shot 6-yards off the target area, at about the 10 o'clock orientation. This is represented by the blue dot on my cut-sheet. I do not place the blue dot on the yardage book, since this blue dot is for demonstration purposes only.
I try to perform the post-game-analysis within 48-hours, usually the following morning, after my round. The cut-sheet that I analyze is used to prepare my practice workout. I usually set up a scaled-down layout, in this case the 6th hole tee shot, using a 5-gallon bucket for my target. I use the Almost Golf balls®, where my objective is to practice that shot until I can place 4-out-of-5 golf shots in the target area, 10-feet around the bucket, before working on another part of my game or shot.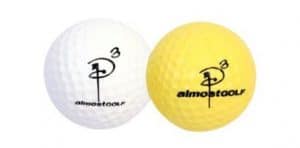 NOTE: The Almost Golf balls® allows me to set up a one-third scale version of an actual hole. Where every yard equals one foot. And Almost Golf balls® does not damage property or cause injury to people or pets.
The time I spend the night before the round, I draw the target areas on my cut-sheet for the tee and approach shots that correlate to the yardage book that allows me to memorize the course for the actual round. This is similar to Yogi Berra's quote, "It's like déjà vu all over again." The data that I collect during the round is written on the cut-sheet for that round. I usually walk the course, so I have time between shots to record the distance, once I arrive at the target area, I refer to my GPS wristwatch.
This Process helps get your mind and body in sync with each other, where there is not a difference between practice work and course play. This addresses the 'Dr. Jekyll and Mr. Hyde' syndrome that we all experience. This process is also covered in my book, The ESPY Golf Swing Coach, in Section 7.0 called the 405 Training Drill.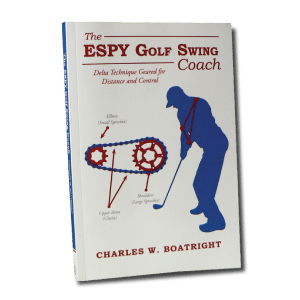 The ESPY Golf Swing Coach– Price for Paperback $15.75 and E-Book $8.99, also available is a Hardback copy on my website: www.espygolfapp.com/store OR your local bookstore and also:
Amazon.com http://www.amazon.com/The-Espy-Golf-Swing-Coach/product-reviews/1483416356
Barnes & Noble.com http://www.barnesandnoble.com/w/the-espy-golf-swing-coach-charles-w-boatright/1120604749
Check out my full library of BLOGS @ www.espygolfapp.com/blog or purchase your copy of "The ESPY Golf Swing Coach." @ www.espygolfapp.com/store.
Facebook – The QATSPY Golf Approach
Twitter – @cwboatright
Google+ – ESPY Golf Swing Coach
YouTube – ESPY Golf Swing Coach
Once you learn WHY, you don't forget HOW!
YouTube Videos:
https://youtu.be/ZGVNrIw_wlo (Cam & Cam-over elements)
https://youtu.be/K2FDHZ3AX9w (Figuring your proper swing plane)
https://youtu.be/TO82PMO6G8M (Developing muscle memory)
I would like to recommend a wonderful radio program that I regularly listen to on my I-Heart Radio app to KARN 102.9 FM station out of Little Rock, AR. They air a golf show called "Arkansas Fairways and Greens," at 7:00 AM CT each Saturday morning, hosted by Bob Steel and Jay Fox. Bob occasionally has on his show a guest named Shawn Humphries, a Professional Golf Instructor from Dallas, Texas. One thing that Mr. Humphries stresses is the mental part of golf, not focusing on the results but the process.
Until next time– Be Synched, Tee-to-Green, with The ESPY Golf Swing!