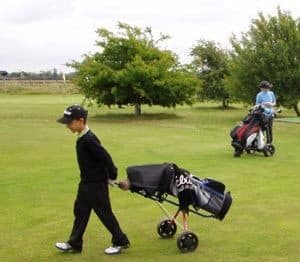 There are very few athletic programs that the Homeschooling programs can incorporate into their curriculum. Most sports such as baseball, football, softball, basketball, soccer, rugby, and tennis require the formation of teams, officiating, and also expose students to various injuries.
Golf is an excellent sport that homeschooling can use to develop character and promote health in young people. The lessons learned from golf can allow the student to reach their potential in all areas of life. Students can use golf to develop character and to instill perseverance, faith, and confidence in their life, instead of resorting to resentment, showing anger, or seeking revenge. Equipping homeschooled students to play golf doesn't have to be expensive. Homeschooled students, along with parents, can form a partnership with local churches or other organizations to secure low-cost or, in some cases, free golf equipment.
With the increasing development of golf technology in equipment, most golfers have a spare set of golf clubs in their garages and storerooms that are not used. The golfers can donate unused clubs to local organizations like churches and receive a tax deduction for the donation. Churches can reallocate the golf equipment to local, certified homeschool programs in their area. Golf provides the homeschooled athletic a participation program that can allow students to either participate as an individual or on a team level sport. Golf provides a great opportunity for homeschools to develop tournament leagues. This can be accomplished with the help of golf course personnel and/or churches.
Golf provides more than an athletic opportunity for the homeschool student to participate in sports at a low cost. Golf is also an excellent avenue for homeschool students to secure athletic and academic scholarships at colleges. Colleges are seeking these homeschooled students. Not only can homeschooled students use golf to gain a scholarship, but they can also use golf to either pursue a career in golf or to enhance their desired career field. Golf, for centuries, has been used to form and develop special relationships, and can be applied in the modern-day business world. If you can improve an existing or prospective client's golf game, you have their undivided attention for three and a-half hours.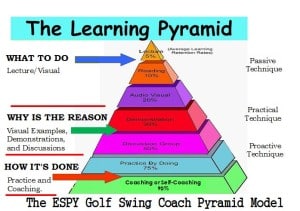 One of the best means to develop instructional golf is based on 'The Triad Learning Pyramid' self-coaching technique refer to: http://goo.gl/Tgllr8. This represents a ninety percent retention rate on learning. "The ESPY Golf Swing Coach" takes advantage of an important muscle memory that most children have acquired at an early age and directly applies it to golf. "The ESPY Golf Swing Coach" takes the baseball swing from the batter's box and applies it to the tee box, with some refinements. The same muscles used in the baseball swing can be applied to the golf swing to maximize the student's power, acceleration, and control. This removes the confusing part of golf for the student and replaces it with a consistent golf swing.
Also the homeschool program can also setup a practice area in the garage using some special golf balls that I call SAFE balls. These SAFE golf balls also are called Almost Golf Balls® that will NOT cause damage in a garage setting. I use a paint canvas drop cloth suspended across the garage door that I use to practice during inclement weather conditions. You can use a plain doormat for your hitting area with a dumbbell to hold the mat in place. You can develop the same muscle memory hitting chip and pitch shots that are also used in the full golf shot. Matter of fact you can develop better feel hitting chip and pitch shots. Refer to the photograph of my hitting area. The tape measure indicates I'm 14 feet back from the drop cloth. For more details on setting up your hitting area please refer to: http://goo.gl/pkFZuq.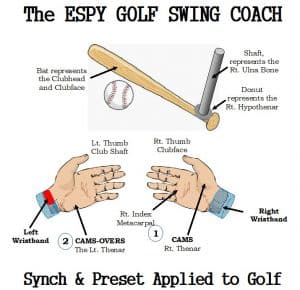 The key elements in the ESPY golf swing are SYNCH and PROTRACT or PRESET setup using the right thenar about the right index metacarpal (CAMMING) and left thenar about the left radial bone at the base of the wrist (CAMMING-OVER). These are very simple elements to preset the wrists to complete 80 percent of the golf swing. This provide amazing amount of Power, Speed and Control in the golf shot. The thenars are used as flappers on a pinball machine to deliver power and speed the the golf shot.
In addition to learning the mechanics and techniques to produce a consistent golf swing, The ESPY Golf Swing Coach also has a exercise regimen for children to develop and maintain a physical fitness called the CASPER Workout that can be performed on various levels based on the level of fitness required. See my link for more details about setting up a CASPER Workout program including minimum equipment needed: http://goo.gl/hsi3Ee.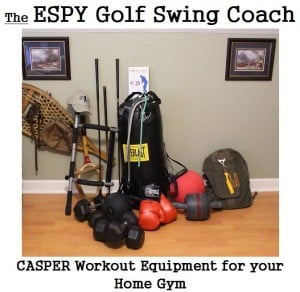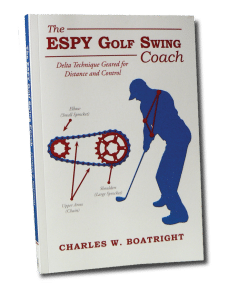 The ESPY Golf Swing Coach uses the subconscious mind to execute three very simple elements that we perform on a daily basis — SYNCH, PROTRACT or PRESET, and YAW. This golf swing sequence eliminates the need for confusing swing thoughts that can be debilitating and diminish the golfer's ability to produce a great golf shot. NOW, LET'S GO PLAY GOLF!
Check out my full library of BLOGS @ www.espygolfapp.com/blog or purchase your copy of "The ESPY Golf Swing Coach" @ www.espygolfapp.com/store.
Facebook – ESPY Golf
Twitter – @cwboatright
Google+ – ESPY Golf
TouTube – ESPY Golf Swing Coach
Once you learn WHY, you don't forget HOW!
YouTube Videos:
https://youtu.be/ZGVNrIw_wlo (Cam & Cam-over elements)
https://youtu.be/K2FDHZ3AX9w (Figuring your proper swing plane)
https://youtu.be/TO82PMO6G8M (Developing muscle memory)
Until next time– Be Synched, Tee-to-Green, with The ESPY Golf Swing!