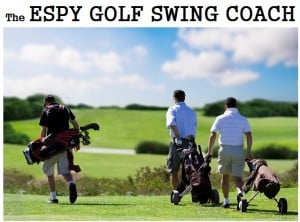 FITNESS FRIDAY
THE QATSPY GOLFER'S PAGE
By: Charles W. Boatright
ONE OUT OF NINE AMERICANS OVER THE AGE OF 65 WILL BE AFFECTED BY ALZHEIMER'S!
In December of 2015, I wrote an article entitled GOLF, AN EXCELLENT WAY TO IMPROVE YOUR STRENGTH AND HEALTH SCORE: http://goo.gl/HJX8Ss.
The focus of the article was using golf to reduce your chances of developing Dementia and/or Alzheimer's. The reason I use golf is not only because I wrote a book about the golf swing and the game of golf entitled, The ESPY Golf Swing Coach, but three reasons:
FIRST- A person who picks up golf as a sport can play from age eight until he/she is ninety-eight and beyond.
SECOND- The fitness and flexibility it requires to play.
THIRD- The mental challenge it requires of the golfer to maintain or lower the golfer's handicap.
Early this week, it was reported by the Alzheimer's Association that there has been a nine (9) percent drop in cases of people developing Alzheimer's. While this is a marginal success in our battle against Alzheimer's, it does underline the measures we can all take to reduce our chances of developing this ravaging disease. The report pointed to awareness, treatments, and, more importantly, cardiovascular exercises people are following.
To remain fit, just to be an avid golfer, not to mention a low-handicap or scratch golfer takes fitness, both mental and physical. Just as important as the physical exercises and fitness are to the golfer; the mental exercise and challenge it brings are just as important. Like Yogi Berra once stated about baseball that applies to golf as well, "Baseball is 90 percent mental, and the other half is physical." Golf not only offers the golfer a physical challenge, but a mental challenge. If there is one weakness the golfer has to constantly battle it is the mental game in golf. This is the reason I spent 10 sections on developing the mechanics and techniques of the golf swing and the same number on the mental game of golf.
Medical professionals state that what is beneficial for the body and heart is also beneficial for the mind. This is the very reason I included in my book in Section 20 a section about fitness for the golfer and the non-golfer using the CASPER Workout Program.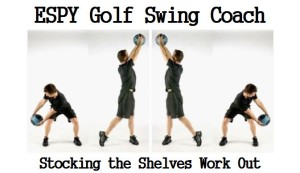 There are a number of Cardiovascular exercises that you can incorporate, not only in your exercise routine, but also in your daily routine. I developed the CASPER (Cardiovascular, Aerobic, Strength, and Plyometrics Exercise Regimen) that is in Section 20 of my book, The ESPY Golf Swing Coach, that I follow four times per week, plus I play golf four times per week, walking the course.
The best thing you can buy yourself or receive as a Christmas gift (HINT, HINT), is a Push-or-Pull cart for your clubs and walk the course, either for nine or eighteen holes. I wear a pedometer during my golf rounds, and I have measured the distance I walk as 5.2 miles for nine holes and 10.5 miles for eighteen holes.
And the good thing about walking the course is that you do not recognize it as exercise but as an enjoyable sporting activity with friendly competition. You don't want to spend your retirement days that you work hard for on the sidelines of an active lifestyle. Pickup a club and go play golf.
The reason for not a larger drop in Alzheimer's cases than 9 percent is that exercise and fitness are just now being incorporated into people's lifestyles as they age. It is important that you don't wait until you are older to realize the benefits of exercise and the sport of golf. Pickup a copy of my book and the game of golf to improve your quality of life.
Purchase your copy of The ESPY Golf Swing Coach to improve your golf swing and game:
By: The QATSPY Golf Approach
Charles W. Boatright
Madison, MS
1-888-514-1228
The ESPY Golf Swing Coach:
Paperback $15.75
E-Book $8.99
Hardbacks, signed if desired, are also available
Purchase a copy of The ESPY Golf Swing Coach on my website, www.espygolfapp.com/store OR at your local bookstore.
You may also purchase my book from one of the following retailers:
Lulu Publishing: The ESPY Golf Swing Coach, Charles W. Boatright
Amazon.com: www.amazon.com/The-Espy-Golf-Swing-Coach/product-reviews/1483416356
Barnes & Noble.com: http://www.barnesandnoble.com/w/the-espy-golf-swing-coach-charles-w-boatright/1120604749
Check out my full library of QATSPY GOLF BLOGS @ www.espygolfapp.com/blog
Facebook – The QATSPY Golf Approach
Google+ – ESPY Golf Swing Coach
YouTube – ESPY Golf Swing Coach
Once you learn WHY, you don't forget HOW!
YouTube Videos:
https://youtu.be/ZGVNrIw_wlo (Cam & cam-over elements)
https://youtu.be/K2FDHZ3AX9w (Figuring your proper swing plane)
https://youtu.be/TO82PMO6G8M (Developing muscle memory)
You can make a difference for yourself and your kids by placing a golf club and a copy of my book into their hands. You will never look back, only forward. You should not miss this opportunity for yourself and/or your kids.
A Recommendation for your Golf Game:
I would like to recommend a wonderful radio program that I regularly listen to on my I-Heart Radio app on KARN 102.9 FM, out of Little Rock, AR. They air a golf show called "Arkansas Fairways and Greens," at 7:00am CST on Saturday mornings. It is hosted by Bob Steel and Jay Fox. Bob occasionally has on his show a guest named Shawn Humphries, a Professional Golf Instructor from Dallas, TX. One thing that Mr. Humphries stresses is the mental part of golf, not focusing on the results but the process.
Until next time– Be Synced, Tee-to-Green, with The ESPY Golf Swing!