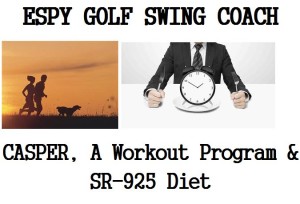 If you read this article either on your Twitter or Facebook page, PLEASE either RETWEET or Share this with others! This is too important of a health issue not to share with others

.
I DO NOT receive any monetary compensation from this, this is total FREE Diet Plan. This link shows my results from the SR-925 Diet Plan: http://goo.gl/AGulqo.
In my blog on "HOW TO IMPROVE YOUR GOLF SWING, HEALTH, AND LIFE WITH FITNESS AND AN EASY DIET PLAN" http://goo.gl/RX1HzC, I discussed how I lost 30 pounds or about six-inches off my waist within three months, just after I retired in November of 2014. I was able to do this by combining two diet plans (Sugar Buster® and The 8-Hour Diet®) with my CASPER Workout Program. I was totally amazed with my results, and how I have kept off the weight.
In order to select the proper foods, other than foods that are classified as desserts, that I can eat inside the eight-hour window, I experimented with a formula, just by using the nutrition label that is listed on the back of the food package. You can even look this up on Google® on your I-phone. There are even some I-phone apps that will provide the nutrition information, just by scanning the bar code. Be sure to use the information on these labels to your advantage.
The process I used was to weigh foods across a broad spectrum, from the best (apple, sweet potato, and pinto beans) to the worst (potato chips and certain snacks) and compare them in order to develop a SR (Sugar-Restricted) weight factor. The second figure that I wanted to determine was the SR tolerant factor, or foods that I will not consume 90 percent of the time. The SR weight formula is based on dividing the net calories (calories minus calories from fat) by the sum of the carbohydrates + Fiber + Sugar + Protein. For example, the SR Weight of a Sweet potato would be: 100-0/(23+ 4+ 7+ 2)= 2.778.
From the data, the real culprit is calories from starch, which quickly turns to sugar during the digestion process and enters the bloodstream. Now you know why starchy snack put more weight on you than a better selection, such as fig Newton's or even raisins, even though they contain more grams of sugar, they are considered natures candy. The SR-925 Weight factor is a great way to evaluate your food selections. Keep in mind that the data is based on the serving size on the Nutrition Label.
The SR Weight tolerance that I set for myself was 5.75 factor, this is not based on a scientific data, but a process that I used to help me evaluate my food selection. I try to include foods that fall below the 5.75 factor in 90 percent of my meals; the other 10 percent of my meal selection I include in the range from 5.76 to 8.50. Basically, I have two meals where I can select one food between 5.76 to 7.00 factor. I never include in my meal selections any food that has a SR Weight above 8.50. In addition, I limit myself to 4 oz. of foods that are classified as dessert (i,e,. pies, cakes, chocolate bars like snickers) per week. To calculate and evaluate the SR-Weight Factor for desserts, use the same formula for regular food selections, but multiply the figure by a factor of three (3).  I always consume my meals between the hours of 8 AM to 5 PM. If you want to analyze some interesting data, look at the sugar from sweet potatoes (7g) and compare it with the sugar from potato chips (1g). Sweet potatoes (2.77) are a better selection than the potato chips (8.00).
The main reason specifically for me not to include potato chips in my regular meal selection is if I start eating one, I won't stop. Occasionally, I have a handful of potato chips during the summer to replace my salt that I lose, if I'm working on the farm or out playing golf.
I found the SR-925 Diet Program, combined with my CASPER Workout in Section 20.0, to be very beneficial in helping me to lose and control my weight in order to improve my health and my golf game. In regards to my book, The ESPY Golf Swing Coach, I spent seven years filling three Xerox boxes with data that I collected from my golf swing analysis. Two were labeled "THIS DOES NOT WORK," and one partially-filled Xerox box was labeled "THIS WORKS." The data in the box labeled "THIS WORKS" became the resource for my book.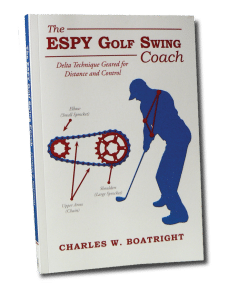 The ESPY Golf Swing Coach– Price for Paperback $15.75 and E-Book $8.99. Hardback is also available on my website: www.espygolfapp.com/store OR your local bookstore and also:
Amazon.com www.amazon.com/The-Espy-Golf-Swing-Coach/product-reviews/1483416356
Barnes & Noble.com www.barnesandnoble.com/w/the-espy-golf-swing-coach-charles-w-boatright/1120604749
Check out my full library of BLOGS @ www.espygolfapp.com/blog or purchase your copy of "The ESPY Golf Swing Coach." @ www.espygolfapp.com/store.
Facebook – The QATSPY Golf Approach
Twitter – @cwboatright
Google+ – ESPY Golf Swing Coach
YouTube – ESPY Golf Swing Coach
Once you learn WHY, you don't forget HOW!
YouTube Videos:
https://youtu.be/ZGVNrIw_wlo (Cam & Cam-over elements)
https://youtu.be/K2FDHZ3AX9w (Figuring your proper swing plane)
https://youtu.be/TO82PMO6G8M (Developing muscle memory)
A Recommendation for your Golf Game:
I would like to recommend a wonderful radio program that I regularly listen to on my I-Heart Radio app to KARN 102.9 FM station, out of Little Rock, AR. They air a golf show called "Arkansas Fairways and Greens," at 7:00 AM CT each Saturday morning, hosted by Bob Steel and Jay Fox. Bob occasionally has on his show a guest named Shawn Humphries, a Professional Golf Instructor from Dallas, Texas. One thing that Mr. Humphries stresses is the mental part of golf, not focusing on the results but the process involved.
Until next time– Be Synched, Tee-to-Green, with The ESPY Golf Swing!