By: Charles W. Boatright
Competitive-Type Golf Practice Used by Arkansas Tech in a NCAA Div-2 Golf Team Semifinal
Arkansas Tech was the Semifinalist in the NCAA Div-2 College golf Tournament held in Kissimmee, Florida, just south of Orlando area. Coach Luke Calcatera, the head golf coach at Arkansas Tech, highlighted in an interview this morning on Arkansas Fairways & Greens the two main factors for his team's success. One was his team's work ethic, and the second was the team's competitive-type golf practice format.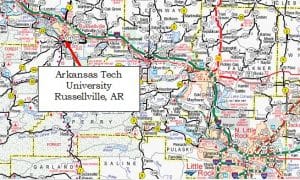 Arkansas Tech NCAA Div-2 University is located at Russellville, Arkansas, about 78 miles NW of Little Rock, off I-40. It is a premier University for several technical fields, including Engineering Technology. It is nestled between the Ouachita National Forest and the Ozark National Forest, and just south of  Lake Dardanelle. Dardanelle is also home to John Daly, PGA Golf Professional, now on the Champions Tour. I had the honor of meeting John Daly during a Pro-Am at the Viking Classic held in Madison, Mississippi.
Malcolm Gladwell's 10,000 Man-hours Statistic
Coach Calcatera, during his interview with Bob Steel, hoist and Jay Fox, co-host, of Arkansas Fairways and Greens, quickly credited the team's Semifinal finish to their practice schedule and the team's competitive-type golf practice format. Coach Calcatera explained that his team's practice sessions were from 2 pm to 6 pm that included a match play competitive-type golf practice. This practice schedule is supported by research that I did and that I included in my article entitled, "Coaching System to Improve Golfer's Game." In this article, I referred to the statistic in Malcolm Gladwell's book Outliers, where Malcolm estimates that it takes 10,000 man-hours to reach professional status in a particular field. The research I did focused on the man-hours required to reach a single-digit handicap, approximately 7,000 man-hours, which is more realistic for most average golfers.
The 7,000 man-hours to obtain a single-digit handicap requires the average golfer to work on his/her game 3.216 hours per day, five days per week, for 5 years. The 3.216 hours per day is very close to the four-hour schedule that Coach Calcatera referred to in his interview that included competitive-type golf practice.
405- Training Drill and Overload Incremental Technique
The team's competitive-type golf practice format is what I call the 405- Training Drill, which is similar to a scrimmage-type practice session that I perform approximately one hour per day, five days per week along with my other practice and playing time. This scrimmage-type practice session takes a page out of the Football coach's handbook. This technique provides similar conditions during the practice session that the golfer will experience on the golf course.
The 405- Training Drill, is combined with an Overload Incremental Technique. I take approximately 10 minutes out of each hour, over a 12-hour period, to virtually run through my Critical Swing Path. This allows me to use my golf swing as relief exercises to maintain my muscle memory. I use a special golf club that I made that is illustrated below to perform an Overload Incremental Technique during the normal course of a day. This Overload Technique is described in my article, PUT INTO PRACTICE THE OVERLOAD & UNDER-LOAD TRAINING TECHNIQUE Part 4. This describes how to make this golf club and train by using the Overload Incremental Technique.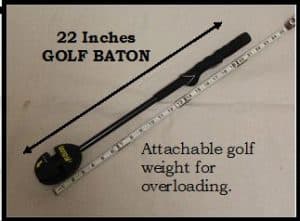 Relief exercises are critical for people that have to work in a sitting position, like in an office situation.
Mental Rule of Golf No. 7
There are 10 Mental Rules of Golf (MRG) that allow the golfer to activate their subconscious mind. The subconscious mind is responsible for developing muscle memory and for 90 percent of executing a quality golf shot. MRG No. 7 states- The subconscious mind always prevails in conflicts with the conscious mind. and MRG No. 1 states- The conscious mind is subordinate to the subconscious mind. Rules No. 1 and 7 refer to how practice sessions must be structured to address the subconscious mind, the best method is the competitive-style golf practice. The best method to train the subconscious mind is to create similar conditions that will occur on the golf course during your practice sessions. This is a critical process that most practice sessions don't address, especially on the practice range. The practice range should really be called a hitting range and not the practice range. This was the competitive-type golf practice that Coach Calcatera was referring to during his interview with Bob Steel and Jay Fox.
NOTE: All ten Mental Rules of Golf are referenced in my article, Develop a Self-Coaching Forum to Improve Your Golf Game.
Interview with a P.O.W.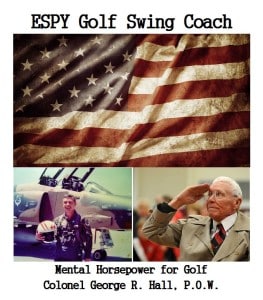 The research I was compiling for my book focused on the Overload Incremental Technique. The Overload Incremental Technique was a coaching technique used by my grandfather, Homer Boatright, during our scrimmage-type, or competitive-style golf practice sessions. In 2002, I was able to independently confirm this Overload Incremental Technique in a happenchance meeting I had with a Vietnam War P.O.W. Colonel George Robert Hall was a P.O.W. who was held for seven-and-a-half years at the Hanoi Hilton in North Vietnam. He used his golf game to survive his ordeal. He mentally played his home course located in Hattiesburg, Mississippi, about 80 miles south where I live in Madison, MS, each and every day using his subconscious abilities.
Six weeks after his release, Colonel Hall was invited to play in the Greater New Orleans P.O.W. Pro-Am Tournament, where he shot his handicap of four (4). His complete story and my interview that I had with Col. Hall is included in my article, HONORING THE VETERANS OF THE VIETNAM WAR!
The golfer must incorporate three components to develop a pathway to a single-digit handicap. Two of these were highlighted in Coach Calcatera's interview on Arkansas Fairways & Greens: A routine daily practice session and a competitive-type golf practice format.
A third component is taking advantage of what is called an Overload Incremental Technique. If you look at my article entitled, Coaching System to Improve Golfer's Game, you see that the average golfer only gets 1.183 hours of practice time in each week. This is nowhere near the 30 hours required to reach a single-digit handicap. Using a technique that Colonel Hall used as a P.O.W., the average golfer can sufficiently increase their practice time each week.
For detailed information on both the 405- Training Drill, Overload Incremental Technique, and Critical Swing Path, purchase your copy of The ESPY Golf Swing Coach from the links below, or visit your local bookstore: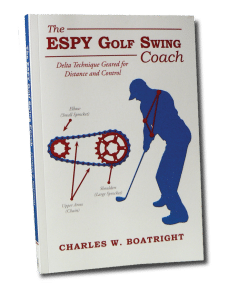 My book can also be purchased at Edwin Watts Golf Store in Jackson, Mississippi. Phone No. 601-956-8784
820 East County Line Road, Ridgeland, MS 39157
My book can also be purchased on-line at:
This book is a self-coaching forum that provides basic and advanced fundamentals to help you play golf with confidence and start lowering your handicap.
Please take advantage of my SR-925 Diet Program, where I lost 6 inches in my waist in 3- months (FREE of CHARGE) with the CASPER Workout Program, detailed in Section 20 of my book:
Please include an exercise routine in your weekly schedule.
Also, learning The ESPY Golf Swing Coach process is an excellent way to develop Rhythm without experiencing the Blues in your golf game, learn how to take your baseball-style swing from the batter's box to the tee box: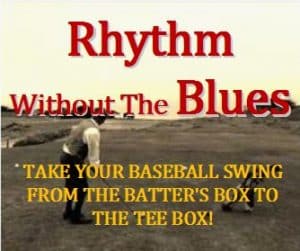 Please visit "The Locker Room" for a Index of all my golf articles to improve your golf game and life. Discover how you can take your baseball swing from the batter's box to the tee box.
For Comments please call 1-888-514-1228 between the hours of 9 am – 4 pm central time M-F.